The Top 9 Graduate Skills That Employers Want In 2020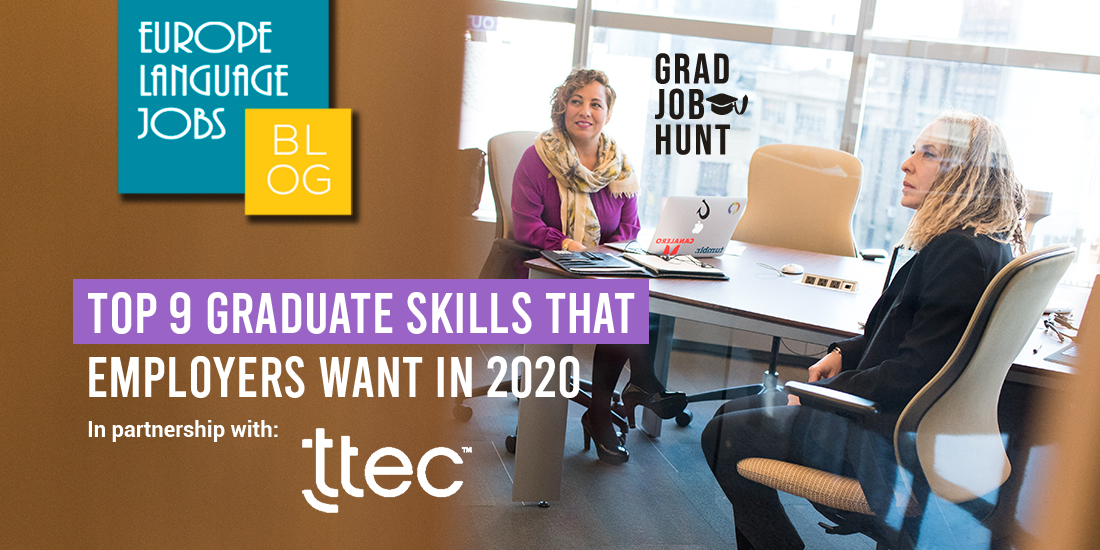 Now you are armed with your brand new degree and you have asked yourself all the questions Viktoria discussed yesterday, it's time to focus on the key graduate employment skills that employers like Ttec are looking for in 2020!
The industry-specific skills that you need will depend highly on the degree you studied and the career path you want to take. But alongside these industry-specific hard skills, there are a number of soft skills that are highly valued by employers and essential for any career. Some of them may seem somewhat obvious, but employers like to see that you are equipped with these key soft skills before offering you a job in their company.
Show employers that you are competent and ready to take on the role with the following graduate skills: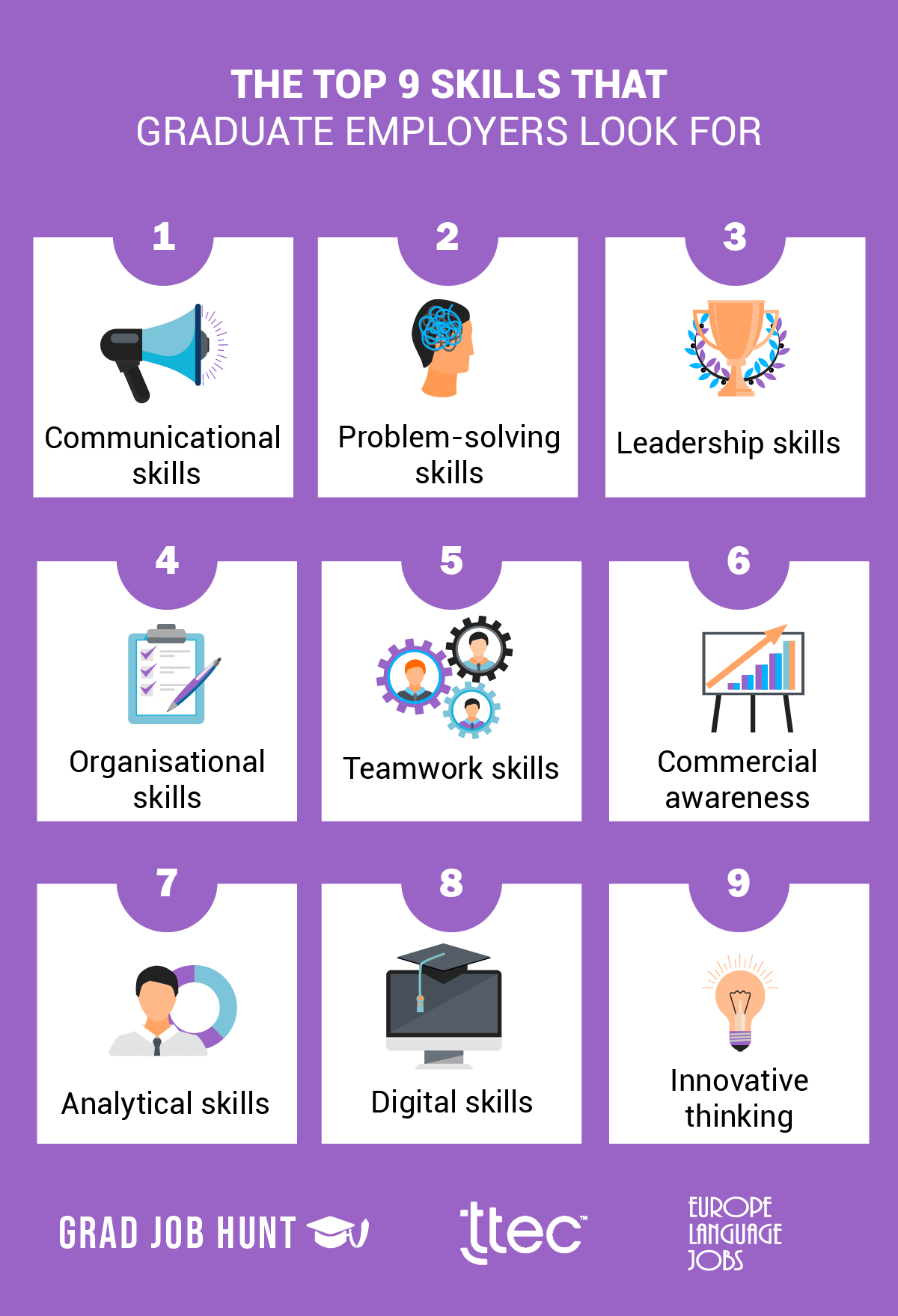 1. Communicational skills
We had to put this one at the top of the list, communicational skills are vital for any graduate job position. This covers your written and verbal communication, your ability to listen to others and non-verbal communication such as body language and hand gestures too.
It's important to have the ability to adapt your verbal and written communication to different audiences and scenarios. This means tailoring your tone of voice, your body language, your vocabulary and your choice of language to different situations and audiences.
In terms of written communication, you need to be able to write clearly and concisely in a professional tone. Employers value candidates with strong written communication skills such as good grammar, punctuation and clarity. In today's world, you can only imagine how important written communication skills are, especially when teams and companies are working remotely.
2. Problem-Solving skills
Problem-solving skills are highly sought-after skills for every job position. By having the ability to problem-solve, it means that you can react well to any unexpected issues and changes that may occur in the workplace. These skills are highly valued by employers as they want to know that the person they are hiring can handle sudden workplace issues and use their decision-making skills to resolve them.
By possessing these skills, you can identify any problems that may occur in the future and work out ways to prevent them. These skills are extremely beneficial for employers, as you help them to build smart solutions to any potential problems that may arise.
3. Leadership skills
Leadership skills are extremely beneficial to employers for many reasons. By possessing these skills it demonstrates to the employer that you can work well with others, successfully lead projects and motivate and support others too.
This soft skill is made up by a combination of some of the valuable career skills, some of which we have already mentioned; communication, team building, motivational, organisationational and problem-solving,
4. Organisational skills
Employers look for graduates with strong organisational skills due to their ability to remain productive and to find the best possible techniques and ways of working.
Companies need to stay organised for their business to function and to ensure that they keep performing the best they can. So anyone who displays these traits is seen as particularly valuable within any company. Organisational skills cover anything from time management, planning, strategising, attention to detail.
5. Teamwork skills
Teamwork skills are essential for any workplace and remain as some of the most admirable skills in graduates today. By possessing teamwork skills, you demonstrate your ability to communicate, collaborate and respond effectively to others, which are all extremely attractive traits both inside and outside the workplace.
Employers want to hire graduates with these skills to ensure that you can work well with new and existing employees in the workplace, but also for when you are building relationships with clients and customers too. In any job position, you will work alongside other people, whether it's a client or a colleague, and that's why these skills are so important. Teamwork skills demonstrate your ability to communicate well with others whilst maintaining a happy, positive environment.
6. Commercial awareness
Commercial awareness is said to be one of the most important things that employers look for when hiring graduate employees in 2020. As a graduate, you may have a lack of industry experience and that's why employers want to know that you still have a clear understanding of the industry that you want to work in. Thus, it's important to display commercial awareness when applying for jobs and during the interview process.
You can demonstrate your Commercial Awareness by showing a solid understanding of how the general industry works, but also by showing your knowledge of a particular company and their business model too.
7. Analytical skills
Graduates who demonstrate strong analytical skills stand out greatly against other graduate candidates from their ability to problem-solve, analyse information and to successfully draw conclusions. Luckily for you, University helps you to develop these key analytical skills, from your interpretation of data and research.
Companies want to know that they can hire someone who can help to solve any company problems, whether they occur now or in the future, and that the person they are hiring can provide other employees with recommended solutions and ways of working.
8. Innovative thinking
In this modern-day and age, employers look for graduates who can think outside the box and can make new and creative suggestions for the future success of their company. This creative and innovative thinking is essential for all kinds of businesses, from startups to multinational firms as the world of work continues to change so quickly. Companies need to stay ahead of the competition and to react quickly to all that's going on in the world and that's why they value this so highly.
Innovative thinking is made up of a variety of sought after skills from problem-solving to critical-thinking to people management and more. People with innovative thinking skills can take their new and creative ideas and put them into practice. As a graduate, it's important to have these fresh and creative ways of thinking, it will help you to stand out against other candidates.
9. Digital skills
Last but not least, Digital Skills. Although digital skills fall under the hard skills category, these skills are essential for the modern-day workplace. Companies want to hire graduates who can demonstrate even the most basic digital skills to ensure that they are competent and able to work in their organisation. It's more than likely that from day one in your new graduate job, you will be using different software programmes. To be one step ahead, it's a good idea to start building your knowledge before you start applying, and getting some practice on some of the most common digital skills.
The level of these digital skills will vary from industry to industry and job role to job role, but generally speaking, candidates who have experience using email programmes, social media and other software programmes can stand out strong against other candidates. By displaying your competency with computers, it shows employers that you will be able to quickly learn and adapt to their way of working.
Hard Skills vs Soft Skills
It's worth mentioning that there will be some hard skills that employers will be looking out for in your application but these will depend entirely on your industry. Now that you are searching for a graduate job, it's important to make sure these skills are up to scratch too! The difference between hard and soft skills is that hard skills can be taught through education, internships, online courses, and other training programmes.
When searching for a job will be able to spot the hard skills that employers are searching for in your application process, these are usually evident within the requirements of the job. So get yourself ahead of the competition by checking these hard skills out with the job specs and add any keywords and skills to your CV. This will significantly help to boost your chances of getting your dream graduate job… For more insight into Digital skills, join our webinar with Omamerhi Etefia, founder of RemoteGRAD at today 18:00 CEST. Omamerhi will be outlining the best ways to develop the most sought-after digital skills and how to build your personal brand and showcase it online.
Now that you are familiar with the top 9 skills that employers look for in graduates in 2020, it's time to start adding these skills to your CV. We will be back tomorrow with a CV writing guide from CV and Cover Letter Writer Daniel Catalan…
--- Yes pls I interested there .it should've work done.
posted 1 week ago by Kedar
---

I did not know there are two skills to be written in a cv now i learned we have to separate skills as soft skill and hard skill thanks for the advice and tips.
posted 2 weeks ago by Shreyas
---

Hello)) Victoria, I wish you a happy day))) Simple and important points)) Thank you for this talk)) I want to ask you. Are the problems and misunderstandings between people in the same company and organization?)) Is it among the points that must be dealt with?))
posted 2 weeks ago by Hasan
---
thanks for sharing, I will work on these skills :)
posted 2 weeks ago by Francesca
---

Well done !!
posted 2 weeks ago by Sinda Sabrine
---