Job offers with languages in Europe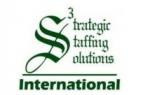 DESCRIPTION
One of Strategic Staffing Solutions International's clients is a Global Fortune 500 company, an American worldwide financial services and communication company with the primary strategy - to grow. The company has several divisions with products such as person-to-person money transfers, money orders, business payments, and commercial services.
They are inviting a Junior Analyst to join a growing Digital Review Team in Vilnius, Lithuania of dedicated professionals who value commitment to being one team, working together for one world, within a dynamic and inclusive work environment where people share the desire to win.
As a member of Digital Risk Review Team, you will be a part of the team that analyzes digital money transfers and prevents fraudulent activity.
You'll be responsible for:
Analyze digital transactions to make sure that no fraudulent activity is involved.
Communicate with the company's customers as needed to verify details regarding specific money transfer.
Support the company's customers with their identity verification ensuring that Compliance regulations are met.
Resolve complex problems.
Decide when to escalate a case or to proceed with the regular transaction/customer profile verification handling procedures.
REQUIREMENTS
A college degree is highly preferred.
Strong communication skills.
Self-motivated and results-driven.
Customer and result-oriented mindset.
Fluency in English and German languages.
Independent decision-making with high attention to detail skills.
Analytical and problem-solving skills.
Willingness to work in rotating shifts (workdays, weekends and holidays).
Ability to manage and prioritize multiple projects/tasks independently.
Proficiency in Microsoft Office (Word, Excel, PowerPoint, Teams).
ARE YOU THE PERFECT CANDIDATE?