Summer is just around the corner! This is your chance to make the most of it by organizing your time wisely. As we all know time runs out quickly, be sure to enjoy your free time and earn some cash with these 10 Well-Paid Summer Jobs for English Speakers in Europe 2022. That's right! 10 options to choose from based on your environment, tastes, and English as your language skill.
Although jobs can be found all year long, there are special ones designed to help you make some extra money during the summer season. This means they are not only adjustable to your own schedule (so that you can savour your break), but are also fun and highly demanded during this time of the year.
Below are the most rewarding summer jobs for English speakers in Europe in 2022:
1. Become an Au Pair and relocate to your dream country
The beauty of being an Au Pair is that it is a year-long opportunity in all countries across the globe. Nevertheless, it is a service exceptionally inquired and well-paid during the summer by most European families, especially if you are an English speaker.
As most children aren't studying during those 3 months and parents are still working, they tend to seek au pairs to watch over their kids. Now, what's the connection with English? As it is considered a universal language, parents want to teach it to their daughters and sons as soon as possible. This is where your language skills come in to save the day.
You would be spending part of your break, or all of it (it's up to you) taking care of the next generation and tutoring them in your native idiom. What's more? You can choose whatever country your heart desires, relocate using travel guides, and spend your vacation there! This is exactly why becoming an au pair is one of the best summer jobs for English speakers in Europe.
2. Teach English online as your summer job
Let's say you're passionate about teaching, want a summer job, but don't have a way with children. That's no problem at all. Build your own schedule, set your own time & price, and select your audience; teach English online and enjoy your holiday.
This is the type of job that doesn't necessarily require a lot of background experience, although it would obviously make things easier for you to prepare the lecture and to know more or less what to expect.
Teaching English online involves multiple fields, such as writing, reading, speaking, and listening. You don't need to take part in all of those areas, but it is good to keep them in mind when starting to tutor.
3. Work as a bartender or waitress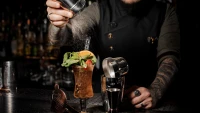 Working abroad as a bartender or waitress during the summer is most certainly one of the most well-paid jobs for expats in Europe; mainly if you speak English.
Summer implies tourists everywhere, money to be spent, people wanting to have a good time, and hungry bellies to feed. Therefore, what's better than this option to work abroad and fill up your piggy bank? Oh, did I mention the tips? At this time of the year, the number of people coming and going inside restaurants and bars is excessive, and you must believe it when I say they are very generous when it comes to tipping; if you have provided good service, of course.
If you decide to go with this option, secure the most well-known restaurants, bars, and even speakeasy bars! You shall have some fun while working this summer.
4. Hotels & Resorts offer well-paid summer jobs abroad for English speakers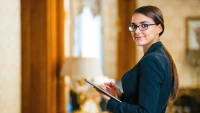 Additionally to being a bartender or waitress, finding temporary employment in hotels & resorts is also a go-to as tips and paid checks are often pretty fat. This option connects itself to the previous one since tourists book the most expensive and peaceful stays during the holidays.
If you're a multilingual college hospitality student, grab this chance to obtain some work experience across Europe and network. Who knows, there might be a chance they like your performance and offer you a permanent position afterwards.
If you're wondering which hotels or resorts you should apply to, always aim for the most popular ones. These are generally crowded with foreigners ready to have a good time -- and since English is the official/universal language, candidates with this proficiency will be most definitely in-demand.
According to CN Traveller, some of the best hotels in Europe 2022 are:
5. Coach a sport or work as a fitness instructor
All right, let's say you want to spend your summer enjoying it, doing exercise, keeping up your body shape & physical health while also earning some money. In this case, there's no better option than becoming a coach or a fitness instructor!
Most likely everyone has consumed too many carbs and fats during the winter. Therefore, you'll definitely find highly motivated people to get some work in. What do you say? Ready for the challenge?
You won't necessarily need to be stuck inside of a gym showing people how to train and lift weights. You could teach yoga, beach volleyball, running, kickboxing, soccer, rollerblading, cycling, and much more. And if you live in a diverse city, such as Barcelona, your language skills will come in handy!
6. Drive around town as an Uber driver during the hottest days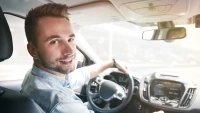 This one goes for those who live in tropical countries, but do not appreciate the summer heat & humidity as much -- consider joining the Uber drivers community and secure your paid check-in.
Obviously, you'll need a driver's license and a GPS for the job. Once this is settled, you will be able to set your own schedule, hours, and dates. You will not necessarily need to work a specific amount of hours and will not need tight and uncomfortable professional clothes. Enjoy the comfort of your car, while you listen to music and drive people and tourists around. And who knows, you might end up meeting some memorable people along the way.
7. Become an English-speaking tour guide and meet incredible people
Are you in love with your country or any other European one? Are you able to vividly explain to someone all about it, including its history, traditions, and people? Do you speak English? Find the tourism industry attractive? If the answer to those questions is 'yes', then you've found your well-paid summer job in 2022! Congratulations!!
You will spend part of your holiday meeting wonderful expats and tourists ready to learn and experience your country and your culture. You will also get to visit all touristic spots for free since you will be the ultimate guide.
This job requires some interpersonal skills, historical knowledge, and tolerance to questions -- yes, you will receive many of those and will need to answer them to the best of your abilities.
8. Lifeguard your way through the summer in Europe
To all swimmers out there wishing to get some tan lines and ocean breeze, how about becoming a lifeguard? It is usually a seasonal position, but it can pay well if you speak different languages, especially English.
You won't even need to spend money on water and sunscreen, it all comes with the job. What you will need is an assertive eye, watching the sea carefully for any possible violations or eventual accidents.
Positives of being a lifeguard include: flexible hours, a pleasing environment, and extra cash in your pocket.
9. Enjoy an adventure as an international camp counsellor
One of the 10 well-paid seasonal jobs for English speakers in 2022 is to become an international camp counsellor. Although it sounds super fun, not everyone is a fit for this Cinderella's shoe. You will need some strong soft skills to be successful and have a good time. You will be surrounded by youth and high energy activities.
There are tons of international linguistic camps where you can spend most of your vacation surrounded by multinational teens. Use this opportunity to make connections, learn different cultures, languages, and assist them with yours. This is a fruitful experience you will not want to miss out on.
According to World Camps, the best summer camps are:
10. Stay tuned for summer fashion - work in retail!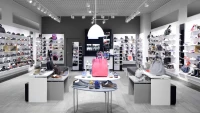 Our last, but not least well-paid seasonal job for English speakers is in retail!
If you have a store you connect with or designers you have always admired, make sure to browse work opportunities with them before anyone else does. Although we're specifically speaking of clothing, it doesn't necessarily need to be related to it. You could find a job in a bike shop, beauty shop, sports attire, or anything else you're a fan of.
This is the type of role that can be stressful at times during rush hours, since many tourists have a thing for shopping while on vacation. Nonetheless, speaking English will come in handy and will help you solve any situations you might encounter throughout your day.
These were our 10 Well-Paid Summer Jobs for English Speakers in Europe! Now that we've laid out a few options to choose from, it is your turn to follow the direction you believe is the most beneficial and that best aligns with your life plans. Don't get overwhelmed! Summer is meant to be enjoyed -- apply for jobs that will promote growth and excitement. If you thought this blog was useful, share it with your multilingual friends. And If you know of any other interesting options, share them with us in the comment section below.