When you think of Spain, many thoughts come to your mind and it seems like a great place to relocate to. From its world-renowned architecture and style to its delicious cuisine. Wherever you go in Spain you get a taste of history through its vibrant culture from the past and present.
We believe that relocating to Spain is always a good idea, so we put together a comprehensive guide with tips and information on how to go about it, with the help of our Relocation Week partner, CPM. We sat down with the CPM Recruitment Team who shared some of their employees' journeys from their home countries to sunny Barcelona.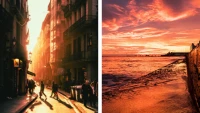 Getting to know CPM
1. Can you give us some insight into CPM's activity and the company's culture?
CPM is a great place to work with a very international environment with all the nationalities that you can think of. For example, there are people from the U.S, Portugal, Brazil, Italy and Asia. This makes it a very open, vibrant and interesting environment to work in. CPM organises many events and activities to bring people closer together.
We are a huge company with almost 2,000 employees that is divided into smaller teams and it's surprising how close we all are. Every team is divided into smaller groups where you can really get the feeling of team spirit, like a big family. When you're relocating from another country, it's quite important to meet people that you connect with and we think this is something you can find while working at CPM.
2. As an employee, what are the main benefits of working at CPM?
Some of our most notable benefits include breakfast at work, and as mentioned before, lots of events and activities, as well as the team environment. We also offer discounts for gyms, shops and beauty salons for our employees and Spanish classes.
Something really important to mention is the fact that we are one of the biggest employers in Barcelona and we really provide a lot of opportunities. Once you have your foot in the door and are motivated to stay with us, we will help you to grow and learn in your career with us. You have the flexibility to change from one project to another.
3. What positions do you have available at the moment and what are you looking for?
We are looking for a lot of people, mainly multilinguals. Our major needs right now are:
German

Dutch

French

Italian

Spanish

Nordic

English
Adapting to the Spanish way of living
4. What are the aspects that would attract candidates to relocate to Spain?
The weather, the people, the sea, it's such an open atmosphere, particularly in Barcelona. I think there's such a great vibe here and this is also the general image that people have of Spain.
I come from the UK and it's completely different. It's a lot more relaxed here and I guess having the good weather helps a lot because we can spend a lot of time outside. People are so much more open and friendly. There's more interaction between people, which I really enjoy. There is a greater sense of togetherness, I would say.
5.What made you choose Spain and why should potential candidates consider relocating to Spain?
I fell in love with Barcelona while I was in university and it was an easy decision to come back here when I graduated because I simply loved it.
Ultimately it's a personal preference, but generally, Spain or Barcelona, in particular, has so many things to offer – we have culture, we have the sea, nature, all nationalities and the gastronomy is fantastic. All in all, everything that this city has to offer is amazing. It's a really good place to work and live.
6.What do you think are the disadvantages of Spain?
One of the main concerns people have are the prices and taxes. There are a lot of aspects to take into consideration when comparing Spain to the other countries that candidates come from. However, I think that prices and taxes are the main aspects that people worry about. Other than that, I cannot think of any other disadvantages.
7.

Is the relocating process easy or difficult ?
When candidates are from the EU, the process is rather straight forward, of course. There are a couple of documents you will need like the NIE number, as well as the Social Security Number. In order to get an appointment, it might require a bit of waiting, but it's quite straight forward. We also provide assistance and guidance in order to get the documents.
Generally, given that Barcelona is such an open, vibrant city, it's easy to settle in. We always have people to help you if you need tips to really settle down, to find a flat and to make connections.
8. Do you think that the language can be a problem?
At least when it comes to Barcelona, no, Spanish is not a problem because it's such an international city. You can manage with English in the city, but like we said before, we also offer Spanish classes.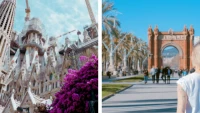 Spain offers you the opportunity to get out and explore. The great weather makes it the perfect opportunity to enjoy either the beaches or the urban culture. Both locals and foreigners love socialising and enjoying a nice meal with great company. According to Numbeo, the prices in Spain are relatively low in comparision with other EU countries.
It's obvious why so many expats are living a happy life in Spain, either as workers or as retirees. The Spanish way and quality of life fulfills their needs. Of course, it's good to keep in mind that some cities are more expensive than others, although salaries tend to adjust where the cost of living is higher.
The Spanish culture is 'different', as even locals use to say. There is something special in everything - from the tapas culture to siestas and time management.
If you want to get a glimpse of the Mediterranean way of life, check out our current job opportunities and relocate to Spain!