WHO IS CONDUENT?
Conduent is an exciting and vibrant growing Global company based in Poole, near Bournemouth. We provide outstanding customer service on behalf of one of the world's most exciting, innovative and well-known brands. They provide support via phone, email, live chat and social media. They have over 500 employees from over 20 different counties and work in twelve different languages. They have one of the most international workforces on the UK's south coast and are extremely proud to work, develop and engage with people from all over the world.
As a partner of the Relocation Week the team at Conduent have shared some of the key insights to give you a taste of what it's like to work in the UK and at Conduent
1. Can you give us an insight into your company's culture and working environment?
We support cultures from all over the world and pride ourselves in a multicultural, fun working environment which delivers the highest levels of service. Our company is fun and dynamic. We work closely with charities and always support and promote holidays and celebrations from different countries! We are currently planning a huge carnival day to celebrate the Carnival so that all of our Brazilian colleagues on site feel at home while away from home! We also celebrate sporting events, Halloween and many others. Our Connect Committee organises a monthly get-together at a local venue on the first Friday after pay-day for all staff to get to know their colleagues and have fun.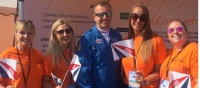 2. What are the main benefits of working at Conduent?
We offer many benefits here at Conduent. For example, there is the opportunity to progress quickly in the company as 95% of senior positions are filled internally! You will become part of our huge growing community that offers career development and continued training and learning. We provide our employees with mental health support and connect you with lots local clubs such as language learning, photography and yoga. With, over 12 languages spoken in this centre you will find many opportunities to spend time with colleagues to share language skills and experiences working abroad.

We have an internal committee who represent all staff on this site. This committee arranges social events, fun activities and acts as a key voice to continue make Conduent the most rewarding place to work.
3. What are the values in the company that might attract candidates?
We are committed to being honest and transparent with all of our staff members. We strive to make Conduent the best place to work. We always look to develop our existing staff into promotional roles ensuring ongoing training and career development opportunities. . We strive to provide outstanding customer care at all times and to promote a positive working attitude. Our goal is to deliver outstanding customer care, to take the time with each customer to ensure they receive the best service whether that be via phone, email, live chat or social media.
4. What available positions do you have at the moment?

We have Customer Care Associate vacancies with the following languages – Brazilian Portuguese, Spanish, Arabic, Turkish, French, German and Russian. We also have regular requirements for Agents to work in Italian and Polish. We are also recruiting for Senior Customer Care Associates to work in Spanish, German and French, these vacancies require a slightly different profile of applicant as this team looks after more complex troubleshooting. As with all our vacancies we offer full training to equip you with the knowledge and skills needed to provide the best service to our customers and for your to achieve your goals. .
5. Why should the potential candidate choose to work for you?

We offer huge potential to grow both personally and career wise. We will provide you with all the tools and support to help you achieve your goals both within and outside of work. Full training and a dedicated team leader will be at your disposal to help you succeed. Dedicated Tier 2´s, Operational Teams and Quality analysts will help you achieve excellence.
Bournemouth has the biggest digital economy outside of London making it a popular and exciting location for career development. We work with multiple digital tools and are one of the largest technology brands in the world!
RELOCATING TO THE UK
6. Why should potential candidates relocate to the UK and not to other countries?
The UK is full of opportunities and amazing experiences. You can travel from the top to the bottom of the country in just 10 hours! It has many great places to visit including our fantastic capital city London which is just 2 hours from Bournemouth by train., Bournemouth has a huge multicultural population, it a big university town with lots of nightlife activity, with many clubs, restaurants, live music venues and pubs. The UK is surrounded by beautiful coastlines, world heritage sites, countryside and mountains, Bournemouth has recently been voted one of the best beaches in the UK, right next to the town centre you have 7 miles of golden sands. Living in Bournemouth is very relaxed, accessible and there are loads of fun things to do. Life is very social, there are many local festivals and carnivals throughout the year. Our festivals set us apart from other seaside towns and ensure that residents and visitors have many options to join in. Every year we enjoy the Bournemouth Air Festival, Arts by the Sea Festival, Christmas Tree Wonderland, Bournemouth Marathon, free Friday night Fireworks from the pier, Bournemouth Food Festival and many many more. There are plenty of activities to do during the day and night for people of all ages and interests.

The cost of living is relatively cheap, compared to other European countries, as the wages are better. Even though the prices have increased, the daily life expenditures are very affordable. A meal for one person at a pub or a restaurant is around £10. Rent prices depend on each city and expectations, for example in Bournemouth a room in a house share is between £60-80 per week (typical room in a 4-6 bed house). However, a studio apartment is around £500 per month. On top of this, when living in the UK you have to pay council tax which is dependent on the valuation bands of the property.
Way of living in the UK

The UK is a highly-developed country with strong economic stability, offering many exciting opportunities for expats. One of the reasons people find the UK to be the easiest place to move to, is the fact that English is the official language, which minimises the language barrier. The National Health Service is an attractive factor when relocating, as residents have access to free healthcare and world leading medicine and research. If you are a traveler and like to discover new places, the UK is in the perfect location, as travelling to and from is very easy! Taking holidays in order to travel is not be a problem either, as by law, companies are required to give employees 28 paid days off per year. Besides these great benefits, English people are what makes this beautiful and unique country, the welcoming island that everyone is drawn to. The people of the UK are known for their kindness, welcoming nature and a great sense of humour!
We believe that the culture, lifestyle and opportunities are enough to convince anyone to move to the UK! We encourage you to check out the opportunities available in the UK and at Conduent using your native language.