Braga is not a well-known expat city choice and its status as a hidden gem is what makes it so special for those who wish to live abroad. You might not have considered relocating to Braga before so we are here to help you discover the charming city and convince you to make the move. Leaf through this ultimate step-by-step guide that will share with you everything you need to know as a future resident that will be living in Braga, Portugal.
Looking for Jobs in Braga, Portugal
Braga is quickly developing into more and more of a business hub and employment hotspot for international professionals. Most of the job opportunities are in the Customer Service and IT sectors, with some of the biggest companies worldwide kindling new business hubs there. In Braga, you can find a plethora of language job offers, with French, English, Dutch, Spanish, and German in particularly high demand.
Paperwork
European citizens do not require a work visa or permit to start their job adventure in Portugal. Companies usually assist their international employees with the process of obtaining the Tax Identification Number (NIF) to make sure they can legally work in Portugal. You can easily obtain the number by going to your local tax office. It will make your life much easier since, aside from starting a new job, you will also need it for other purposes such as opening a bank account or signing official rental contracts.
Most likely, at first, you will be given a temporary NIF number, which will be replaced by a permanent number.

You can find more information here.

Work Culture
Depending on the company, you can find both very international and typically Portuguese work environments. Generally, people are welcoming, open-minded, and friendly. Greetings are an essential part of the workday so we advise you to always say "hi" upon arrival at the office and head home with a "goodbye".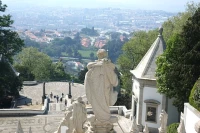 Getting Around in Braga, Portugal
Public Transport
Braga is a rather small town. If you live in the city centre, you can easily reach everywhere on foot. There are good bus connections to the immediate surroundings of the city centre and the towns nearby. Porto is 55 km away, easily reachable by train or car.

The nearest airport is in Porto and the GetBus connects Braga to the Francisco Sá Carneiro Airport several times of the day, every day of the week, facilitating spontaneous getaways.
Networking
The expat community has grown considerably over the past few years. With many large companies like Fujitsu having established themselves in this region, more and more internationals follow suit. Most of these companies host team building events for both international and local members of the company to facilitate bonding and integration. If you want to get a head start with networking you can join online communities such as these:



Braga Language and Culture
Way of Life
Many people say that a perfect day in Braga consists of wandering around the city centre and visiting local shops, buzzing cafes, and beautiful gardens. As one of the oldest cities in Portugal, you will find yourself surrounded by historical monuments and beautiful old streets that give the city an intimate feel.

Like in any Portuguese town, Braga is brimming with true national and local pride, so it is no surprise to see Portuguese flags flying everywhere. What's more, people will rave on about their home country and its origins with passion, especially to tourists and foreigners. Bracarenses (people from Braga) are kind, friendly, and welcoming. Don't be surprised if you are walking down the street and people greet you with a "bom dia" or "boa tarde" - it's something very customary in Northern Portugal! You will see locals chatting away in the cafe terraces with their coffees at almost every hour of the day and remember, if you ask for a coffee in Portugal you will receive an espresso shot!

Social Events and Holidays
The biggest celebrations in Braga are:
São João, celebrated on the 24th of June. Residents go out to party and celebrate with fireworks and music across the city cent

re.

Holy Week is a pretty big deal in Braga. There are hundreds of different traditions and forms of making merry that unfold across the city in celebration of Easter.
Braga Romana: medieval fairs are pretty common in Portugal. However, as the oldest Roman town in Portugal, Braga recreates an entire Roman Market for which the city travels back in time to the Roman Period. This transformation takes place around June.
Noite Branca: is a night where the very foundation of the city vibrates with music and people of all ages dress in white and party the night away!
Important Cultural Destinations
Braga's own university, Universidade do Minho, brings extra pizzazz to the city. University life is quite intense in Portugal and the institutions have their own form of fraternities called Praxe. Anyone studying a full term at the university can join them and they are hard to miss in their special suits and cloaks (which were the inspiration for Hogwarts robes!) For this reason, whenever the student week (Semana Académica) comes around, the city will be alive with festivities that culminate in the Enterro da Gata, in which students "bury" their academic failures and party throughout a three-day festival!
Language
Portuguese is very tricky! If you have any basic knowledge of Romance languages, this will help you out with the reading. Listening and writing, on the other hand, can be a little complicated. You will hear nasal sounds that resemble "Russian Spanish", as it is often described - it's not... People just expect it to sound like Spanish and it doesn't! On the whole, you will be able to get by with English. Most of the younger generations will be able to speak English at an intermediate, if not fluent, level.
Schools and Useful Apps
There are some useful apps and websites you can use to practice your Portuguese. Italki, Duolingo and Babbel are some of the more popular general language-learning platforms, but, for websites more specifically focused on practicing Portuguese, you can try Practice Portuguese and Loecsen.
Besides the common online schools, the University of Minho also offers several different courses in Portuguese as a Foreign Language, including summer classes.
Useful Phrases
Bom dia —> Good Morning
Boa Tarde —> Good Afternoon
Boa Noite —> Good Evening/Night
Olá —> Hello
Tudo bem? —> How are you?
Adeus —> Goodbye
Até Logo —> See you later
Por favor —> Please
Obrigado/a —> Thank you
Cerveja —> Beer
Fun Things to Do in Braga
Where to Eat
Braga has a lot of food places to explore. Depending on the locals you speak with, you will receive different opinions on the best restaurants in the area. In terms of well-known traditional restaurants, you have Dona Elvira, São Frutuoso, Tasquinha Dom Ferreira, Arcoense, Restaurante Ignácio, and Dona Júlia. Some of the more popular restaurants at the moment are Taberna Belga, Bira dos Namorados, and Il Fiume Nogueiró. If you are looking to relax and just enjoy some pastries, good coffee, or a small meal, you can always pass by A Brasileira or O Viana.
Museums, Theatres, Galleries
There are many cultural outings on offer. Braga is home to Teatro Circo, a prestigious theatre known for housing several different types of activities, from concerts to classical ballet performances. In the city centre, you can find some small galleries, mainly showcasing products hand-made by small independent artists. The cinema is also very popular and you can easily find one in all the shopping centres, as well as some independent viewing theatres. When it comes to museums, you can check out these:
Museu da Imagem de Braga - a journey through the evolution of photography in Braga!
Museu Nogueira da Silva - focused on the collection left by the entrepreneur Nogueira da Silvia.
Museu dos Biscainhos - an old palace that you can visit full of relics!
Museu Pio XII - religious art galore.
Museu D. Diogo de Sousa - the city's archeological museum.
Whilst roaming the city centre, you must not miss the Jardim de Santa Bárbara in the Antigo Paço Arquiepiscopal: a beautiful municipal garden at the back of a medieval palace!
Night Life
In Northern Portugal, going to dinner together before a night out is the norm. For this reason, most restaurants are open late and the more traditional they are, the more likely it is that they will only close once the last customer has left. You will often see massive groups of friends of all ages going out for dinner and chatting over some comfort food until long past midnight.
In the city centre, you will find a lot of lively bars such as Sé La Vie, o Mal Amado, Deslize, and SETRA, among many others! These are also great places to start your night before scurrying off to dance in the clubs. One of the most renowned clubs is Sardinha Biba, and it's open until 7 am. By the time you leave, you are ready for breakfast!

Outdoor Activities
There are a lot of things that you can do in Braga and its surroundings. As Portugal is a relatively small country, you can easily reach other cities. For example, you can get to Porto in under an hour, and even closer than that are Guimarães (Portugal's first capital!) and Barcelos. Head further North and you can enjoy cities like Viana do Castelo, Chaves ou Bragança, or even cross the border to Spain and visit Galicia.

Braga is situated in a valley so you are surrounded by mountains where you can take advantage of the higher viewpoints. If you are feeling spiritual, take a trip up to the impressive Bom Jesus or Sameiro sanctuaries. These are very unique, massive attractions for both locals and tourists.

When in Braga, you are about half an hour away from the coast and can easily reach Esposende, Fão, Apúlia e Póvoa de Varzim, some of the most popular coastal towns in the area. During the summer weekends, you will notice that most of the locals will leave Braga for one of these cities to cool down by the beach.

Another popular spot is Gerês, a beautiful national park and lake where you can do a range of water sports. Why not pitch a tent and camp out there, spend time on the fluvial beaches. Yet, don't assume that it's only a summer destination! During the winter, you can still enjoy hiking and visiting many picturesque villages dotted across the park while living in Braga.

Sporting Braga
As in the rest of Portugal, football is by far the most popular sport, SC Braga being the biggest club in the city. In the same district, you can find other massive teams with a huge fanbase such as Vitória de Guimarães (VSC) and Moreirense. Both VSC and SC Braga have massive basketball and volleyball teams and you can often watch matches free of charge. ABC is the local club for handball, another popular sport in the region.
Shopping
Braga and shopping sprees go hand in hand. Portuguese cities usually have a specific street designated for shopping. In Braga, the street is called "Rua do Souto" and it is located in the city centre. You can find both name brands and local clothes shops. The most famous retailers that carry known brands (like Zara or Sephora) are Braga Parque, Minho Center, and Nova Arcada.
Cost of Living in Braga, Portugal
The cost of living in Portugal is relatively low compared to other European countries and Braga is particularly cheap for a Portuguese city. If we look at consumer prices, they are 8.29% lower than Lisbon, and rent prices are almost 50% than those of the capital! This is a massive selling point for expats when considering living in Braga; it is a cost-effective destination with all essential amenities close by.
Rent
As mentioned above, rent in Braga is significantly lower than Lisbon. To rent a one-bedroom apartment (T1), prices start around 400€ per month. If you are looking for a three-bedroom apartment (T3), you can expect to pay around 600€ monthly. As in any other city, the further you go from the city centre the cheaper it becomes! Since it is also a university town, you can also find some individual rooms available, however, be sure to begin the search over summer, since demand and prices shoot up at the start of the school year in September.
Food and Groceries
Grocery shopping in Braga is cheaper than European expat destinations. The main supermarket chains are Continente, Auchan, Lidl, Pingo Doce, and Intermarché.
Since there are many bars and restaurants in the city, you can easily find meals out for as little as 5 € per person.
Here is our estimate of how much the weekly shop for two would cost:
Taxes
Taxes in Portugal benefit expats residing there:
as a tax resident, your overall income is subject to Portuguese income tax, which includes salary, rental income (if applicable), and capital gains.
as a non-habitual resident (NHR) (i.e. as an expat), there are several exemptions during the first 10 years of residence in Portugal. The two main benefits are not paying tax on any earnings you make anywhere else in the world, and that you only have to pay income tax at a flat rate of 20% (compared to standard rates that can rise to 48%).
Medical Care
The healthcare system in Portugal is divided into three coexisting entities:
the National Health Service (Serviço Nacional de Saúde or SNS)

special social health insurance schemes

private healthcare
The healthcare system is heavily funded through general taxation as well as from social security contributions paid by working residents. For this reason, residents have to pay certain costs for doctors, specialists, hospital treatment, and prescriptions. However, the costs are minimal: 5€ to visit a GP and 20€ to visit A&E. Trips to the dentist and general dental care, on the other hand, are more than often not covered by the SNS.
To get access to the Portuguese healthcare system, you just have to be a legal resident. Since you will not be a legal resident straight away, you could consider international medical insurance. International Citizens Insurance can help you find the right plan for you.
So, how would we sum up life in Braga? No less than a combination of an affordable, fun-filled lifestyle, a historical yet vivid city, and a balance between international and Portuguese culture with space to grow professionally and develop as a person through both the professional opportunities and leisure activities awaiting you there. Now that you have discovered in detail the joys of Braga, how do you envision your life there? Tell us in the comments below.