Updated: August 2022
While it's true that Bucharest is not commonly considered as a first choice relocation destination, its vibrancy and great opportunities for career development are making it more and more attractive for expats. Known as the "Paris of the East", Bucharest has a lot to offer, primarily: a unique urban atmosphere, buzzing social life, tree-lined streets, and an "easy living" local mentality. If you are considering being an expat living in Bucharest to enjoy the wonderful, lively Balkans, you will need to know how your lifestyle and career will look once you relocate. Keep reading this expat guide to discover all the essential things you need to know to make the most out of your experience in bohemian Bucharest.
For a better navigation through the guide, here is the structure of the topics covered in this blog:
How to Look for Work in Bucharest
You'll notice when living in Bucharest, Romania that it's a very fast-developing industrial city, so finding a job there will not be a challenge - especially not if you are a skilled versatile worker. There is a high demand for English, German, French, Polish, and Italian speakers as more opportunities in Customer Service, Marketing and Sales materialise on a regular basis. Not only is there a budding start-up culture in Bucharest in the Technology sector, but large international companies are also choosing to set up in the city as it is particularly cost-effective. During the last decade, many new business centres have emerged and gone on to flourish.
As mentioned, there is a variety of opportunities for candidates who speak different European languages and are looking to build their career within a multinational company. The good news is that, as there is low competition, job opportunities come with great benefit packages. Take a look at your options on LinkedIn, Indeed, and Europe Language Jobs for the latest jobs in Bucharest for internationals.
A range of freelance jobs are also available to you. A popular freelance role at the current moment is Copywriting. Check out Best Writers Online to get an insight into the industry.
Work Culture
When working in a typical Romanian office - with a hierarchical structure, regular deadlines, and frequent teamwork - you need to be aware of some important work culture trends.
Dress code: business culture in Romania allows workers to wear a set of casual comfy outfits. No need to stress about pantsuits, "smart casual" is the typical dress code for the working environment.

Teamwork: teamwork is highly valued. Amongst a wide range of applicants, Romanian companies will always lean towards candidates who promote themselves as keen team players. It is crucial for them to choose an expat who is able to immerse themself in a new environment and quickly adjust to the peculiarities of Bucharestian working life.

Initiative: Romanian people appreciate dedication, especially to one's job. Demonstrating that you are committed to carrying out your role to the best of your ability and are willing to contribute sound ideas is vital during the recruitment process.
Work Rights
In order to start working as an expat in Bucharest, you are required to have a work permit. Thus, EU citizens have an advantage in this sense as the requirements are easier to fulfil. They are similar to those stipulated by the rest of the EU. For the non-EU or EEA candidates to apply for a position in Romania, a work visa is a must.

Getting Around in Bucharest
As stated in Business Culture, Romania's road network was 82,386km long in 2010. Since then, it has extended even further, meaning that you will have no trouble finding methods of transport to explore the country's cities...
Public Transport in Bucharest
Bucharest's neighbourhoods are well connected by a network of buses, trams, trolleybuses, and the metro. A single ticket valid to ride on these costs as little as 0.28€. If you are staying for longer (as we strongly encourage you to do!), it is more economical to purchase the 1-day, 7-day, 15-day, or monthly pass. Prices vary depending on the line. There are even discounts for students, pensioners, and blood donors. The travel cards can be charged at the ticket shops located in the stations, or by SMS, and must be validated by the orange machines inside the bus/tram/etc.
The metro system has 4 lines with 53 stations in total. Taking the underground is usually the best option for traveling in Bucharest, even during rush hour when the capital gets extremely crowded.
There are tickets that allow you to use both the metro system and the rest of the transport network. These tickets can be bought from every purchasing point just like any other. You can also download the Transport Urban app to manage your public transport journeys more easily.
There is also a separate app that helps you navigate the Bucharest underground, Bucharest Metro Guide and Subway Route Planner. For general help in finding your way around the city, try out Bucharest Map and Walks.
Getting a Taxi
Taxis are widely available and affordable. The average rate is usually calculated per km (it varies from 1.5 to 2 Lei)(~0.40€). For instance, if you take the road from the airport to downtown - depending on the path and traffic level - you will have to pay around 15 to 25€. Keep an eye on the metre as, occasionally, a taxi driver may try to scam you. If you feel you are being charged excessively, ask the driver to pull over, pay, and look for another taxi.
A popular app to order a taxi in Bucharest is Star Taxi.
Driving
The road junction in Bucharest is ideal for traveling out of the city as it has road links with other small towns as well as national highways leading to the neighbouring countries. 1L of petrol costs around 5.60 Lei (1.15€).
Cultural Experiences in Bucharest
To keep it short, Romanians are grateful, humorous, and possessive. "How is this reflected in their daily behaviour?" you might ask...
Well, when it comes to really getting to know them, you should expect them to act and speak in a sarcastic, jokey tone. Even if you don't quite pick up on it, or are not on the same wavelength as them, showing effort and willingness to communicate will always take you a long way!
Romanians tend to have an obsessive attitude towards money and property; this competitive commercial streak is in inherent in Bucharesters.

LGBTQ+ Community
The early 2000's in Bucharest were marked by a general lack of support for the LGBTQ+ communities. While Romania still doesn't recognise any form of civil union between same-sex couples, multiple activist groups and organisations such as Accept Romania are constantly appearing with the aim to fight for equality.
You shouldn't measure Bucharest up against Barcelona, Berlin, or Dublin quite yet, but it is making progress at its own pace. Bucharest Pride is a popular event by now, and people's views are becoming more and more liberal. Especially the younger generation demands change, so new queer-friendly venues are opening across the cosmopolitan capital.
Important Cultural Distinctions
The most prominent characteristic that will strike you is the locals' solidarity. Romanian people encourage tolerance and aim for peaceful coexistence. Any tourist will be met with a strong respect for their culture, customs, and opinions.
Local people are upbeat and optimistic, only seeing the positives and anticipating a bright future ahead. They enjoy living in the moment and making the most of the present. This cheerful attitude can be observed in Romanian celebrations and events.

Networking
Nothing helps you integrate more quickly into a new environment than meeting people of your nationality or other foreigners. Upon your arrival, start connecting with expats in Bucharest. Joining different online communities will help you create this new social bubble. Although reaching out to Romanians is key to establishing yourself as a resident rather than a tourist, finding friends who share your language or culture to advise you on certain topics is useful in the early stages of settling in.
Social Events and Holidays
Romanian culture is composed of unique customs and extraordinary festivals:
Music fans simply have to experience the Outernational Days festival that takes place in the summer. It is a once-in-a-lifetime opportunity to let loose to foreign bands as well as local gypsy orchestras.
At the beginning of Autumn, Romania celebrates the festival of grape harvesting. Anyone brave enough to compare their drinking ability with the locals and end up "under the table" is welcome.
The most important holiday of all is Roma Day. As with every country's Independence Day, it is a time for the celebration of ethnic diversity and the manifestation of national pride.
Museums, Theatres, Galleries
If you decide to visit or (better still) live in Bucharest, going to the National Museum of Art (MNAR) is a must. Otherwise, you will be missing out on Bucharest's greatest cultural gem. And this is not simply a room decorated with a couple of paintings, we are talking about all types of art! In fact, you can explore the entirety of Romanian culture in just one place. MNAR often hosts live performances which include Operetta and Musical Theatre pieces.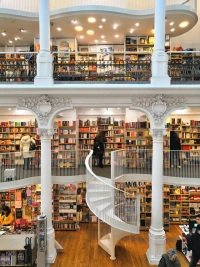 Sports
Unfortunately, Romanians lack sporting victories, matches, or leagues to boast about. However, Bucharest does have 3 decent stadiums - Ștefan cel Mare Stadium, Ghencea Stadium and Giulești Stadium - where it frequently hosts foreign opponents.
The most popular sporting events are typically running, football, and tennis. Cupa României is an important event pinned in the calendar of every football fan. The Bucharest Marathon (taking place annually since 2008) has indispensable significance to the Romanians, and The Bucharest Open plays an important role in the professional tennis championships.
Language
Romanian is a language with Latin roots. Due to the country's location within the Balkans, there is also some influence from Slavic languages, mainly regarding the vocabulary. Learning a Latin language might be a lengthy, challenging task, but there are some language speakers who have a head start when it comes to instinctively understanding Romanian, for example Italian and Spanish speakers.
Many expats are concerned about the difficulties they might face when looking for a job, starting off a business, or studying without prior knowledge of Romanian. The good news is that multinational companies rarely require Romanian for their positions. That said, basic knowledge of the language can go a long way with the locals.
However, if you need help with understanding any frustrating paperwork, you can always get support from paper writing services such as Online Writers Rating who will assist you along the way.
Useful Language Apps
Nothing helps you keep a new language ticking over than apps that allow you to chat. If you are looking for a daily practice either with natives or learners like you, it is always good to take advantage of the apps available, for example, Italki.
Most Useful Phrases for Foreigners
Usually, Romanians greet each other as the French do, by saying "Salut".
Then, if they want to ask about your life they will use the following phrase:
The natural responses would be:
Foarte - Very
Bine - Good
You can also add these to show you know a few more basic phrases and impress Romanians:
Activities in Bucharest
Food Places
The traditional food served in most of the Balkan states is quite similar. The countries use locally produced ingredients and value the same herbs and spices. Many of the recipes appearing on traditional menus have elements in common. However, the variations of dishes are unique to each region. You might have tried a delicious dish in Bulgaria, Greece, or Turkey and then be surprised to see it in Romanian cuisine under another name with a slightly different recipe. That said, you can be sure that to taste something unfamiliar and delicious.
Here is how the Romanians' take on typical Balkan food:
Sarmale (Cabbage Rolls): cabbage leaves stuffed with rice and minced meat, cooked long and slow, and bursting with flavour.
Ciorbă de burta (Tripe soup): like Marmite, you will either love it or hate it! Even when it comes to the locals...not everyone is a fan of soup brewed with cow intestine, beef, and pork leg.
Mici (Grilled Minced Meat Rolls): also called Mititei, these rolls are grilled to perfection. No barbecue in Romania goes without some of those.
Mămăligă (Polenta): very typically served and cooked at home by Romanians. A kind of cornmeal garnished with cheese or sour cream that will certainly fill you up.
If you are into European cuisine and staying downtown, we recommend that you stop by Cismigiu - Bistro la Etaj. It's a fancy spacious place where you can dig into a large feast.
Nightlife
This European capital offers you a bundle of entertainment; take a drink on the vibrant streets, pig out in authentic restaurants, and strut your stuff in lively bars and clubs. It is up to the adventure-seeker the particular activity and places he/she chooses! One thing you should keep in mind is that most nightclubs do not open before 11-12 pm and continue on until the early hours of the morning as there are no licensing hours and restrictions like in Western Europe.
Beach/Mountain Activities
Bucharest is a city boasting both bustling night and cultural life as is made clear in this guide. However, we cannot forget about the verdant outdoors! If you have some spare hours to travel, you should definitely pitch a tent or go hiking in the Carpathian Mountains. If you want to stay closer to your accommodation there is also Natural Parc Comana or Mogosoaia Park. Another closer option would be the Snagov Lake area where you can visit the Snagov Monastery and the Caldarusani Monastery.
Bucharest does not have direct access to the sea, but that should not discourage you. In less than 2.5 hours you can reach the beaches of the Black Sea. Isn't that cool?
Shopping
Carturesti Carusel: as one of the most beautiful bookstores in the world, it is the go-to place for bookworms who want to uncover a new novel from any genre or author.
Unirea Shopping Centre: a popular shopping mall where young people go to buy fashionable, trendy items.
Cost of Living in Bucharest as an expat
The monthly cost of living in Bucharest is around 2300 Lei (~ 480€) for a single person. It depends on various factors:
Rent
If you are lucky enough to find a place further from the city centre, the price of renting a 1-bedroom apartment will be nearly 1400 lei (~ 290€).
Utilities
The most basic utilities including electricity, heating, air-con, water, and rubbish for an 85m2 apartment will cost you around 440 Lei monthly (~ 90€).
Food and Groceries
In comparison with other European countries, eating out and takeaway is very inexpensive. In fact, you will be amazed that the money you would normally spend on groceries is equal to a proper meal in Bucharest.
Check out how much an average weekly shopping will cost you: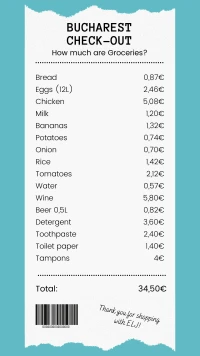 Taxes
The approximate amount of Lei you could earn on average will be 3500. This is a common monthly net salary obtained after paying out taxes (~720€).
Medical Care
Medical care is very inexpensive when compared with European standards. So, by having yearly insurance, you will be able to cover most of the costs spent on treatments or consultations. Private medical facilities are less affordable. A typical doctor appointment will cost you around 30€.
Films and books set in Bucharest
Bucharest invites with its undeniable charm. The capital of Romania is appreciated by many, including multiple directors and authors. They invite you to discover more of this beautiful city in a number of books and films:
Movies
Romania became the European Hollywood of international filming thanks to the diversity of settings and low costs when filming.
Set during the American Civil War (1861-1865). It tells the story of the Confederate soldier Inman who is wounded in a battle and decides to return home with his wife Ada. Meanwhile, for the first time, Ada faces a dangerous and cruel reality taking care of her father's farm during the war.
An oscar-winning film with an incredible cast including Nicole Kidman, Jude Law, and Natalie Portman. It was recorded in the Romanian capital and the town of Reci.
It's a dramatic comedy film by Cristi Puiu. As tradition dictates, 40 days since the death of his father, Lary, a Romanian doctor, must spend a day with his family. During this time nothing will go as it should and our protagonist will reflect on the past and the place he occupies within his family.
It was nominated at the Cannes Film Festival in 2016. Although we don't see many places in the city of Bucharest, we can delve into Romanian culture and customs.
It tells the story of a young tourist who travels to Romania and falls in love with a musician on the run from the leader of an organized gang.
Almost everything is filmed in Bucharest showing its amazing buildings, famous monuments and nightclubs.
This film by Romanian director Corneliu Porumboiu tells the story of Cristi, a corrupted policeman who works for the mafia. Cristi travels to the island of La Gomera (Spain) to learn the "silbo gomero", an ancestral form of communication between the islanders through tonal sounds recognizable from a distance. He intends to use this whistle to get a businessman out of jail accused of embezzlement and seize his hidden fortune.
Various shots of the movie were recorded at Media Pro Studios in Bucharest.
Books
The book contains the first testimony of a political prisoner in the regime established by the Soviets after World War II. Adriana Georgescu tells her terrible and real experience when, at the age of 25, she was arrested and tortured by the Communists.
It tells the story of a Romanian high school teacher who buys a ship-shaped house, built by the inventor of a Solenoid. The plot unfolds in two phases; the daytime, where our protagonist faces the cruel reality, and the nighttime, where he gets carried away by his hallucinations and makes an introspective journey to know himself.
One cold morning, 70-year-old Vica walks through the streets of Bucharest to visit her sister and run some errands. During this trip, she recalls the history of Romania from before World War I, until today. The book shows a vision of everyday life.
This book describes the Romanian society of the interwar period, full of ambitions and hypocrisies. It is told during the preparation of a Bach concert that is being postponed over and over again.
Bucharest Playlist
There is no better way to soak into the city's climate than by listening to a playlist tailor-made to match its vibe. If you're curious about what Bucharest feels like, power up these songs:
Let's recap. Bucharest, or "the little Paris of the East", is an attractive and inviting Eastern European capital that is increasingly popular among expatriates keen to experience life in Romania. Not only does Bucharest offer a rich wealth of culture, traditions, lifestyle, and natural heritage, but, since joining the EU family, it is beginning to flourish as a centre of commerce. This makes living there a wonderful opportunity to develop both personally and professionally in a progressive environment. Isn't that exciting?
Have you ever visited Bucharest? If yes, share with us what you liked the most about the city in the comments below.