If you have travel fever and are itching to move abroad, Lisbon is a very attractive city for relocation. To make sure you are prepared for such an exciting step, we have prepared the Ultimate Guide for Lisbon's Expats. Forewarned is forearmed, right? Before setting out, you probably want to know more about the local job market, the working conditions, the living standards, the city's unique culture and character, as well as its best spots and insights. That's right! All this information about the capital of Portugal can be found in this all-you-need-to-know city guide.
Is it your dream to live in Lisbon? If so, let's dive right in!
Professional Life: Finding a Job in Lisbon
When it comes to relocating to a new city or country, the first thought that springs to mind is usually work-related. Either you will need to turn your current position into a remote role, or you will need to search for a new job altogether. So, to immerse yourself in the foreign job hunting process before moving to Lisbon, it will be handy to have an overview of the local job market and work culture. You might be wondering how to kick off your career, what the most in-demand languages in Portugal are, which qualities are most sought after in expats by local and international companies, or how to blend seamlessly in the local business environment.
Let's answer these important questions...
Necessary Paperwork
Anyone interested in moving to Lisbon for work must provide the following documents to obtain a work permit:
● A valid Portuguese residence visa
● Proof of accommodation in Portugal
● A valid passport
● Two ID photos
● Tax forms
● Background checks for criminal record
● A valid employment contract
● Proof of registration with Social Security
Most Popular Jobs
Speaking Portuguese is obviously advantageous when looking for a job, but it is swiftly becoming easier to find English-speaking roles as many companies are opting to cultivate more international teams. Even though English and Portuguese are most commonly required, German and Nordic language speakers are also highly valued. Since the Customer Service sector in Portugal is growing rapidly, your language skills are your biggest strength. Whatever your mother tongue may be, the chances are that you would be an asset in the international teams of many companies.
If you are an IT specialist, nor will you struggle to encounter opportunities. It is no surprise that there are so many opportunities in Lisbon's highly developed tourism sector as the city represents one of the most popular destinations in Europe. Check out Europe Language Jobs' offers in Lisbon to get an even better insight of the city's most in-demand jobs and offers available. Jobs in Lisbon is another reliable resource when seeking employment.
Work Culture
The first distinctive feature of work-life in Portugal is the lenient approach to punctuality. It is often excusable if you arrive late to the office. In fact, according to Business Culture, it is sometimes even admirable to be a tardy employee and showcase your laid-back lifestyle. You can even expect to be given a gift from your employer once in a while as it represents an incentive to keep up the good work or simply an act of appreciation. In the same way, employees can treat their mentors with a little present as a gesture of gratitude or respect. We know what you're thinking - no, don't worry, no one will construe it as an attempt at bribery.
If you wonder how you should dress for a Lisbon office, you should follow a rather formal dress code. Loud or revealing clothes are naturally out of the question as Portuguese people treat work as a noble social event. Even if you are very eager to show off your trendy garments in front of your colleagues, you should play it safe and dress sharp and smart.
Popular good schools
If you plan on living in Portugal and are moving with your family, you might be interested in education in Lisbon for your children aside from work. Below, you can find a good schools guide listing the best international schools in the city:
1. British School of Lisbon
2. Carlucci American International School of Lisbon
3. International Preparatory School
4. Greene's Tutorial College
5. St. Julian's School
Living in Portugal: Accommodation in Lisbon
Spread across seven hills on the seaside, Lisbon's 12 districts offer a little something for anyone.
Regardless of whether you'd like to live in a fashionable & modern residential neighbourhood such as Príncipe Real, or one with a soul of its own and extensive history, like Graça, Lisbon is certainly going to immediately make you feel at home.
With an average rental price for a furnished apartment being €1100, the cost of renting in Lisbon is considered average for a European capital. The city offers a wide choice of mid-to-long-term rental properties available throughout the neighborhoods, the vast majority of which require a one-month deposit.
In case students do not get into one of the university dormitories, the best option for them would be renting a room in a shared apartment or a house. With an average cost of €400, such rooms provide the opportunity to meet people from other cultures and broaden your horizons.
AIRBNB and SPOTAHOME are the best options if you plan to first secure short-term housing in Lisbon while looking for a more long-term abode. Olx.pt and Idealista.pt are useful sites to find landlords and apartments to rent on a contract. Facebook groups are not to be underestimated - try joining groups for accommodation in Lisbon and scroll through the posts to spot offers that are often cheaper than elsewhere.
As with every city, rent differs based on many factors such as location, size, condition, and so on... but in Lisbon, you will definitely get more for money than across the rest of Western Europe.
Best Ways to Get Around Lisbon
The Trams
If you have previously visited Lisbon or simply stumbled across some travel photos of Portugal's capital, it is certain that the cute yellow old-school trams driving around Lisbon city center will have caught your attention. These trams are not only your best way around the city but also one of the main tourist attractions. The vintage trams are emblematic of the city so you can't leave without snapping a couple of Instagram-worthy pics.
There are five different routes to follow onboard the trams, the most famous being that traveled by the Nostalgic Tram Nº 28, the most photogenic of them all.
Tram Nº 15 is the busiest carriage since it connects the city centre with the southwesternmost district - Belem - where many of the city's monuments are located. Taking a ride on this route is not so much of an authentic experience since the tram has been recently renovated and is always packed.
A single ride on a tram will cost you 3 euros. The prices for occasional journeys are to be found here. There are different options, tariffs, and discounts for frequent travelers too. Find the best fares through the public transport provider Carris.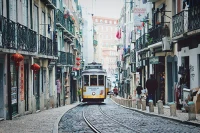 Buses
Buses are an essential part of Lisbon's public transport system. Taking a bus is an affordable and convenient way to travel from the airport to the city or whizz off to catch a flight for the price of approximately 4 euros. Any city destination is reachable with the bus services and once you get your Lisboa VIVA card you are set to get about like a local.
Metro
Four metro lines run across Lisbon. The metro is the fastest transport the city has to offer, but it is worth knowing that there are few intersections between the lines. Tourists usually use alternative means of transport as the metro does not connect with the most touristic areas but, for residents, it's the way to get to work quickly.
Networking
In order to adapt to the pace of the Portuguese lifestyle, you might want to join some expat organizations and groups. You can check out various expat websites and mobile applications to communicate with people of the same nationality or other internationals. It is always a good idea to join some Facebook groups. It's a great way to get some opinions and recommendations from others' first-hand experience on living in Lisbon, and to keep up with events. Online communities are usually a good bet as there is a high level of engagement and people respond quickly.
Here are some other local platforms to help you kick off your social life in Lisbon:
Ideal place for both expats and locals who want to meet up and practice their languages
A convivial platform where you can ask for specific advice from other female expats in Lisbon
A useful community when looking for a flat, or getting to know local renting rates and more.
Other websites to meet new people: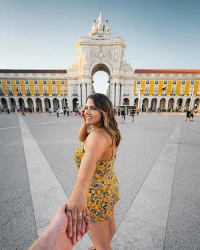 Culture and Language in Lisbon
The Portuguese are chatty people, so let's first take a look at...
Language
Difficulties and How to Approach Them
Portuguese is not the easiest language to learn. It undoubtedly has a resemblance to Spanish but, although the Portuguese and the Spaniards tend to understand each other well, Portuguese is definitely a language in its own right. The pronunciation might be challenging for foreign speakers at first but people appreciate you trying. The key is to practice the language actively, so that's just an excuse to socialise!
Schools or Useful Apps
In fact, there are plenty of tools for language enthusiasts. As Lisbon is jam-packed with foreigners from around the world, you can rest assured that you will not be the only novice in Portuguese. Luckily, there are a lot of schools waiting for you if you want to follow an intense professional course.
If you prefer to go at your own pace, the majority of conversation groups and apps are free of charge. The most popular chatrooms and language learning apps are Duolingo, Fluentu, SoundHound, Tandem, Italki and Gymglish. Use your mobile phone to pick up Portuguese fast and effectively.
Useful Phrases
As a beginner you definitely know or, at least, have heard of Olá (Hello) or Adeus (Goodbye), but what are some other useful phrases you will need for the start? Let's have a look:
Tudo bem? - How are you?
Com licença - Excuse me
Obrigada (if you are a woman) / Obrigado (If you are a man) - Thank you
Muito prazer - Nice to meet you
Meu nome é … . - My name is … .
Gostaria de uma cerveja - I would like a beer, please
Boa tarde - Good afternoon
Social Events and Holidays
Many popular celebrations have their roots in the European history, so in the holiday list, you should expect to see many religious events such as Corpus Christi, Saint John's Day, Nativity of Mary, All Saints' Day. Typical holidays like New Year's Day, National Day, and Christmas Day are also celebrated. Mark these important dates on your calendar as many public services will not be operating or will have reduced working hours.
Just like in most places, a total of 2 weeks throughout the year are listed as public holidays.
City Life: The Best Entertainment in Lisbon
Where to Eat
According to TheHattedTraveller, food in Lisbon stands out for both its great taste and quality. The typical Mediterranean seafood cuisine never fails to appease: it is fresh, affordable, and delicious.
Food has a special place in the heart of every Portuguese person so the dishes you will try in the numerous restaurants and street markets around Lisbon will amaze you with their flavour and portion size. Let's make a list of the typical Portuguese dishes to hunt down on local menus:
Cataplana de marisco: a main course seafood meal cooked on a special pan with everyone's all-time favourite ingredients of onions, garlic, tomato, wine, and a selection of prawns and clams.
Sardinhas assadas: a simple and yummy classic Portuguese recipe of grilled sardines. This is a common festival food in Portugal.
Caldo verde: a soup made of cabbage, very typical for Portugal. The name comes from the colour of the soup - green - and is a very healthy option for the wintertime.
Pastel del nata: perhaps the country's most iconic dessert, the pastry is really something to try. You will find offered almost everywhere, with everyone claiming theirs is the best. Competition for the best pastel de nata in Lisbon is fierce.
Bifanas: Portuguese sandwiches. There are plenty of variations and they are a great easy snap to gobble down whilst exploring every inch of the city.
If you are a real foodie, the Time Out Market is a must-visit location with the best local dishes. Here are some other recommendations to enjoy Portuguese food at its finest: Augusto Lisboa, Floresta Das Escadinhas, Frade dos Mares, Banca de Pau

While speaking of amazing places to eat, there are areas in Lisbon you must stop by!
Alfama
Alfama is Lisbon's oldest neighborhood. Therefore, there you'll find incredible & traditional places to eat and drink, such as Alfama63, Parreirinha de Alfama, Tabela Moderna, and Tejo Bar. Make sure to pay a visit and taste history.
Nightlife
Lisbon is definitely a city awake until the early hours of the morning. The tourists blend in with the locals, and the city's bars, pubs, and clubs are packed all year long.
The three nightlife areas in Lisbon are Bairro Alto, with many underground bars and street drinking locations, Parque das Nações, with themed bars, and Santo Amaro Docks, with waterfront party locations. Other trendy places include Sabotage Club, MusicBox, Incógnito, and Lux.
If you would like a more sensual experience, try wine tasting:
The "Douro Valley Small-Group Tour with Wine Tasting" is a wonderful experience to explore nature and meet the winemakers

"2 Hour Lisbon Sunset and Wine Sailing Tour" is a nice opportunity to watch the dusk fall with the bottle of mouth-watering wine in hand

Wasted on the West Coast is a unique chance to discover epic beaches in the company of other frequent drinkers.
Outdoor Activities
Near Lisbon, there are plenty of beaches to visit for a day trip or even a weekend getaway. The best part is that there is a long list of places that can be reached via Lisbon's public transport. Here are some of the best beaches nearby to enjoy a day under the sun:
Praia de Carcavelos (40 min by train)

Praia Sao Pedro (40 min by train)

Praia da Conceição, Cascais (45 min by train)

Praia de Santo Amaro de Oeiras (20 min by train)

Praia do Tamariz, Estoril (40 min by train)

Costa da Caparica (30 min by bus)
If you have a car available, a little further from Lisbon you can find stunning beaches like:
Praia do Creiro (48 km)

Praia do Guincho (32 km)

Praia da Ursa (44 km)

Praia das Maçãs (43 km)

Praia Tróia-Mar and the Tróia Peninsula (55 km + ferry ride)

Lagoa de Albufeira (41 km)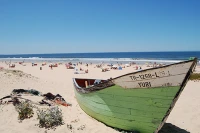 As Lisbon is surrounded by four different coastlines there is definitely something for everyone's preference. Some beaches attract surfers and watersport lovers with good wind conditions; others are ideal seaside locations for families with youngsters who wish for calmer waters and charming resort towns.

Moreover, mountaineers can enjoy plenty of hikes and walking trails just 25 km away from Lisbon where the beautiful Sintra mountains lay.

Belém Tower
Apart from all of those beautiful beaches, let me tell you one place you must visit yes or yes. This place is called Belém Tower. It is a national monument and symbol of Lisbon. This goes to say that you haven't been to Lisbon if you haven't seen Torre de Belém.
Sports
Whether you prefer going for a jog or hiking trails, you will have plenty of options for outdoor activities and sports in Lisbon.

Although Lisbon's hills might be just enough to keep you in good shape, if you want a proper workout, there are fitness centres with good-value membership options in every area of the city. Here are some recommendations for gyms:
Fitness Hut - one of the most popular choices for a gym with centres in various locations throughout the city.
Unsurprisingly, football is big in Portugal too, so if you are also a fan you will have no trouble finding a company to go play a match.
Shopping
The next thing you will need to know when moving to Lisbon is the shopping mall chains. The most affordable and accessible shopping centres in Portugal are Pingo Doce, Leroy Merlin, and Casa. For food shopping and DIY things, you will want to browse the first two shops, whereas Casa stands out more for homeware.
Museums, Theatres, Galleries
Lisbon offers a great deal of cultural gems like modern galleries, and classical or contemporary theatres and museums.
Museums:
Museu Nacional do Azulejo

Museu Nacional de Arte Antiga

Museu Coleção Berardo
Galleries:
Theatres:
Teatro Nacional Dona Maria II

Teatro da Garagem

Teatro Nacional de São Carlos
An indispensable part of Portuguese culture is music, of course. A typically Portuguese genre would be Fado: a unique melancholic style of singing that will put you into a trance as you enjoy a glass of wine in a Fado bar. Take a look at where to enjoy them here.
Cost of Living in Lisbon
Lisbon is among the most affordable big cities in Western Europe, allowing you to live comfortably without splashing the cash. Moreover, all the best things about Lisbon will not even cost you a cent: the friendly people, laid-back lifestyle, amazing weather, and lovely beaches.
Food and Groceries
Just like for the rest of the expenses, food and groceries will take a smaller bit of your monthly budget than perhaps currently.
You will see a lot of the following supermarket chains:
Continente - this is the largest retail store in Portugal

Minipreco - a discount supermarket chain

Pingo Doce - great price-quality ratio supermarket

Lidl
Here is our estimation of what weekly shopping for one will cost you: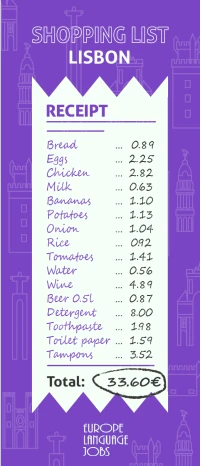 Taxes
As a resident of Portugal, you are obliged to pay a worldwide income tax, while non-residents are charged tax on what they earn only in Portugal at a flat 25% income tax rate. However, we advise you to file your taxes with a professional. You definitely don't want to mess up with the government when it comes to money, and filling something incorrectly can cost you a lot more than paying for professional services.
Medical Care
The good news is that the healthcare system in Portugal is free. So take care, but also don't fret about suffering huge medical costs while living in Lisbon. Although you will be asked to pay for certain appointments or visits to private clinics, in general, everything is very low-cost. The system will cover you in Portugal but you should investigate where you are not covered. A private health insurance plan will cover you for any travel outside of Portugal and even when you return "home" for a trip or to receive medical treatment.
All in all, Lisbon is a simply wonderful place to live: a perfect combination of sun-kissed soil, warm people, and inexpensive necessities. With its vibrant way of life and numerous opportunities for professional realisation, it is no wonder that this city is so ideal for expatriates. So, tell us, now you know the key ins and outs of this beautiful city, how do you envision your life there? Would you like to live in Lisbon? What's the best thing in your experience?
Author's Bio
Nancy P. Howard has been working as a writing expert at Online Writers Rating for a year. She is also a professional writer on topics such as blogging, IT, and marketing. She loves traveling and photography and is always open to meeting new people.