Malaga is an ideal job destination if you want to work in Spain. Thousands of young people from all over the world choose this wonderful city as their home. Are you thinking about doing the same? In this expat guide, you will find all the information you need to get the most out of life in Málaga. From tips for your job search to cultural activities and places of interest to visit in this amazing city. Let's get started!
How to Find A Job In Malaga
Education, work experience, and speaking more than one language are some of the keys that can help you get a job in Malaga. Just like most southern coast cities in Spain, catering and hospitality are popular sectors to work in Malaga. Although these jobs are very common, they can also be subject to seasonal periods with more demand during the summer months (May-September).

Apart from tourism, the construction and agriculture industry are the biggest job generators in Malaga. However, according to data from the Andalusian Regional Government, the Information and Communication Technologies sector is growing very fast and creating new job opportunities where language speakers are in high demand.
Furthermore, Malaga is gradually pushing to become one of the best entrepreneurial ecosystems in Spain. According to some experts, the areas that offer the greatest job placement possibilities in Spain are Madrid, Catalonia, and the Mediterranean Arc which includes the cities of Malaga, Alicante, Valencia, and Barcelona.
Despite the COVID-19 crisis in the Spanish labour market, many companies are still looking for employees to continue their business activity. From the Spanish region of Andalucia, Malaga is the province that has more job offers followed by Seville.
When it comes to job hunting, apart from LinkedIn and Indeed, one of the most popular job boards in Spain is Infojobs. However, if you are an expat, we highly recommend you to use Europe Language Jobs, where you can find suitable vacancies in different European languages.
When applying for jobs, it is recommended to attach a cover letter to your CV explaining your motivations.
Working Rights
For EU citizens, there is no need for a visa to work in Malaga. All you will need is the Foreigners Identity Number (NIE) followed by a social security number.
Obtaining NIE

Getting your NIE sometimes can be a tedious procedure, so we recommend you get started as soon as possible. You must make an appointment through this website or go to the Immigration Office located at the police station with all the required documents:
EX18 Spanish Residency Application form filled in

Passport and a copy

Carta Oferta Formal - you can ask your employer to provide you with it

Health Insurance information - find Spanish health insurance here
Your NIE will be ready right away. On this website you can find more information.
Obtaining Social Security Number
Once you have your NIE, your next step is getting your Social Security number at the closest Social Security office (Oficina de Seguridad Social). Their opening hours are usually between 9:00 am and 14:00 pm. In order to get your SS number you will need the following documents:
They will give it to you on the same day!
For non-EU citizens, a visa will be necessary to go to Malaga together with the NIE and Social Security Number.
Here are some tips to improve the chances of getting a job:

Office / Work culture

The work environment in Spanish companies is very welcoming. Most of your colleagues will exchange chit-chat during the workday, which makes it more enjoyable. Being punctual is essential to make a good impression. Also, teamwork, being motivated, and being decisive are highly valued skills.

The full working day is 8 hours with a lunch break of 1 to 2 hours, although some companies implement the intensive work-day (from 7 to 3 pm). This being said, working remotely has become more common and acceptable due to the COVID. Most of the companies are flexible about it and allow you to combine working from home with going to the office.

Regarding the dress code, companies opt for a semi-formal style. Although, if you work directly with the public, you most likely will be asked to wear a uniform.

One of the benefits of working in Malaga is that on the first Thursday of every month you will have the opportunity to meet with your colleagues after working hours and have a drink. This initiative established by the Young Entrepreneurs Association of Malaga aims to fight stress at work and promote "good vibes" between employers and entrepreneurs.

The Best Way to Get Around in Málaga
Malaga is a very well-connected city that offers a wide range of transport to choose from.
Public transport
Malaga's bus network is extensive and most lines are operational from 6:45 a.m. to 11:00 p.m., although there are also night-buses. You can check routes, schedules, and prices on the official site (both in English and Spanish). One trip costs €1, but you can also buy a bus card loaded up to 10 trips for €5.90.
The metro in Malaga has two lines, a total of 11.6 km of underground routes. Line 1 goes from El Perchel neighbourhood to Ciudad Universitaria and line 2 from Poligono Alameda to the Sports Palace. Both pass through the city centre. Check out the map for specific routes.
The metro is operational from Monday to Thursday from 6:30 a.m. to 11:00 p.m.; Fridays and holiday's eves from 6:30 a.m. to 1:30 a.m.; Saturdays from 7:00 a.m. to 1:30 a.m. and Sundays from 7:00 a.m. to 11:00 p.m. Tickets can be purchased directly on the bus or at the main stations and there are different types:
Billete normal: for those who do not use the subway regularly, the price is € 1.35 per trip. The ticket can be recharged as many times as you want and used by more than one person at a time without exceeding the number of 9.
Tarjeta Monedero: for the most common passengers. It can be recharged up to € 25 and requires a minimum of € 5. With this card, the price per trip is € 0.82. It can also be used by nine people at the same time.
Tarjeta Monedero Consorcio Transportes. This card allows you to travel on all means of transportation in the city, the price per trip being € 0.82. It can only be used by the person who has requested it.
Taxis
Malaga taxis are white with diagonal blue stripes on the front doors. All taxis have a meter in the front where you can see how much the journey costs. Normally the fee starts at € 3,7 and the cost per kilometre travelled is around €0.95 during the day and €1,15 during the night. Usually, you can expect to pay €5 for trips within the city centre.
Airport
Malaga's airport is one of the busiest in Spain and is perfectly connected to the entire Costa del Sol.
Apart from the taxis and train, the best and cheapest option is the A Express (L-75) bus line of the Malaga EMT. This urban line connects the city centre with the airport. One ticket cost €3 and the bus stop is located in Terminal T3, floor 0. You can check the itinerary of the bus using their website. The bus runs all day, there is one every 25-30 minutes and it takes about 15 minutes to get to the centre of Malaga.
If you are going or coming from Estepona, Marbella, or Nerja you also have a good connection with interurban buses.
Train
The Andalusia region has cultural destinations that you cannot miss such as Seville, Córdoba, Granada and Cádiz. The best way to reach them, if not with BlaBlaCar or by bus, is to use the Spanish train: RENFE. Prices vary between € 20-40 depending on the destination. In addition, the Malaga station has a good connection with other cities in Spain, such as Madrid and Barcelona with high-speed train lines (AVE).



Car rent
It is not surprising that there are countless car rental companies in Malaga. Some of these companies are located in the airport or around the city. One of the most famous is MálagaCar.com. It has a personalized pick-up service, 24-hour roadside assistance, and all-risk insurance included in the price.
Almeria
When talking about transportation and how easy it is to get around town, you should consider paying a visit to Almeria as well. It can be reached by either bus or train; it's up to you! The sea water is clean and transparent, seafood is a must-try, and people are extremely welcoming and warm.
Malaga is a city with a large number of both international and local students. Many young Spaniards choose Malaga as a destination due to its good location (sun and beach) and the wide range of studies available at universities and the jobs on offer, especially those oriented towards tourism and in the summer season. Therefore, if you choose Malaga as a destination, you will have the opportunity to meet young people from all regions of Spain, as well as international young people.



Way of living in Malaga, Spain
The Andalusian way of life is living outdoors enjoying time with your family and friends. This is not surprising since it is the sunniest region in Spain with more than 2,800 hours of sunshine per year. The good weather makes people happy and, on a daily basis, they enjoy their afternoons in the streets and bar terraces.
Language
The official language of the city of Malaga is Spanish. If you speak Spanish, the Malaga accent can be a bit difficult to understand at first. A curious fact is that, in this part of Spain, the "c" - one of the most difficult letters to pronounce for foreigners - is pronounced as "s". This will make your Spanish accent sound better than ever!



Language courses
If you don't speak Spanish, there is no problem as English is spoken in many places. Nonetheless, by working in Malaga you will have the opportunity to learn the second most spoken language in the world. Take this chance! We would recommend you to start signing up for an online academy or doing a basic language course.
Having a basic notion of Spanish will make your daily life much easier. The following platforms have a great variety of online courses that may be useful for you:

Additionally, there are different academies and centres for learning Spanish in situ. This option is also very suitable for interacting with people just like you and meeting new expats to practice the language daily.
Below you will find different websites where you can compare all the language schools and choose the one you like best based on your budget and needs:
Important Holidays
Malaga is joy, passion, tradition, and good vibes. In Malaga, you can't skip a good celebration. These are some of the most popular festivities in the city:
Malaga Carnival: it starts every January or February at the Alameda Theater and the Cervantes Theater. People also celebrate it on the streets with groups of people wearing costumes that perform songs criticizing the situation and the social problems of the moment.
Festival de cine español de Malaga: This film festival held in April promotes the best Spanish cinematography. The city dresses up with glamour to receive the best celebrities of Spanish cinema in all the theatres of the city.
La noche en blanco: During this festival in May, there are more than 200 activities for young and old throughout the city. Every year the decoration of the streets follows a different theme.
Semana popular de los corralones (June): This festival recreates the type of traditional residence called Corralones in which very modest families lived together. The aim of the event is to improve neighbourhood relations and encourage participation in community activities.
Feria de Málaga (August): The most anticipated party in the whole city. It is celebrated in an enclosure of more than 800,000 square meters with the so-called "casetas"(huge tents where you can eat, drink and dance the night away). During 10 days, you will find horse-drawn carriages, cowboy dressage competitions, people dressed up with traditional dresses, tapas and wines during the day in the city centre. An unique opportunity to see and experience the city's most authentic folklore.
Festival de la Luna Mora (September): In this festival, the streets of the town of Guaro are illuminated with the light of more than 20,000 candles making extraordinary shapes and designs.
.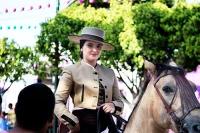 Networking Events in Málaga
As you may already know, people from the south of Spain are very open and welcoming. Becoming friends with Andalusians is not a problem at all. Malaga people are very cheerful and funny. They are always open to having a conversation with you, so you will make friends easily to practice your Spanish with.
In addition to the locals, in Malaga, there is a large network of international people who study or work in the city. Moreover, to break the ice, there is a huge cultural offer of activities and a very lively nightlife.
Websites to meet new people:

Facebook groups:
Fun Things to do in Malaga
Life in Malaga can be full with big events for international young people every year. These events include various excursions to interesting places, outdoor activities, sports leisure, parties, etc. Therefore, a great and youthful atmosphere is always in the air, which allows you to relate and get in touch with other people that share similar interests as yours, whether you are going to study (University) or to work.
Gastronomy
The Province of Malaga is one of the most complete gastronomic regions in Spain and it is characterized by a very healthy diet, in particular, the Mediterranean diet (olive oil, vegetables, fish, etc.). The orography of the region, which combines both sea and mountains, makes it possible to enjoy good fish, tasty and fresh meats all year round.
Another important part of Andalucia gastronomy is "el tapeo". "Tapeo" or "going for tapas" is a gastronomic and essential social activity in Malaga practised on the terrace of bars or indoors, depending on the weather. One "tapa" is basically a small dish that is served in bars for free alongside the drink.
Some of the most typical dishes you should try at least ones are:
Porra de Antequera: It is a typical dish from the Antequera area, which is very similar to the "salmorejo". The main ingredients are tomato, bread, garlic and oil, green pepper, and vinegar. All crushed and served with boiled egg and ham or tuna.
Ajoblanco: It is a cold soup of bread, garlic, oil, and vinegar that is usually served with grapes.
Gazpachuelo: It is a hot soup based on fish, mayonnaise, and potato.
Malagueña salad: Fresh salad with potato, orange, and cod.
Espeto: Probably the most recognized dish in Malaga, it is a skewer of sardines grilled with embers and eaten on the beach.
Sports and activities
Regarding sports, Malaga gives you a fabulous opportunity to continue practicing every day. Thanks to its location, you will be able to practice water sports through sport clubs and private companies. If you are not much of a water person, do not worry, there are many alternatives, such as football, basketball, tennis, paddle tennis, etc. to practice with your friends in different facilities.
As soon as you arrive, ask for information from the nearest tourist office about the places closest to your location and find out about the prices, there are many activities, so you can choose the places you like best.

Beach
One of the main reasons to work in Malaga is its good location. It is a coastal city, with great kilometres of beach to enjoy every day. In general, the temperatures are pleasant all year round and during the summer consider taking a towel and swimsuit to enjoy the sea and sand with your new friends as the water is very warm. Here are some of the beaches we'd like to recommend:
Calahonda Beach (Nerja): this beach is located in the town of Nerja. It has dark grey sand and turquoise blue waters. One of the most visited beaches by tourists.
Playa del castillo (Fuengirola). A beautiful beach located at the foot of Castillo Sohail, in the small town of Fuengirola. It is known for its calm vibe since it is quite distant from the city centre. Its clean waters receive the Blue Flag every year, a quality award granted by the European Union. It has an area where you can easily park and a special area for dogs.
Malagueta beach: It is between the port of Malaga and the Caleta beach and it's one of the most popular beaches in the city. Here you will find a wide variety of chiringuitos (bars on the beach), excellent services (surveillance and rescue, cleaning, rental of umbrellas and hammocks), and a young atmosphere.
Pedregalejo beach: Located next to the oldest fishing district in Malaga, this 1200 meters beach has the most peculiar promenade in the city. Several restaurants and bars will offer you all kinds of local specialities of excellent quality.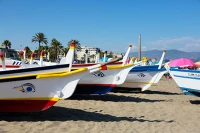 Night Life
If you like to party with your friends, you will love Malaga. There are wonderful discos on the beach, where you can enjoy a good atmosphere all day long. In addition, every month there are many parties dedicated to university students and in particular to international students and young people.
The areas where you can find the best night atmosphere are the historical part of the city centre that is plenty of "tapeo" places, El Palo and Pedregalejo. If you are looking for more modern and fashionable pubs, La Malagueta is your place!
More Interesting Places to Visit
If you find yourself having more time on your hands, there are many other interesting places to visit within Malaga, such as:
Alcazaba: It is an Arab fortification built between the years 1057 and 1063. The tickets to visit the Alcazaba are not expensive and on Sundays admission is free.
Museo Picasso: It is one of the two art galleries dedicated to the famous painter from Malaga, Pablo Picasso. Here you can enjoy hundreds of works made by the distinguished artist.
Castillo de Gibralfaro: This Castle, built in the 14th century to protect the Alcazaba, is one of the most visited moments in Malaga. Take a walk around its walls and enjoy the beautiful views of the city.
Catedral de la Encarnación: This cathedral is one of the gems of the Spanish Renaissance. It impresses with its dimensions and exceptional elevation, and its interior architecture will leave you speechless.

La Farola: Built during the XIX century, is one of the two Spanish lighthouses that has a female name and is an iconic element in the city of Malaga.

La Malagueta: It's a central coastal neighbourhood located in front of the famous Malagueta beach. Strolling along the promenade and enjoying the great atmosphere is a must.

Calle Marqués de Larios: It is one of the most elegant nineteenth-century streets in Spain. During the festivities of the Fair of Malaga and La Semana Santa it becomes the busiest and liveliest street in the city.

Tívoli World: It is an amusement park located on the Costa del Sol, in the municipality of Benalmádena

Ronda: A visit that can not be missed. Ronda is a city near Malaga that is situated on a deep gorge. That gorge separates the new city, which dates from the XV century, from the old town, which dates back to the time of the Arab conquest.

Cost of Living in Malaga
Accommodation
The cost of living in Malaga is cheaper compared to the other cities in Spain by as much as 45%. Malaga receives loads of international and national young people every year. That is why there are many apartments for rent to students and young professionals, at reasonable prices.
The prices for a room varies between € 150-€ 350 depending on the design and location of each property. We recommend you to search and compare in different online platforms such as Idealista, Milanuncios, and Badi. Also, through Erasmus Play, you can access the large range of accommodation for young professionals in Malaga, compare the prices of all online platforms, and book the one that best suits your budget and location.

The cost of services such as water, gas, and electricity is around € 97.10 per month for a flat of 85 square meters. Sometimes utilities are also included in the rent price.
The average price for a menu in a restaurant is € 9.90. Although, in more fancy establishments the cost could rise up to € 12.5 - 16.30 per person.
The price of other services:
Domestic cleaning service: €9,90 per hour

Gyms and swimming pools: €33.25 per month

A visit to the private dentist: €20 for a medical check-up

A visit to the private doctor: €22 for a medical check-up
Here is an estimation of how much a trip to the supermarket could cost you:
Have you already decided to move to Malaga? If what you like about Spain is its good vibes, its good weather, and delicious food, Malaga is the perfect job destination for you. Here you will find great job opportunities to progress in your professional career while enjoying an amazing quality of life.
---
About the authors:
Erasmus Play- Promoted by Spanish G9 Group Universities and supported by the European Union, Erasmus Play was founded to help international students find accommodation during their studies.
They are an accommodation search platform that aggregates a wide range of student housing in one place. Their goal is to guide students in their new environment and help them find the most suitable accommodation. Therefore, Erasmus Play works closely with Universities to offer the best experience for students abroad.