With hundreds of thousands of citizens filing for unemployment, the job market has never been more crowded. Unfortunately, since the COVID-19 pandemic, the number of job listing scams has significantly increased in numbers.
In the middle of losing a job and starting a new job search, the last thing you want is to get caught up. In order to find the differences between legitimate job postings and scams, you first need to educate yourself to protect yourself from falling prey to fraud.
Here are some indicators that can help you spot a job scam.
1.Too Good to Be True
Even when the job market is thriving, good jobs are hard to find. And in the current landscape, if a job sounds too good to be true, then your instincts are probably right.
For instance, say a recruiter contacted you without you applying for a job. They might say that they found your profile online and want to interview you or that you have already got the job. Sometimes, they might even promote the position with an exceptionally good salary and flexible hours.
Consider this, if the pay is that good, why would they hire you without an interview or two, especially when you did not apply for it? If this first step tips you off, you need to proceed with caution or choose to say a hard no altogether.
2. Job Description
It is likely that scam job descriptions often include keywords that are casually used. For example, the phrases 'work from home, and work at home' are slang rather than technical terms. A professional resume service will tell you that such words don't exude professionalism, neither in a resume nor in a job posting.
In legitimate jobs, you are likely to see terms such as 'remote work' or 'telecommute work.' Authentic descriptions will not have any errors and will read as if written by an expert as well. So if words such as 'unlimited earning potential' and 'quick money' stand out in the description, you should tread ahead lightly.
3. Vague Job Requirements
Another way to spot a scam from a job description is to see how thorough they are with job requirements. Most of the scammers will portray the job as a comfortable position that anyone can fit for. You might come across descriptions such as 'Must be a US citizen, must have internet access, must be familiar with Office suite.'
Any professional recruiter will have specific requirements of qualification, key skills, as well as experience clearly stated in the job advertisement. Many times, in such cases, the people you contact with any concerns will brush it off and assure you that they will provide you with sufficient training. As a rule of thumb, real jobs will always be specific in their conditions.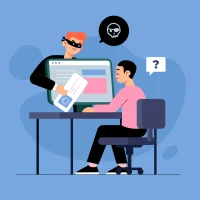 4. The Duration of Recruitment Process
Most scam jobs will claim that they want to complete the hiring process quickly or as soon as possible. Therefore, they will use words such as 'immediate hire' to communicate to the job seekers a sense of urgency. As you can guess, this will force you to feel like you should grab this opportunity before it slips out of your hand.
But you should already be aware that recruiting firms take their time to complete the applicant tracking process to find the right candidates. Especially today, when there is a surplus in the talent pool, they would not want to rush the steps. Unless it is an established company that you can verify this with, you should always question any extreme urgency.
5. Upfront Fees or Personal Information
The goal of job scams is to gain access to your private information or money. If any recruiter asks for your payment for a background check or as an application fee, stop the process right there. They might also want your personal identification information before completing the hiring process.
Always know that, if it is a legitimate offer, you will receive a formal document outlining the terms and conditions of any compensations. Also, any request for personal data or banking information will be carried out only when you have agreed to the terms of hire, and you are also likely to receive a request for tax information alongside. If you have any concerns at this point, you should always ask for more proof or further contact details.
6. Method of Communication
The majority of scam jobs will communicate using messages or online chat. If they send you their email addresses, see whether there is a website associated with the company. In most cases, the email language might be too casual, or there might not be a proper signature at the end that represents the company.
Unfortunately, job scammers are prepared better than ever before. You might even see a well-established website and authentic email addresses. But know that if it is a legitimate endeavor, you should be able to find more information than only the website and a few fake testimonials on the site. Check for social media mentions or third-party review sites to see whether there are any employees registered under the company.
If you have a bad feeling, search for their email id or company name with the word scam to see if anybody else has reported it.
Also, if they are suggesting hiring you only after a phone conversation without at least a video call, you have to be cautious.

Wrapping Up
When you are desperately looking for a job, you will want to look only at the positive aspects in order to secure the position. However, if the opportunity falls too close to these scam pointers, you need to put a pause on the process. It is likely that your instinct will point it out right away.
If the proceedings of the recruitments do not sit well, make it a point to inquire about the company and do your research before you take any further action.