Having an education in modern languages is an excellent way to increase your career opportunities and can lead you down multiple successful career paths. Many students choose to carry on their A-level studies in higher education by taking a degree in their chosen language. A degree in modern languages generally includes a year abroad, which is often a fantastic experience for students. At the end of their studies, students may continue their education or find careers in industries such as education, hospitality, business, and politics.
Aside from studying a language by itself, many students prefer to combine their education in modern languages with another subject. A joint honours degree includes the study of the chosen language as well as a non-language topic. For example, studying French with politics. This can help boost career options in a specialised area, leading to greater success after graduating. Additionally, you can also complete your studies after graduating, taking an online course, or going back to university. If you're looking to expand your career opportunities and learn new things, here are some of the best courses to combine with modern languages.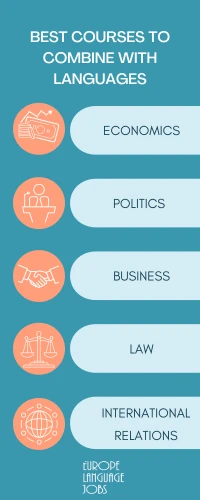 Economics
Economics, which is regarded as a social science, uses scientific techniques to understand how resources are created, shared, and consumed throughout society. Since they have a thorough understanding of how to produce efficiency in the modern world, economists research theories and methodologies beneficial for creating policies in government. Modern economic policy is crucial for creating balanced and prosperous economic systems, allowing people and businesses to thrive.
When recommending how to allocate resources, economists will consider the risks and rewards on individuals, the labour market, and society at large. Economic growth can be aided by a thorough grasp of economic factors, and this area of study is highly regarded. Online economics courses are becoming more popular with modern language students, as they provide a detailed education in economic theories and how they apply to real life. Studying both economics and modern languages together can open up many career avenues, both in finance and economics as well as in other areas. A lot of corporations will look favourably on an economics and modern languages degree and it also opens up the possibility of working abroad.
Politics
Politics is the comprehensive, all-encompassing, and crucial study of how laws, regulations, and interpersonal relationships function. Every nation around the world, whether it be federal, democratic, communist, or republican, is affected by politics. Many significant issues, such as human rights, poverty, equality, and welfare, are resolved, and global challenges are addressed through politics. Through studying politics and modern languages, you'll receive in-depth instruction in analytical writing methods and other transferable abilities. You'll acquire extremely useful language abilities and a thorough knowledge of the nations where your chosen language or languages are spoken.
In addition to improving your comprehension of complex political and cultural issues, combining politics with a modern language will prepare you to graduate with language abilities that are highly regarded. Many graduates with an education in politics and modern languages go on to work in a variety of professions, including the finance, legal, media, business, and public sectors.
Business
Degrees in business and business management cover a wide range of topics that are important when working at all levels of business and management. Therefore, business degrees are extremely useful across various sectors, and business graduates are always in high demand. Through a business degree, you'll learn about management practices, accounting, finance, human resources, and more.
When combined with an education in modern languages, business studies can lead to greater opportunities around the world. Business and languages are common honours degree choices, and it's also possible to study business management online after graduating. Some students may also go on to study for an MBA, giving them even greater career prospects. There are many opportunities open to graduates with both an MBA and a language degree, opening doors to high-level executive positions in global businesses. Aside from offering a lot of career options, business studies can also be specialised in key areas to focus on a topic of interest, such as finance, business analysis, managerial skills, and consulting.
Law
A degree in law is highly sought after by big corporations and is an excellent way to develop a career in business, law, politics, and other areas. Many people who study law go on to have highly successful careers in a wide range of industries. While it's very good by itself, it can be combined with modern languages too. Law and modern languages together show potential employers that you're highly intelligent and open up the possibility of working in other countries too.
Some law degrees will be focused on the law within your own country, but you can also find degrees that include information on how the law works in other places too. This is especially important if you'd like to use your law and modern languages degree to practice law in another country. You'll learn how the law regulates the relationship between the individual and the state, how to law responds to dealings between individuals and groups and both theoretical and practical aspects of the law. While a law degree doesn't allow you to practice law straight away, it serves as the academic component of the Bar training and acts as a gateway to becoming a solicitor or barrister. Further qualifications will be necessary to achieve these, but a law degree is the best way to start.

International Relations
International relations is the study of relations between sovereign states. Because of its nature, it makes sense to combine this subject with a modern language, allowing you to build a successful career in politics, foreign policy, and other areas of international relations. In addition, it can be helpful for building a career in many other industries including working for NGOs, in the banking sector, education, media, and consultancy.
With an international relations degree, you'll learn about global and domestic affairs and how they relate to culture and language. You'll also develop your own writing and speaking skills and many courses offer the chance to spend the third year abroad to broaden your horizons.
---
As you can see, there are many courses that can be combined with languages. Truth be told, languages are a powerful tool, which we should accommodate into our lives, regardless of what we do. The areas mentioned in this article are some of our suggestions, but the list is not exhaustive! The fact that you study Computer Studies, Visual Arts, or Dentistry doesn't mean that you absolutely cannot pair that up with a language - where there's a will, there's a way.
School and university are also not the only time in your life when you can learn a language. It's probably the most favourable one, as the younger we are, the quicker we learn, and that's also when we have the most free time we can contribute to extra studies at our disposal, but let's remember that it's never too late! Combining what you're passionate about with a language does not have to be hard, and we guarantee that the effort will pay off with a surplus.