Employee empowerment is key to their engagement. And their engagement, in turn, is crucial for their performance. A well-structured organisation will put equal focus on good results and employee satisfaction, and making an effort to empower employees is the perfect way to kill two birds with one stone and ensure both goals are met.
It is difficult to find the perfect balance between giving employees the freedom to make their own decisions and monitoring their actions, but this article is aimed at providing advice concerning the best practices to ensure employee empowerment is done right.
1. What is employee empowerment?
2. How does employee empowerment improve employee engagement?
3. How to empower your employees?
4. Examples of companies that successfully empower their employees
What is employee empowerment?
First, let's look at what empowering employees even means. To empower employees is to give them the autonomy, tools, motivation, and know-how to make their own, independent decisions.
It is making sure they are not afraid to take initiative in fear of the consequences of making a mistake and that they will not waste both their own and their manager's time by needing to ask them questions about simple tasks.
Of course, it is easier said than done, but there are a few universal tips that need to be followed in order to ensure effective employee empowerment in the workplace.
How does employee empowerment improve employee engagement?
85% of employees are not actively engaged in their work (Gallup). Multiple studies are conducted every year in order to identify the main reasons behind low engagement in the workplace. Year after year, the survey participants quote the exact same factors: boredom, limited development opportunities, lack of appreciation, no constructive feedback.
Top reasons causing disengagement in the workplace, according to Udemy:
46% - lack of opportunities to learn new skills

44% - unchallenging work where the employees' education isn't applied

30% - not enough to do

25% - too much to do
By giving your employees more authority, you ensure that their day-to-day life in the office is filled with new challenges, rather than being dominated by routine. Independent decision-making should automatically power frequent communication between employees on all levels, and will require feedback from the managers.
Not to mention, being given more freedom demonstrates trust and will make your employees feel appreciated. There is no better way to show an employee you value their experience and skills than by letting them make an impact.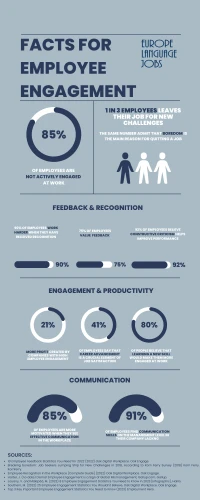 How to empower your employees?
1. Entrust them with more tasks
3. Ensure there is effective communication
5. Make your employees feel appreciated
6. Provide them with resources and tools to grow professionally
7. Don't make them afraid to make mistakes
8. Let them in on inside knowledge
Entrust them with more tasks
1 in 3 employees say that boredom is the main reason why they leave their jobs (Korn Ferry), and the same number admit that they quit in search of new challenges (Oak). Performing the same tasks every day can very easily create the feeling of being trapped in a routine, and even the most important responsibilities will begin to seem insignificant to someone who deals with them on a daily basis.
41% of employees claim that career advancement is a crucial part of satisfaction with their job (Employment Hero). The moment they stop feeling like they are growing and approach a wall, is the moment they will start to look for new opportunities elsewhere.
Now would be a good time to disclose the two basic ways an employee's responsibilities can be expanded: job enrichment and job enlargement.
Job enrichment is vertical. It is moving an employee higher up in the hierarchy by entrusting them with tasks that extend their authority and autonomy. An example would be putting them in charge of other employees as a project manager.
Job enlargement is horizontal. An employee remains on the same level, but is given new tasks meant to add variety to their daily routine. An example would be giving them a chance to do research on a topic connected to their area of work, but which they haven't interacted with in-depth before.
In order to make your employees feel empowered, you need to first choose between job enrichment and job enlargement. Of course, you have to bear in mind that the former may often be expected to come with a small financial bonus. Because it does involve moving up the ladder, it could be considered a promotion.
In both instances; however, you must remember 2 things:
Do not make up tasks just for the sake of making up tasks
Making employees feel empowered is not about creating redundant work. There is always something that needs to be improved, a step that can be taken to take things above and beyond. Think about that and come up with tasks the company will actually benefit from.
Do not distribute your own tasks that you don't want to do
This is also not about anyone doing somebody else's work. Regardless of whether you're tempted to delegate your own work, or somebody else's work to another employee, don't do it.
2. Don't micro-manage
It is natural to feel the need to control somebody's every move when you have entrusted them with something important. But fighting that impulse is crucial to making your employees feel empowered.
There is a difference between staying up-to-date and being overbearing. Establish the boundaries at the beginning: the employee is expected to update you on their progress at the end of the day, but you won't be there to check on them every hour.
Excessive control might be interpreted as a lack of trust and discourage your employees. Part of being tasked with a project is distributing its elements and spreading it out in time on their own. It is crucial to make sure everything is on track but as long as there are no delays, it should be the employee's decision when and how things get done.
Flexibility in the workplace is now more important than ever. Companies allowing their employees more freedom observe positive results. 43% of surveyed employees told Forbes that flexible working hours helped them become more productive, and 80% admitted to Flexjobs that they would be more loyal to an employer who offered flexible working hours.
3. Ensure there is effective communication
Communication is key. Not just in ensuring employee empowerement, but in all aspects of striving for success in the workplace. 4 in 5 employees believe effective communication helps them perform better at work (Haiilo). That's 80%.
Yet, 91% of employees find communication skills on the management level in their company lacking (Employment Hero). Let that sink in.
As much as you shouldn't make your employees feel like you're micro-managing them, you also can't leave them on ice. Communicate tasks clearly and make sure they understand what they are doing and why they are doing it.
You will have less explaining to do along the way and will observe the employees being more dedicated to what they're doing if they know the ultimate goal. Nobody likes feeling like they're doing something just for the sake of doing it, without being aware of the change it makes.
What's more, it is essential to make them feel like they can come to you with eventual questions. Not with every little query, of course, but it is your responsibility to let them know that communication is a two-way street.
Every employee needs to understand that it is not just you coming to them when something needs to be done, but that they have an equal right to come to you when your input is required.
4. Give constructive feedback
This point follows up on the previous one. Communicate everything: the good and the bad.
Employees who don't know they're making mistakes will continue making them. Similarly, employees who do things well and are not informed about it, will soon get discouraged.
75% of employees value feedback and believe it has a significant impact on their performance. Still, 65% don't feel like they receive enough feedback in the workplace and would like to hear more (Oak).
The disparity between how many people need to receive it, and how many people actually receive it, is significant. It is true that they may not communicate that they require more feedback, but this just goes back to the previous point: establishing a clear communication channel.
If what holds you back from providing feedback is how it might affect employees if it's negative, here's a fact for you: 92% of employees believe constructive criticism helps improve performance.
This means that employees not only expect, but also want to hear about what they're doing wrong. After all, there is no other way they can learn from their mistakes, and constant improvement is what they need to be happy in their roles.
Of course, note how it is constructive criticism that employees require. Make sure your feedback includes tips on how to improve, rather than being flat-out complaints.


5. Make your employees feel appreciated
As much as it is true that employees value criticism, they do not want it to be all they hear. Everyone would get discouraged if all they heard was negative feedback.
39% of employees don't feel appreciated at work (Oak). Yet 37%, almost the same number, believe recognition to be the most prominent method of employee support (Employment Hero).
Don't hold back from letting people know they are doing a good job. Not only will it create a healthy atmosphere and motivate your employees, but it will also be beneficial for the business. 90% of employees work harder when they have received recognition (Oak), producing better results. And 69% say they would work harder, if they received any appreciation at all (Haiilo).
Furthermore, acknowledging others' work will increase their engagement. And companies with high employee engagement generate 21% more profit (Haiilo).
It is true, therefore, that a little praise goes a long way - both emotionally and financially.
6. Provide them with tools and resources to grow professionally
More responsibility comes with the need for more skills. Some of them will be developed naturally as the employees' careers develop, but extra measures need to be taken to help them develop others.
80% of people believe that learning a new skill would make them more engaged at work (Udemy). Those truly passionate about their jobs will spend their free time expanding their knowledge even after hours, but in this day and age, employees expect their workplace to invest in their professional growth as well.
As mentioned before, nearly half of people surveyed by Udemy, a well-known platform offering various types of online courses, quoted the lack of opportunities to learn new skills as the top reason for employee disengagement. At 46% supporting that statement, it was the most common answer.
Access to internal and external training, subscriptions to various course platforms, and participation in industry events are considered basic requirements these days. Employees who feel passionate about what they do and find a purpose in their role are more likely to keep it.
Following up on that thought, let's point out that 63.3% of business owners agree that retaining old employees is harder than hiring new ones (Zenefits). And we all know which of these two options all employers strive for, given how the hiring process costs them a lot more than keeping current employees happy.
Could it be that one way of achieving this is as simple as empowering the employees and investing in their career growth? As it turns out, yes.
7. Don't make them afraid to make mistakes
As we have already established, employees don't mind their mistakes being pointed out in a polite, constructive way. Because this is exactly how mistakes should be perceived by everyone in the workplace: as an opportunity to learn and improve.
Emotions can run high when important tasks are extended to others. By distributing assignments, you take on a certain responsibility for the employees carrying them out, and it is on you as their superior when things go wrong. It is understandable if someone cracks under such pressure.
However, mistakes are never made on purpose. If they are, they are no longer mistakes but planned setbacks. All employees should be given the benefit of a doubt in assuming that their intentions weren't misplaced when things went awry.
Whether a mistake is the result of their carelessness, negligence, poor organisation, or simply inexperience, start by identifying the root of the problem. This way, both you and the employee will be able to understand what caused the issue and solve it.
Discuss it calmly and find ways to fix it. Of course, you are allowed to express your displeasure, but not in a way that will prevent the employees from coming to you with future problems. Mistakes are never pleasant, but they are better addressed openly than hidden until they reveal themselves on their own (as they always eventually do).
Approach every issue as an opportunity to learn and make the people responsible for the issue face the consequences if you need to, but make sure nobody ends up feeling intimidated or threatened.

8. Let them in on inside knowledge
Those on management levels often believe that mystery adds a bit of spice to office life. And maybe it does, but too much of it can turn out to be more damaging than beneficial.
Certain information can only be exchanged among people in specific positions, that much is clear. But holding back too much can become a threat to effective communication - the importance of which we have already described in detail.
Reveal as much information as an employee needs to carry out a task. Trusting them with essential facts will make them feel appreciated and trusted. They will feel included, which in turn will motivate them and have a positive impact on their performance.
Examples of companies that successfully empower their employees
Now that it is clear what employee empowerment entails and how to achieve it, let's look at the top 3 global companies selected as the best in terms of engagement by Great Place to Work in 2022.
Top 3 companies in terms of employee engagement in 2022:
Cisco - honest management, employees caring about one another, people in the centre of company processes

Hilton - investment in employees, the spirit of entrepreneurship is encouraged

Wegmans Food Markets Inc - many development and learning opportunities
As you can see, each one of them is acknowledged for some of the points described in our article, but even the winners in the category cannot fulfil all of them. It is impossible to create the perfect workplace and check all the boxes, but your goal should be to work on achieving as many of them as possible, to the highest extent possible.
---
There is a direct correlation between employee productivity and employee satisfaction, which means that making your employees happy should be your goal. One way to achieve that is through employee empowerment, which is a complex process, but one which is worth the effort.
Make sure you provide your employees with constant growth opportunities and constructive feedback, that you make them feel valued and an integral part of the greater machine of the company. Entrust them with tools and the freedom to make their own decisions, and you will observe positive results for the business.
Sources:
10 Employee Feedback Statistics You Need for 2022 (2022) Oak Digital Workplace. Oak Engage.(Accessed: February 24, 2023).
Breaking boredom: Job Seekers Jumping Ship for New Challenges in 2018, According to Korn Ferry Survey (2018) Korn Ferry. Kornferry. (Accessed: February 24, 2023).
Employee Engagement Statistics & Facts for 2023 (2023) teambuilding.com. (Accessed: February 24, 2023).
Employee Recognition in the Workplace [Complete Guide] (2022) Oak Digital Workplace. Oak Engage. (Accessed: February 24, 2023).
Harter, J. (no date) Dismal Employee Engagement Is a Sign of Global Mismanagement, Gallup.com. Gallup. (Accessed: February 24, 2023).
Jouany, V. and Mäkipää, M. (2023) 8 Employee Engagement Statistics You Need to Know in 2023 [infographic], Haiilo. (Accessed: February 24, 2023).
Martic, K. (2023) 11 Reasons Why Business Communication Is Critical to Your Company's Success, Haiilo. (Accessed: February 24, 2023).
Reitsma, T. (no date) 16 Employee Engagement Statistics You Need to Know in 2023, People Managing People. (Accessed: February 24, 2023).
Southern, M. (2022) 25 Employee Engagement Statistics You Wouldn't Believe, Oak Digital Workplace. Oak Engage. (Accessed: February 24, 2023).
Spencer, J. (2020) Research: Employee Retention a Bigger Problem Than Hiring for Small Business, Workest. Zenefits. (Accessed: February 24, 2023).
Top 3 Key Important Employee Engagement Statistics You Need to Know (2023) Employment Hero. (Accessed: February 24, 2023).
"Udemy Workplace Boredom Study" (2016). Udemy.