Due to the current coronavirus pandemic, workers from all over the world have been urged to stay at home. It feels as though half of the world became part of the remote workforce almost overnight. Just like any global crisis, some of us were more prepared for this change than others, but don't worry, we are here to keep you sane during your time at home and of course, to keep up the spirit of teamwork!
Although some people enjoy the freedom of working from home, remote work isn't for everyone and some workers develop a fear of becoming lonely.
We will help to encourage teamwork for your virtual team with 4 simple yet effective activities.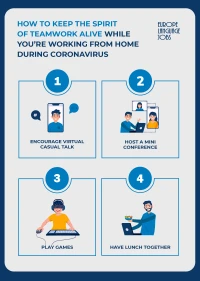 1. Encourage casual virtual conversations
For those of you who have been asked to stay indoors, it can be extremely difficult having little to no face-to-face interaction. This is why it's so important to jump on Skype and Facetime with your team to discuss work and even non-work related matters. Just like when you are working in an office environment, it's important to keep discussing new ideas to get your creative juices flowing and most importantly, to keep your team in the loop about how you are doing.
Your team will be a lot more productive through the encouragement of consistent communication and casual virtual conversations. You can also use time tracking software to ensure that no one in your remote team is overworking.
2. Host mini-conferences
There are many advantages of hosting conferences regularly especially when all of your colleagues are far away from each other. It's important to keep your teamwork spirit alive by notifying each other about the various tasks you are working on and requesting feedback and extra ideas. Not to mention, it's nice to see a familiar face every now and then when you are working at home alone.
Another advantage of mini-conferences is that it can considerably improve your communication and presentation skills for future work-related presentations and video conferencing.
3. Play games as a team
Incorporating games into your workday is a really effective way to keep the spirit of your team alive and is a great virtual team building activity. You may even decide to play games in your free time from work, during the evenings or weeks and it can be a great way of keeping your teammates happy and healthy.
Playing games when you are working from home allows your brain to grow and explore any skills it hasn't before. It enhances your visual and audial memory as you are required to read, watch or listen to instructions, which can be seen as a great attention and concentration exercise. It also significantly improves your brain speed as your brain receives multiple stimulations, helping your teammates to process and react to things faster. All in all, team gaming is considerably advantageous for both productivity and staff morale.
4. Have lunch together
Last but not least, have lunch together every now and then. Having a lunchtime Skype call is a great way of keeping a positive work-life balance with your work friends, and more importantly, saves you from developing loneliness when working from home.
This can help you to open up and to have a laugh with your work colleagues, talking about your day and again, welcoming some real human interaction. It feels a lot more like a lunch break if you have other people to talk to.
Working from home doesn't have to be lonely and although at first, it may take some getting used to, there are plenty of techniques and activities you can do to encourage the spirit of teamwork for your remote team. As we mentioned, it's extremely important to keep up a good level of communication between your teammates and to keep motivating and encouraging each other through these difficult times. If you or any of your team members are living with family or other people, it's important to come to an agreement when working from home to avoid any distractions and unwanted drama.
Do you have any more suggestions about how to keep your teamwork spirit flowing? Share them in the comments below!