You are ready and raring to go on your Erasmus adventure, but wait! Don't set off without planning what you need to pack! You wouldn't want to turn up in St Petersburg without your woolly knickers now, would you?! Here is the essential Erasmus packing list to remind you of all the essentials you need to pack in your suitcase before going on this trip and moving to another country. With this packing list, you definitely won't forget anything!
To make things even easier for you, we've created a downloadable checklist - feel free to use it!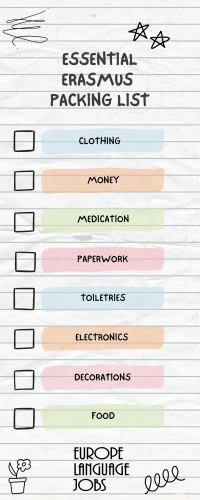 Now, let's dive into detail of every position on the packing list...

1. Clothing
Research the climate of the city where you will do your study abroad semester. Having selected your destination because you are excited to visit it, we're sure you'll already have a good idea about the kind of weather it receives. However, always check to be on the safe side! Even places like the south of Spain - known for their tremendous summer heat - can get pretty chilly around wintertime. Pack for at least two seasons; be selective but try to pack a couple of items for every occasion - activewear, formal attire, and comfortable around-the-house clothes. As for footwear, take trainers, smart boots/brogues, everyday comfy shoes, and maybe a pair of heels.

2. Money
We recommend getting cash out in the target currency before you go abroad and saving it for emergencies. Do not have it on your person when exploring the city - hide the majority in the room where you are staying. (Use a safe if there is one available). It's also wise to register with an online bank beforehand, in case it turns out that for some reason, your card isn't accepted in your new city.
3. Medication
If there is a medication you need to take regularly, or have in case of emergencies, inform your doctor that you are going away for X length of time and get it prescribed for the upcoming 6-12 months. Trying to find alternatives may be difficult in another language, they may not even exist in the same way there, or you might have to go through a lengthy administrative process before having access to prescribed medicines.

4. Paperwork
This part might be easy to overlook, but it cannot be missing from your essential packing list. The specific documents you need depend on your host institution and the country you're going to, but here's a general list:
Passport
Health card
ID
Erasmus agreement
Travel & medical insurance
5. Toiletries
Most of your toiletries or cosmetics, you will be able to buy abroad (this will save you luggage space!). Otherwise, don't forget your mini versions of shampoo, conditioner, face & body wash, deodorant, wipes, and sun cream. Buy a quick-dry travel towel, too!

6. Electronics
Take your phone, laptop, speakers, and cameras, so that you can easily continue your studying and practice your hobbies abroad. Check which chargers go with which appliance and whether you will need an adapter for your host country.
There's the essential Erasmus checklist for you...so get packing!!! Last but not least, don't forget to pack a friendly attitude, an appetite for new experiences and cuisines, and a thirst for adventure! Have fun and stay safe out there :D
7. Decorations
When you find yourself alone in an unfamiliar place, you will grab onto any piece of familiarity you can find. Imagine trying to get cozy in an empty room with a default layout - no personal touch, no character, no nothing. This might seem silly now, but hanging up a string of Christmas lights or taping a few pictures with family and friends above your bed may do wonders to cheer you up.
Of course, it probably won't be possible to bring your own bedside table or a carpet, but even small touches like a favourite blanket, a scented candle, or a snuggly pillow will add the much-needed warmth to your new accommodation.
8. Food
No, we don't mean "bring enough to last you your entire stay". Don't waste your limited luggage space on universal stuff you can get anywhere, such as rice or carrots. But there might be some special things that are unique to your country - a specific spice, a particular ingredient you know is hard to come by in other spots but is crucial for your favourite meal, or a brand of sauce you just can't live without.
Bear in mind that the things you bring must have a long expiry date - don't pack anything that might go bad in transit or in the first couple of days, if you know you won't consume it on time. Brainstorm your top dishes before departure, and create a list of food items that you expect might be difficult to find in your host country. I, for example, never leave home without a jar of my beloved mayonnaise! I've searched for it far and wide - the brand is simply nonexistent anywhere else, and no other kind comes even close.
Are you about to study abroad?
We love making our expats' lives easier by introducing useful and reliable services! We have found the ideal service for those of you who are about to depart for your Erasmus year.
SendMyBag is a fast and affordable door-to-door luggage delivery service in over 100 countries. Saving you the hassle of heavy luggage and expensive luggage fees. Click on this link to get 5% off your order.