Today´s post was written by Magdalena Malczak from Fujitsu.
It's no secret that German has become extremely popular in Europe to use these days. In fact, after English, it is the most in demand langauge in Europe by a long way.
In Fujitsu alone we support 16 different projects with German language. Regardless of whether you are a student looking to have a part-time job or postgraduate that is in search of stability and maintaining a normal working week.
If your German is on a conversational level, Poland has a lot to offer you. Sometimes the craziest decisions bring the most joy.

When I was actually visiting the beautiful Titesee in Germany, I received a call from one of the Fujitsu managers offering me a job – surely they tested language capabilities first – but I was mostly surprised that someone would be willing to wait for me two whole months and take such a huge risk, not getting to know me in person. Taking this "accidental" job offer as a Customer Service Technician with German and English turned out to be one of best choices in my life. After two years of experience, I was promoted to Service Controller and now, for almost one and the half year, I have been working as a Team Manager. Together with my dearest team, we strive for customer satisfaction on a daily basis and create our own unique atmosphere, beyond comparison to any other.

Wioletta Zalewska, a Team Manager at Fujitsu

Learning new languages broadens your mind
As much as we love German - and we do! – we are driven by the passion of using lots of different foreign languages at work. Learning and perfecting language is what we do, and it's a great way to not only boost your professional profile, but also to broaden your mind.
It's a proven fact that multilingual people are more open-minded and have advanced levels of cognitive ability. Does this sound like you? Maybe you're about to follow in the footstep of Fujitsu´s Marcin…
I used to study international political relations with focus on German speaking countries. Unexpectedly, I got to know from one of my colleagues that some big company [Fujitsu] was looking for people with language skills and especially German.
At this time, I felt that I was entering a bus only for a short trip, which in fact became a long and interesting journey through many places. And at some point I started to be the driver. Now, after 7,5 years in this company I am one of the Operations Managers leading – together with my colleague – a team of over 160 people, who support customers all around the world. Surely, the Centre in Lodz became a truly multinational environment to work in

Marcin Bartnicki, an Operational Manager at Fujitsu
No matter your age, national background, religion, culture, what we value most of all, is your knowledge. You have the possibility to work in one of 16 language lines that we have available in Fujitsu and that's not the end – we are still growing and exploring undiscovered territories, so keep an eye out for our job offers listed below.
But how do you actually start your adventure with Fujitsu? There are many ways to initiate it, but surely for each of us it was a beginning of a new chapter - that from part-time, student or insignificant job - evolved to a more impacting role in one's life.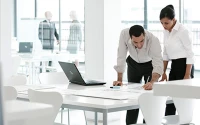 Work hard, play hard
Still not convinced? Let me bring you closer to our Fujitsu community then. Are you looking for a flat? No problem, we will help you find one. Do you like doing sports? Join one of the football/volleyball/basketball Fujitsu teams. Prefer to run? Great – Fujitsu takes part in marathons. Fancy some cycling? Our cycling team will welcome you with open arms. Whatever your sporting preference, we have a sports card waiting for you.
Are you afraid of new adventures in a new city? Our employees will take care of you, show you the best city spots, locals will give you tips where to experience polish lifestyle and you can be sure you won't be left alone in this journey. But let us not forget, one of the biggest events for us and our families, which we are anticipating the whole year: the summer family picnic.
Enjoy refreshments, games and many other attractions during our annual summer gathering. Are you not the type interested in outdoor activities? Not a problem. Try our epic Christmas Party in a beautiful venue with fancy dress code. Or just spend your spare time with your team bowling, eating in one of many restaurants and having a good time. We want all of you to integrate.

Whatever you enjoy doing, there will be a lot of people to join you. Have you heard about the Erasmus program? This is the Fujitsu version: working, developing your skills, discovering new cultures and having fun at the same time.

Opportunities with Fujitsu
German speaking customer service consultant in Poland
Imagine nearly 2000 people with different background, from different countries, speaking different languages and creating a unique atmosphere to develop your skills and enjoy your time at work at the same time. Sounds like a fairytale? Try us.

Located in the heart of Poland, in the city of Lodz, you can easily reach the whole world without leaving one place. Many opportunities to grow within the company, through IT, Finances and Management departments, bring you closer to your career goals. Still need convincing?
Just think that, only last year, 423 of our employees were promoted and are now leading their own teams, cooperating with our global customers and "polishing" their business skills with every single day.