So, you´ve just completed a language course and you're wondering what to do with all this newfound knowledge that you have. The good news is that you have just added a huge amount to your personal profile in terms of what employers are looking for, in almost every sector.
Speaking another language, and even evidence of motivation and attempts to learn one, are major signs that recruiters and hiring managers are looking out for. It shows so much more than an extra ability to communicate. You demonstrate an open-mindedness, patience and determination that are difficult to teach.
Be prepared and know what you want
This sounds obvious, but too many of us make the mistake of embarking on a stressful and often fruitless job search because we don't fully know what it is we're looking for. You'd be surprised at how a great candidate can go unnoticed or simply not achieve potential, simply because they didn't have a game plan.
If you have no clear end goal in mind then it's much harder and more stressful to move forward. You also have the very real danger of getting a job that you don't really want.
Without meaning to sound like too much of a scaremonger, people get spend their whole lives doing a job they hate because they're to scared, reliant or lazy to make their life better.
Some essential questions that you need to know the answer to before starting to apply for jobs are:
How much do I want to earn?
Where do I want to work?
Do I want to work for a multinational or a startup?
How far am I willing to relocate? Is it globally?
What situation do I want to be in in 1,2 or 5 years time?
Will the position I'm applying for help me on the way to arriving at where I want to be?
Do I value money or enjoying what I do more?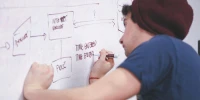 Where you should be looking
Many people confine themselves to just one or two ways of looking for jobs. Some people only use to LinkedIn to look for a job, (but if you only use this should probably be it) but others shy away from searching online, which in the modern world puts you at a serious disadvantage.
If you're going to stick to one strategy then LinkedIn would be the right place to be, however you put yourself on the back foot. You should be aiming big. Your dream job is always closer than you think. To give yourself the best chances of achieving your seemingly impossible future you need to make sure you have a presence everywhere. That means keeping your ear to the ground and having a look around for opportunities or people that can help you in your personal network: people are usually only too happy to help someone who expresses an interest n their profession.
Specialised spaces
You should have as noticeable and impressive an online presence as possible but you should also be aware of the best places to have them. Find job boards that specialise in your sector. Assuming your language course went well, you're probably multilingual. If that is the case, you should be a regular visitor to the Europe Language Jobs website. Alternatively, if you are specialised in tourism then take a look at Turijobs.
LinkedIn is not only a great place to search for jobs, but the platform also hosts around two million groups. Amongst them, you can rest assured that there are possibly hundreds or even thousands of specialist groups for your interests and sector.
Specialisation of your job hunt doesn't have to be exclusively online. A simple Google search will throw up events that you can attend and get to know a bit more about what could be a relatively new world to you. It's great for networking but attending an event or a talk is something that would enhance your CV and online profile, whilst often being something that people don't think to include.
The bottom line is that with a language you increase your employability for so many reasons. Therefore you should be entering the job search with a sense of confidence in the knowledge that, nine times out of ten, you already have an advantage over at least some of the other candidates.
Best of luck to you!