The COVID-19 pandemic has affected the economy, our professional and social lives, including our careers and how we search for a job. Desperate job searches that involved firing off your resume at every opening never worked and now more than ever you need a strategic approach. Succeeding in finding a job in a pandemic era will depend upon whether you have the clarity, tools, and ability to execute consistently on the right job search strategies.
In essence, you need to make yourself the most compelling candidate in the pile.
How? I am glad you asked, here are steps you need to follow:
- Get clear on what value you can add to your future employer
- Understand what makes you unique and build your personal brand
- Start thinking like a recruiter. You need to learn how to decode a job description
Get clear on what value you can add to your future employer
If you only remember one thing from today's article, remember this:
Companies don't hire people to give them a chance, they hire people who bring value.
But, before you can show your value, you must first know your value, and, the quickest way to get clear on your value is to recognize what you're already bringing to the table, right now.
Here are a few questions I want you to ask yourself:
What has improved at work because of you or what process have you changed for the better?

In what ways have you improved or contributed to the company's goals?

What's the most recent compliment you have received from your manager, colleague, or client?

What's the most recent or most impactful idea you have suggested that improved a project, goal, or deadline?
The key here is to get crystal clear on exactly what couldn't have been done without you.
This isn't to be arrogant. This is to help you acknowledge your true, real worth and impact with numbers, facts, and, most importantly, graceful confidence, so you could include this in your resume, LinkedIn profile, cover letters, and interviews.
Get clear on what makes you unique
If you want to stand out in a competitive job market, it's no longer enough to show that you can do the job. Your direct competition will be other people who can do the job at the same ability, why should an employer choose you over them? You need to take a step further and offer something extra, something that will benefit your future employer but something that only you have – something that they never thought that they need but after speaking to you they realised that this is something that they absolutely need and you are the only person who can offer this.
This is why when I work with my clients in 1 to 1 or group coaching programmes one of the most critical tools in my coaching arsenal is to help them discover their Zone of Genius.
Zone of Genius is that sweet spot at the intersection of your passions, your talents, your skills and your values. I define your Zone of Genius as a unique combination of your personal characteristics and experiences, a skillset that only you have. It's almost as unique to you as your fingerprint. This will be a core of your personal brand.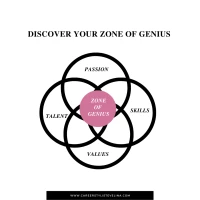 To discover Your Zone of Genius you will need to get very clear about your passion, skills, talents, and values. If you are not sure about these areas, here are some questions to guide you:
PASSION
Ask yourself:
- What are you passionate about in life?
- Which projects have you spent hours on without getting tired?
- What is that thing that you could do all night, for free, if somebody let you?
SKILLS
Think what are those skills that you've had to learn along your journey – the things that often require training and repetition and that sometimes can be cultivated from survival mechanisms?
TALENT
What gifts do you naturally possess? To identify your talent I suggest you ask yourself:
- What 5 words best describe you?
- When have you been at your best?
- What have others complimented you about?
If you have trouble listing your talents, ask a few close friends to write down a list of things that they think you're good at.
VALUES
This is a big one - what matters more to you than money? Now ask yourself, why?
Think like a recruiter
Now when you have discovered what value you can add, what makes you unique you need to know how to communicate all this in a way that would resonate with a recruiter – i.e. you need to tell them that you are the exact person they are looking to hire.
A very common mistake I see when people look for a job – they don't read job descriptions! You might be disagreeing with me, but answer me, do you know what key competencies, qualifications or training, personal attributes and must have experience is required for the job you want to apply for? Even more importantly, do you have examples to illustrate them? Have you highlighted this on your resume or cover letter?
Before you make any applications, you need to carefully consider what the ideal candidate the company wants is and how you can explain that you are exactly that person while telling your personal branding story.
The easiest way to construct the profile of the ideal candidate is to analyse the job advertisement, job description and person specification forms. But you should also try to talk to people who know the target job(s) or organisations and get feedback from recruitment agencies on the current market for this type of job. Don't forget to view the employer's website, their marketing material, read about their core values and find out what is happening in the employer's market or the sector generally.
Become a JOB HUNTING CHAMPION and join Evelina in a live online group coaching programme that will supercharge your job search. It's perfect for individuals who are in their 20s and 30s and want to save time and find a job FAST.