Have you ever considered moving to Prague? If not, we're sure that you have at least thought about visiting this amazing city. We want to give you a glimpse through different eyes because Prague, the capital city of the Czech Republic, has more than just beautiful architecture, historic castles and captivating green spaces. It definitely has a lot to offer and one of its most important qualities is its close ex-pat community.
This week we sat down with Josh Reavenall, Talent Acquisition Team Leader at NonStop Recruitment. NonStop is our second partner to join Expat Week and is one of the fastest-growing recruitment firms in Europe. The company specialises in the hiring, training and developing entry-level talent to become exceptional recruiters while supporting clients in multiple industries, particularly life sciences.
Josh is a British expat who is currently living in Prague and during our conversation, he gave us some insight into his life as an expat in the Czech Republic. Continue reading to find out why, four years on, he has not been able to move away from this amazing city after his planned six-month stay.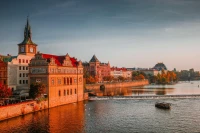 1. What made you move abroad?
I came here for NonStop Recruitment and well, I've always been quite interested in working abroad anyway. Since I was young I've considered that being an English speaker, you could have a really cool job abroad and I wanted to work in a foreign country, but I didn't want to be a holiday rep. I wanted to have a real career, so I was excited about the NonStop opportunity. I already had some sales experience myself and I thought what an incredible opportunity it would be. My plan was to be here for six months and then return to work from our London office, but I had no idea I would be here for over four years and now thinking I'll be here for a lot longer.
2. What are the first things you need to manage as an expat in Prague?
It was very easy for me because NonStop Recruitment took care of everything, from accommodation to setting up a bank account and helping me register with the foreign police (something everyone moving here has to do!). One thing to consider, if you're British, is that the whole Brexit thing might have an impact on wherever you go. It seems pretty simple here in Prague but who knows what will happen in the long run.
3. What are the biggest challenges for expats?
Just like everywhere you go there will always be cultural and systematic differences and I've faced that a bit here. It can be frustrating when you're used to doing something a particular way but then in this new place, with a language barrier too, you have to figure out how it's done but I think that's also something exciting – getting first-hand experience with a new culture on a level you can't do as a tourist. The language barrier here can be a challenge sometimes, at the supermarket for example, but Prague is a tourist destination and also one of the top places for expats so English is pretty widely spoken here and you can find English-speaking doctors, dentists, even mechanics! There are a couple of 'Expat in Prague' type Facebook groups that bring the expat community together to share knowledge about such things.
4. What's the social life like in Prague? Is it easy to make friends?
Yes, you have to be pro-active yourself, obviously, it's not like you'll walk around and suddenly have friends, you have to do something about it. There is a huge expat community here and there are people from all over the world, not just from Europe but also from North America, Australia, Asia and more. Working for NonStop, an international company with loads of other young people who moved here for the job, it had a pretty instant friend group which was great I didn't know anyone in Prague before I came here. It's important, I think, to make friends outside of work too and for that, you do need to be proactive but there are loads of groups and clubs to join including sports teams.
Me, personally, I joined a football team quite early on when I came to Prague and I met a lot of people from all over the world through that. There are many events throughout the city too, and just like I said, you need to be pro-active and actually do something. I think it's incredibly easy to meet people and because it's quite a close expat community often when you go out you bump into a friend and then bump into another friend that you had no idea was friends with the other friend, and just so on.
5. If I was a tourist in Prague for one day, what shouldn't I miss?
You should definitely have at least one beer. The beer is really nice here and really, really cheap. Other than that, Charles Bridge is a place that every tourist wants to go and see. It's in the middle of the town and near all the touristic things, so yes, I would say, mainly Charles Bridge. Especially in the summer the river around this area is lined with bars, including bars on boats, and you can hire kayaks, canoes, paddleboards and pedalos which not only give you a different perspective of the bridge, the castle and the beautiful city architecture but allow you to chill out in a nice, relaxing vibe.
6. What advice would you give someone who is looking to move to Prague?
Do it! It's a great place to live!
Besides that, I would say, try to learn a bit of the language because it's not just about being part of the expat community here. I think it's good if you're friendly and get to know people here as well. I find people really appreciate it if you can speak a few words too. It doesn't mean that you have to speak Czech fluently, but it's nice to pick up the language a little bit. Learn basic words like hello, goodbye and thank you.
7. How do you find work in Prague as an expat?
Finding work is really easy I think – there's such a low unemployment rate and companies want to expand so it's pretty easy, even if you don't speak Czech, because there are a lot of multinational companies. There are job boards you can look at but there is also a lot of Facebook groups advertising jobs in various langauges, 'Sales Jobs in Prague', for example. As for actually working here, like I said, NonStop is a very international company (27 nationalities!) so it's hard to say, because we have aspects of working cultures from all over and we're not a typical company – we all work hard and it's a fast paced job. In general though I think working culture here in Prague is generally quite relaxed with flexible hours, home office and more. I often also see people from other offices in this area drinking beer at lunch! I think it's fair to say there are loads of opportunities here, it just depends on what you're looking for.
8. Do you feel integrated into the community?
Yes, I really do feel at home in Prague and very much a part of the expat community. I used to live in Bournemouth, but I feel like Prague feels more like my home than Bournemouth ever did.
About Prague
If the breathtaking sceneries are not enough to convince you, maybe the fact that Prague is among the top 10 cities for expats in the world will. The charming capital ranks 8th among the top 72 cities to live in for expats, according to 'Expat City Ranking 2018'. On a European level, Prague ranks second. InterNations' survey on Expat Insider has placed the Czech Republic as the third-best country for expats to work. There are plenty of career opportunities and ex-pats are generally well-paid in Prague.
This European gem is considered a fairy tale city, you can almost feel the magic in the air. Prague is an ever-changing city, with something new to discover every day. You will find lots of tiny cafes with freshly served goodies you can enjoy during the day, as well as many places with live music and a good atmosphere during the night.
Have you already checked out NonStop Recruitment's current vacancies and started packing?
If you haven't done that yet, here's another tip: after a long workday, you could relax at one of the beer spas in Prague (yes, soaking in a tub of beer with fresh beer on tap that you can pour without getting out of the bath)!