If you're a verified expat, you've most likely heard of sunny Porto, Portugal & if you value a peaceful life by the coast, while eating rich food and being surrounded by warm people, living in Porto should definitely be your next thing on your to-do list. We know all of it sounds too good to be true, so we've prepared our ultimate expat guide to bring you down to earth and assist you in the best way possible with your decision-making and relocation steps.
5. Fun Things to Do Around the City
6. Cost of Living in Porto, Portugal
Porto is home to many expats for its vast and famous wine production, beautiful bridges, and easy-going citizens. It's also considered an interesting destination for those seeking a place to call home, build their families, and develop their professional lives.
Working in Porto, Portugal
Useful Job Board When Living in Porto, Portugal
Either if you're presently in Porto or if you haven't landed yet, make sure to browse for job opportunities. After all, although you might have some money set aside, you'll want to secure a position at some point before running out of cash. This being said, at Europe Language Jobs, you can find many offers currently available in Porto for all language speakers and in many different sectors. We recommend you fill out some job applications prior to any drastic decision-making.
Sectors & Languages In-demand
If you're wondering whether your sector or language is in high demand in Porto, wonder no more. We've gathered some exclusive up-to-date information based on our market knowledge and through a landscape analysis.
The languages most in-demand in Porto are: English, French, Dutch, German, and Spanish. The good news is that if you're reading this blog, it's because you already speak English, but if you plan on learning other languages, we highly recommend one of those mentioned above.
Now, if we're speaking about sectors, the following have been the most requested in the last year & the last 6 months: customer support/service, sales, human resources, IT, content writing, retail, and any restaurant, resort, or hotel-related positions.
Work Culture
The work culture in Porto is one of people's favourites across Europe, somewhat similar to Spain. Companies have a laid-back atmosphere, but they still keep it very professional, which is why some tend to believe the environment is too serious at a first glimpse.
It is important to mention that if you're speaking with an employee older than yourself, you will need to be a little bit more formal and address them by "Senhor" or "Senhora" along with their last name. Nevertheless, try to feel out the vibe before acting. Understanding the city's work culture will be a vital first step to a healthy experience.
Work Permit in Porto
As well as other EU countries, if you're a European citizen, you'll not require a work visa or permit to give a start to your job adventure in Porto, Portugal! Nevertheless, you'll need to obtain your Tax Identification Number (NIF), just like in most EU countries.
Are you a bit overwhelmed? Don't be, companies are usually willing to assist their international employees by providing all needed paperwork and guidance throughout the process. However, if you need more assistance or moral support, we advise you to join expat groups on Facebook, such as Porto Expats.
Steps to Take
If you're an EU citizen and wish to obtain your NIF, you can easily schedule an appointment or walk in your local tax office. After COVID-19, many policies have changed, so we advise you to call them before paying them a visit and wasting your precious time.
Why is obtaining your NIF important? Because you'll not only need it for work, but also for other purposes, such as opening a bank account or signing official rental contracts. If you have never had one, you will be assigned a temporary NIF, which will be replaced by a permanent one after a certain amount of time in the country. Check for updated information in your embassy in Portugal.
For non-EU citizens, there are other types of visas, known as:
Short-term visa: This is normally used for temporary contracts (usually less than 6 months). If needed, it can be extended to one year.

Long-term visa: Also known as Visa type D, it's mandatory for non-Europeans wishing to work in Portugal for longer than 6 months.
If you aren't an EU citizen, here are the documents you'll need to obtain your long-term visa to work in Porto:
A valid passport

Two ID photos

Tax forms

A valid employment contract

Proof of registration with Social Security

A valid Portuguese residence visa

Proof of accommodation in Portugal

Background check for criminal record
Other visas
Portugal offers other visas opportunities as well:
EU Blue Card: It usually requires high qualifications, such as owning a job offer contract for 1 year, receiving a salary of over ⅕ times the country's national average, etc.

Golden Residence: This is a visa reserved for business investors.
Getting Around the City
Getting around Porto is a piece of cake once you have mastered the main reference points and all the options you've got.
Public Transport

According to Lonely Planet, your options are:
On foot: Believe me or not, there is a lot you can do around Porto just using your feet! Of course, it might take you longer, but it's also great exercise.

Metro: The metro system is very effective as it works from 6:00 to 01:00 on a daily basis. This is the best method (in terms of cost-benefit) to get to and from the airport and to any further away beaches in the country.

Tram: The tram in Porto is not always used by all locals, but it's worth trying as its vintage style might give you some cool photos for your social media accounts.

Train: Trains are commonly used to get from one city to another as prices might be cheaper than flight tickets. We always recommend Rail.Ninja or Omio as a reliable source.

Bus: There are three main bus stations in Porto, they are called: São Bento Station, Jardim da Cordoaria, and Praça da Liberdade. According to Local Porto, every ticket tends to cost

Taxi. Taxis are present in all countries and can be costly depending on traffic and destination. We advise you to check your route and decide for yourself based on your budget and schedule.

Bicycle. Porto offers beautiful bike lanes by the coast, where you can enjoy some refreshing wind and tan all at the same time (make sure to wear a lot of sunscreen and continuously hydrate).

Private car. You can always purchase or rent a car to move around town. Here it will also depend on the type of car you want and how much you'll use it.

Funicular. Yes, funiculars are also a transportation option in Porto. However, it is a short tour from Batalha (Rua Augusto Rosa) to Ribeira. Some say it's worth it, let us know your thoughts afterwards in the comment section below.
Porto Airports
If you've never been to Porto, it might be useful to know its main airport, called Francisco Sá Carneiro Airport. Nowadays, it is known as Porto Airport (ATA: OPO, ICAO: LPPR).
How can the airport be accessed? By metro, car, shuttle, bus, and taxi.
Housing in Porto
Housing is an important theme as you prepare to move to a different country or city. Finding the perfect place might not be the easiest task at first, but it will be your little refuge when homesick, so choose wisely.
Whether you're looking for short-stay or long-stay housing, Housing Anywhere & idealista are good places to start to get a better understanding of prices. Rent can go from 300 EUR-1500 EUR.
An alternative way to find housing in Porto is through Facebook groups/pages. You might even find a better option through Facebook than looking through agencies' websites, as they charge a fat fee for their services.
On the other hand, if you wish to buy property, maybe you could check: Expat.com and Portugal Property to start.
Living Like a Local
The Portuguese are one of the most welcoming nations in Europe. They are always ready to welcome foreigners and treat them as if they were family. They will trust you from day-1, but if you do them wrong, you might never get their trust back.
Fun fact: You'll most likely find many Brazilians and think they are Portuguese as well, that's only because the language is the same, what changes is the pronunciation and some vocabulary/expressions. As you may already know, Brazil was one of Portugal's colonies, which is why there are so many similarities.
Useful phrases in Portuguese
It's always useful to learn a few expressions before landing in a foreign land. This is why we've gathered some useful phrases in Portuguese, in case you might need them. They'll come in handy!
Bom dia = Good Morning
Boa Tarde = Good Afternoon
Boa Noite = Good Evening/Night
Olá = Hello
Sim = Yes
Não = No
Tudo bem? = How are you?
Adeus = Goodbye
Até Logo = See you later
Por favor = Please
Obrigado/a = Thank you
Cerveja = Beer
Quanto custa? = How much does it cost?
Save the Date
Portugal has many important holidays and festivities. You'll need to know some of those when living in Porto.
April 25th: Portugal's Freedom Day!

May 1st: Apart from Labour Day, May 1st is also Porto's "Big Fountain" holiday. During the day, a festival occurs, in which Porto's citizens used to honor the gods of water due to the city's dryness during the time period, they would ask for water/harvest. Presently, citizens tend to decorate their homes to celebrate mother earth.

May 12h & 13th: It's when a large number of pilgrims travel to the Sanctuary of Our Lady of Fátima to celebrate her apparition.

June 24th & 25th: St. John's Day (24th) & Porto's Municipal Holiday (25th). This special night between both holidays is highly celebrated in Porto by eating many sardines, specific vegetables, and wine.
Fun Things to Do Around the City
Porto's Typical Food & Best Places to Eat
Porto is noted for a series of foods you may have already heard of:
Francesinha: This "dish" is by far the most popular one in Porto! It's essentially a sandwich with steak and ham. However, what makes it so special is its cheese topping followed by a beer-based sauce and fried egg.

Queijo da Serra da Estrela: If you're into sheep milk, you must try this soft and smooth cheese.

Anything with Bacalhau: Bacalhau is also known as codfish. Portuguese natives love this fish and eat it in many different ways, such as with rice, vegetables, croquettes, potatoes, salads, etc.

Caldo verde: As well as the Francesinha, caldo verde is a typical dish in Porto. Usually eaten during St. John's Day. Although it is mostly eaten during the winter, the soup is worth trying year-long.

Sardines: Those are also eaten during St. John's Day. Portuguese citizens usually eat grilled or fried food along with potatoes and green peppers.
Now that we've covered most of Porto's typical food, let's check some nice places you could sit down and order some of them:
Café Santiago: Here is where you can find amazing Francesinhas and every plate is between €5 to €15.

Taberninha Do Manel: This is a great restaurant if you wish to try Bacalhau or any other seafood! Plates vary from €7 to €18.

Casa Guedes: It's the place to go if you wish to try caldo verde! Check out their pictures if you don't believe me, it looks delicious!
Overall, food in Porto is not extremely expensive. The menu price (including appetizers or starters, main dish, and dessert) can go from €15 to €25. Of course, we're not counting the drinks, but it should be much more than what it is.
How do you feel after reading all of this? Hungry? Me too! I'm buying my ticket to Porto at this exact minute.
Places to Go/Things to Do
If you live in Porto, you most definitely need to go to the beach. But, what beaches? Here are some for you to kick-start your tanning season:
Praia do Mole: Perfect for a jog in the morning or at night

Praia de Fuzelhas: If you wish to tan, this is the one! Plus it's calm, long, and wide.

Praia do Carneiro: The most famous beach due to the lighthouse.

Praia Castelo do Queijo: Literally translated as "Cheese Castle Beach".

Praia dos Ingleses: Not really the best to sunbathe, but great to relax by the beach while drinking some coffee in the cafes.
Apart from the beach, you could also go to Muralha Fernandina. It's a 14th-century wall, and therefore, considered an important attraction in town! You might be surprised by the landscape you'll see, as it will take you back to your history classes when learning about the Medieval period. The good part of visiting this place is that tourists don't pay too much attention to it as much as they should, so you will have an exclusive tour when visiting it.
Porto's Nightlife
Although Porto is a cozy town, don't underestimate its affordable and vibrant nightlife! As you may already know, being one of Europe's tropical countries, you'll find yourself surrounded by good weather, a lot of dancing, music, and flavourful & colorful drinks.
If you decide to relocate to this beautiful city, here are some hot spots to go to:
Bonaparte Downtown: It's a very famous bar in Porto. Once you walk in, it looks like you're in a pirate's ship; it's full of bottles, barrels, and wood stuff. You might like the warm environment it portraits. Apart from the drinks, their fried potatoes and hamburgers are delicious.

Plan B Club - Port: This one is for club lovers. Colorful lights invade each corner of this place, they mainly serve beer and some cocktails, and guess what… Yes! They also have some appetizing food.

Café Candelabro: Now, if you're not a huge fan of clubs and typical bars, this wine bar is for you! It is described as having a strong sense of "bohemian vibe", care-free, and the opposite of ordinary. Do you care to find out how it actually is? Let us know your feedback in the comments below.
Museums/Monuments/Parks
If you're not into nightclubs, bars, or festivals...How about visiting some museums, Monuments, and parks? When living in Porto, you'll notice that you've got many options to choose from, for all tastes and desires. Below you'll find:
Museums:
Monuments:
Monument Church Of St Francis: It's a church located in Porto, known for its Gothic and Baroque style.

Statue of Vímara Peres Porto: a monument raised envisioning Portugal's independence that only happened in the 12th century.

Fonte dos Leões: the water fountain was created by water company called Compagnie Générale des Eaux pour l'Etranger.

Senhora da Luz Lighthouse: beautiful lighthouse/monument in Porto, especially at night!
Parks:
Porto City Park: This is Porto most well known park, it has volleyball courts, some other sports courts/fields, you can rollerblade, cycle, run, walk, etc.

Parque do Horto das Virtudes: It's very green and perfect for an alternative picnic!

Parque Urbano da Pasteleira: If you're relocating with family, this is the perfect park! You'll be able to enjoy activities with your kids, but also go for long walks with your partner.
Sports
Porto is home to many sports lovers! Why is that? The variety of options attract many athletes and the weather (not too hot, not too cold) makes it pleasant to practice indoor and outdoor activities, such as soccer, volleyball, golf, basketball, cycling, running, surfing, motorcycling, and much more.
Overall you can see that life in Porto can be very healthy if you're an active person, if you eat well, and value a peaceful lifestyle.
There is really no excuse to stay closed in your room at home when living in such a cozy country; you're at home wherever you go!
Shopping in Porto
Shopping in Porto is an interesting experience, as you will not only encounter the typical & popular clothing stores, but also traditional and local stores. If you're a fan of exclusivity, you will definitely enjoy spending some time walking around these smalls:
ViaCatarina Shopping: It's a small shopping center, full of beautiful and artsy pathways - watch out not to be tricked into thinking you're entering a palace from the inside or a fancy museum. It is full of clothing stores, home goods, food places, and it also has a rooftop.

Shopping Cidade do Porto: This is one of Porto's biggest and most well-known malls. Apart from the countless stores, it's also perceived as well-decorated and an aesthetically pleasing place to shop. If you're into fancy brands, this is the place to go.

La Vie Porto Baixa: La Vie is also a large mall and often chosen by locals due to their worth it year-long discounts & vast options of food/products to choose from.
Cost of Living in Porto, Portugal
Food/Grocery Shopping
Grocery shopping in Porto is cheaper than European expat destinations. The main supermarket chains are Continente, Auchan, Lidl, Pingo Doce, and Intermarché.
Since there are many bars and restaurants in the city, you can easily find meals for as little as 5 € per person.
Nevertheless, if you prefer to buy the ingredients yourself and cook at home, here is our estimate of how much the weekly shop would cost: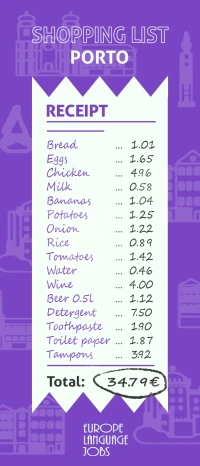 Taxes
Taxes in Portugal benefit expats residing there:
As a tax resident, your overall income is subject to Portuguese income tax, which includes salary, rental income (if applicable), and capital gains.
As a non-habitual resident (NHR) (i.e. as an expat), there are several exemptions during the first 10 years of residence in Portugal. The two main benefits are not paying tax on any earnings you make anywhere else in the world, and that you only have to pay income tax at a flat rate of 20% (compared to standard rates that can rise to 48%).
Medical Care
The healthcare system in Portugal is divided into three coexisting entities and it doesn't change based in the city:
The National Health Service (Serviço Nacional de Saúde or SNS)

Special social health insurance schemes

Private healthcare
The healthcare system is heavily funded through general taxation as well as from social security contributions paid by working residents. For this reason, residents have to pay certain costs for doctors, specialists, hospital treatment, and prescriptions. However, the costs are minimal: 5€ to visit a GP and 20€ to visit A&E. Trips to the dentist and general dental care, on the other hand, are more than often not covered by the SNS.
To get access to the Portuguese healthcare system, you just have to be a legal resident. Since you will not be a legal resident straight away, you could consider international medical insurance. International Citizens Insurance can help you find the right plan for you. Here are some options: Top Expat Insurance and Allianz.
#


Isn't Porto beautiful? I already see you living there. What's more! Now, you've got all of the necessary information to make your relocation process even smoother. Living in Porto has never been so accessible and easy! Apply for a job in Porto today and get ready for your adventure tomorrow! And if you've already been to this sunny town, let us know of any cool and useful tips you may have in the comments below!