Did you know that the average student loan debt in Europe is €21,000? Further education gives you endless opportunities to make connections, expand your knowledge, and prepare for a career doing what you love. But, for most students, it also gives you a fair few loans!
Whether you've finished your time in further education or you're looking to take a break and work abroad, it's always a good idea to learn how to manage your loans. To give you a helping hand, we've put together our top tips along with advice on how you can start a career in the language sector.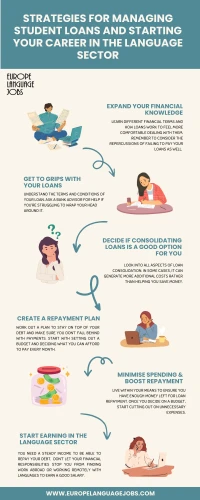 Expand Your Financial Knowledge
Before you try to tackle your loan, it's a good idea you build on your financial knowledge. Understanding different terms and the ins and outs of debt is a great way to feel more comfortable dealing with your loans and a skill that'll be useful throughout life.
Some terms we recommend looking into include:
It's smart to consider the repercussions of not paying your loans, too. Aside from amassing interest and potential legal action (which will be specific to the terms of your loan), missing payments can reduce your credit score. The effects of this are long-lasting, damaging your chances of being lent money in the future or being approved for a mortgage to buy a property.
However, don't panic if you already have a poor credit score. There are ways you can still be approved for loans, including with a bad credit mortgage which improves your access to lenders by 30%. You can also improve your score by making payments on time and regularly.
Get to Grips With Your Loans
The biggest enemy of loan repayment is misunderstanding your loan. By getting to grips with the details, you become better equipped to plan ahead and pay it back.
Make sure you're aware of the terms of your loan, as well as interest rates (and how they can change over time), repayment schedules, and additional conditions set out by the lender, such as any possibility to freeze repayments.
Many student loans have plans for low-income graduates, too, that'll reduce or stop your repayments if you're struggling, so it's well worth looking into the ins and outs of your terms!
If understanding your loan is something you find difficult, ask your bank if they have any advisors who can help you or get in touch with your creditor.
Is It a Good Idea to Consolidate Loans?
When looking into financial terms and getting to grips with your debt, you might come across consolidation. But what is this and could it help you repay your loan?
In simple terms, consolidation rolls any separate loans you have into one single loan with a repayment plan. If you have a few, high-interest loans that you struggle to keep track of (e.g. you frequently miss scheduled payments or don't know how much you need to put towards your individual loans), it might be a system worth considering.
Just be sure to look into all aspects of consolidation before you commit. If it's not right for your situation, you could end up with higher interest rates and additional fees that you can't keep up with.
Create a Repayment Plan
Whether you consolidate your loans or not, a good repayment plan will help you stay on top of your debt. Some student loans will come with repayment plans outlined already, helping you manage your debt and follow the terms of your lender.
But even with a set repayment plan, you'll still need to create your own plan for meeting regular payments. Here are some tips to get started:
Create a budget to work out what you can pay

Work out repayments for each lender

Set up direct debits for regular payments

Write to lenders of low-priority debt if you're struggling to repay
Speaking to the bank or creditors who have set up your loan is never a bad idea if you're having a tough time repaying them.
Low-priority debt (mentioned above) refers to debt that either can be frozen without damaging your credit score or doesn't have important repercussions if you miss a payment (e.g. your home won't be repossessed). If you think your creditor will be happy to lower or stop your repayments while you get your finances in order, it's worth getting in touch.
Tips to Minimise Spending and Boost Repayments
When it comes to managing loans, there are lots of tips to make it easier, but none more important than simply paying off your debt! If you can put aside money to pay off your loans according to your repayment plan, you'll slowly work your balance down to 0. But, that's easier said than done.
To give yourself the best chance of staying on top of your loans, you need to become financially responsible. That means not only living within your means but also having money left over every month to put towards repaying your debt as well as saving for the future. All of this starts with knowing what "living within your means" means for you, and here's how to work it out:
Know your disposable income (income after tax, rent, bills etc.)

Know how much you need to set aside for rent and saving

Use the above figures to work out your monthly spending allowance

Keep track of your spending so that you don't go over your spending allowance
Once you know how much you have to spend, you can automatically start cutting down on unnecessary expenses. Practice spending-savvy tips like bringing a flask of coffee from home rather than buying out every day, shopping the discounts in your supermarket, and finding free activities for the weekends.
Start Earning in the Language Sector
To repay your loans, you have to be earning an income. For those of you interested in the language sector, you're in luck as you've landed in exactly the right place!
Using our job board, you can access tons of multilingual jobs across Europe posted by employers looking for someone exactly like you. From working with global brands to local businesses in your dream destination, we've got the best multilingual jobs all in one place.
Here are some tips to help your language sector job hunt as someone with student debt.
Can You Work Abroad When You're in Debt?
You can absolutely work abroad when you're in debt as long as you're not in any legal trouble with your creditor. If you're meeting your repayments, working abroad shouldn't affect your loans.
However, it is a good idea to let your creditors know you'll be moving abroad and update your contact details so that they can stay in touch.
Some government-funded student loans can be affected by a move abroad. If you're away for a prolonged time and leave your country's tax system, you might find that a different sector takes on your loans.
In the UK, for example, HMRC hands loan management over to the Student Loans Company (SLC). It's a good idea to check the official information in your country before you begin working abroad.
Find the Right Salary
It's important that you find a job that pays you enough to keep up loan repayments.
As you start your job hunt, calculate any bills that will be ongoing throughout your career. Many of our destination jobs come with a relocation package, so it's worth checking these out to get a better idea of future living costs.
Once you know how much money you need to live on and keep up repayments, you can match it to the right salary.
If you're finding that there aren't any jobs you could apply for with a salary that matches your needs, it's worth looking at where you can cut back on your expenses.
Work Abroad or Work Remotely?
Not every multilingual job means you have to relocate. If you're focusing on repaying loans or you're still in education, you might prefer looking at roles you can do remotely. In that case, use the "Remote/On-Site" filter at the top of our job board and select "Remote" to only view jobs that match your criteria.
Landing a remote job removes any expenses you might have to pay if you were to relocate and can be less stressful. However, an on-site job in a new country comes with an abundance of exciting opportunities, with many companies covering relocation costs for you. Consider which option feels right for you before making a decision.
Final Words
Managing student loans can feel like a daunting task, but most of the time your creditors will work with you to make things easier. With a good repayment plan, some financial know-how, and knowledge of your own income and expenses you can pay back your loans one month at a time without any stress.
Remember, too, that the higher your income the easier it'll be to pay back any student debt you have, so keep an eye on our job board to find high-paying careers in the language sector.