Have you ever imagined Greece, not as your next holiday destination but as your new office? I'm sure that you'll be convinced after reading about the new opportunities this mythological country has to offer.
Greece, or Hellas, as it's known by the locals, is a fascinating option to make a career leap and gain new and refreshing experiences. For a young person wanting to take their first career steps, it represents the chance to gain valuable international experience and enrich their CV. At the same time, you will be able to learn and develop yourself as a person and as a professional.
You might think these features are present in every international working experience, but there are some privileges that only Greece has to offer. Imagine all the opportunities to discover yourself in a place which is not only the cradle of the Western civilization, but also one of the most beautiful countries in Europe. History, culture, and landscapes come together in Greece, creating the perfect combination for travel lovers and explorers.
The number of positives keeps growing when we focus on day to day experience. Greece is an inexpensive place to live in: to put it into perspective, Athens, the capital, is 35% cheaper than the average major European city. It is estimated that an adult in Athens spends around 180€ a month on food, which is considerably lower than in many European cities.
COMPANIES HIRING
While we're talking about advantages, we can't forget the fact that many companies located in Greece are offering incentives and rewards for people that would like to start a job there. We are talking about great opportunities that new employees are given when moving abroad: accommodation facilities, coaching, team experiences, parties and trips that will help you integrate into the society and the company values.
Due to recent trends, German speakers are in high demand in Greece at the moment, so this comes as an opportunity for many Europe Language Jobs users. It provides a unique working location in a less competitive working environment. It's widely known that Germans rarely move to work, which explains the need that so many companies have for German speakers willing to take the plunge and work abroad. Specifically, Athens is now one of the top cities where German speakers are needed in the whole of Europe.
So, are you considering it?
There are lots of companies looking for German speakers to fill their vacancies in Greece and offering them awesome conditions. One of the main ones is Teleperformance, a leading Customer Service company which is involved in a highly active search for German speakers and multilinguals. You can check all the active vacancies they have now on their minisite at Europe Language Jobs.
If you're a German speaker and want to enjoy all the advantages of working in Customer Services have a look at our blog post and learn more about it.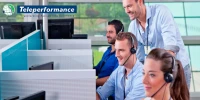 Named "Best Place to Work in Greece" in 2013, Teleperformance Hellas was the very first company to introduce contact centre outsourcing provision in Greece, and is by far the largest in the local market. Working in their team could give you not only the possibility to gain experience in a big multinational company, but it also offers great career opportunities and very attractive conditions. For a future employee, it's good to know the kind of advantages they offer: great salaries, accommodation bonuses and facilities, plane tickets, assistance with visas, training programs, integration activities for employees such as sports competitions, parties and trips, and much more.
So will you leave that desk job in a cold city to move to Greece and enjoy the real summer weather?