Summer is almost here and while everyone is busy with planning vacations and booking flight tickets, we can't forget that summer is also a good time to publish your vacancies online.
Why, you ask? Amongst other reasons, there is a special gift on offer for you to celebrate start of the summer season! Europe Language Jobs would like to give your job offers 1 extra week of visibility during our Summer Campaign!
Therefore, all your job offers will be active on Europe Language Jobs for five weeks, instead of the usual 4 weeks. This way, we want to make sure that you receive enough candidates during those hot summer months.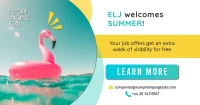 We would also like to share with you our top 6 reasons why you should stay on top of your recruitment during the summer period!
1. Be Proactive Now
Most people know that recruitment during the summer months can be slow, but we believe that staying proactive is the key to finding the perfect candidates. You should already start your preparation for the busy months ahead if you want fresh new candidates for your positions starting in the autumn period. Urgency in recruitment helps, but a slow process will take you much further.
2. Fresh Graduates
With graduation just around the corner, there will soon be a new group of young professionals entering the job market this summer! All of which will more than likely be searching for their first full time job, and eager to start their professional career. If you have any entry level positions or graduate schemes, now is the ideal time to recruit young graduates.
3. Relocation fever
Did you know that during summer is when most people relocate? Just ask anyone working in a letting agency, an insurance provider or a moving company! Take advantage of it and instead of slowing your recruitment down, try to boost it. With lots of people moving abroad, there will also be a lot of job seekers.
4.Time to reflect
As summer marks the halfway point in the year, this is the perfect time to reflect on your career and lifestyle. Maybe you're reflecting on New Year's resolutions, or you're interested in taking on a new challenge? That is why this period is also when many people rethink their career and seek change if they are not happy with their current situation. It might be the best time to publish those vacancies you need to fill!
5. Stay Connected
During the more relaxed summer months and holiday season, people still find the time to check their social media, meaning that now is the perfect time to broaden your network as either a recruiter or a job seeker. According to Siedel, "Networking during slower periods can yield great results".
Therefore, the fact that most of the potential candidates are on vacation can be an advantage – they will probably check their phones just as often as if they were in the office and they are more likely to pick up your phone call!
6. Special Summer Campaign
Last, but not least, summer is a great time to post your jobs so you can take advantage of our summer promotion and enjoy one week of extra visibility! If you publish your job ads from 17th of June until 31st of July, they will automatically stay active on our website for 5 weeks, instead of regular four months. Make sure to publish all of your ads and use up those job credits to get the most out of this offer!
Whether you decide to focus on networking, research or headhunting, don't forget to publish your job ads with us and take advantage of the 2019 summer campaign. Our account managers will be ready to help you boost your results during the summer period and we are constantly working on new improvements!
From all of us here at Europe Language Jobs, we wish you a lovely summer!