If you have been to an office in Germany, you have had seen the paper everywhere. In this country, people love to print out everything even though some receive e-mails. That was surprising to me to notice this habit. In our workshops, which we organize online and interactive to make the people more act for sustainability and climate protection (www.advisa-akademie.de), I ask what can the participant change quickly at their work and mostly get the answer: The way they are handling paper. What a surprise! :)
Another frequent result for the personal area is using e-bikes instead of cars, walking to the grocery shop, buying local and seasonal, eating vegan. And for the companies, using led lighting, photovoltaics, car-sharing, and sustainable investments.
Do not think that in Germany sustainability is a flop because of paper :) Apart from that, the German work culture tries to change its way of working around sustainability topics. Germany has exact goals like to be climate neutral in 2045. You can see changes in the business world around this goal. You can find in many big firms a sustainability team, which tries to lessen the CO2-Emission of the organization. Some big companies make a step forward and require their suppliers to do one's part. This topic is very up-to-date in Germany, and I am proud to be trying to make this change with small and medium-sized companies.
In the last years, I have gotten the chance to observe the changing behaviors of employers, which helps to contribute to reducing the CO2-Emission like home-office or getting many tasks done via online meetings, calls, and fewer customer visits. By the way, German work culture loves to set things by calling! Why not? :)
To make it more comprehensible, (P.S: Comprehensibility is an inseparable part of the German business world) I would like to share the results of the research, which has been made with 503 people. The participants work for small and medium-sized companies to give more insight into the aspects of people who work in Germany. According to this research of DocuSign, 74% of the employers of small and medium-sized companies believe that paperless work helps to increase their contribution to sustainability. 65% of them believe that companies can change and must change the world in a good way. 89% of them agree that efficient handling of resources is the task of medium-sized companies.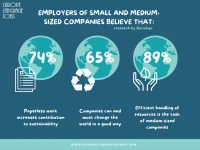 Another striking point of this research that I much appreciate is the candidates. According to this survey, "In the future, applicants will become much more involved with the company they want to work for based on criteria such as environmental protection, resource conservation, or social responsibility evaluation. That creates a problem for some firms because, in times of demographic change and the shortage of skilled workers, qualified personnel will not be satisfied by remuneration alone or status symbols. Responsibility and sustainability will become future standards for an application."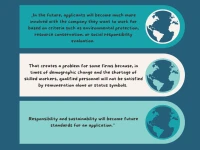 With the help of those results, we can talk about an awareness of topics, like digitalization, climate protection, and sustainability. There are many beliefs that it is up to the companies to change the world for the best. I believe that change can only happen if we all combine our forces, and it is not up to a company. On the other hand, we can not expect a country to make all the changes for the whole world. In this case, when I emphasize the importance of intercultural and international works and human resources, I would not be mistaken.
Climate change is a problem for all of us and, for the solution, we need each of us. I believe that German work culture is finding itself within a change process but, it is still a big way to go.
But if we come to our headline, I can say with an inner peace that German work culture is top for the experience of a sustainable work environment and tries every year to make it better. I think their habits play a big role there. Let's talk about the separation of garbage: in Germany, people separate the garbage at home. For example, in the city where I live, there are four different dustbins for different types of waste and I love to see that Germany sees garbage as raw material. In my hometown, we can not talk about a real garbage separation. To be honest, I started to separate it after I moved to Germany.
At the beginning of this year, I decided to participate in reducing the climate challenge and set three things that I want to do to contribute my part to reducing the CO2-Emissions. One of them was grabbing the attention of people in Turkey about waste separation. After all of my experiences in Germany, I noticed, that there are many things to do in Turkey.
Other than waste separation, I would like to bring my daughter to kindergarten with an e-bike and avoid this 5 km drive and reduce CO2-Emissions in this way and, I aim to buy mostly regional and seasonal, which I've been trying to do for three years. This year I will pay attention to that topic much more. I set these three goals because, as I earlier said, this is the problem of each of us, and we all have to do our best. With these baby steps, we can reach our goal.
I think it is enough to hear about my goals, and now we can come back to the people all around the world :) What do you think? Have you ever had a chance to experience sustainability in the German business world? I would like to hear about your experiences and am looking forward to seeing your contribution to discuss sustainability in Germany or other countries in the business world. I would love to hear the climate policies in your countries and your personal goals for a liveable world.
If you have more interest in this topic, please connect with me and visit our workshops to hear about German regulations, German goals, standards, climate-neutral communication, and even funding for sustainability and climate protection-related investments.
About the author: Irmak Alkan Bahar is the managing director of advisa akademie, an engineer, alumni of intercultural management master, and an MBA candidate. She is Turkish and lives in Germany, likes to do research about different cultures, the future of the world, and loves to share her knowledge with other people.
For more about her: https://www.linkedin.com/in/alkanbahar/ or to write directly to her: [email protected]
For more about advisa akademie: https://www.linkedin.com/company/80689336/admin/
For our workshops in German language: https://www.advisa-akademie.de/onlineseminare.html
For workshops in English, please contact me.
Resource: https://www.docusign.de/mittelstand?&utm_medium=social&utm_source=linkedin &sf158603724=1 / DocuSign E-Book – Fortschritt, dem wir zustimmen. DocuSign Miitelstandstudie 2021:Der Puls des deutschen Mittelstand schlägt digital.