The job market is becoming increasingly frustrating each day. For many vacancies, there are hundreds of applicants.
This blog post will explain the importance of international experience, and help you to use your language skills and experience abroad to stand out from the rest to get that job that you really want. Many people are reluctant to spend time working abroad. International experience and language skills are two key things for employers nowadays, and one of the best ways to achieve this is to do a language course with ESL. Their language courses are for two weeks, and give you the chance to live in a foreign country whilst learning a language at the same time.
Nowadays, business is constantly changing and has become much more globalised, so international experience is now highly valuable to employers. Working abroad gives you a unique opportunity to immerse yourself in a new culture and to meet new people. This experience you have out of your comfort zone could be the difference between you and the competition and make your CV that bit more attractive.
One other advantage is that it gives you a much better opportunity to pick up more of your target language, as learning this from the confines of home or a classroom does not give you anywhere near the same exposure.
Fluency in a language is a highly sought after skill by employers, as an increasingly globalised world means that they will have the need to communicate with a wider variety of clients or even open new offices abroad. It can also widen the range of jobs you could apply for, especially in terms of country, as you have better knowledge about global markets and experience of new cultures.
Working abroad also improves your self-reliance a great deal. Working or studying in a new country will push you very far from your comfort zone, you will have to think for yourself, and adapt to new situations. For employers, this is vitally important, it shows that you are a fast learner and can take challenges head-on.
Furthermore, it is also a great chance to develop a global network. You have the possibility of meeting people from different backgrounds and industries which may prove invaluable in your future career. You will develop skills on how to communicate more effectively with people from different backgrounds, thus giving you the potential skills to help develop a prospective company's presence abroad.
Language skills on your CV
Your language skills could also be key to you potentially being hired for a job, so it's vital that you're able to show off these skills appropriately on your CV to give yourself the best possible chance. Many people often understate their language skills by not displaying them clearly enough or by not giving them enough mention. The next section of this blog will give you useful examples on how to better display your language skills to potential employers.
Ways to present these skills
Creative examples:
This is a very creative example on how to display your language skills, however it is very easy to follow, and is another way to show off your creative skills in your CV.
This is another good creative example, and gives a clear display of the person's language skills, whilst still being more interesting to read than just plain text.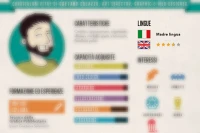 Written example:
You can also describe your language proficiency with:
> Basic or beginner
> Conversational or intermediate
> Advanced or proficient
> Fluent, native, or mother tongue
Things to remember
Think about how your language skills will come in useful for your prospective employer. You should also include any language courses you have taken which would be of interest to them. Mention where your language skills have been put to use such as Erasmus, international events, communicating with foreign companies etc. It's important that you emphasise these skills if they would fit with your target role, for example if you speak Spanish and your target employer has Spanish clients, then you should definitely highlight your Spanish language skills.
However, it is important not to over sell yourself as it could lead to embarrassment in the future, and make you appear dishonest. You should also mention how you intend to improve your language ability if neccessary, as employers will be impressed by a genuine effort to improve your skills.