We hope you enjoyed our CV writing advice from Daniel yesterday, now it's time to learn how to write the perfect graduate cover letter. Although it may seem a little outdated, for some companies and positions, a cover letter remains a vital part of your Graduate application process and can help you to stand out against the other jobseeker competition...
As you discovered yesterday, a CV should be clear, concise and informative, outlining your skills, experience and qualifications. Whereas your cover letter is your opportunity to make your application more distinctive to the company, it should be used to support your CV and to explain why YOU are the perfect fit for this particular opportunity.
What is the purpose of my cover letter?
Your cover letter should be used to enhance your application, it should not summarise what you've already stated within your application. Thus, for each individual role, you should be personalising your cover letter to show your genuine interest in the position advertised. Your cover letter is your opportunity to add a sprinkle of your personality to your application!
What should my cover letter look like?
Follow our infographic below to see what your graduate cover letter should look like: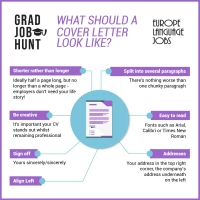 Please remember that sending a generic, impersonal cover letter is not an effective job searching technique. The whole point of the cover letter is to outline what you can bring to this particular company and role. So make sure that you devote significant time and effort to help your application stand out, and to show the employer that this opportunity is made for you!
How long should my cover letter be?
Just like your CV, your cover letter should be concise and to the point. Recruiters prefer a half-page cover letter, containing as little as 250-400 words. You may be concerned that by sending such a short cover letter, your efforts will be overlooked but stats show that this is exactly what most recruiters want to see. Do your best to stick to this advised length by avoiding any unnecessary waffling, and getting your message across in a short yet powerful way.
Recruiters and hiring managers are busy people, so avoid sending them anything longer than 1 page. A cover letter that is too long is likely to put them off reading it altogether. Be sure to get the balance right and sum up your best points as quickly as you can to impress your dream employer.
What tone should I use within my cover letter?
Avoid writing a cover letter that is too formal. As we mentioned, this is your opportunity to let your personality shine, so do your best to avoid using formal, robotic language and try to show your voice within the cover letter. You need to prove that you are a good cultural fit for the company by using a friendly, yet professional tone. Remember, this is your chance to show yourself off to the employer before you meet them face-to-face.
Extra tip: To ensure that your cover letter flows naturally, read your cover letter out to a friend or family member. This will help you to decide whether your tone is too formal or whether it reads in a friendly, approachable way.
What should I include in my cover letter?

Your cover letter is your chance to introduce yourself on a personal level, and to express why you are the perfect fit for their job role. To clearly display your interest, you should begin your cover letter with why you are writing and what you find most appealing about them and the position you are applying for.
By providing specific details and keywords about the company and the job position, you can prove to the employer that you have researched both the company and the position. As you can imagine, receiving a generic cover letter is extremely off-putting to recruiters, and can significantly weaken your application. That is why it's extremely important to create a unique cover letter for each position that you apply for, matching the company's needs to your skills and capabilities.
Remember, simply telling the employers what your skills are isn't enough. You need to demonstrate how you can apply your skills and experience to this position and their company. As a graduate, it's normal to be lacking in experience, so we recommend mentioning any relevant personality traits or achievements and how you can apply these to help the company reach its goals. Make sure that the things you mention within your graduate cover letter can be backed up with your CV.
Graduate cover letter example:

Dear (add hiring managers name),
I am writing to apply for (add position) that I found advertised on Europe Language Jobs job board. (Company name) is (add details about the company) an innovative company and a leader in the (sector) industry. As a dynamic (add your industry) graduate with a strong passion for (add your passions, interests) I'm confident that I would be a valuable asset to your team at (company name).
Your job requirements mention a need for someone who is (add skill) with experience in (add skill). From my experience at University, I gained key (add skill) skills and as a particularly (add personality trait) individual, I am confident that I can effectively apply this industry knowledge and essential skills to this job role.
These strengths, partnered with my strong interest in the (sector) industry, will help me to make a positive and powerful impact at (company name).
I look forward to discussing the (add position) position and my qualifications with you in more detail. I'm available to talk at your soonest convenience.
Thank you so much for your time and consideration.
Sincerely,
[Your Name]
Key points to remember for your cover letter:
It needs to be easy to read
To encourage the recruiter or hiring manager to read your cover letter, you need to ensure that it looks inviting. Use easy-to-read font and font size and separate your writing into paragraphs. Avoid using any long, complex sentences - the shorter, the better. After all, your application is likely to be one of many, so don't put the recruiters off just by looking at it.
Check, check and check again.
It's always important to check your cover letter before you send it to the hiring company. Something as small as a typo or spelling mistake could cost you an interview. For this reason, taking a couple of minutes to read your cover letter will always be worth your while! Having lots of little mistakes in your cover letter could show carelessness, and will fail to display your seriousness about the position. As we mentioned in day 2, written communication skills are extremely important to employers so make sure that you haven't made any grammatical errors and prove your attention to detail!
Make sure it's personalised
Yes, we've already said this a million times, but it can't be stressed enough - cover letters are meant to be unique, explaining why you would benefit that specific company and role. Recruiters and hiring managers know when they are receiving a generic cover letter so show you interest by creating a personalised cover letter.
Lastly, how to send it
Companies will usually specify how they would like you to send your cover letter. Whether it's through a job board, attached to your email or as an email cover letter itself. We recommend writing your cover letter in the format of a Word doc. This makes the recruiter's life considerably easier when it comes to opening the file. Sending your cover letter in any uncommon formats can cause issues when opening and it's important to make this process as easy as possible for the recruiter.
Now that you know how to write the perfect cover letter, you can create a winning first impression with your dream employer. Follow the guidelines to ensure that you stand out about other graduate job-seeker competition. It's extremely important to put a considerable amount of effort into this initial part of your job search to ensure that you start your job search off on a good note. Now you are equipped with your CV and your cover letter, tomorrow we will discuss the key networking techniques. Join us tomorrow to learn how to network like a pro, both online and offline.