Things have changed in the job market of today. Europe Language Jobs offers a unique and innovative platform for the modern-day jobseeker looking for a new challenge abroad.

Europe Language Jobs was created to help people who are looking to gain international experience while using their language skills. Our success is based on our specialised focus on a niche market: language speakers looking to relocate – we focus on publishing jobs abroad for people wanting to work with their native language.

The demand from companies for these candidates increases every year. Across Europe, job boards tend to only provide options nationally rather than internationally, so these hiring companies are looking for new alternatives. This is where Europe Language Jobs comes in.

It has been an exciting journey for us here at Europe Language Jobs, with lots of new changes and developments happening since our creation back in 2013.

Although we have 5 years of experience, we still consider ourselves a young company. We strive to learn and make every day better and more constructive than the last. Past experiences have often provided us with great learning opportunities.

The way in which candidates look for jobs has also changed dramatically in the last few years. Nowadays, candidates don't look for a job locally, the world has become their market, and international experience is highly valued by employers.

Growth
Having started in 2013, the company has continued to grow at an exponential rate. As an example, the number registrations on our website has grown hugely, as demonstrated by the chart below:



Candidate registrations per year
Source: Europe Language Jobs
The number of applications has increased partly because the quantity of offers has risen but also the quality. This is shown in the diagram below by the increase in job applications. By adding big name companies to our client base, as well as targeting new sectors, we have widened the range of vacancies we have to offer. We have also managed to expand our presence in Europe to satisfy the needs and demands of employers and candidates alike.
Job applications per year
Source: Europe Language Jobs

Expanding our presence in Europe

Every country in Europe is unique and therefore offers endless new opportunities to explore. Initially the majority of our offers were in Spain, which is where we are based. Over the past few years we have hugely expanded our presence in the European market. We now provide job offers in 50 different countries, with our focus always being primarily on Europe. Currently, our job board has more than 1,900 active offers and over 2,000 companies have published their offers with us. The distribution of these offers by country can be seen in the graph below: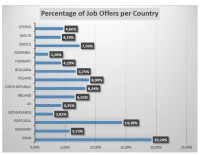 Job offers per country
Source: Europe Language Jobs
The Team

Our team is mostly compiled of people who have decided to relocate and find a job in a new country within Europe, making us the perfect ambassadors for others to do the same. We come from a total of 12 different countries and speak a total of 15 different languages. Our young dynamic team understands the needs of our candidates perfectly.

Our aim is to keep offering exciting opportunities for candidates abroad. We are always looking to grow our database of offers in order to provide opportunities in every corner of Europe at top brands.