As an extra edition to our 30 Days Challenge, we are exploring once again the topic of perfecting your CV with our fantastic career coach Evelina Vilke. In this article you can find: things to consider when writing your CV, 6 elements it should include in detail, and more!
I am sure you already know this - your CV is a crucial part of any application, and will often be the first impression an employer makes of you. Do it well, and you'll have an interview in no time, but get it wrong - and you may face recruitment ghosting.
"Curriculum vitae" is Latin meaning "course of life". Your CV is a professional picture of your whole life. Essentially, a CV allows you to summarise your education, skills and experience to employers. It's very important to understand that the objective of a CV is not to get you a job but to land an interview. This is why you should treat it as a personal sales brochure.
A CV is a perfect opportunity to highlight your achievement, qualifications, experience in a structured and quality way to impress the recruiter and land an interview for the role.
Things to consider when starting to write your CV
Your CV must look good visually and be easy to follow. When it comes to writing a CV, you must consider the following:
CONTENT - the value of the information presented
LAYOUT - the presentation and arrangement of the information
FORMATTING – the emphasizing prioritization of the data in the document
The 6 elements your CV should contain
1. Contact Information
Make it easy for hiring managers and recruiters to contact you. Include a professional email address, using your name and hyperlink your LinkedIn profile.
2. Profile
The profile is your banner headline - a summary of your main selling points. Your profile aims:
Give a brief overview of who you are;

Highlight your key skills and experience;

Communicate personal attributes;

Motivate the reader to know more about you.
You should include in your profile the following:
Qualifications - university degrees, professional qualifications, certifications

Key achievements - how many months/years experience you have in a relevant field

Personal attributes - key skills and competencies you can bring
Profile DOs:
Make it the very first section on your CV

Focus on your skills and achievements

Write 3-4 lines summarising your experience

Mention your academic achievements

Change it every time you apply for a different position to highlight relevant skills and/or experience
Profile DON'Ts
Include "fluff" or "buzz" words

Make this section a long paragraph

List all your skills, only focus on the ones a company you are contacting to is looking for
Profile examples:
Starting career: "A recent Business Management graduate with a 2:1 degree from UCL and 6 months practical work experience in customer service, marketing and operations in London"
Career change: "An experienced PR professional with 3 years' experience, working in both agency and in-house positions. Proven success in developing PR campaigns, implementing PR strategies and measuring results across traditional media and digital channels"
Next, come education and work experience. Which should go first?
If you are applying for a graduate position, education should always come first before your work experience, but if you are applying for a position which requires you to have a few years of work experience or you have plenty of relevant work experience, this section should come before education.
3. Work Experience
Here you will outline your full-time or part-time employment, internships or work placements. If you are applying for a graduate position you are not required to have relevant work experience, however hiring managers will want to see that you developed required skills or competencies. So instead of listing every single thing you did during your internships, mention what skills you acquired or developed.
The most common mistake I keep seeing is CV written like a job description. Most people just simply list duties they performed failing to show the positive impact of their work on the team or organisation.
Employers are interested in hiring staff who can:
Solve a problem for them

Increase profits

Reduce cost

Sell more

Improve efficiency

Raise quality

Generate ideas

Increase customer satisfaction
Let's discuss the difference between DUTIES and ACHIEVEMENTS

Candidates who include achievements in their CV are much more likely to be seen as dynamic, business-aware, high performers and to be viewed as a potential asset rather than a cost.
4. Education
Education is a great opportunity to showcase your transferable skills, especially if you are a recent graduate and don't have much work experience to talk about.
You can highlight transferable skills such as:
Data analysis, interpreting statistical information

IT skills

Teamwork projects

Communication and presentation skills

Report writing

Creativity and initiative
5. Skills
Here you should list all the languages you can speak and IT programmes you are proficient with.
6. Interests
CV writers disagree about the benefits of including hobbies and interests in a CV. I usually suggest to include them for the following reasons:
They help paint the "whole" picture of you.

They can highlight skills developed outside the workplace.
The interviewers will have two objectives when they meeting you. They want to know whether you can do the job and whether you will fit into the organisation. The latter can be determined by learning more about you and what your interests are.
If you are not sure how to identify your accomplishments and translate successfully your experiences into achievements or maybe you've been applying for jobs and constantly getting rejected, would like to design a CV that is tailored to a specific role to set yourself apart from the hundreds of other CVs - DOING THAT INTERVIEW ONLINE COURSE is exactly what you need.
Just in 2 hours, you will learn how to create a top-scoring CV, write a compelling cover letter and create an engaging LinkedIn profile that will make you stand out and have recruiters calling you for interviews.
GET THAT INTERVIEW ONLINE COURSE is designed to help you upgrade your CV, LinkedIn profile and to write a cover letter that grabs hiring managers attention and aids you in having the chance to get that interview!
THE COURSE WILL HELP YOU:
Identify your top skills and assess your skill-set

Identify your accomplishments and translate your experiences into achievements

Decode a job description and match yourself to the role

Decide when to use a chronological and when functional CV

Create an accomplishment, not duty focused CV

Design a CV that is tailored to a specific role and this way set yourself apart from the hundreds of other CVs

Write a cover letter that differentiates you from all the boring cover letters out there

Create a LinkedIn profile which will boost your branding and get you noticed

Choose the right profile photo for your LinkedIn profile

Write a catchy LinkedIn headline and summary

Use LinkedIn to expand your professional network
+ you will receive easy to follow templates to create an outstanding CV, disarming cover letter and an impressive LinkedIn profile.
Click here to learn more -> https://careerstylistevelina.com/get-that-interview-online-course
About the Author: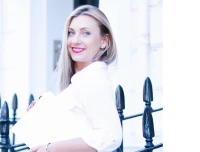 Evelina Vilke is a professional career stylist, job search strategist, and a personal branding expert with more than 10 years of experience in the field. She is the face behind the "Get Noticed & Hired Fast" system - a proven step-by-step job search methodology that helps hundreds of young candidates find the right career path and achieve their professional dreams.