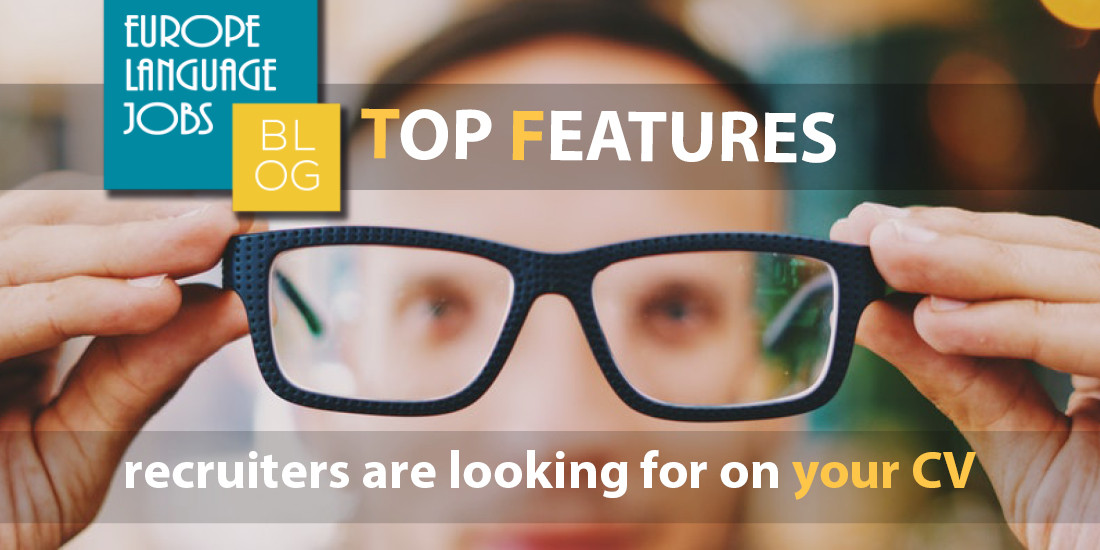 Top features recruiters are looking for on your CV
Whether or not you've ever heard the idiom "practice makes perfect", it is 100% applicable when crafting the perfect CV that will get you hired. You need to constantly write and re-write it to make it as good as it can possibly be. We know it's not an easy task, especially nowadays since there is an increasing number of headhunters and recruiters who use applicant tracking systems to scan CVs before actually having a look at it, but there are always many ways to show your skills and experience in a better light. This said, we know that CVs from different sectors differ, but there are always common traits which recruiters are looking for and if you don't include them or stress them, your possibilities of being short-listed are less likely.
Another important point if you are using a job board is to complete your profile as an incomplete one is a huge turn-off for recruiters.
With the help of recruiters from companies across Europe, we created the following infographic which showcases the most important points that recruiters actually want to see on your CV.
Let's get it started and happy hunting!
What are recruiters looking for on a CV?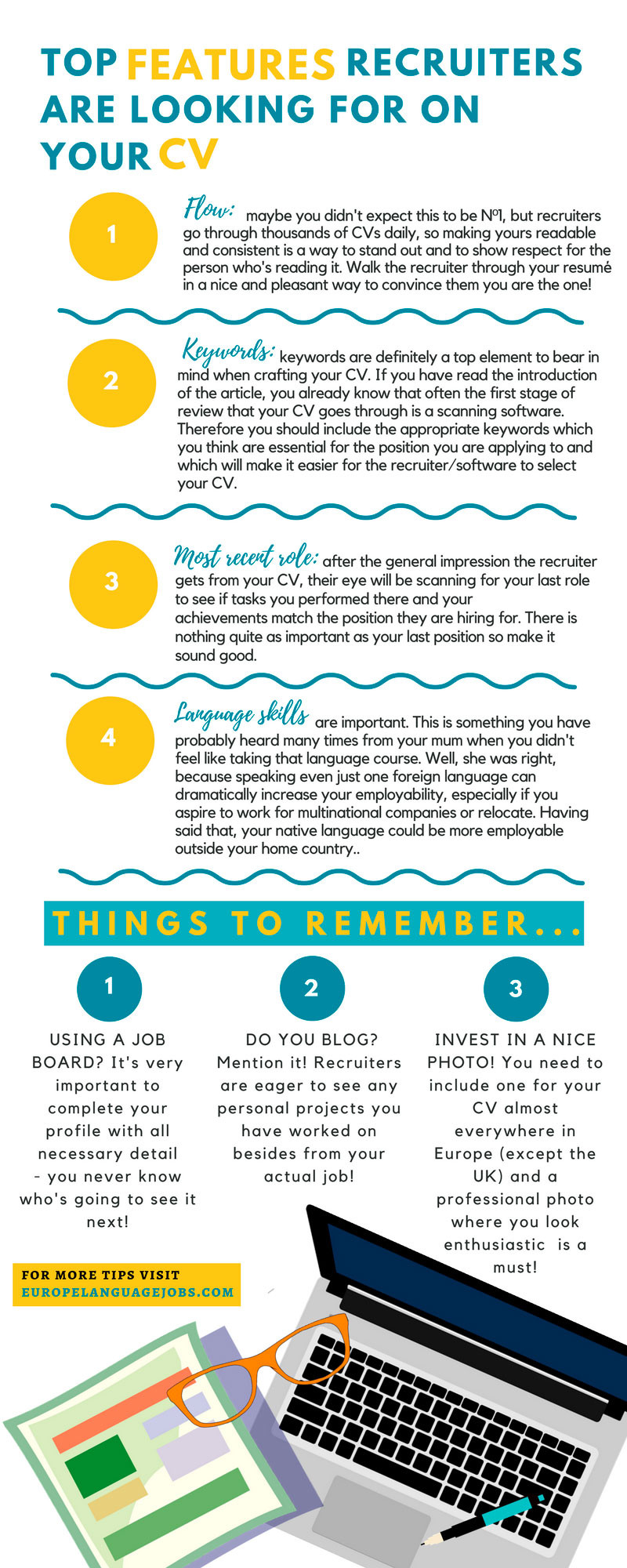 Did you like this infographic and want to use it? Feel free! Here is the link to the image

Very useful, thanks.
posted 5 months ago by Milena
---

Good to know
posted 1 year ago by Mirza
---

Nice tips. And speaking about languages it is really a bonus to speak some not very popular ones (scandinavian/asian). They make you more valuable for employers.
posted 1 year ago by Viktoriia
---

This post in really truthful and a great help to build a good CV!
posted 1 year ago by Valeria
---

How do you work out what the most effective keywords for a CV are? They are obviously going to vary depending on the role and the industry - if you're a programmer you want to list the technologies you're experienced with, but what about soft skills or those whose description is broad, like 'teaching'? Any sources to help figure out what the keywords are there? Or do you just read through the job postings and try to find the common terms?
posted 1 year ago by Aidan
---

Very valuable information, thanks a lot!
posted 1 year ago by Okan
---

a good one!
posted 1 year ago by Paulina
---

Very much interested and helpful
posted 1 year ago by Bharath kumar
---

this portal is really a different and great to apply international jobs.
posted 1 year ago by sarang
---

Thanks, great information
posted 1 year ago by Obiageli
---
---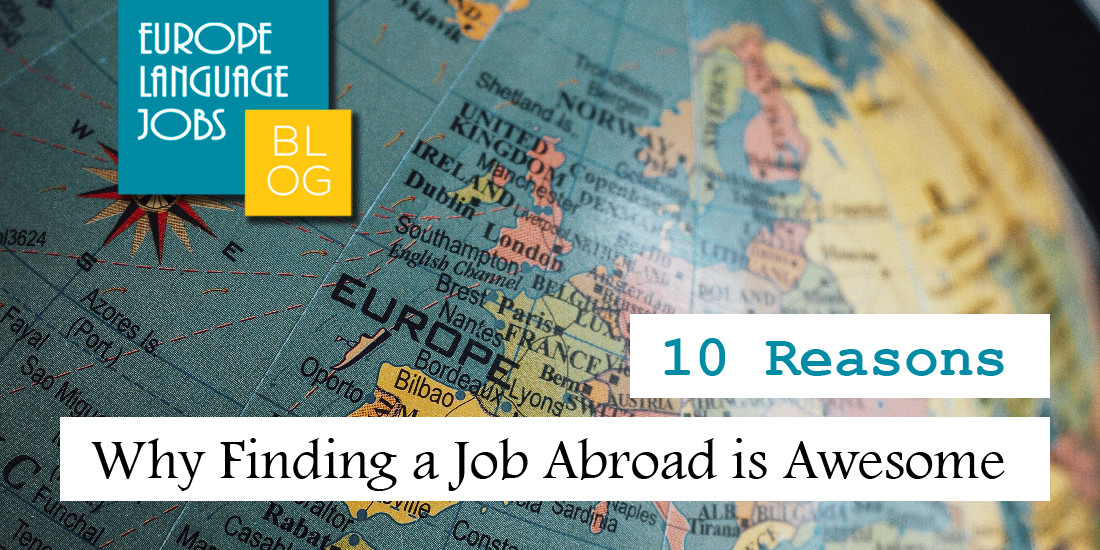 Do you want to find a job abroad? What should you be aware of when looking for work abroad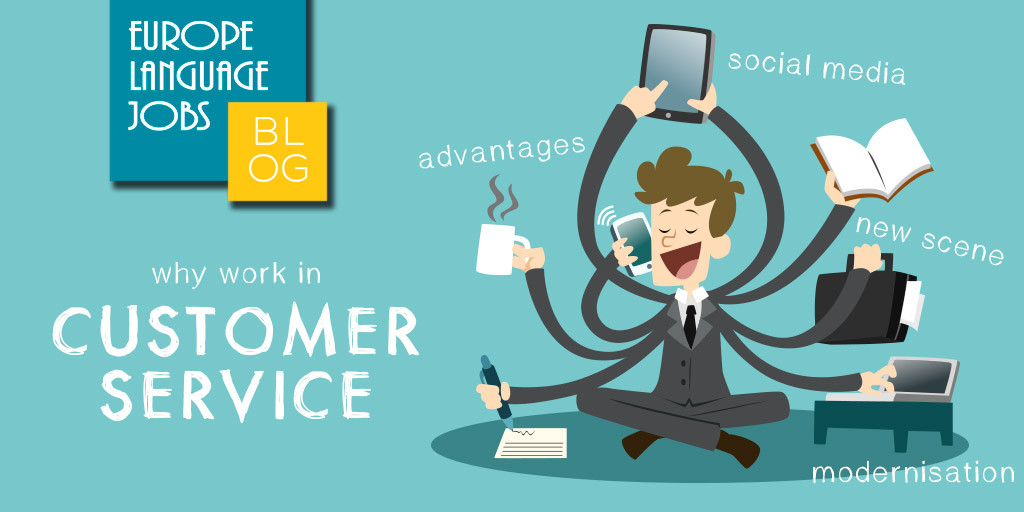 Customer Service is the sector with the most job across Europe. Maybe you haven't considered working in CS but here's a summary of the advantages of working in the sector.