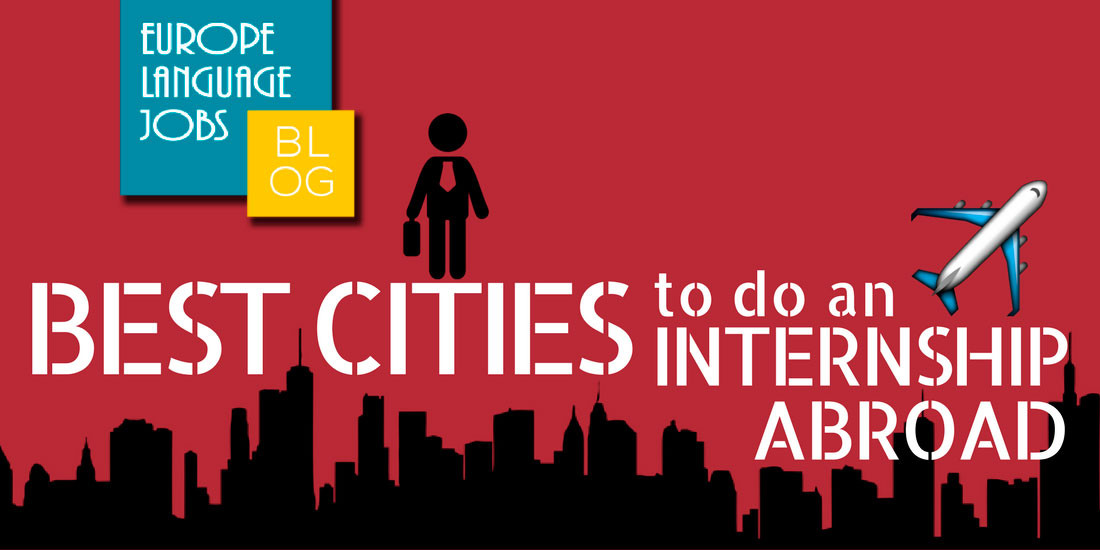 Where to do an internship abroad
Being an intern in a foreign country is a huge boost to any CV and professional profile. In fact, rather than asking yourself whether you should do an internship abroad, maybe you should be asking yourself where you should do one.
As people begin to realise the value of international experience in an competitive and increasingly globalised working world becomes, more and more young professionals are looking to move abroad when looking for an internship.
A huge drop in the price of air travel and incredible advances in technology make living abroad a much more attractive option. You can speak to your far away loved ones face to face – for free! Talking over Skype and FaceTime is not the same of course but it certainly eases the homesickness and makes the distance seem less.
But what drives potential interns to locate the perfect internship abroad? What experiences and skills do they hope to gain from their time away? Many people's number one reason is to learn a new language, which is a highly employable and impressive addition to any CV. Other people just seek adventure and a surprising number of people move for love.
You need to have a clear idea of what motivates you about doing an internship abroad.
We've put together a list of six European cities that should be on anyone's list of potential destinations for an overseas internship. Each one has very different attractions, so hopefully there's something for everyone.
Six cities to do an internship abroad
Amsterdam, the Netherlands: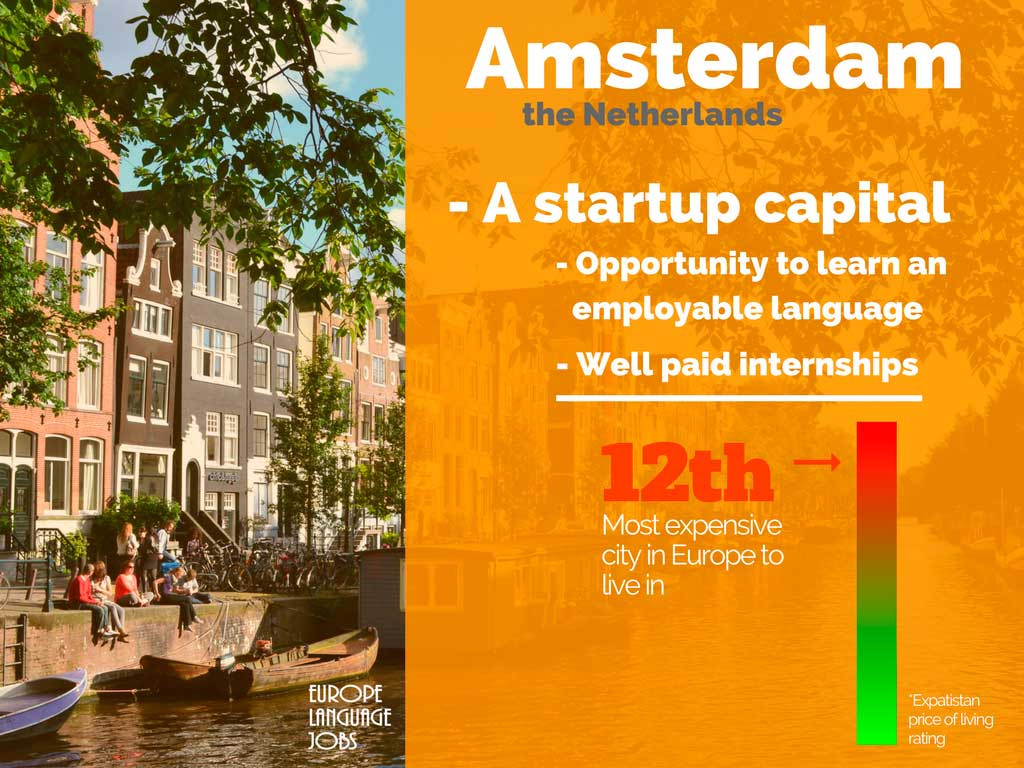 Amsterdam is becoming an ever more attractive place for graduates seeking to accumulate some international experience. However, the rise in demand has lead to a shortage of housing over recent years; as you can imagine, the cost of living is very high.
But Amsterdam is one of Europe's startup capitals, and as interns fuel the startup world there are many positions on offer in numerous exciting companies in a wide variety of industries. Whether you like the idea of a startup or would rather the security of a multinational, Amsterdam has plenty of options for you.
You will also experience the chance to learn or perfect your Dutch, one of Europe's most employable languages.
London, England: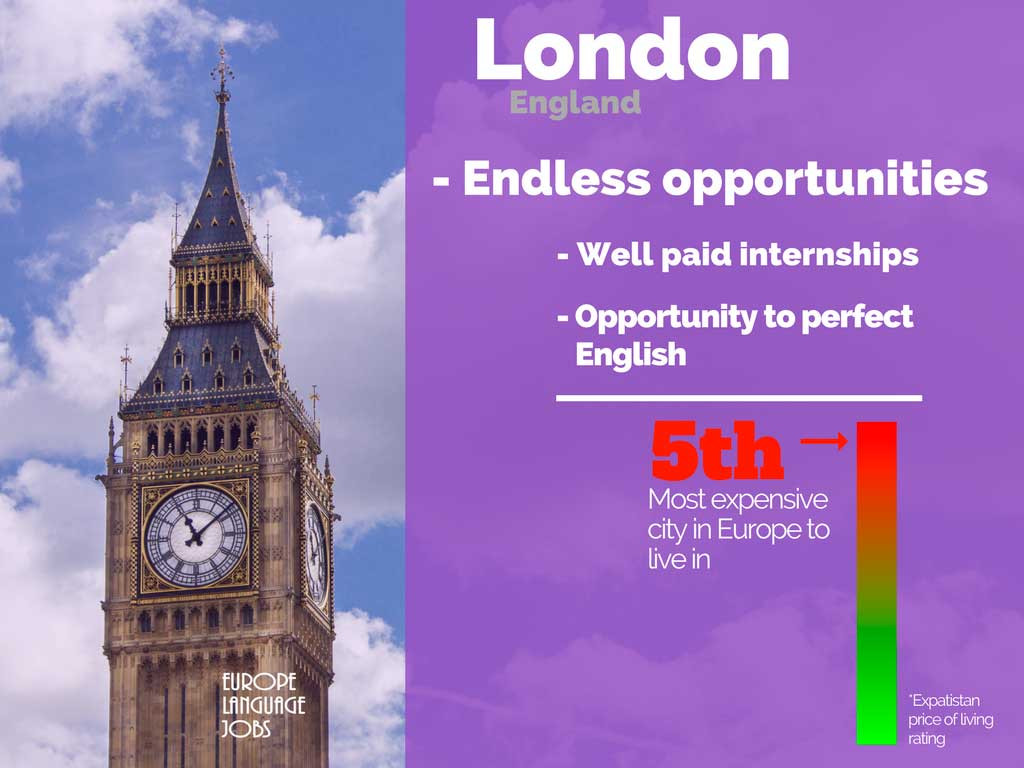 London is a must-consider when musing over potential locations to do an internship in a foreign country. However, the main thing to factor in when looking for internships in London is the astronomical cost of living.
You can expect rent and public transport costs to consume the vast majority of what you earn (if you do a paid internship). But if money isn't an issue then the sheer number of opportunities and global importance of London are unrivalled in Europe.
The city is steeped in millennia of history that you will struggle to even scratch the surface of, as well as many of the world's best art galleries and museums. If you can afford to do an internship in London – great; if not, why not check out our next option..?
Sofia, Bulgaria: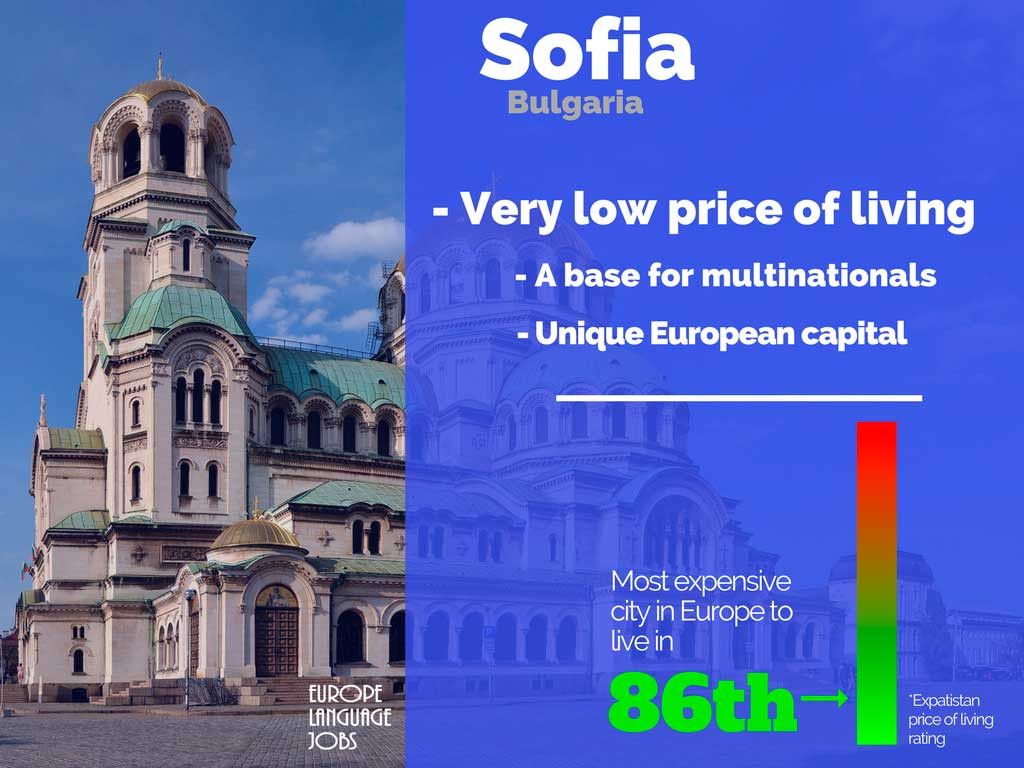 If you're contemplating completing an internship abroad then I imagine that the Bulgarian capital is yet to have crossed your mind... well perhaps it should have.
Sofia is enjoying a boom in tourism which has assisted the consistent growth in economy. Many multinationals are choosing Sofia as a key outsourcing destination. These companies include Siemens, Hewlett Packard and IBM.
Despite the recent spike in economic activity the price of living remains attractively low for Europe. Expatistan states that the Bulgarian capital is 63% cheaper than London, and that rent is a whopping 76% cheaper!

Cologne, Germany: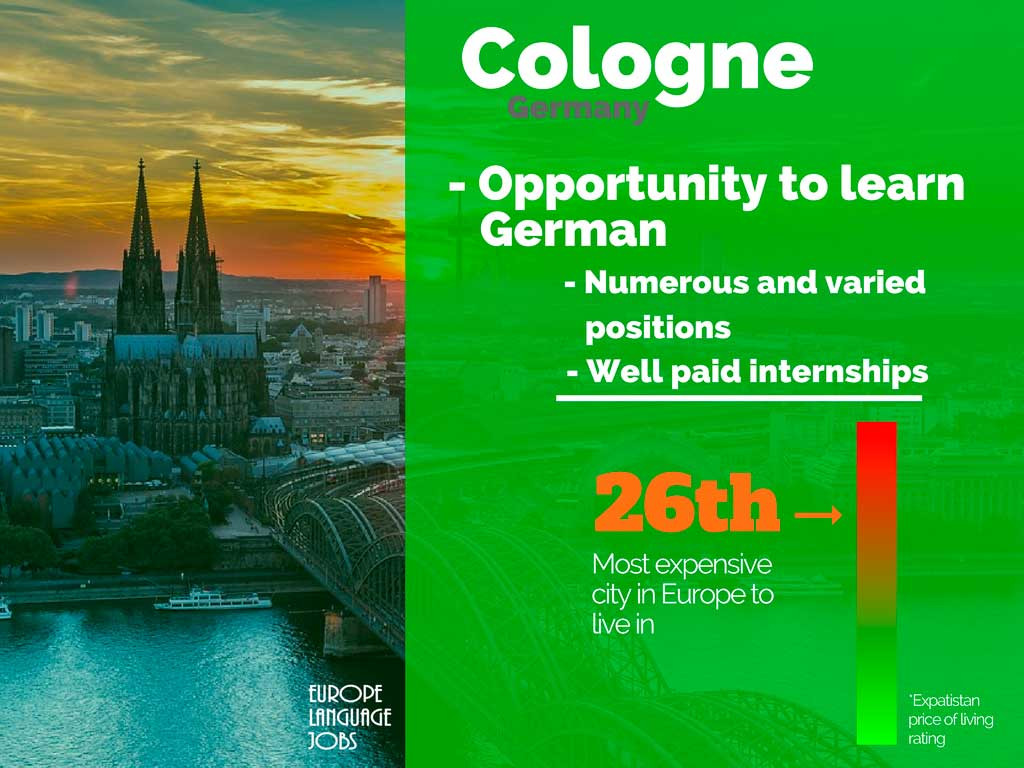 Choosing a city where rent and professional competition are a little lower than the more populous cities could be a good idea when you look for an internship abroad.
Cologne suffered immensely during the Second World War. The bombing was so bad that the population was reduced to 5% of its original amount, mainly due to mass evacuation. However, modern day Cologne is something of a phoenix from the ashes, and business and culture are flourishing.
According to Expatistan, rent in Cologne is 27% cheaper than in Munich. This, twinned with an abundance of exciting opportunities, is enough to draw any aspiring intern to Germany's 4th most populous city.
Lisbon, Portugal: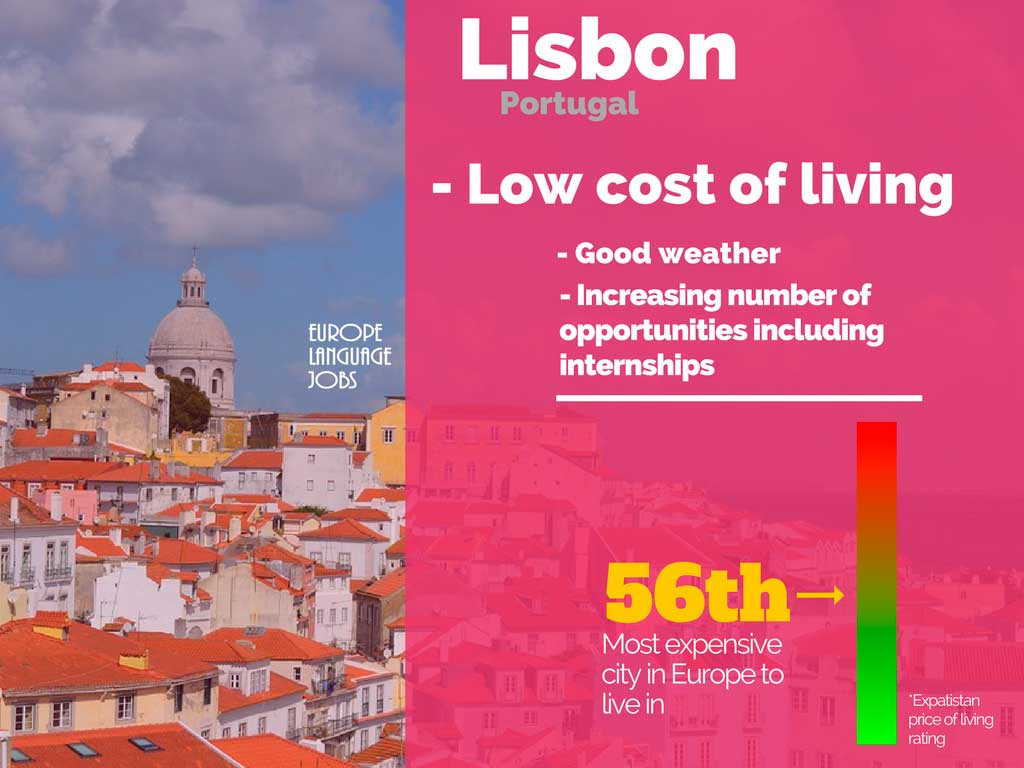 The Portuguese capital is the perfect place to spend a sunny six months or so. Guaranteed good weather and a buzzing city that is currently enjoying the presence of many top companies, truly has a lot to offer a young graduate.
If weather and interesting companies (both multinational and startup) are important to you then Barcelona and Athens could be other attractive options to spend your internship abroad. However, Lisbon has a lower cost of living than both of these cities.
Being such an international place, Lisbon would be the perfect place to improve your language skills and the large expat community should make you feel welcome as soon as you arrive.
Valletta, Malta: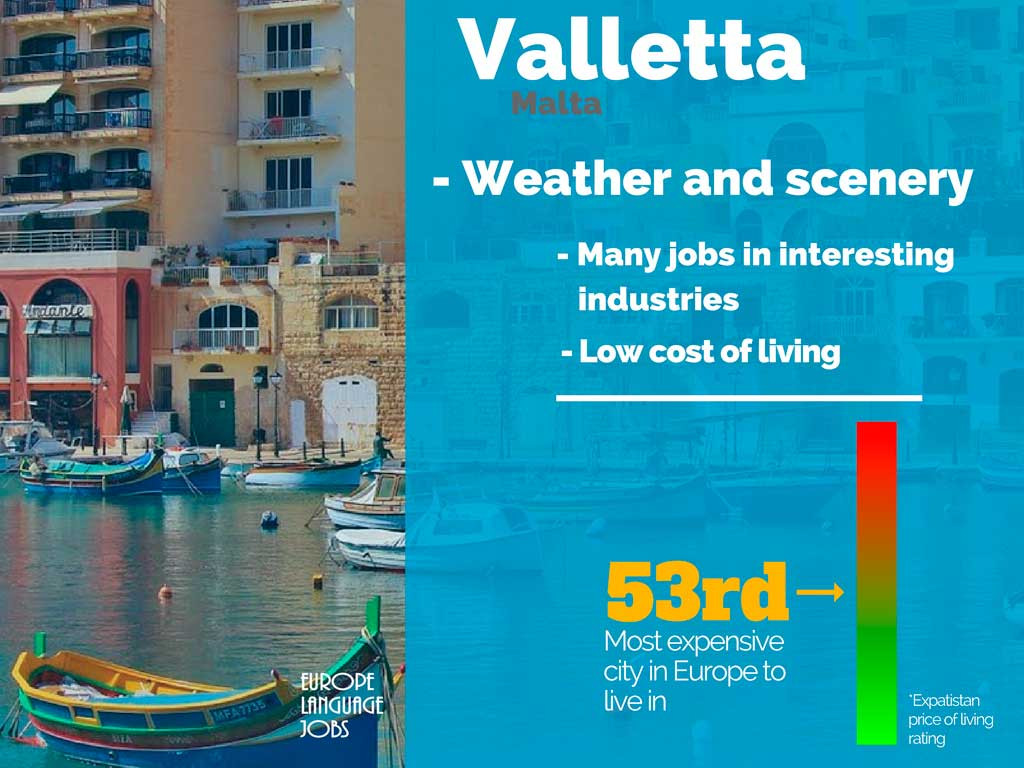 Malta is probably more of a holiday destination in most people's minds. But why just spend a week or two of your summer in an island paradise? Why not live there and really get to know the place and its culture. This little Mediterranean island may have a few other reasons for you to keep it in mind.
Having changed colonial hands several times throughout history, Malta has a diverse and rich concentration of culture for somewhere so small. On top of that, there are many professional opportunities appearing constantly and the gaming industry in particular has gone from strength to strength on the island.With an amazing climate and a low cost of living, Malta could be a great destination for an internship abroad.
Are you looking for a new job? Signup to the 30 Day Challenge and we´ll help you find a job in 30 days but also... you´ll be in with a chance of winning a two week trip to either France, Germany or the UK courtesy of our partner for the event, ESL. So what are you waiting for? Signup!
Jan 19, 2018 by The ELJ Team

I would include Paris ;) a very interesting blog
posted 1 year ago by Natalia
---

Interesting read, althoug I would love to read even more about eastern Europe.
posted 1 year ago by Arvid
---

HI, I have heard from a personal source that Portugal was rather expensive? But that Spain and the coastal French regions were less so with the exception of Cannes. Yes, Berlin should be included as should Frankfurt ...No One has mentioned Den Haag, NL but the language is not so fun to learn.
posted 2 years ago by Christine
--- Madrid a lovely place to start up
posted 2 years ago by Amos
--- I love to live and work in Malta am a truck driver I live in Italy and I like to move to Malta to start a new life, my profession is driving but I can do any work, I love malta
posted 2 years ago by Amos
---

Lived in London for a while, life is really expensive, be ready!
posted 2 years ago by Andrea
---

Lisbon ❤️
posted 2 years ago by Emina
---

my preference is Amsterdam
posted 2 years ago by Achala
---

I shall say, there are many international companies inside Bonn, and it is just 20 minutes by train to Cologne, if you are looking opp over there, give it a try, is a city big enough to enjoy, and small enough to feel comfortable.
posted 2 years ago by Esteban
---

Good to know! Gracias!
posted 2 years ago by Daniela
---
---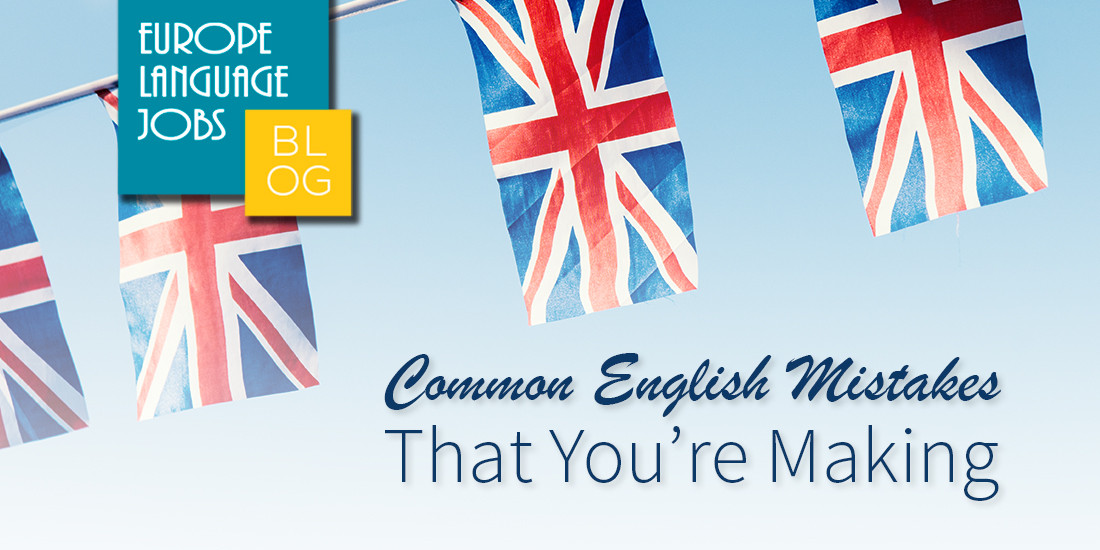 These common English mistakes made by non-natives will be all too familiar for some. Find out the most common mistakes and how you can correct them!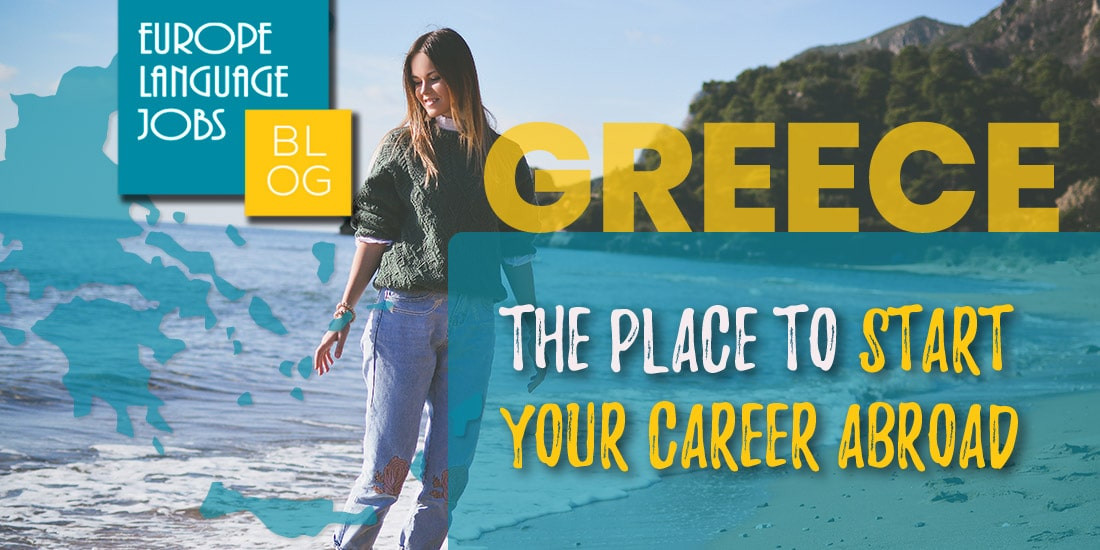 If working abroad is on your mind (especially if you're a German speaker), Greece is your destination! Companies are hiring and great conditions are being offered to those willing to relocate.