Deciding Whether To Accept A Job Offer & Important Questions To Ask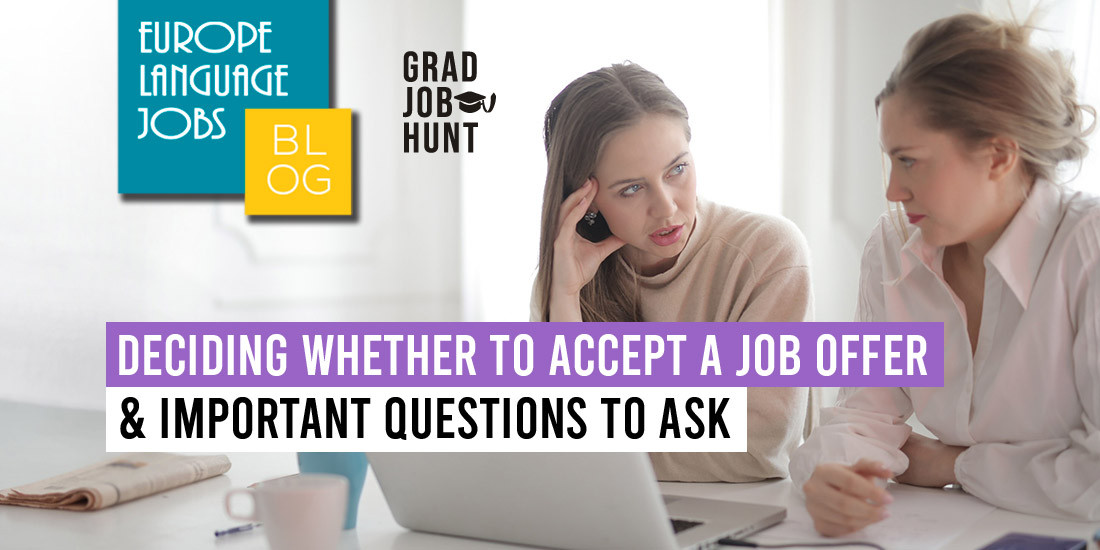 After applying for a few graduate positions, you may be presented with an official job offer - Congratulations to you! Don't worry if you haven't yet, your time will come! If this is your first ever job offer out of University, you may feel inclined to accept any job offer that comes to you but you need to ensure that the job offer you are accepting is the right one for you.
It's important to know that you are more than entitled to ask for more time to consider all aspects of the job and it's completely normal for candidates to ask the recruiter extra questions regarding the job and company. As a graduate, you may feel as though asking too many questions could completely ruin your chances of getting the job, but recruiters expect candidates to ask questions. Let's just say, the recruiter or hiring manager would prefer you to be 100% certain before you accept the offer!

Step 1 - Take your feelings into account
Think back to day 1 of the Grad Job Hunt, when Viktoria was telling you about all of the things you need to take into consideration when finding your career path; your values, beliefs, your wellbeing, etc. Well, now is the time to put these thoughts into consideration!
When you first received the job offer were you jumping around with excitement or were you feeling uncertain? Take your gut feeling into consideration to carefully assess whether this opportunity is the right one for you or whether it's worth waiting for another opportunity.
Step 2 - Will you achieve your career goals?
When you first started mapping your career out, what did you want to get from your first graduate job? Was it clear progression routes, company benefits, flexible working, skills training or other factors? You need to consider whether this job fits in with your initial career goals!
Accepting a job offer that fails to meet these goals may lead to job dissatisfaction further down the line. This could become problematic for both you and the company. So take your time to carefully evaluate this opportunity with the career goals that you set yourself, this way you can see whether this job opportunity aligns with what you were initially looking for. Where do you want to see yourself in 5 years? And does this opportunity fit in with that plan? Of course, a job offer is going to be perfect but it's important to think about your career goals before accepting.
Step 3 - Is it a stable job opportunity with progression routes?
As a graduate, you need to know that the job you are accepting will be a stable one and will help you to progress further in your career. Accepting an offer that you may be uncertain about or that may not seem very secure is a risk in itself!
If the recruiter or hiring manager did not mention any information about career progression routes then it's worth asking this now to ensure that you make the best decision for you and your future!
Step 4 - What does your average day look like?
Before you accept a job offer, you must be aware of what you will be doing on a day to day basis. Considering we spend a third of our lives at work, you need t make sure you are comfortable with your daily tasks and that you are aware of what the job entails.
If you have not been given an overview of what your day to day tasks may look like then it's important to ask this now. Of course, some roles and tasks will change from day-to-day but you can still ask them for an overview of your tasks.
Step 5 - The company culture and values
As Hannah discussed on day 9, although the job role itself may seem perfect, your own values and beliefs must align with the companies. Especially as you are new to the workforce, you need to work somewhere where you support their company mission and that you feel motivated by!
This is why it's always important to do some research on the company culture, to ensure that you are joining a company that you believe in and that you will feel a sense of belonging to.
Step 6 - Is there anything you need to negotiate?
Look back over the last 2 weeks, and the career goals and objectives that you have set for yourself - do the salary and benefits offered to you meet your initial goals? If they don't match your initial goals then it may be time to negotiate! If you don't ask, you won't know and if you are seen as a valuable candidate to the employer then it's more than likely they will be willing to negotiate things further with you! Whether it's the salary, the working hours or other aspects of the job, recruiters are more than used to candidates negotiating these things. So don't be shy!
One important thing to consider is how you negotiate these things, avoid coming across greedy or rude. Considering this is your first job out of University, the salary may be lower than what you first expected but that is why it's important to consider all aspects of the job. Whether it's on-the-job training, health care, travel or more, sometimes the company benefits may be more attractive than the money itself!
Step 7 - Get the offer in writing
If you chose to negotiate any aspects of the job, it's important to get everything you and the employer agreed on in writing. This way you have proof that the employer offered you these particular benefits and this will prevent them from making any sudden changes to your job role, salary or other aspects of the job.
If the employer refuses to provide a written job description, then you should question whether this opportunity is right for you! As a graduate, you should be entering the workforce with a trustworthy and reliable company.


Step 8 - Try not to feel pressured!
Although it's easier said than done, try not to feel pressured to decide on the spot. It's perfectly acceptable to ask for more time to make a decision or to even decline a job offer. Although it may feel scary and awkward, it's a lot better than accepting an offer for the sake of it! You need to be 100% sure that this is the right job for you - not only for your happiness but for the sake of the employer too! By choosing to accept an offer that you are not necessarily sure about, you could end up regretting your decision and this could cause many problems for both the company and yourself. Take your time to make the right choice!
We hope you enjoyed our insider tips on how to make a job offer decision and the important questions you should ask! We hope our advice will help you to make the best decision and that you can find your perfect job. Tomorrow we will
--- Easier said then done. But thank you very helpful
posted 2 months ago by Paz
---