How To Prepare For Your Graduate Interview Process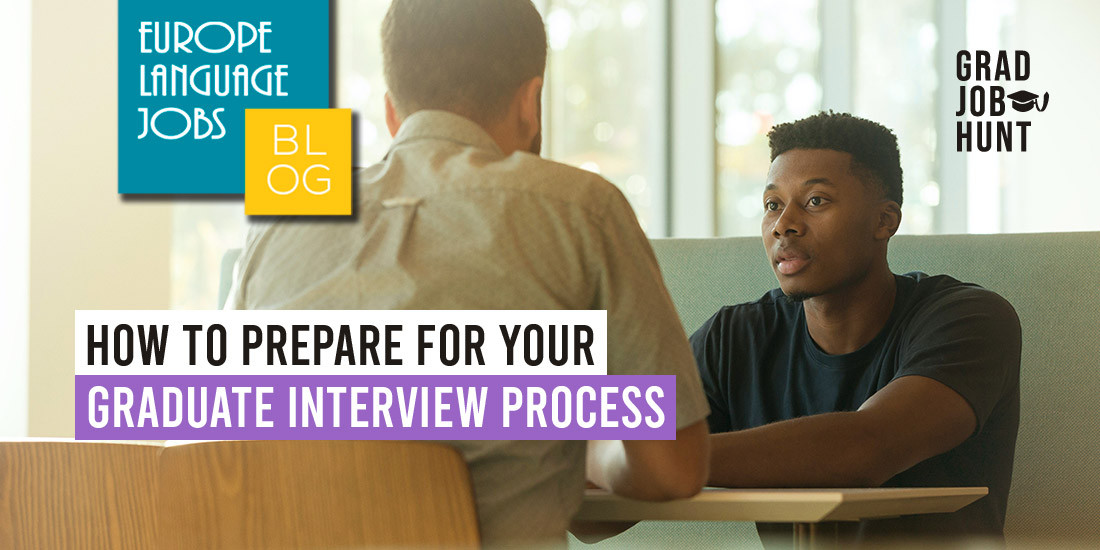 Now that you have considered the different career possibilities for life after University - from what career path you should take to what the most desirable skills are, how to network, what company you would want to work for and why, it's time to start preparing for that crucial moment, your graduate interview!
The interview is probably the most nerve-racking part of the application process, especially if it's your first interview out of University.
Just like networking, some of you may be a natural when it comes to meeting people and selling yourself but for those of you who find it somewhat daunting - we are here to help! We will begin by talking you through the best preparation steps for your next graduate interview whether it's an online interview or face-to-face...
Follow our top tips to prepare the best you can for your next graduate interview:
Step 1 - Preparation
Preparation is the key to a successful graduate interview. Recruiters and hiring managers can always tell when a candidate is underprepared, and attending an interview unorganised and unprepared will only look negative on your behalf. If you genuinely want this graduate job, you must make the most out of your time before the interview to show the employer how serious you are about this opportunity…
Research the company:
First things first, before attending an interview, whether it's online or face-to-face, it's important to complete some research on the company you are interviewing with. Completing research beforehand shows the recruiter that you are genuinely interested in the role they are advertising within their company. It's also extremely beneficial for yourself, as Hannah mentioned yesterday, it's important to make sure that the company is the right fit for you, your career growth, and development.
It's more than likely that one of the first questions the interviewer will ask is "What do you know about the company?" Completing some key company research beforehand can help you to start the interview off on a good note.
Before you attend the interview, take some time to browse their website, social media channels and other online communication. Use whatever is available online to find out as much as you can so that you can confidently impress the interviewer!
Practice beforehand:
As this is likely to be your first graduate interview, we always recommend practising beforehand. This is a great way to test your knowledge of the company and the role and to see which of the common interview questions you need to work on. Practice makes perfect, so the more questions you practice the better!
Reach out to a friend or family member and ask them to test you via Skype and ask the person you are practising with to provide some feedback on your interview performance. Depending on your industry and the company you are interviewing with, it's likely that the interviewer will ask some industry-specific interview questions, but as long as you do your research on key topics and trends, you should be ready to answer almost every question that crops up!
Find out what to wear:
First impressions count, so it's important to look professional for your graduate interview. The interviewer needs to be able to picture you in the role that you are applying for, so take this preparation time to find out what the company dress code is.
If your first graduate interview happens to be online, then it's still important to dress professionally. Although it may seem more casual due to the circumstances, you still need to represent yourself in a professional and approachable manner.
Avoid any clothing with rude slogans, rips or inappropriate cuts. The dress code will depend entirely on the company culture and industry, but for corporate interviews, wearing general formal wear such as smart trousers, dresses, shirts and blouses are highly recommended. If you are given the opportunity, don't be afraid to ask the recruiter beforehand!
Make sure you arrive on time:
To ensure that you make a good first impression, one of the most important things you need to do is to plan how you are going to get to the interview. Planning your journey will hopefully prevent any mishaps from happening on your way to the interview. Have a look at the recommended route on Google, and decide on your method of transport. You can then analyse how long the journey usually takes at that exact time, and allow yourself extra time for any sudden delays.
For those of you attending a remote interview, one of the main advantages of this is that you do not have to physically travel to the interview, but it's still just as important to arrive at the interview on time. Make sure that you have your computer or laptop ready early with everything prepared.
Step 2 - What to bring:
The recruiter will usually clarify if they want you to bring anything specific with you, for example, your portfolio or other work. But if they don't clarify this beforehand, you can avoid any awkward situations by bringing the following essential items…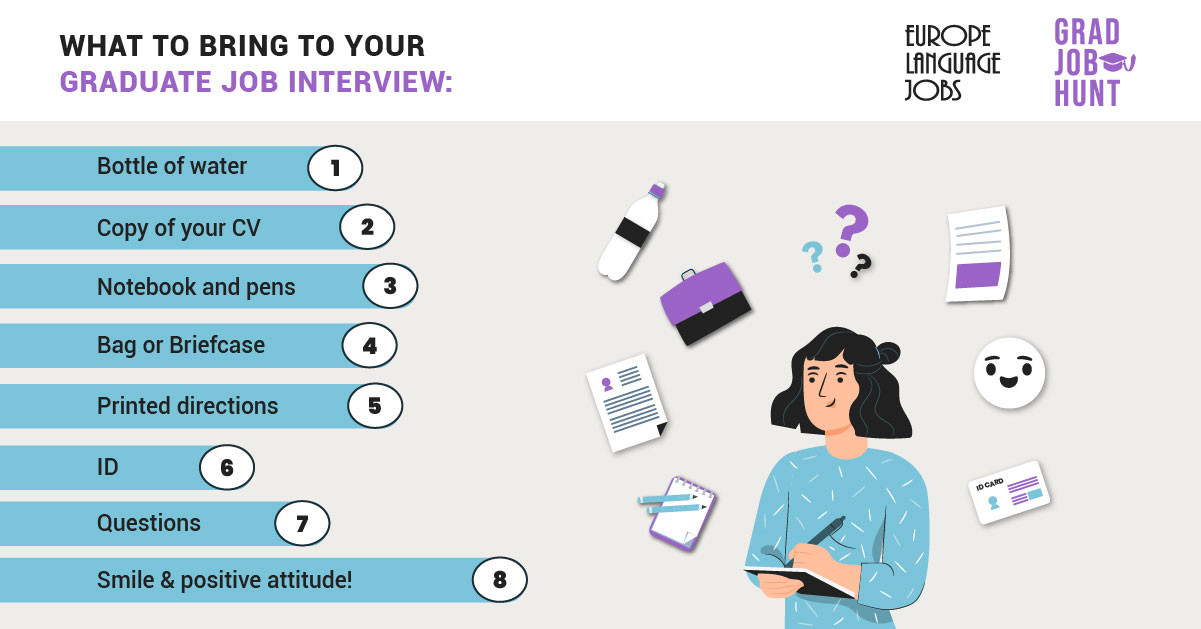 Bottle of water:
When attending an interview, it's always good to have a bottle of water nearby, as you never know when you might experience a nervous dry mouth. Unfortunately, dry mouth is something people experience more than expected during interviews and stressful situations so be prepared to stop this from happening!
Extra tip: Sipping from your water bottle between responses can also help to prevent any silences between questions and your responses, it will also give you a few seconds to think over what you are about to say!
Copy of your CV:
Arriving at your interview with a copy of your CV is always a great way to show off your organisational skills to the recruiter. Even if they already have a copy of your CV, just showing that you bought a copy for them is enough to impress them.
Extra tip: Sometimes it's a good idea to print off a copy for yourself so that you can quickly glance over your CV during the interview. This way you can make sure that you didn't forget to mention anything important.
Notebook and pens:
Bring a notebook and a couple of pens with you to take notes throughout the interview. Interviews can be particularly stressful situations and taking some quick notes can help you to remember the most important details that are mentioned.
Extra tip: Although it's good to take some notes, don't write down every single thing the recruiter said to you. It's important to keep engaging with the interviewers whilst maintaining eye contact and good body language.
Bag or Briefcase:
Bring a briefcase or bag with you to keep your documents neat and well presented. It will look extremely unprofessional if you hand over a creased CV to the recruiter so keep everything neat and professional.
Extra tip: Make sure your bag or suitcase is small and professional looking. Remember, first impressions count, so keep it simple.
Printed directions:
This applies to those of you who are attending an interview in a location that you are unfamiliar with. If you suddenly experience some technical difficulties and you are unable to find the location on your phone, at least you can find your way there the traditional way.
Extra tip: Even try the journey beforehand to make sure everything goes smoothly and so that you arrive without any complications.
Identification:
The recruiter will usually tell you if you need to bring ID or any other documents with you. Some companies need ID for security reasons, some to see if you are eligible to work etc. Even if they haven't asked, it's beneficial to take it along with you in case.
Extra tip: It's always handy to have your ID or at least a copy of it spare for if you need to fill out job applications or other documents in the interview, you may be required to provide your passport number etc.
Questions:
From completing key research on the company, you may have some extra questions you would like to ask. It's always a good idea to arrive with your questions already prepared. This gives you one less thing to think about during the interview and will help you to end on a good note! It's important to engage with the interviewer by asking questions; it helps you to appear interested, engaged and prepared!
Extra tip: Make sure you listen throughout the interview, the worst thing you can do is ask a question about something they have already covered during the interview.
Step 3: Your time to shine!
Now that we have covered all of the essential preparation tips, you will soon be ready to enter your first graduate interview feeling confident and ready to shine!
Even if you are the perfect match for the job on paper, you need to ensure that you perform the best you can during the interview to show the recruiter that you are the right fit for the job.
Your performance during the interview is judged in a variety of ways, from how you present yourself to how you engage with the interviewer, the answers you provide, the language you use, and the questions you ask! This may seem like a lot, but as long as you are aware of how you should act during your interview, you will be on your way to a winning interview.
Body language:
Recruiters are experts in reading people without them even speaking so you need to ensure that you portray good body language. Avoid slouching and do your best to maintain eye contact throughout the interview. Remember to smile to express confidence and to keep any hand gestures and fidgeting to a minimum. The attention should be on you and your amazing answers.
Engage:
Try to keep the interview balanced by engaging with the interviewer throughout. Ask questions to find out the key things that you want to know and try to make conversation. Address the interviewer by their name, listen carefully to what they are saying, and do your best to show off your company knowledge in your answers to demonstrate your motivation towards the job and the company.
Be polite:
At the end of the interview make sure that you thank the recruiter for their time. This is so important and will hopefully win you some bonus points. Employers want to hire people who are polite and friendly and can represent their company in a positive light so this is a must! If appropriate offer a handshake too, although this is not the best advice at this moment in time, it may be again in the future.
Step 4: How to follow up:
To show the recruiter or hiring manager that you are genuinely grateful for their time, it's beneficial to send a thank you email 1 or 2 days after the interview. Luckily for you, only 43% of job seekers send a thank you note to employers. This is a simple yet effective away to stand out against the other job seekers by taking your time to write a thank-you note that will impress the recruiter.
Here is an example of a thank you note that you can send after your interview:
"Thank you for the opportunity to interview for the position of (add title) on (add day). I thoroughly enjoyed speaking with you, meeting other members of the team, and learning more about the job role and company. I am extremely interested in this job role and the opportunity to join your team."
We hope you feel enlightened by our graduate interview tips, follow these tips and tricks to secure your dream job straight out of University! As long as you are prepared, engaged, qualified and show off your motivation and desire for the job, you should be on your way to a winning interview!
If you have any questions about interviews, make sure that you join our Instagram live at 17:00 (CET) with our very own recruiter Monica and Talent Search People.
---

Thanks )))
posted 1 month ago by Hasan
---