The Power of Networking: Tips for graduates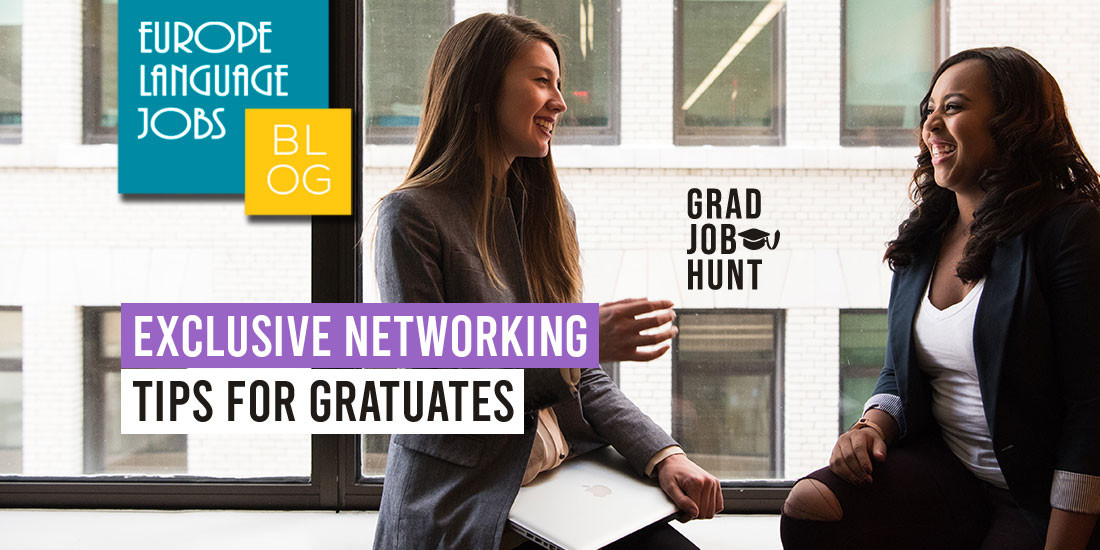 For many of you, it may be your first time engaging in professional networking, and even if you are a very confident person, it can still feel somewhat daunting. Networking is a key part of your graduate job search so it's important to familiarise yourself with some key networking techniques to score your dream job after University...
We're here to help you perfect both your face-to-face and online networking ready to find your dream graduate job:
Face-to-face networking
Face-to-face networking is an effective way to grow your professional network by meeting potential employers and other professionals in your industry. Instead of just searching for jobs online, networking allows you to work on a number of professional skills by learning how to effectively build personal connections. Simple things, such as learning how to introduce yourself to strangers, can help you to progress within your career through your ability to communicate.
Entering a room full of people who you have never met before, can be a challenge on its own. Nevermind approaching them and introducing yourself. But luckily for you, we are here to help you prepare for your next graduate networking event the best you can...
What is professional networking?
For those of you who have never engaged in any professional networking before, the main purpose of professional networking is to build long and short term relationships with potential employers and other professionals in your field. This is an extremely effective job searching technique and it also helps you to develop a number of sought after career skills such as communication, commercial awareness and teambuilding skills. Networking is not only beneficial for finding out about exclusive job opportunities but for gaining and exchanging key industry knowledge too. By networking regularly, you can build a strong community of reliable and professional contacts who you can reach out to for future opportunities or job advice.
When it comes to networking, there isn't a strict rule about who you should or shouldn't be networking with and honestly, the more people you network with the better - so don't limit yourself! You may choose to network with people you already know; school friends, colleagues, teachers, family etc or you may choose to meet new people at different types of networking events! Even if you choose to connect with someone outside of your industry, they may know a relevant person that they can connect you with or about an opportunity that may be relevant to you…
Although networking may seem like a scary prospect, it's important to consider the variety of desirable graduate skills that you will gain from networking in your job search. Some of these skills include communication skills, relationship building, commercial awareness and more.
Find networking events on the following websites:
Some of these websites are also great for networking in general, rather than just professional networking. Any of you who are planning to make that move abroad, try out the above websites to meet international people with the same interests as you. This type of networking makes becoming an expat a lot easier. Some networking events include language and culture exchange events, food tasting and more!
Four Easy Networking Tips
For some of us, networking may come more naturally than others. Don't worry, if you aren't one of these people who can network easily, we have some tips to help you network like a pro…
Step 1 - Listen carefully
Although it sounds obvious, it's important to engage properly with other people and to listen clearly to what they have to say. The knowledge and information they share with you could be particularly beneficial for you and your career, so why waste the opportunity to gain more knowledge!
Step 2 - Engage and ask questions
A great way of displaying your interest and enthusiasm is to ask questions related to the industry/topic. This not only shows how well you were listening but it shows that you have a genuine interest in what the other person is talking about and displays strong communication skills.
Step 3 - Exchange contact details
Even if that particular individual may not be beneficial to your career at this moment in time, they might be in the future! By exchanging numbers, connecting on LinkedIn or exchanging emails, you make it easier to reconnect with that person in the future.
Step 4 - Practice, practice & practice
Just like most activities, the more you practice, the easier it gets! Get out of your comfort zone, attend different career-related events, speak to people from different levels of seniority, different backgrounds, you never know who you may meet and in the end, you may enjoy networking more than you imagined!
Online networking tips
Online networking has been a great job search technique for many years. Thanks to LinkedIn and other professional networking channels, it's extremely easy to connect and engage with potential employers and other professionals online. In order to ensure that you make a good impression online, follow our online networking steps...
Step 1 - Clean up your social media
Clean up any social media profiles, making your photographs private and deleting anything that could put an employer off you. By this, we mean any unappropriate, drunken Facebook photographs, or unprofessional tweets. Nowadays, it's extremely common for companies and recruiters to search your social media, so get one step ahead by cleaning this up now.
Step 2 - Join LinkedIn
Work on your LinkedIn presence, this is beneficial for any graduate. LinkedIn is not only a networking website but also a place to showcase your CV to your dream employers. By creating a profile and adding your skills, experience and what you are looking for, you can increase your chances of being seen by your dream employer. It also shows that you are a proactive graduate jobseeker who is building their personal brand.
Step 3 - Start searching for people
One of the great things about Linkedin is that you can search for people based on company, job title and location. Make the most out of this feature by connecting with people in your field or who work for your dream company. By building a network of relevant professionals, it will help you to find out about key industry knowledge and to make yourself known to your dream employer. Make sure that you follow your favourite companies pages to ensure that you keep up-to-date with their latest news, this could be beneficial for your interview!
Step 4 - Start connecting with people
Now that your profile is up-to-date and you have connected with relevant people, it's time to start contacting them! Luckily for you, contacting people and introducing yourself online is much easier than any face-to-face networking but it's important to ensure that you get the message right! As you would in a face-to-face networking event, be polite, be professional and introduce yourself.
Step 5 - Join relevant career groups
To get your online networking off to a good start, join different groups. You can find a group for almost anything on Linkedin (and Facebook) from Graduate job seekers to English speaking jobs in Prague - just search for what you are looking for and join what's relevant to you. By joining different groups, you can share content, read about industry trends and even hear about exclusive job offers.
Step 6 - Attend webinars and virtual events
Now that you have followed our online networking steps for beginners, it's time to attend some online webinars and virtual events (like the Grad Job Hunt!) The people you meet through these events could help you to find your dream opportunity. As we recommended for face-to-face networking, do your research beforehand and define your objectives from attending the different events. Before you know it you'll be a superstar networker!
As you can see online networking and face-to-face networking are extremely effective job searching techniques. And to be a proactive graduate job seeker, it's important to get yourself out there and start connecting and engaging with relevant people in your industry! After all, you never know who you may meet and what opportunity you may come across!
We hope you enjoyed the first week of the grad job hunt and that you have acquired some key knowledge about how to get started in your Graduate job search. Stay tuned for the next part of the grad job hunt challenge, we will be helping you to take your job search to the next level...
---

Thanks for the important notes)))
posted 2 months ago by Hasan
---

Thanks a lot for this article. It is very useful and the steps are very thoroughly explained!
posted 2 months ago by Mihaela
---