Your First Day In Your New Graduate Job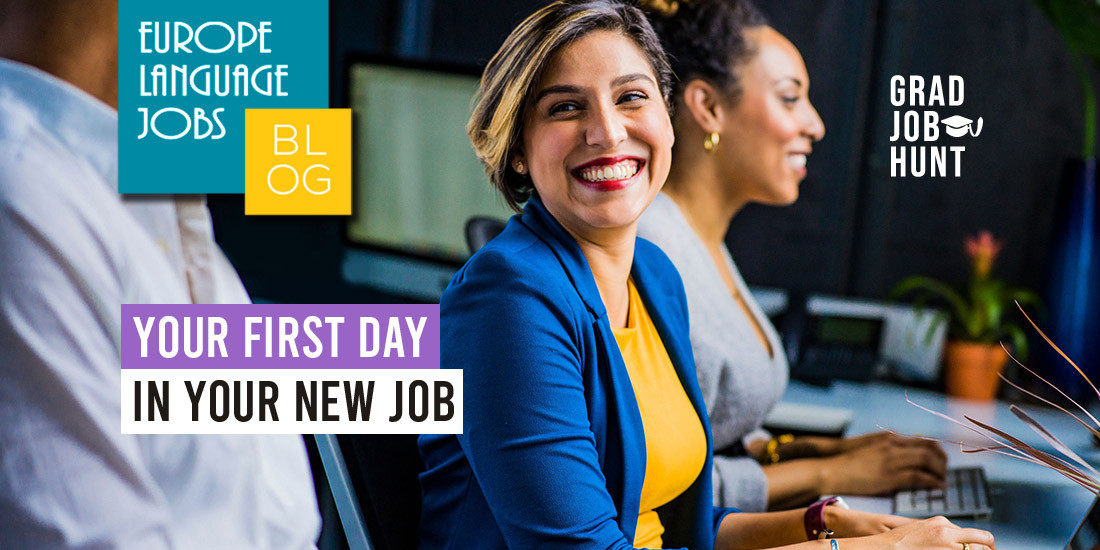 Your first day at work can be a challenging one, especially if it's your first job out of University. It's normal for you to feel a complete mix of emotions about starting a new job; - feelings of nervousness and excitement and even uncertainty! Don't put pressure on yourself, it's completely normal to experience this mix of emotions at the start and before you know you'll be feeling confident and comfortable in your new graduate job!
To ensure that your first day in your new Graduate job is a positive one follow the 4 steps...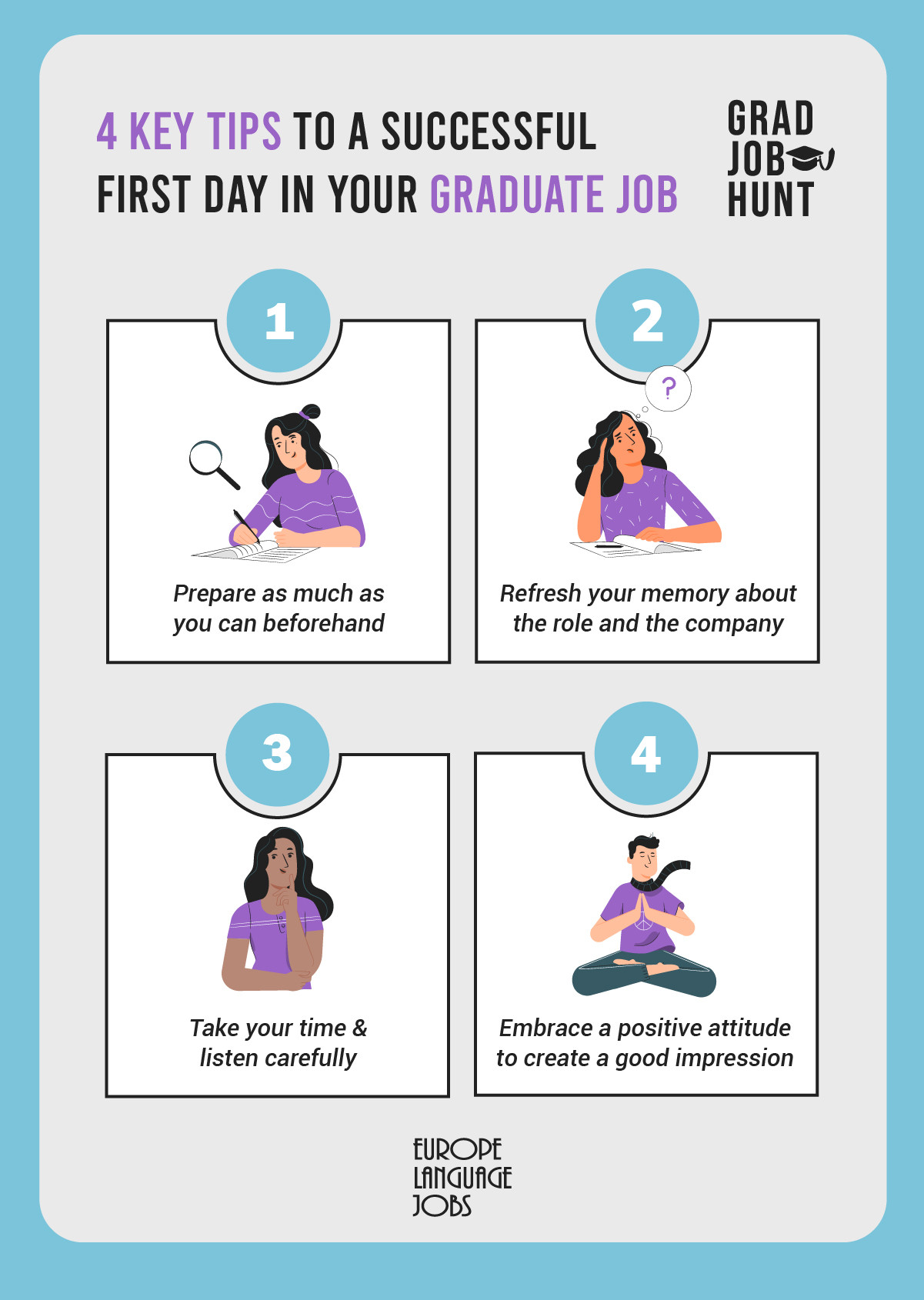 1. Be Prepared
As this is likely to be your first ever job after University, it's important that you prepare the best you can to ensure that you start your new job off on a good note. Failing to prepare and turning up organised is likely to make you feel more stressed and could create a bad first impression. Show the employer that you are ready to take on your new role by showing off your key organisational skills!
Find out the company dress code:
As we mentioned in our interview advice, we recommend finding out about the company dress code before your interview, in time for when you start your new graduate job. It's important to arrive at your new job feeling confident and avoiding any unwanted problems. Different countries and companies have different rules when it comes to uniform, so just do the best you can to find out beforehand. It may also be beneficial to bring any HR documents with you too. If you are unsure about what to bring, it's always a good idea to bring a pen, a notebook and some water just in case.
Make sure you plan your journey:
To avoid arriving late on your first day, it's important for you to plan your journey to work. Make sure that you have plenty of time to get there. You never know what can happen on your journey to work; traffic, public transport cancellations etc. Just do your best to allow yourself plenty of time. It may be beneficial to do a practice run beforehand so that you have a good idea about how long it will take.
2. Refresh your memory
When you start a new graduate job, the hiring process can take weeks, sometimes months and during this time, we can forget particular details about our job role or the company. So, before you start your job, it's a wise idea to refresh your memory about the job role and the company. This way, you can arrive on your first day feeling confident. Don't panic, your first days at work are usually spent learning the ins and outs of the company anyway and of course, adjusting to the working culture of that country.
Look over the role & the company
Just like you did for the interview, it's important to refresh your memory about the company. The services they provide, the history and any other extra information that you can gather. This shows your eagerness to start at this particular company and that you are genuinely interested in the company.
As you applied for this role in the first place, you should already be familiar with what the role involves but just to give yourself some peace of mind, have a look over the job advert a couple of days before you start. This way, nothing comes by surprise.
Job etiquette
When starting your first job, it's important to familiarise yourself with the general "dos and don'ts" for the workplace to avoid getting into any trouble or appearing disrespectful. This is particularly important if you are starting a new job in a new country, some cultures can differ significantly and it's important to avoid any awkwardness with your new colleagues. Learn the best ways to introduce yourself to your new team - firm handshake or a kiss on the cheek?
3. Take your time
When you arrive at your new job, don't be afraid to take your time familiarising yourself with the company, your job role and tasks. You are brand new to the workforce so this is more than normal. If there is something that you don't understand or you want your manager to repeat, just ask! It's always good to ask questions and this will hopefully minimise any bigger mistakes from happening further down the line.
Write things down
Just like your interview, it's always beneficial to write things down. By writing things down the information you are given during your first few days, you can look back over your notes and refamiliarise yourself with any important processes or information. We can often feel "information overload" during our first few days and it's completely normal to have to look back at notes or ask questions again. Don't worry, you are going through a lot of transitions and the best you can do, is take your time with it.
Don't put pressure on yourself
When we start a new job in a new country or even in our home country, it can take us longer than we expect to get into the swing of things and this is beyond normal! Allow yourself time to get used to the working culture, and if you decide to move abroad, take your time to get used to your new living environment, the language and more. After all, you have secured a graduate job and this is a big achievement in itself.
4. Positive attitude
Last but not least, it's important to arrive on your first day with a positive attitude, as the saying goes "start as you mean to go on". Although it's completely normal to feel apprehensive and worried, try your best to smile and to embrace your new adventure as a graduate!
Be polite
Starting a new graduate job is a challenging process and you may end up working with people from different areas of the world. Of course, we all have different perceptions about what is rude, what is polite, what is overly polite etc. but to make sure that you make a good impression on your first day, you must be approachable. Having this kind of attitude will have a knock-on effect on the rest of your career too!
Display a can-do attitude
You will want to start your career with a positive, upbeat attitude. When discussing your tasks and your job role, it's important to show that you are willing to collaborate with other team members and to show interest in projects etc. By displaying this kind of attitude your manager will know that you are serious about the job and that you are eager to get stuck in. This will also help to shape your job role and you may end up taking on new responsibilities and projects.
The most important thing you can do is to make a good impression on your first day. Be enthusiastic, take your time but most importantly, remember to enjoy yourself and familiarise yourself with the people around you! This is the first step in your next adventure and you need to make sure that you start it on a good note!
Share your thoughts!
We hope you feel ready to jump into your new graduate position from the advice we have shared over the last 2 weeks. If you have any more questions regarding your graduate recruitment process, please feel free to leave a comment below. Europe Language Jobs is happy to help you with the best job searching techniques, recruitment trends, relocation guidance and any other advice that you may need!
---

it was very useful
posted 3 weeks ago by STEPHEN NDULA
--- Nice
posted 2 months ago by Simranjeet
--- Thanks so much for encouraging me to keep pushing and this helps me a lot
posted 3 months ago by Ahmad Mbake
---

Thank you ))
posted 3 months ago by Hasan
---

I tend to loose focus sometimes under the stress of the start, it would be great if there's any tips for this issue.
posted 3 months ago by Sinda Sabrine
---

Thank you for the info:)
posted 3 months ago by Kalina
---