Spain is one of Europe's most popular destinations for tourists. In fact, in 2017 it was the second most visited country on Earth, reaching a new record of number of visitors in a year (82 million).
A true cross-section of people flocks to Spain from every corner of the globe, and for a range of different reasons. Many are stopping off on a Eurotrip, some have just come to relax and soak up some sun and some are here to party like there's no tomorrow...
Whatever category of tourist you fall into, Spain has something to offer you. From the towering Pyrenees in the north where snowboards and skis are favoured over beach towels and swimming suits, to the sweltering south where, at the country's tip, there it is only 16km from Africa.
But maybe you want an alternative Spanish getaway this summer. Somewhere other than the bustling cities of Madrid and Barcelona; somewhere that you might not even have heard of before.
Here are four, very different alternative Spanish getaways that we recommend this summer.
4 alternative Spanish destinations to visit this summer:
Denia
Denia is a manageably small, coastal city for those in search of the good life, low prices and not too much competition for the terraces in the sun.
Denia is a popular tourist hub, but being smaller and less well known than other options on the Spanish coasts, it is often overlooked by holiday makers. However, many that do visit often opt to buy houses here and spend the winter in a very bearable temperature.
The city is located between Spain's third largest city, Valencia, to the north, Alicante to the south and the island of Ibiza is a mere 2 hour ferry ride away! More Denia information here!
Toledo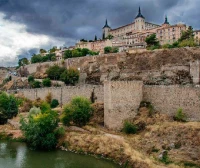 This is the option for those looking to fill their boots with some serious culture. Just an hour's drive from Madrid you will find the ancient city of Toledo. Toledo has a population of just over 83,000, making it a safe choice for those who like avoiding crowds.
The city has changed hands many times over the years and the various conquests have left their marks. Over the years Christian, Muslim and Jewish influences have shaped Toledo into a truly unique and fascinating amalgamation of architecture and culture.
The impressive architecture and culture lead the whole city to be granted UNESCO World Heritage status in 1986.
Formentera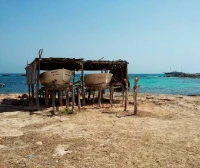 There is something truly special about islands. Their cultures develop in different ways, their communities are usually incredibly tight-knit and you're never too far from the smell of the salty sea air.
Formentera is an island just south of Ibiza and for many it acts as a creative or spiritual retreat. Due to its very easy going style of life, since the sixties the island has been very popular with hippies and naked sunbathing is permitted on most of the beaches. The way of life is quite different here and has inspired many creative minds. In fact, Bob Dylan lived on the island for some time.
Fun fact! During the middle ages, the island was close to uninhabitable due to the frequency of raids by Barbary pirates looking for Christian slaves! Nowadays the population sits at around 10,000 people.
San Sebastian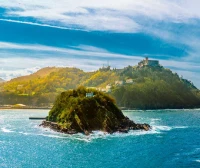 If you're looking for a city escape but don't fancy the bright lights and overwhelming crowds of Madrid and Barcelona, then San Sebastian is the alternative Spanish getaway for you. The city has the nightlife, the beach, the fantastic cuisine and if you go in September it is crammed full of Hollywood stars when the San Sebastian International Film Festival comes to town.
San Sebastian sits on the northern coast of Spain, in the Basque Country. This part of the country is much greener than other, dryer areas and hiking along the cliffs and through the lush green forests is a very popular activity.
The city is really lively and has a big surf culture, attracting many young travellers and fuelling a dynamic party scene. But San Sebastian also a place brimming with culture and is very family friendly. Water sports or a trip out to Santa Clara Island in the middle of the Bay de la Concha are the perfect ways to get rid of a hangover!
So there you have your four alternative Spanish getaway locations for the approaching summer. Do you have any more recommendations? Drop them in the comments below!