Most of us enjoy travelling and all of us enjoying living, but where can find the cheapest places in Europe to travel, without needing to wait until we're 65 or become millionaires? Southern European countries Spain, Italy, Malta and Portugal have a wonderful combination of a low cost of living, wonderful food and weather and more relaxed lifestyles in comparison to other places such as the U.K. While Cologne, Stari Grad, Liverpool & Slovenia provide interesting alternatives if you´re looking for history, culture & adventure but don´t need the sandy beaches!

In this article, we will try to find a balance between an affordable place to live and somewhere with lots to do because what good is it to pay only €3 for a nice big meal but be sitting looking an industrial estate while you eat it? San Sebastián has earned the reputation for having some of the best food in the world with the highest number of Michelin star chefs coming from the region, but if you want to eat here…You're going to have to pay big bucks! So, let's find those perfect spots in between!
Cheapest Places to Live and Travel in Europe in 2020
As we saw at the beginning of this article, places around the Mediterranean will feature heavily simply because there is SO MUCH TO DO HERE AND IT'S SO CHEAP! We kick off our Mediterranean tour in…
1. Cádiz, Spain:
History, Seafood, Beaches, Parties & ´The Land Gate´
First on our list of cheap places to live and travel in Europe is Cádiz in the southwest of Spain in Andalucía. Cádiz boasts historically interesting places all over the city with archaeological remains dating back more than 3100 years making Cádiz the oldest, continuously inhabited settlement in Europe. Combine this with great weather, great seafood, awesome events and affordable prices help to make Cádiz a great place to spend time as a visitor or longer-term resident.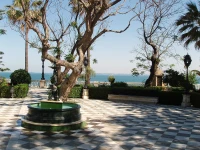 Seafood: I Seafood, I Eat It.
There are a plethora of options when discussing Cádiz, but being a coastal city, let's start off with the seafood. There are a number of interesting markets in Cádiz such as Mercado Central de Abastos. The Mercado is the oldest 'covered' market in all of Spain, here you will find beautiful, fresh seafood and tapas, an absolute must-try!
Unlike many interesting destinations for travel, something that sets this place apart is that Cádiz has been able to retain much of the architecture and appearance of the past, giving it a nice contrast to places rammed with tourists where the 'attractions' are younger than the tourists...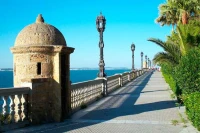 Places To Visit In Cádiz: Teatro Romano, El Museo & The Catedral
The Catedral de Cádiz finds itself on our list of places to visit, but don´t run straight to the entrance! I recommend you veer off slightly and head for the beach, easily the best place to view the Catedral! One can spend a perfect afternoon walking around the market before watching the sunset cast a beautiful golden glow over the yellow dome of the Catedral from Campo del Sur...
Other points of interest are Teatro Romano, Iglesia de Santa Cruz (the oldest church in Cádiz), El Museo de Cádiz, but best of this little bunch is the Puerta de Tierra. Simply calling this place a 'door' or 'land-gate' does this wonderful piece of architecture an injustice. It's not only aesthetically pleasing but also provides a function, a throwback to years past when it was needed to defend the city, the list of things for you to enjoy goes on and on so I'll leave the rest for you to explore for yourself!

Events. What Is There To Do?
The Carnaval of Cádiz is widely regarded as one of the best-known in the world and in February, Cádiz becomes one big party for Carnaval! Music, fancy-dress, parties and parades! Groups of murgas traverse the city on giant floats, singing and dancing. The most popular amongst them are the chirigotas, groups of costumed performers who sing satirical songs directed at important political issues. In 2020, for example, the targets of the satirical performance included Donald Trump & Kim Jong-Un and are certain to be a highlight of your trip to Cádiz.
Cost of Living in Cádiz: Not a millionaire? Not a problem!
As we've already touched on, Cádiz is great in terms of cost of living in comparison with larger cities like Barcelona, Malaga & Madrid. €300 for a one-bedroom flat or even less for a shared flat is an enormous difference to cities like Barcelona where prices are pushing higher than €500 for a single room in a shared flat! Cheap rent and an average salary in Cádiz being around €1150 and a ton of events to take advantage of, you can live an extremely comfortable life here!
2. Padova, Italy
It Was Good Enough For Galileo...
History of Padova
Possibly one of the cheapest European cities to live in, this small Italian city in Northern Italy is found on the river Bacchiglione, not far from a wildly popular tourist destination, Venice.
Founded in 1183 Padova (or Padua as Italians say it) is flush with interesting historical places and stories. Famous figures Dante & Galileo taught at the University of Padua!
How To Spend The Day In Padova: Markets, Museums & The Basilica
But you want to know what you can do there now right?! Well…Piazza Delle Erbe market, it´s a little bit crowded and busy for my taste but it´s surrounded by beautiful old buildings and so well worth a visit. Another reason is as it says on the tin – its a market: fruit, vegetables, pastries, clothing, whatever you need.
An interesting piece of functional architecture is the bridges that litter the city, crossing the river that surrounds the ancient city walls like a moat! The Scrovegni Chapel is worth visiting as are the many bars, restaurants and cafes!
One of the most desirable places to visit in Italy is Venice, just a short but pleasant 30 minute to an hour train ride (on the fast train) from Padua! Staying in Venice is incredibly expensive, so why not be smart, stay in Padua and have a trip to Venice and enjoy the best of both worlds!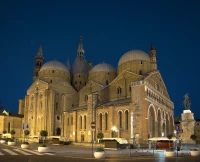 Do you get frustrated with the number of tourists and other people taking selfies or pictures for their Instagram just for other people to like it? At St. Anthony's Basilica you are not allowed to take photos. How cool is that? Nobody cares that you want a picture of yourself here for your Snapchat or Instagram so you have to enjoy and appreciate it for what it is, novel right?
Cost of Living in Padova: Rent & Salaries
A three-bedroom flat in the city centre will cost you around €1000 per month and with a relatively high average salary (for the Mediterranean) of over €1400 per month you´ll have plenty leftover for dinner out (€13), gym membership (€49) and your monthly transport pass at €39. A lovely combination of being amongst the cheapest places to live in Europe, plenty of places to enjoy a party at night, enjoy the culture and easy access to amazing (albeit more expensive) neighbouring cities such as Venice & Verona, Padova could be an awesome place for you to visit and spend some time!

3. Valletta, Malta
For A Trip Packed with Interesting History & Culture.
Bars, restaurants, museums, parks, theatres and more, Valletta, could be the place for you if you want a more relaxed lifestyle while still having plenty to do. Rich in history and culture with plenty more to offer, Valletta is a truly gorgeous place, let´s take a look at why you should visit Valletta in 2018!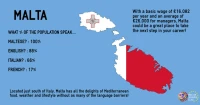 Where To Visit in Valletta (and avoid the tourists):
Fort Saint Elmo
One of my favourite places in Valletta are around the cities defensive fortifications at Fort Saint Elmo, as you may have gleaned I hate places crowded with tourists (even when I´m one of them) and I LOVE finding places that aren´t packed with people and maybe aren´t so well known. Cue my trip to the fort, when exploring the fort to get enough info so I can have a good chat with my Grandad about history when I return to England, I found the coolest little spot for a dip in the water at the fort itself! I don´t know if it was just on that particular day but there were hardly any other people there so we had a delightful little cove to ourselves and gratefully had a paddle around in the cool water.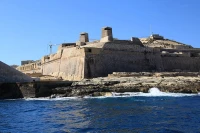 Barrakka Gardens
Coming in second place to Fort st Elmo of my favourite spots in Valletta are the Barrakka Gardens. Located just above Grand Harbour the Barrakka Gardens make a beautiful place to spend time walking around and enjoying the view of the Harbour. The gardens contain the 'Saluting Battery' a cannon fired twice daily (12pm & 4pm), it used to be the welcome salute for visiting naval ships and remains a popular link to the past that many come to enjoy.
Nightlife in Malta: Jazz Bars, Partying & History All In One!
The nightlife is certainly not akin to Ibiza but that's not necessarily a bad thing, if you visit Valletta and head out in the evening/night you are almost certain to find yourself in 'The Gut', Strait Street as it's official name goes, is a cool place to visit for historians, many talks about the picturesque scenery and how easy it is to lose yourself when walking around.
Jazz bars and brothels meant the area was frequented regularly by sailors and soldiers in years gone by and while the street has been 'cleaned up' regarding the brothels, the bar and music scene in 'The Gut' is still going strong today and there is even has a TV show about life on the street, a pretty cool place for you to make one of your regular spots!
Cultural Activities In Valletta
A large part of the attraction of the Superbissima is the history and culture, Valletta has been designated European Capital of Culture for 2018. The special programme for this involves 140 projects and 400 events with music, street artists and exhibitions such as the Valletta film festival in mid-June that will showcase more than 40 feature films and 25 short-films at both indoor and outdoor venues.
The Malta international arts festival that runs until mid-July provides a wonderful demonstration of the islands rich historical and cultural tapestry with space given to talented upcoming artists as well as those more established. In August the Malta Mediterranean Literature Festival comes to St Elmo, this festival has been bringing writers together since 2006 helping to promote Maltese literature as well as cross-cultural debate. November brings the Malta Book Festival, a collective of readers and writers that dates all the way back to 1979 in its original form! This event will feature book launches, presentations, literature readings, conferences, seminars, meetings with authors and dramatizations of literal events!
The final event I want to mention is the one that promises to be an awesome demonstration, the Valletta pageant of the seas in Grand Harbour on June 7. This event will include boat and swimming races between the two forts and in the evening the sky will be lit with a beautiful firework display!
Other reasons to visit this tranquil, relaxed city are the annual Valletta International Baroque Festival and the wonderful architecture of places like St. John's Cathedral with all its hidden surprises...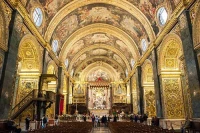 Cost of Living in Valletta: Jobs, Rent & Salaries
The average salary in Valletta is around €1060 per month and one-bedroom flat in the city centre costs an average of €866 makes Valletta one of the more expensive on our list of cheap places to live and travel in Europe is so you will almost certainly be looking for a flatmate to split the cost (perfect so you can have someone to take advantage of the amazing activities with right?). Popular industries in Malta right now include customer service, marketing & IT, you can find yourself one of these by registering at the ELJ job board here.
Valletta could be a wonderful place to set up home if you enjoy your visit as you can see in the infographic at the top of this section, while not one of the cheapest places to live in Europe, salaries in Malta are good once you pass entry-level positions in particular, especially in comparison with other places in the Mediterranean. So, get all the benefits of Mediterranean food, weather and lifestyle with a better salary, awesome right?!
4. Braga, Portugal
Full of History, Great Weather & Affordable Prices
History of Braga
The oldest city in Portugal. Having been invaded repeatedly over the centuries Braga has both benefited and suffered over the years. One such benefit came after the Roman occupation in 136BC is something we take for granted today, roads. Relatively good transport links allowed Braga to flourish under Roman rule and remained until AD410 and the fall of Rome.
Cost of Living: Rent & Salaries
The oldest city in Portugal, sounds interesting, doesn't it? What sounds even better? Affordable house prices and a more moderate climate. Salaries in Braga are extremely low with an average of just €745, which contributes to Braga being one of the cheapest places to live in Europe while still having plenty to offer. Rent for a one bedroom flat per month in Braga city centre will set you back a mere €383 on average, a bit more expensive than Cádiz but cheaper than Valletta, Braga is both affordable and fun.
Thanks to Numbeo for the stats and statistics on prices!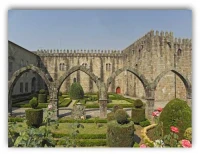 Braga: A Great Place For Expats to Relax & Adjust to Mediterranean Life
Portugal is renowned for dangerously high temperatures so if you're not quite looking to burn in the sun but instead get that lovely Mediterranean glow, Braga could be the place for you to enjoy the Roman heritage of the City. It still has the Roman baths and cathedrals presenting a multitude of activities for lovers of art & history. Museums litter the city such as the Museum of the Biscainhos which is home to a collection of decorative art featuring some really nice looking pieces of furniture, ceramics as well as some pretty cool clock designs.
Life is a little bit slower here than other places on our list but worth a visit if you're looking for moderate sun and a laid back trip.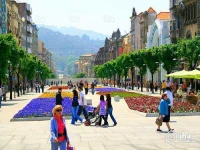 Jobs in Braga
As you can tell from the low average salary, Braga cannot be said to be thriving when it comes to work, however, a rapidly growing computer industry is great news for those interested in web design and software development as there is an abundance of opportunities for anyone experienced or interested in IT and want to relax in a place with much less hustle and bustle than the U.K, Paris or Barcelona when they finish work!
Spots well worth a visit include Antigo Paço Episcopal,a rather lavish place that was home to a former Archbishop (picture below). Bom Jesus do Monte, situated just outside the city it plays host to many visitors each year, in no small part due to the wonderful views you get from the top of the 116-metre high stairway.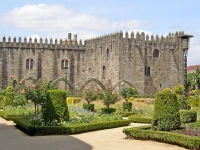 5. Granada, Spain
THE Erasmus City
Awe-Inspiring Architecture
One of the most popular cities for Erasmus for a reason, Granada really shocked me when I first saw the place. It looks like something out of a movie or a scene from Game of Thrones, the palace/fortress is just an awesome place, I could give you facts about when it was built, who by etc but I'll just let the picture do the talking for me.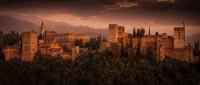 Outdoor Exploration: Mountains, Caves & A Famous Hike You´ve Never Heard Of
Awesome right? I can't think of a better way to spend the afternoon/evening than exploring the Alhambra and the surrounding Sierra Nevada. This mountain range is the highest point in Spain and is most definitely the place to visit for you if you enjoy skiing and looking at the picture below, it's look's to be an awesome place to spend the day on the slopes right?
Granada is a wonderful place to enjoy a beautiful landscape that's been adjusted and added to by inhabitants throughout the centuries. One of these places lies in Monachil, a small village just outside Granada. The place to visit is the gorge Los Cahorros, a great place to spend the day exploring the walking route, rock climbing and enjoying hanging bridges on your way to a well-earned picnic! (Make sure you take something to eat and PLENTY to drink, it´s HOT!)
A surprise that not too many people know about is the white caves of Sacromonte. You´ll find them in the eastern section of Granada in which the gipsy community of Granada have set up home, definitely worth a look around! It's also worth noting that as part of the Carnival celebrations in Granada in February there is a pilgrimage to the caves.
Cost of Living in Granada: Salaries & Rent
With a relatively low average salary of €1125 per month and a one-bedroom flat in the city centre is on par with Braga at around €382 per month making Granada 'middle of the road' prices on our list!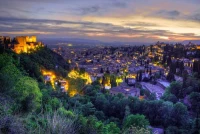 Ok but, what if the Mediterranean isn´t the place for you? If you need something more than a beach and nice weather? There have to be other options right? There are! Let´s take a look, the fourth-place will definitely surprise you…
6. Cologne, Germany
Eating & Drinking in Cologne
As the home of Kölsch beer, you will find the beer in Cologne affordably priced at €1.30! There is a large selection of shops from easy-going cheap to the high-end posh ones where someone stands staring at you until you buy one of their very expensive items. Restaurants are great too and they have a LOT of dessert places, serving the most deliciously decadent desserts you could dream up.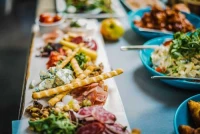 Transport: German Efficiency At Its Finest
Now, the most important thing covered (AKA food), we can move on to the more explorative stuff. Where better to begin than transport and getting around the city? The main transport links are the trains and trams. You are never waiting longer than 5 minutes before another one comes along and you're never on them for long either. You must be prepared for these journeys though and have tickets before you board as you can face a fine of €60 if you are found without one! Tickets are available for purchase on the trains, but this is best avoided where possible.
Activities in Cologne: Fun Ways To Spend The Day
Once you have bought your ticket, you're ready to go! So, where first? There are SO many cool places to explore in Cologne, or as it is actually spelt, Köln. My personal favourites were the zoo, the cathedral (the Dom) and the river Rhein! The zoo was so easy to get to, one train and it stopped right outside the zoo. What more can you ask for? It costs €12 for students and €15 for adults, and included in your price is a gift shop voucher!
This zoo is incredible, it is open and vast with a broad range of animals from giraffes and lions and tigers to snow leopards and grizzly bears. The animals all looked happy and cared for and this is something I really care about and something I want to see in a zoo. There wasn't much of a boundary between visitors and the animals which were cool because you feel as though you're on safari with them but you are 100% safe the entire time.
I would recommend setting aside an entire day for this as it is so big and trust me, you are going to want to see EVERYTHING it has to offer.
You are also not going to want to miss the cathedral, known locally as the Dom, the only thing left standing during WW2. It is the most magnificent building I have seen and it is surrounded in Cologne by the most beautiful architecture.
The cathedral houses the remains of the 3 wise men and stands 515 feet tall. 515!! The history in this city is just fascinating and more can be seen from a boat trip down the Rhein which will set you back around €21.
It takes you as far along the river as you wish to be taken. It goes all the way from Switzerland, through Germany and the Netherlands and then finally meets the North Sea, all of this being available to you should you wish to see it.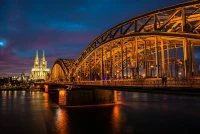 Cologne is an incredibly friendly place and there are lots of nationalities around. People there tend to speak English at an intermediate-advanced level should you wish to fall back to something safe if you are lacking confidence in your German! However, they are very encouraging when you are trying to learn their language. It is also worth saying that as you may have gleaned, you could do very well as a student in Cologne and will find countless discounts on all kinds of things in all kinds of places.
Cologne is inspiring and buzzing all the time and it's just waiting for you to add it to your map of places you have been around the world. WHAT are you waiting for? GO!
Thanks to Psychologist and traveler Natasha Walton for sharing her experience of Cologne with us!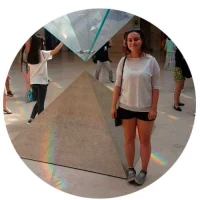 Cost of Living in Cologne: Rent & Salaries
You wouldn't think anywhere in Germany would be on our list of cheap places to live and travel in Europe and that is understandable, a thriving economy and a healthy influx of cash from tourism usually results in sky rocketing prices. Rent in Cologne is certainly not cheap at €727 per month for a 1 bedroom flat in the city centre but when you factor in the very high average monthly (post-tax) salary of over €2300, you can see that relatively speaking the cost of apartments in Cologne could be amongst the cheapest rent in Europe.
7. Liverpool, England
Packed with Museums, Amazing Nightlife & A Famous Waterfront
Cost of Living in Liverpool: Rent, Meals & Salaries
With an interesting mix of the metropolitan whilst retaining much of the charm of the past, Liverpool is an interesting (and relatively inexpensive) place to explore either as a traveler or resident, with rent for a one-bedroom flat fetching around £637 compared to London where the same will cost you £1693! Nearly £1000 more expensive per month! Dinner out for two in Liverpool costs around £20, compare this with Manchester (£23), Birmingham (£28) and London (£36). All this makes the quality of life and cost of living in Liverpool both comfortable and doable with an average salary of £1728.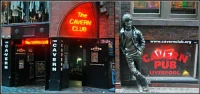 Culture & Activities: Music, Parks, Museums & Bars
Yes everybody knows the Beatles came from Liverpool, we have one of the most successful, famous football teams in the world and it's well-known to be one of the best cities in Europe for students. But did you know it has some of the most beautiful parks in the country? That it has a number of different beaches and close access to some lovely places such as Hilbre Island in West Kirby?
West Kirby is a nearby beachside town where you can not only enjoy sailing, swimming, sunbathing or horseback riding but also from the nature reserve you can usually spot the local Grey Seal population resting on the banks.
You can enjoy the rich history in many free museums in Liverpool, a place which is proud to be the birthplace of the 'women and children first' protocol that is now accepted throughout the world to be the most appropriate way to evacuate. That´s pretty cool, right?
On one street alone you can find St. John's Gardens, a lovely place to sit and have lunch while being just 30 seconds walk to the World Museum, the Central Library, The Walker Art Gallery & St George's Hall, all while being another 60-second walk the other way into the much busier city centre on your way to the famous waterfront or Cavern Club. Interestingly the waterfront (Albert Dock) was as recently as June 6, 2018, granted a royal title in respect of the city´s great maritime history and is henceforth to be known as Royal Albert Dock, worth a visit don´t you think?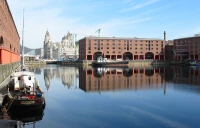 8. Stari Grad, Croatia
Heaven For Divers & History Lovers
Stari Grad, found on the northwestern part of Hvar island is proud to be one of the oldest towns in Europe and on the UNESCO list of world cultural heritage. A big lure making this a popular settlement since way back in the 4th century BC is the bay and prime agricultural land, helping make Stari Grad a popular destination for 24 CENTURIES! How cool is that!
Activities in Stari Grad: Diving, Hiking & Exploring
The sea that surrounds the island is an enormous attraction for divers, with an underground tunnel to explore in the beautiful waters proving irresistible to many every year.
Stari Grad is probably more a place to visit than to live as most of what it offers can be experienced in just a few days and leave time to spare and relax. A great place to spend this extra time is on Maslinica Bay, a beautiful beach with easy access to another place for you to explore - the pine forest. One could find themselves wanting to stay long-term in Stari Grad however because while the life is far from that of a big city, easy access to nearby hotspots such as Hvar Island and Split as well as interesting places could make Stari Grad a wonderful spot to set up a home base and venture out! One such place is Peklenica national park, containing two canyons, beautiful peaks and is home to a variety of deer, chamois and the brown bear making this a great place to visit if you´re the more adventurous type!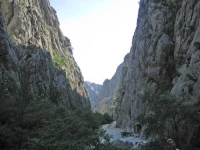 Cost of Living in Stari Grad: Rent, Transport & Food
Less expensive than more touristic places like Dubrovnik and Hvar, you can expect to pay just 450KN (about €60) for a double room in a hotel, 60Kuna (€8) for a meal in a nice tavern while a bus, tram or train ticket will cost you a mere 10KN (€1.35). Much like other places on our list you can see that a combination of having much to offer both tourists and locals for affordable prices and easy access to visit more expensive places can make Stari Grad a great place to visit or to stay long-term as you get the best of both worlds in terms of living and interesting life and cost of living.
Thanks to Lonely Planet for the info on daily costs in Stari Grad!
9. Bled, Slovenia
A Place For Outdoor Adventure & Watersports
Most places on our list are here for you to explore architecture, history, culture, nightlife etc, but I have to include one place that offers something different but no less amazing. Bled, in northwestern Slovenia is THE PLACE to visit if you're an adventurous type. Living in the mountains themselves can be a bit too expensive, but what about a town nearby? Are you looking for somewhere to travel cheaply but avoid the tourists and aren't just hoping to look at large buildings or beaches? Bled can provide you with an alternative holiday destination!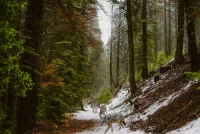 Activities in Bled: Hiking, Watersports & Nightlife
Interesting wildlife that has sadly been eradicated elsewhere such as bears, wolves and lynx (as well as chamois, ibex, deer and boar) this could be an awesome place to travel (or to live if you're a bit more rugged) these animals are hardly in abundance, with only 50-60 wolves and 500 bears they are found throughout Slovenia but sightings are EXTREMELY rare. You can hike down to Vintgar Gorge and all the way up to Mt. Triglav (not on the same day) but you can even have a trip around the lake on your way to the highest mountain in Slovenia, one of the easiest pathways starts at Pokljuka, not far from the Lake Bled.
Bled is just awesome for anyone who loves the outdoors, amazing for hikes and watersports. On Lake Bled you can scuba dive, go paddleboarding, rafting or canyoning before you take a pletna out to the island to explore the Church on the small island. Something else to remember is that Bled is not only a popular destination due to the watersports and wonderful nature that dwells here, have you ever heard of Cremeschnitte? How does a vanilla & cream pastry sound while relaxing look out over the mountains? Sounds pretty good!
Cost of Living in Bled: Salary & Apartments
According to Numbeo, average post-tax salary in 2018 in Slovenia is just over €1000 while renting for a 1-bedroom apartment averages out at just under €400 in the city centre and the cost of renting decreases the further outside the city centre you go although remember! the more scenic the spot the higher the price! Bled is not inexpensive, a one-bedroom apartment in the city centre will cost you €150 per month and a meal for 2 in a mid-range restaurant will run you €35 (both sound quite reasonable actually), remember we're trying to find places with a good balance between cost and activities, thus Bled easily makes it onto our list.
So if you´re looking for outdoor watersports, beautiful scenery and a lively bar over a floor-shaking club, the quiet town of Bled could be the place for you.
Conclusion
So what are the takeaways? The biggest tip I can give is to stay away from tourist areas, no matter what Government or local authorities say, it's not worth it, EVERYTHING costs more and in my experience, there have always been loads of thieves, street vendors who sell rubbish that will fall apart a week after you return home, con artists selling flowers or 'giving' people bracelets and then harassing them for money.
Transport to tourist attractions is usually good as Governments want people to get there so why not stay outside the centre and experience the best of both worlds? (And save a whole lot of money in the process!). I didn't want to list the cheapest cities to live in Europe because what if you go there thinking 'great, it's cheap!' and there's nothing to do? So I hope I've been able to find a good balance between places that aren't super expensive but still have plenty to offer you either as a traveler or resident!
Why not have an adventure in a different place? Instead of going to the same places everyone goes each year and then comparing photos just to say ´yeah I´ve been there´ wouldn´t it be way better to go somewhere none of your friends has been? Have experiences they never have? Travelling can put you in a great position for interesting jobs in the future such as a travel guide, maybe you want one of the many travel jobs in Europe such as being a travel writer! In this article of the cheapest places to live and travel in Europe, I´ve tried to give you different options that would suit different personality types so now it´s up to you!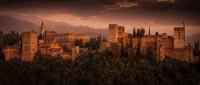 I know I've already put this picture of Granada here but come on its amazing right?

Feel free to let me know if you´re interested in a specific type of excursion, for example, I was only able to include one or two places focusing on an outdoor adventure but if there's enough interest I can easily write one specific to this with loads of different adventure options!
Author: Lee Walton
Lee writes articles related to all things work and travel using his own extensive experience travelling the world with his dog as well as extensive research to give you the most interesting and informative articles possible! Look out for Lee's next article coming early next week on The Top Destinations for Erasmus Students!