Are you optimizing the cost of your recruitment process?
The hidden costs of hiring employees can derail your cash flow and lead to significant overspending. But high-quality employees are your most valuable asset. In the midst of what's been dubbed The Great Resignation, you can't afford not to invest in sourcing and retaining the best talent available.
Right now, the average cost-per-hire is $4,700 according to the Society of Human Resource Management. However, experts believe that this number can climb substantially depending on the industry, job role, and salary.
Image Sourced from SHRM
In order to optimize your hiring costs, it helps to have an in-depth overview of your entire recruitment process and the costs that are incurred at each step—especially the ones that aren't so obvious.
So, let's take a look at the hidden costs of hiring employees in 2023.
Costs of the hiring process
The costs involved with advertising, screening, interviewing, and background checking are the most direct and transparent costs of hiring. Collectively, they can generate costs that exceed our expectations.
Rather than think of the cost of hiring as one lump sum, consider the individual costs of your hiring activities. This will give you a clearer picture of your end-to-end expenses.
Here are some examples of typical hiring expenses regardless of your industry.
Recruitment agency fees
Recruitment agencies identify, source, and vet high-quality talent on behalf of your company, ensuring that only the best make it to the final round of the hiring process.
Businesses use recruitment agencies to reduce time-to-hire and increase internal business productivity. Equipped with resources like recruitment software, hiring experts, and a ready-made database of high-quality job seekers, recruitment agencies take the weight of sourcing and vetting candidates off of your shoulders.
Saying this, recruitment agencies come at a price.
On average, recruitment agencies employ a performance-based model, charging around 15-25% of the first-year salary of the placed employee. If you're looking to fill multiple positions, the costs of hiring an external recruitment agency can stack up quickly.
Internal recruitment/HR fees
You can also handle recruitment internally through HR, which is the preferred choice for large businesses or those with a HR team already in place. However, the fees are also pretty steep.
Not only do you need to consider the salaries of your HR team, but you need to take into account the productivity, time, and resource investments associated with hiring candidates.
For example, your HR team will need to create advertisements, screen candidates, and perform interviews. This all factors into your cost-per-hire. The longer it takes to find a suitable candidate, the more hours you'll lose to the hiring process. And, as a result, the higher this hidden cost of hiring employees becomes.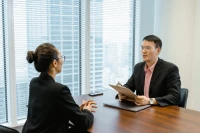 Background checks and screenings
Standard background checks and screenings verify information like qualifications, previous employment, and criminal records. Prices vary from a few dollars to $100 depending on the type of check you need to do, but it's one of the more affordable costs of hiring.
With that being said, it's still a hidden cost that you should be aware of.
Job boards
Job boards tend to garner high engagement, making them a common place for advertising job vacancies. Fees vary significantly depending on the specific job board you want to post on. Generally, job board giants have high subscription fees and cost-per-click charges.
Using niche job boards, you can target candidates with a specific set of skills of experience to optimize recruitment costs. Europe Language Jobs, for example, specializes in multilingual job vacancies and has a database of over 20,000 new multilingual candidates every month. Businesses can target multilingual candidates specifically, improving the quality of their talent pool and accelerating time-to-hire.
Also, be sure to create job advertisements that are truthful and informative. A recent survey found that 30% of newly-hired employees left their job within 90 days. 41% of them did so because the day-to-day role wasn't as they expected.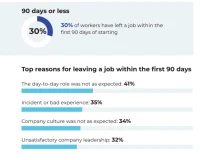 Image sourced from Jobvite
Employee turnover within the onboarding and probation periods can skyrocket your cost-per-hire. To optimize your recruitment costs, make sure your ads accurately detail the daily roles and responsibilities that the candidate will be required to perform.
Costs of onboarding and training
Onboarding and training your employees make up a substantial amount of your recruitment budget.
Collectively, businesses spent $92 billion on training in 2022, dedicating a total of 64 hours in productivity and spending $1,071 per learner.
Onboarding and training activities that incur the most costs include:
Initial induction and orientation

Formal workplace training

Onboarding documents and forms

Mentoring costs

Loss of productivity
Productivity loss is one of the most overlooked hidden costs of hiring employees. Research suggests that it can take up to 12 months for new employees to reach full productivity, slowing down business operations and reducing profit.
Also, take into account that managers must take time out of their regular duties to deliver training. These hours can quickly add up over the months, reducing managerial productivity and incurring high costs.
Costs of employee compensation and benefits
To accurately determine the long-term expenses of recruitment, take into account ongoing costs like employee compensation and benefits. These are important costs to consider, particularly if you experience high turnover within the onboarding and probation periods.
Along with the base salary of the employee you've hired, consider expenses like:
Whatever you do, don't skimp on compensation and benefits in an attempt to reduce your cost-per-hire. Employees are on the lookout for businesses with excellent compensation and benefits packages. If your offer falls short, 22% of high-quality candidates might decline your job offer.
Image sourced from CareerPlug
Unemployment taxes
Some countries require you to pay unemployment taxes, which you should factor into your hiring costs. For example, the Federal Unemployment Tax Act (FUTA), dictates that businesses in the U.S are required to pay unemployment tax if:
It hired at least one employee (full-time, part-time, or temporary) who works for at least 20 weeks in a year.

The wages it paid meet or exceed $1,500 in a single quarter.
Currently, the FUTA tax rate is 6.0% and only applies to the first $7,000 that each employee is paid during a single calendar year. This puts the expense at a maximum of $420 per employee. Keep an eye on this cost to avoid it creeping up on you.
Compliance and legal fees
It's essential that you remain compliant with relevant employment laws throughout the recruitment process. Failure to do so can land you in serious legal and financial trouble.
If you're in a heavily regulated industry, outsourcing legal processes might be a wise—albeit costly—option. If not, be aware of the resources you may need to invest in to gain legal compliance, such as legal expertise and/or compliance software.
Robust ERP solutions can ensure recruitment compliance. ERP solutions not only centralize everything from right-to-work documents to employee contracts and data, but automation capabilities make sure your documents are accurate, error-free, and accessible for audit. With increased security, traceability, and visibility of sensitive documentation, you can avoid the hidden costs of non-compliance.
Technological costs
There are two types of technological costs to consider: the technology you provide to your employees, and the technology you need to source and screen candidates.
For new candidates, you may need to provide technologies like:
Company phones.

Laptops and desktops.

Specialized software.

Headsets.
For your business, the technology you should consider includes:
Recruitment software: From applicant tracking systems (ATS) to talent acquisition software, recruitment software comes in many different shapes, sizes—and price ranges. Along with collecting, sorting, and screening resumes, recruitment software can track potential candidates throughout the interviewing and onboarding process.
Video interviewing software: Video communication tools are a must-have for remote hiring. Video interviewing optimizes the interview process, driving unrivaled convenience and cost-effectiveness for businesses and candidates alike.
Onboarding tools: From document signing to video training, onboarding tools create better experiences for your new employees, increasing retention and time-to-productivity.
ERP software. Beyond compliance, cloud ERP software can streamline the recruitment process and help you make better hiring decisions. By integrating HR and accounting, you can accurately identify hiring needs, recruitment budgets, and onboarding costs by department. This empowers you to direct recruitment funds to the right areas at the right time.
External factors
External factors that influence recruitment costs include fees paid to external vendors. We've covered many of these already, such as:
Other external factors include branding activities (like attending or hosting career fairs), relocation expenses, and referrals.
Don't be blindsided by hidden hiring costs
The hidden costs of hiring employees don't have to stay hidden. By going through your recruitment process step-by-step, you can identify all of your hiring activities. From there, you can utilize data to assign accurate costs and have more control over your finances.
Don't forget to optimize costs by leveraging recruitment technologies, advertising on niche job boards, and creating great employee onboarding programs.