The recruitment process is a generally mysterious, confusing, and perhaps a bit ominous, term. Hearing it often fills us with uneasiness, maybe even dread, because going through it can be - let's admit it - quite nerve-wracking.
However, is it not that we tend to fear the unknown? Do you think that if you knew exactly what to expect from a recruitment process, and what steps it consists of, you would feel less uneasy at the thought of being involved in it again?
We hope to ease your worries in this article, where we will explain what the recruitment process actually looks like in a company.
First, let's start with defining the recruitment process.
Remember that a recruitment process is a two-way street: it always involves two parties and therefore is perceived from two sides.
For a company, it is attracting, finding, and hiring talent to fill up vacant positions.
For job seekers, it means applying and going through interviews (and other possible steps of the recruitment process) to land a job in a company.
We will try to mix both points of view in a way, and show you what the process looks like from within a company in order for you to understand what to expect.
What does the recruitment process look like?
1. The job offer
It all starts with a job offer. The company's task is to ensure it is well-written: it has to be attractive, but also include true information about the position and organisation.
A good job description includes:
Job title

Location (including info on whether remote or hybrid work is possible)

Short description of the company - what it does, its mission, values, and working culture

Job description (tasks, duties, day-to-day activities, goals)

Qualifications and experience necessary for the role

Extra qualities that are not imperative but will be an advantage

Salary

Benefits (meal vouchers, insurance, medical care, gym membership, etc.)
Once you find a job offer with a description that provides all that information, all you need to do is apply. What will be required for you to do so will be a well-written CV and, depending on a company's individual preferences, they might also ask for a cover letter or references from past employers.
However…
What if we told you that about 70% of vacancies available on the job market are never directly advertised? That means you won't find their job descriptions floating around the Internet, waiting to be discovered by the right candidate.
How to get the job if it's not advertised, you wonder? Well, in order to answer that question, let's have a look at the 4 basic ways in which companies find applicants:
Company websites
Usually, when you visit a company's website, you can find a tab called anything between "Work with Us" through "Employment" to "Career opportunities". This is where the employer will post job listings for positions currently available in the company.
This is a good manner of looking if you already have a list of companies you would kill to work for - if that is the case, remember to regularly check their job page, and eventually, something fitted for you has to pop up!
Job boards
Even with the growing popularity of advertising jobs through social media, job boards still remain quite a popular option, both among the recruiters and the candidates. This method of recruitment is quite traditional, so it always will involve a job description.
Nowadays, the Internet offers a wide variety of job boards - from more general ones like LinkedIn or Monster, to more niche-specific ones, like Europe Language Jobs focusing solely on helping job seekers find jobs in the business sector with languages in Europe.
Recruitment agencies
Especially large companies that are looking to fill multiple vacancies at a time and do not have enough time to dedicate to performing this task themselves will turn to recruitment agencies. Their task is to find suitable candidates and fill the spots in the name of the employer using whatever means necessary.
This can be done by posting the vacancies on various job boards or advertising them in a traditional way. But the recruiters can also be proactive and find candidates themselves online. Which leads us to our 4th option…
Social Media (when companies find applicants themselves)
In a world where the number of jobs available often surpasses the number of qualified personnel, the recruiters have to take matters into their own hands. Head hunters scan relevant LinkedIn, Facebook, and even Instagram profiles in search of the perfect candidate for the role. Once they find them, they will contact them directly and provide more details upon expressed interest.
This is why networking is so important - because the more connections you make, the more you establish your presence online and build your personal brand, the more likely it is that a recruiter will stumble upon your profile and contact you about a position tailor-made for you.
2. CV review
This is the stage of the process is where you as a candidate need to be patient. It will require the longest wait, as this is when the recruiters review job applications and decide who gets selected for further stages.
In larger companies, where the number of applications for one position can oftentimes exceed one hundred, this can take up to three weeks. Employers simply want to make sure they analyse every candidate carefully to make the right choice and the more CVs to read, the more time it takes to go through all of them.
By now, you have done everything that was required of you - the ball is in the company's court. All you can do is wait until they kick it back. If any additional documents are required, you will be contacted directly. This is why it is incredibly important to stay up-to-date with your emails during the recruitment process and scan your inbox for new messages regularly.
The one instance where you should take action during this stage of the hiring process is if it takes too much time. If about two weeks - or less, about 1 week, in cases of smaller companies and startups - have passed and there is still no response, feel free to send a follow-up note. While writing it, keep in mind advice from Donato, our HR Generalist: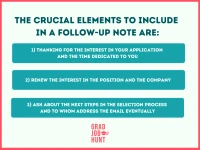 3. Screening call
Many candidates expect an invitation for an interview right after receiving positive feedback about their application. While the recruitment process may differ depending on the company and is a rather individual matter, it is common to conduct a screening call before an actual interview takes place.
A screening call is not the same as an interview, per se. First of all, it is rarely face-to-face - in most cases, it will be a regular phone call, and therefore will be much quicker than a video call or a meeting. It is carried out by the recruiter who has reviewed your application - read your CV and the eventual cover letter.
The aim of a screening call is for the recruiter to get to know you better before they make the final decision about whether to invite you for an interview or not. They will ask basic questions, maybe ask you to elaborate on something they found unclear about your CV. They will want to feel you out - perhaps check if you have written your documents yourself and are familiar with their content, judge how serious you are about the offer and preliminarily estimate your motivations.
That is why in this call, it is important that you are confident, positive, and to-the-point. You shouldn't blabber too much while explaining why you chose to apply for the role, or be unsure while providing basic info about your background. If asked for clarification, don't become defensive. If a recruiter requires more details, it is because they are interested in finding out more about your professional life - their aim is not to antagonise you into withdrawing your application but to support it with clear evidence.
4. First interview (with the recruiter)
If the screening call goes well, it will end with the recruiter asking if you're available for an interview (or, as they often like to call it, "another opportunity to get to know you better"). Sometimes, you may also receive said invitation in a follow-up email rather than directly during the phone call.
Yes, this time, it will be the real deal. If you live close to the job, the interview will most likely be carried out in person, and you will be invited to the headquarters. If it's a remote position or one that requires relocation and you haven't moved yet, it can be done through a video call. In both cases, you should make sure your dress code is impeccable - even if the interview will be conducted from your living room, and you'll only be visible from the shoulders up.
In smaller companies, the recruiter can be accompanied by the boss during this interview. That depends on whether they choose to involve themselves in the recruitment process, or have enough time around their regular tasks to do it. Don't be surprised if some of the questions you have already been asked during your screening call come up again - this is your opportunity to add anything you have forgotten earlier and provide a more detailed response.
We won't get into detail about how to do well in a job interview here, but our blog has a separate category dedicated to that topic, so knock yourself out!
5. Recruitment task
Again, hiring processes may differ slightly from company to company, so you may not be asked to go through this stage with every job you apply for. It may also depend on the position, as some roles don't require a recruitment task, or there is no way to carry one out.
What is it? A recruitment task is any example of a task you will be performing on a daily basis if you get the job. For instance, if you are applying for the position of a content writer, your recruitment task might be writing a sample article that would fit into the tone of the company, both in regards to your style of writing and the topic you choose. If you'd like to get the role of an IT specialist, your task might be solving an issue created by the employer to verify your skills.
However, a recruitment task is not always a hands-on demo of the job's main duties: sometimes, especially in the case of applications for graduate programs or internships, you may be asked to write an essay on a given topic, or solve a quiz that will test your knowledge of the industry and company, as well as the technical skills.
If you have gotten to this stage, it means that you have managed to successfully impress the employer. This far down the road, you need to make sure that your performance completing the recruitment task is top-notch; approach it as an entry exam you'd need to pass to get into your dream course at uni. Qualifications listed on paper are one thing, but many recruiters believe that actions speak louder than words and want concrete proof - you will need to support what you stated in your CV in practice.
6. Second interview (with the team leader)
Recruiters are well-trained to cherry-pick the most promising talents. Bosses can judge people well enough that they will be able to tell if your enthusiasm is real or not. But it is the Team Leader who knows exactly who they need for their team, and who will be able to find out if that's you.
In the end, having the boss' approval, it is the Team Leader who decides who they welcome onboard. It is their team, after all. Who would know which candidate is the best fit for the role better than them?
Remember that at this stage, everyone is already aware of your skills and qualifications. You have proven enough during the first interview and the recruitment task. A Team Leader, being the closest with all of the members of the team and knowing them on a personal level, will want to see if you will be a good match not only experience-wise, but also when it comes to your character.
Good team spirit encourages good teamwork, so it is in the Team Leader's interest to choose someone who will click with the others like the missing piece of a puzzle. Don't exaggerate or pretend to be someone you're not - if you have made it this far in the process, then those who have interviewed you before have most likely decided you're a good match.
Recruiters also know the Team Leaders in person, and they won't waste their time by sending forward candidates who in their belief are not suitable for the position. If you've already gotten the green light to talk to the Team Leader, then it means you can easily be yourself.
7. Final choice
This is yet another stage in the hiring process where all you can do is patiently wait. Again, if too much time passes, a follow-up note would be recommended. Remember that it is well-perceived if you send a follow-up note right after every interview - it will help you to be remembered. In case of any delays, you can send up another one to inquire about the progress.
We know the wait can be nerve-wracking, but try focusing on the fact that the company is not sitting back idly and enjoying you squirm. Your candidate's profile is being reviewed once again by all the parties involved in the recruitment process, and compared with the few other "finalists". Again, if it takes time, it is only because the companies want to make sure both the team and the individual will feel comfortable together.
8. Feedback call
The end of that wait is usually marked by a phone call. Sometimes, the employer can shoot you a quick email asking when you will be available for a "feedback call".
While a "feedback call" may sound as though it's implying all you'll be getting is feedback and not the job, it is not always so. A final element of the recruitment process is to judge the candidate's reaction to being informed about having been chosen for the position, so they will usually withhold that information until the phone call.
In both cases - whether you get hired or not - you will be provided with feedback about the entire process. It can include advice on your CV, behaviour in the interview, or the recruitment task. A good company will also ask to hear return feedback regarding your opinions about the effectiveness and quality of how they carried out their recruitment process.
If you end up getting the job, this call will also be when you will discuss the details such as when you're going to start, how to prepare, help with the eventual relocation, etc.
9. Onboarding
For many, the recruitment process ends with that final phone call - the one that either makes it or breaks it. However, at Europe Language Jobs, we believe that there is one more step that should be taken into consideration when talking about the whole recruitment process.
The first few days in a new job are crucial. You should not be left to your own devices, but trained by the very same people who have been taking part in the recruitment process. The HR department will help you with all the documents, including ones connected with relocation to a new place. Your Team Leader will aid you in a smooth transition into your new job, and teach you all the hows and whys.
Your team will be there to support you as well, and how you integrate with them will also be a part of the process. There is no one better to ask for insights about the company and the work itself than your fellow coworkers.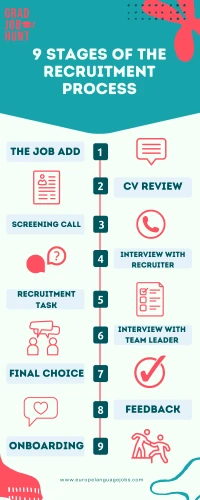 ---
We hope that the recruitment process appears a bit less scary to you, now that it is clear. Again, it is important to stress that there might be slight differences between various companies as each of them has its own recruitment strategy. It may vary the most between big and small ones.
For example, there are different types of interviews, so you should always make sure to ask what to prepare for beforehand. Recruiters expect you to ask questions throughout the entire recruitment process, so don't worry about being perceived as ignorant or obnoxious.
In truth, the more experience we have going through the process, the less stress it invokes, so make sure to approach it as a crucial part of our lives none of us can avoid rather than as something unusual. Even George Clooney had to go through the recruitment process several times to find a job as a salesman at some point before he got famous, so never give up!!
---
Feeling inspired? Visit our blog for more career advice! How can you be sure the information we provide is top-notch? We are a team of professionals working with recruiters, career coaches, and HR specialists from all over the world!
Trust our experience and let us help you find a new job in Europe!