Updated: January 2023
Why should you choose to live and work in Sliema, Malta, out of all the beautiful cities in Europe? The truth is, if you enjoy the idea of living on an island by the Mediterranean sea while also cherishing an aesthetically pleasing nightlife, this is definitely the place to be. Trust me when I tell you that when living in Malta, your main issue will be choosing between sunbathing all day long or taking your time by exploring this jaw-dropping city & its hidden gems.

1. Professional Life: Working in Sliema, Malta
3. Guidance to Housing in Malta
4. Living in Malta Like a Maltese
5. Fun Things to Do Around the City
6. Cost of Living in Sliema, Malta

Are you ready to embark on this adventure with us? Dreaming about living in Malta? If so, fasten your seatbelt and let us give you a special tour around your next destination!
Professional Life: Working in Sliema, Malta
Finding and landing the perfect job is never an extremely easy task, no matter where you go. However, knowing a few things in advance will certainly set you off to a great start in Malta!
What are these few things?
Useful Job Board When Living in Sliema, Malta
Firstly, make sure you have done some research before throwing yourself out there with no preparation. It is essential to know job boards that can provide you with vacancies that match your languages and your profile, such as Europe Language Jobs. It is recommended that you create a free account, upload your CV, and apply for jobs before & during your stay in Malta.
Sectors & Languages in-demand
Secondly, when applying for jobs, it is interesting to keep in mind the sectors and languages in-demand in Malta. According to WorldAtlas, the sectors in most demand are related to tourism, manufacturing, finance, and IT. Additionally, Working in Malta says that companies are hiring in the gaming industry and medical fields. On another hand, when referring to languages, the multinational organizations are mainly seeking English, German, and Danish speakers.
Note: If you don't speak German or Danish, don't worry. The main language is English; however, if you're planning on learning a new language, German is highly recommended.
In 2021, the most popular jobs in Sliema were in IT (sales & marketing areas), gaming (cloud specialists, developers, etc.), finance & legal (accounting, banking, etc.), pharmaceutical & medical, and tourism.
Work Permit in Malta
If you don't hold a European passport or work visa, here is all you need to know if you plan on living in Malta:
Visa types:
C-type Visa: Also known as a "short-stay" visa. It allows foreigners to stay in Malta for up to three months.

D-type Visa: Also known as a "long-stay" visa. It allows foreigners to remain in Malta for more than three months. If you plan on studying, working, and living in Malta for a prolonged period of time, you will need it.

Employment license: The D Visa isn't enough if you wish to work in Malta, you'll need an employment license as well.
In case you need to get the employment license, here is what Globalization Partners state the requirements you'll need to meet are:
Application form completed

CV's copy

Visa's copy (if already in Malta)

Employer's cover letter

Passport photo

References and testimonials of the applicant's qualifications

Medical certificate of health

A vacancy report demonstrating that the company searched for qualified Maltese nationals to fill the position
Steps to Take
After understanding the paperwork you'll need to gather in order to work in Malta, we highly suggest you contact your country's embassy in Malta. Why? They are the most updated and reliable entity when it comes to visa processes.
Once you've assembled and submitted all of your paperwork, your duty is done. The next steps will be taken by your employer, who will be responsible for requesting the employment license and who will have to turn in your documents to the Employment & Training Corporation in Malta, along with a paid fee.
The final step is to wait until you've received the approval prior to starting to work.
If you're still feeling insecure about it all, make sure to read more about it and if any questions or concerns arise, contact experts. If you happen to have a Maltese friend, contact them as well - they might just be able to help!
Work Culture
The work culture in Sliema, Malta will depend on the type of company you decide to work for. After all, we can't generalize an entire place based on one company or two. By the same token, you will see significant differences between small/big companies & national/international organizations.
Overall, Maltese employees work for an average of 8 to 9 hours a day, as in most European countries. Additionally, the following characteristics are highly valued and admired in the workforce: teamwork, reliability, effectiveness, and ethics. Maltese tend to be very organized and formal when talking about business, especially in their daily work attire. Of course, they tend to be more lenient as the temperature reaches 31 Celsius during the summer.
It is also interesting to notice that you will find that not all people speak English, but of course, all of the international companies expect their candidates to understand it and use it. While working for multinational employers, speaking Maltese wouldn't be essential, but it could make your life easier in certain situations.
Moral of the story: if you have these qualities and believe everything mentioned above is doable, you will find it easy to get along and be successful in Sliema, Malta.
Getting Around
There are many ways to get around Sliema, Malta; public transport, bikes, taxis, planes, and much more. Here is some Malta travel advice for you!
Public Transport
Public transport in Malta englobes fares and buses. According to Expat Quotes, they come from two main places, Malta and Gozo. The tricky part is that the tickets you buy for one place aren't valid in the other one.
Fares & Tickets: According to Malta Public Transport, ticket costs vary depending on the season, time, and age, but also if you want a personalised card or not. Overall, if you're a resident or a citizen in Malta, you'll have more discounts, but the prices are relatively low when compared to other islands; €2.60 for non-residents and €1.50 for residents. If you are an expat working in Malta, you can apply for a Maltese ID card and benefit from these discounts as well.
Fare tickets in Malta also cover other options, such as 7 days for adults/children or 12 single days. This said, make sure to purchase your tickets online in advance, as you'll have more options to choose from than if you were to purchase at the moment.
Downloading the Tallinja App will make your life easier, as you will get access to all the schedules, routes, and tickets on your phone.
In terms of transport working hours, it is always important to check your route, as it differs based on the region and destination.
Private Cars & Taxis: There are many car rental places in Malta, they vary from €3 to €20 a day, depending on the type of car you wish to rent and where you decide to park it. On the other hand, taxis are very useful and relatively affordable. A ride to the airport would cost around €15.
For more eco-friendly options, Nextbike Malta is the biggest bike rental service in the country, encouraging you to protect both the environment and your health.
Malta Airports
Malta has three airports: Malta International Airport, Gozo Heliport, and Comino Heliport. The main airport is Malta International as it's where all the flights come from. The easiest and cheapest way to get to and from the airport is by bus, taxi, or self-drive (if you rented a car and have been driving in Malta).
Guidance to Housing in Malta
Finding a place to stay in Sliema, Malta is a fun adventure. If you don't want to rent a place right off the bat, you can always stay at an Airbnb as Malta deals are worth it. Nevertheless, if your budget is a bit higher, you can always stay in one of the most beautiful hotels out there; Café del Mar Malta.
If you're relocating to Sliema for a job, or to study, it's better to rent an apartment or house. Prices will ultimately depend on your budget. Nevertheless, keep in mind a few housing websites you could browse options: Expat.com, MaltaProperty.com, Frank Salt, and Quick Lets. (Keep in mind that most apartments are already furnished and allow both a short and long stay - all must be discussed prior to signing the contract as non-residents can't sign long-term contracts).
To give you a better idea in terms of prices in Malta, International Living has gathered this information for you: rent would cost between €750 and €800 per month, and utilities (heating, electricity, water, and gas.) €240 per month.
Living in Malta Like a Maltese
In the beginning, if you have never been to Malta, it will be normal to feel like an outsider for a few weeks -- until you get used to the way of life, food, and people. If this persists, we usually recommend joining expat groups on Facebook, such as Expats Malta, or even book/sports clubs, events, language classes, or courses.
Living like a Maltese means to live in peace and harmony with the Earth. Citizens tend to be highly aware of the ecosystem, and therefore, strongly support a clean and aesthetically pleasing environment. You'll notice that although owning a car might sound somewhat tempting, using bikes is considered the way to enjoy this nation's beautiful views. If you appreciate a balanced, eco-friendly lifestyle, life in Malta might just be for you.
To follow up on our introduction, in which we mentioned Malta's exciting nightlife, it is important to mention that Sliema's bars and clubs are often frequented by the younger generation as the elderly have a much more traditional and somewhat conservative point of view, according to iExpats.
Malta's national language is called Maltese. However, English is considered their main language as it is a hotspot for worldwide expats.
Useful phrases in Maltese:
Bonġu!/ L-Ghodwa it-tajba! = Good morning!

Il-ġurnata it-tajba! = Good afternoon!

Il-lejl it-tajjeb! = Good evening!

Insellimlek! = Goodbye!

Iva = Yes

Le = No

Forsi = Maybe

Grazzi = Thank you

Jiena jisimni... = My name is…

Jekk joghġbok! = You're welcome!

Jiddispjaċini = Sorry
For extra Maltese sentences, check out Air Malta's website!

LGBTQ+ Community
Malta (together with Spain and Portugal) has made it to #1 in Europe and #2 in the world in the 2021 Spartacus Gay Travel Index. It is not only queer-friendly for travellers, of course, but for the locals and expats as well. Representatives of all colours of the rainbow can feel welcome and free to be themselves.
Same-sex marriages are legal in Malta, and the nation as a whole is considered one of the most open-minded in Europe - if not in the whole world. There are many venues and events dedicated to the LGBTQ+ community all around Malta - you can discover them through Gay Malta or Gay Guide Malta.
Save the date
In terms of special dates and holidays, here are some worth remembering:
Freedom Day is an important, if not the most important, holiday in Malta. It represents the island's liberty from foreign forces (British forces).
Sette Giugno is also a national holiday & a monument. It was created after a rough period of strikes and hunger in Malta - caused by the British army. Sette Giugno is considered the commencement of the Independence/Freedom day.
Feast of Our Lady of Victories represents, as the name states, Victory Day! The only difference is that it was a victory against the French and the end of World War II.
Republic Day is a memorable day, in which Maltese citizens use wreaths to honor the exit of the Queen of England as Head of State and the beginning of the Maltese people's era.
If interested in checking out all public holidays, the Maltese government provides this information on their website.
If you're interested in Malta's history, make sure to read more about it at Countries and Their Cultures Forum.
Fun Things to Do Around the City
Fun is Malta's second name! That's right! You'll never be bored while living in Malta, especially if you enjoy eating.
Before we recommend the best spots to grab a bite, make sure to check out this interactive map of places to visit in Malta prepared for you by Movinmalta. Designed by locals, it shows you the best places to eat, do your shopping, have fun, go to the beach, and more!
Sliema's Best Food Places
Located by the Mediterranean sea, you can most definitely expect mouth-watering Mediterranean gastronomy.
Mediterranean restaurants. If you're a fan of this type of food, you've come to the right place! Make sure to stop by either one of the following restaurants -- all loved by locals and tourists: Tartarun, Il-Merill Restaurant, Rubino, Legligin, and II Malti.

Cafes. Now, if you're more the type to go for coffee/tea/hot chocolate and a piece of cake, these are the places you can't miss out on: Caffe Berry, Mint, Caffee Cordina, and IL-Baxa Cafe Bar.

Bars. For nightlife lovers, here are some bars you could attend: Nappa Bar, Plough & Anchor Pub, Bridge Bar, and Bellinii Bar.

Pay a visit to TripAdvisor's website for other tasty menu tips in Malta. If you're more in the mood for ordering in, Time to Eat (available for both Android and iOS) is the most popular food delivery app.
Malta Islands & Places to Go
It is no secret that if you're in Malta, you must visit its islands and all the hidden gems these places reserve. To best plan your trips, we recommend you to download the Visit Malta mobile app.
Malta Blue Lagoon: it will be hard to find waters as clear as the ones on the magical island.

Gozo: if you've heard of Malta, you've most likely heard of Gozo. Trust me, you must visit it!

Blue Grotto: if you're into diving, this is a place worth going to. The water is a bit cold, but the view and feeling inside the water are rewarding.

Mellieha beach: enjoy crystal clear water on one of Malta's prettiest beaches.

St. Paul's Bay: full of pretty towns, St. Paul's Bay is often searched by tourists, as it englobes the best of both worlds; city & sea.
While in Malta, you will also want to visit its capital, Valletta! Valletta is considered one of the delightful and eye-pleasing capitals in Europe! Its structure and buildings by the Mediterranean sea will make you feel astonished.
If you are sick of visiting water-related places, you can always check out:
Mdina. Mdina was one of Malta's capitals in the medieval period. It is a fortified city on top of a mountainous area.

Mosta. It is a cute little town worth visiting. The main spot here is the Rotunda de Mosta. If you enjoy seeing basilicas, this is the one to go.

Mellieha. Mellieha is extremely famous for its Popeye Village. Enjoy one of the world's prettiest views, a boat trip, and feel the sun on your skin.
Fun fact: Malta doesn't allow people to smoke on the beach. Therefore, if you're a smoker, make sure to keep yourself in check.
For the best beach experience possible, download the Which Beach app! It will help you discover the most attractive beaches in your area.
Malta's Nightlife
Sliema, Malta is well-known worldwide among the young generation for its bright and vibey nightlife. The go-to spots across the island are:
Museums/Galleries/Theaters
As an island, Malta doesn't have as many museums as other EU countries. Nevertheless, it doesn't mean they aren't equally as intriguing as the other ones.
If you're the museum/gallery/theater hangout type of person, make sure to pay a visit to:
Sports
To all athletes out there, there are many options to keep you fit while living in Malta! Enjoy indoor and outdoor activities on this beautiful island.
You'll be sure to enjoy sports, such as football, horse riding/racing, Il Gostra (a typical Maltese sport), rock climbing, trekking, and regatta.
Now, if you're more of an aquatic sports fan, you'll be able to practice scuba diving, paddle boarding, kitesurfing, and kayaking.
Shopping in Malta
Tired of being outside and ready to start a new life? Then what's better than some shopping? Believe it or not, shopping is one of the Maltese natives' favourite things to do.
If you're a shopping freak, here are the places you must go to in Malta:
Point Shopping Mall: this mall is located in Sliema. It is one of the most popular ones for its size and exclusivity. It is open Monday through Saturday from 10:00 to 19h30 & on Sundays from 11:00-18h00. Some brands include: Armani Exchange, Calvin Klein Jeans, Mango, Lacoste, Polo, and Tommy Jeans.

Tower Road: although it is not a shopping center, it is where you'll encounter a vast number of stores to shop from. Enjoy a long walk by the coast, while shopping in Malta.

Bay Street Shopping Complex: where you could enjoy shopping Monday through Sunday from 10h00 to 22h00. It is seen more as an outlet than a shopping center, and their dining experience is very convenient. Some stores are: Adidas, Guess, Kiko Milano, Swatch, etc.
Cost of Living in Sliema, Malta
Before you find out how much you can expect to spend while living in Malta, here's a tip on how to limit those expenses: the Vouchercloud app is a popular way to find the best deals and save on shopping, activities, and services.
Food/Grocery Shopping
Living in Malta is not as expensive as it may seem. Although it is an island and it can rapidly be assimilated to Hawaii in terms of the cost of living, keep in mind its own nation. Nevertheless, you've found that the most expensive products are related to food. Why? Nutriments arrive by ships & boats. On the same token, the most popular grocery supermarkets are: Park Towers Supermarket, PAVI Supermarket, and Greens Supermarket.
Below you'll find a simulation price list of some basic products: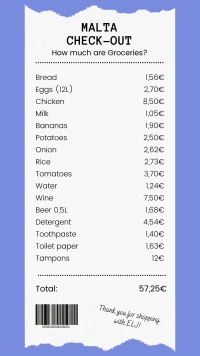 Taxes
Taxes in Malta will differ on multiple factors; where you're from, how much you own, your salary, your family size, etc. As this is a serious topic in every country, we advise you to seek experts when filing your taxes.
Medical Care
According to International Living, Malta was named the "5th best country (among more than 100 countries) for overall healthcare services" by the World Health Organization. Like most EU countries, it offers free healthcare to all its citizens and European Health Insurance Card (EHIC) holders; EU citizens.
If you're an expat and wish to get the Maltese Health Care, you will only need to show that you're contributing to the country economically somehow; showing your social security number would be an option. Apart from free healthcare, Malta also offers private health services. A simple doctor's visit is around €17, while a specialist could be €55.
Films and books set in Malta
You probably don't even realise how many of the films you've seen were actually shot in Malta. Maybe you've had the opportunity to read a book set on the island, too? Find out with our list of most famous books and movies connected to Malta:
Movies
The famous story of the war between Trojans and Greeks. In the film, set in the year 1193 BC, the prince of Troy kidnaps Princess Helena, married to the king of Sparta, causing the war.
Some of the filming took place at Fort Ricasoli, Golden Bay, and the famous Blue Lagoon on the island of Comino.
History of general Máximo Décimo Meridio, favourite successor of Emperor Marcus Aurelius, who generated a conflict with Commodus, son of the Emperor, when this one saw his position as heir threatened. Commodus orders Maximo's execution but he manages to escape, even though he ends up becoming a gladiator slave seeking revenge.
For this film, Ricasolli fort became Ancient Rome, where a 15m high replica of the Colosseum was built. Impressive, huh?
Also the actor Oliver Reed died during filming, and the last bar he visited was "The Pub" in Valletta, also known now as "Ollie's Last Pub".
It's based on the true events of 2009 - the hijacking of Mærsk Alabama by four Somali pirates. It tells the story of Captain Richard Phillips who was taken hostage by the pirates in the Indian Ocean until he was rescued by the United States Navy.
Senglea Grand Harbour, Birzebbuga, and Marsaxlokk are some of the places where the filming took part.
Malta becomes the ancient Egypt of the 6th century to shoot this Alejandro Amenábar's film. It's about the story of Hypatia, one of the great thinkers of ancient Alexandria and considered by many one of the first women in science.
She was a professor of mathematics, astronomy, and philosophy in the year 391 AD, when Christianity was expanding and conflicts with pagan communities were increasing in Alexandria.
The film was shot at Risoli Fort, Marsaxlokk, where they replicated the stairs of the Library of Alexandria, and other areas in Mdina and Valletta.
Books
Set in Malta in 1565, it tells the story of Sir Thomas Barrett, a former Knight of the Order of Malta exiled in England for breaking his vows of celibacy. Thomas is ordered to return to Malta to defend it from the Ottoman attack. On his journey, he is accompanied by a squire who actually has a secret mission, of which success could bring down the reign of Elizabeth I.
We go back to 1942, to Malta being bombed during the II World War. Back then, the island served as a strategic place for the Allies that prevented the advance of the Axis in North Africa. This book tells us the story of different characters dealing with heroism, love, fear, loss...
This graphic novel tells the story of two feline friends, Cilla and Betto, who embark on an adventure in search of a place to call home only to discover a surprising destination.
The first book of the Tannhauser trilogy, set in 1565 during the conflict between East and West and, more specifically, in the military siege known as The Great Siege that the headquarters of the Order of Malta (Hospital Order of Saint John) suffered by the hands of the Ottoman Empire. In this historical context, a French countess enters Malta with the help of a mercenary to search for the son who was taken from her 12 years ago.
Malta Playlist
Do you feel the island vibe yet? While you make arrangements to move to Malta, check out this chill playlist that will transform you right to Malta:
#

Are you ready to relocate to this beautiful island? We made sure to gather all the information you'll need to succeed when first landing. Malta is waiting for you with open arms! And If you haven't found your dream job yet, don't let this stop you. You can find many vacancies available at Europe Language Jobs, just make sure to upload your CV, apply for positions, and stay positive. We can't wait to hear your thoughts on this incredible place, and if you're an expat already living in Sliema, let us know any extra, useful tips you may have for us in the comments below.