The interview is probably the most nerve-racking part of the application process, especially if it's your first interview. Some people can handle them better than others, but even if you are the most confident person out there, you still need to be prepared. Today, we will cover some essential tips to help you prepare and perform the best you can in your next interview...
How to prepare for a job interview
First of all, this is the most crucial part of interview success - a recruiter will always know when someone is not prepared. Follow the steps below to make the best use of your time before the interview.
1. Research the company:
You should have already completed some research on the company that you are interviewing with. Otherwise, how do you know you want to work there? It's more than likely that one of the first questions you will be asked is - "What do you know about the company?" and if you fail to answer this, you will be off to a bad start!
Completing company research prior to the interview is the best advice we can give you; not only will it help you to perform well in the interview, but it will also allow you to determine whether this is the right company for you based on our company size, company culture, company values, etc.
Browse their website, social media channels, read their press releases, and try to find out as much as you can to impress the interviewer (and do yourself a favour by not applying for a position in a company you don't like)!
2. What To Wear:
First impressions count, so it's important to look well-presented when you arrive. In the eyes of the recruiter, they need to be able to picture you in this role, so try to do your best research and find out what the company dress code is. Don't be afraid to ask the recruiter, they should be more than happy to tell you.
Dress appropriately, and avoid any clothing with rude slogans, rips, inappropriate cuts, etc. Depending on the company, wearing general formal wear such as smart trousers, dresses, shirts, and blouses are usually recommended but as we said, there's no harm in asking! It all depends on the company's culture and industry.
3. Make Sure You Practice:
Whether you have been to lots of interviews or this is your first interview, we always recommend practising beforehand! This is a great way to test your knowledge of the company and to see which questions you need to work on.
Ask a friend or family member to go over the most common interview questions and to provide feedback on your overall performance. The more questions you practice, the better. Although some companies may ask more obscure questions than others, it's more than likely that a couple of the traditional questions will show up too, so be prepared!
4. Plan your journey:
When it comes to figuring out how you will get there, you need to analyse the time it usually takes to get there and the time of the day that the interview will take place. If you will be arriving by public transport, consider buying your tickets beforehand and if you are driving, ask the recruiter if there is any parking available.
Always make sure that you leave with more than enough time in advance. This way you can avoid rushing and arriving flustered and panicked (and sweaty!), and hopefully, this extra time should cover any unexpected delays along the way.
If still, you know you absolutely won't make it, let your recruiter know. Apologise for being late once you finally arrive, and give an honest - but reasonable - reason for the delay.
What to bring to a job interview
Next, it's crucial that you gather the essential items to bring to your interview. Even if the recruiter says "Just bring yourself!", it's better to arrive over-prepared to show off your organisational skills and to avoid any unwanted complications!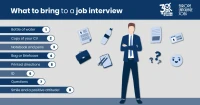 1. Bottle of water
During these situations, it's always good to have a bottle of water near. You never know when you might experience a vicious case of a nervous dry mouth. Unfortunately, this is something we experience more than expected during interviews and stressful situations, so be prepared to stop this from happening.
Extra tip: Sipping from your water bottle between responses can also help to prevent any unwanted silences between their questions and your responses. It's a sure way to buy a few extra seconds to think over what you are about to say! (Don't push it, though).
2. Copy of your CV
Arriving at your interview with a copy of your CV is always a great way to show how prepared and organised you are. Even if the recruiter already has a copy of your resume, just showing that you brought one for them is enough to impress.
Extra tip: Sometimes it's a good idea to print off a copy for yourself so that you can quickly glance when you are discussing your experience and skills. This way, you won't forget to mention anything important.
The "What is the one thing you are proudest of on your CV?" question does come up quite often, too, so it's good to have a cheat sheet.
The interviewer won't perceive you glancing at your CV as a disadvantage or lack of professionalism - they do not expect you to know all of it by heart, especially when you're stressed!
3. Notebook and pens
Bringing a notebook and a couple of pens is essential. We recommend taking notes throughout the interview about the job and company details. By taking notes, you will look engaged and it shows your interest in the position and company. We know how stressful interviews can sometimes be and it's a lot easier to write these things down, rather than trying to remember everything.
Extra tip: Don't take too many notes. You need to keep engaging with the interviewers and maintain eye contact and good body language throughout.
4. Bag or Briefcase
Bring a briefcase or a bag that will keep your documents nice and neat. There's nothing worse than a candidate handing over a creased CV to the interviewer - it will look unprofessional. It's also great to have somewhere to store any business cards or other material that the recruiter gives you when you leave the interview.
Extra tip: Make sure your bag or suitcase is small and professional-looking. Remember, first impressions count, so keep it simple.
5. Printed directions
This applies to those of you who are attending an interview in a location that you are unfamiliar with. Imagine if you suddenly have some technical difficulties and are unable to find the location on your phone. At least, if you previously prepared printed-out directions, you can find your way there the traditional way.
Extra tip: Make a practice run of the route beforehand to make sure everything goes smoothly and that you arrive without any complications.
6. ID / Passport
The recruiter will usually tell you if you need to bring your ID with you. Some companies need ID for security reasons, some to verify whether you are eligible to work, etc. Even if they haven't asked, it's beneficial to take it along with you, just in case.
Extra tip: It's always handy to have your ID or at least a copy of it spare if you need to fill out job applications or other documents in the interview. You may be required to provide your passport number, etc.
7. Questions
From completing your research on the company, you may have some extra questions you would like to ask - whether this is about the business as a whole or specifically about the job. It's always a good idea to arrive with your questions already prepared - this is one less thing to think about during the interview and will help you to end on a good note.
As we have mentioned in our Insider Tips, recruiters love it when candidates ask questions; you appear interested, engaged, and prepared!
Extra tip: Make sure you listen throughout the interview and only ask relevant questions. The worst thing you can do is ask about something that has already been covered during the interview.
What you should do during a job interview
From our preparation tips, you should be ready to enter the interview room feeling confident, prepared and, most importantly, ready to shine! Now that we have talked you through the best research tips and what you need to bring, it's time to discuss your performance during the interview.
By performance, we don't just mean the answers you provide and the questions you ask, but also how you present yourself to the recruiter.
In order to secure your dream job, it's time to stop making the following mistakes…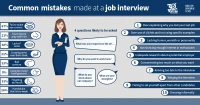 1. Body language
Interviewers can smell fear. They are experts in reading people before they even say anything, so don't slouch, keep your head up, make enough eye contact to express confidence, and most importantly, remember to smile! Try to keep hand gestures and fidgeting to a minimum.
2. Engage
The interview is as much for you as it is for them. So make it balanced. Find out things that you want to know, and engage in the conversation. Address the interviewer by their name, and listen carefully to what they are saying. Do your best to incorporate your knowledge about the company in your answers to demonstrate that you are truly engaged in the interview.
3. Be polite
At the end of the interview, provide them with a firm handshake - this is something that a recruiter almost always looks out for. Thank your interviewer for their time. This will win you some bonus points and show how well you were engaged.
We also recommend sending a thank you note after the interview; it's a great way to prove you care and appreciate them taking the time to talk to you.
As long as you are qualified, prepared, engaged, have the right set of skills, and demonstrate your motivation and desire, you should have no problem securing your dream job. Now that we have shared our key preparation and performance tips for job interview preparation, it's time to check out some tough job interview questions!
---
Feeling inspired? Visit our blog for more career advice! How can you be sure the information we provide is top-notch? We are a group of professionals working with recruiters, career coaches, and HR specialists from all over the world!
Trust our experience and let us help you find a new job in Europe!