Advent, adventure and all the things that come with this time of year. How will you spend the festive period and what exactly does the word 'Advent' mean to you?
Advent etymology
The etymology of the word 'Advent' may surprise you. The Oxford English Dictionary gives the definition of "Advent" as 'The arrival of a notable person or thing'. It stems from the Latin root, Adventus, which means 'arrival' through its root from the word advenire whereby ad – 'to' and venire – 'come'.
For Christians, this arrival is symbolic of the coming of Christ to the world in the form of man, and so the period of Advent marks the patient and expectant build-up to this special moment.
Now that we are nearly halfway through Advent and the only half of the windows on our calendar's remain open (if you're more patient than me), it may be worth considering the period of "Advent" as one of "Adventure". Referring back to Latin etymology, it is interesting to note that the root words of Advent and adventure are actually not so different.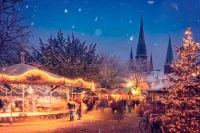 The word "Advent" comes from Adventus and "adventure" from Adventurus, the latter signifying something that is 'about to happen' and also happens to come from the root advenire. From this, we could conclude that the period of Advent concerns the arrival of a new adventure, in whatever form this may end up taking.
Advent adventure!
The build-up to Christmas during Advent often entails a tense mix of excitement and stress. Work deadlines and agreements have to be met before the New Year, Christmas parties attended, and not failing to mention the inevitable Christmas shopping that a lot of us choose to avoid until Christmas Eve! Rather than patiently waiting, we are rushing and trying to do as many things as possible until the final arrival of Christmas.
So before Christmas passes us by and the New Year bells chime and fireworks are set off, why not use this advent period to think about what your new adventure could be? And by adventure, we do not simply mean another holiday or shopping spree, but something that could be considered exciting, daring or even unusual. Instead of wishing for material things that have little lasting value, as it is so often easy to do, wouldn't be more worthwhile to invest time in considering an adventure that could change you for the better. After all, as the saying goes...
Travel is the only thing you can buy which makes you richer" richer in a sense of coming back wiser and more cultured than when when we left. So what is there to lose?
Looking for jobs in December can present you with many opportunities as your competition tends to be much less active. This can mean that it's easier to get noticed by recruiters as your CV will be read quicker.
If you are considering starting a new adventure in a new country, whether now or in the near future, remember to register with Europe Language Jobs and start looking for jobs in exciting destinations. Who knows, it could lead to the start of a new Advent adventure...