With change comes opportunity. And with Berlin currently undergoing unprecedented change, there is a bountiful supply of opportunities, none more so than for multilingual speakers looking to land a job in the German capital.
The city combines a booming startup sector with affordable living, an eclectic social scene and international milieu, making Berlin an attractive alternative to many of Europe's more pricey cities. With both large, established companies and fledgling businesses choosing to make Berlin their European home, more and more jobs are popping up for a growing international workforce.
See why we think Berlin is set to become Europe's next big multilingual job market below.
Berlin: Europe's Next Big Multilingual Job Market - But Why?
Short answer? Berlin is currently experiencing growth, growth and then some more growth.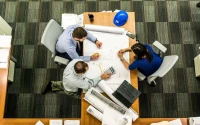 Advisory agency Gründen in Berlin has estimated that a new start-up is founded every 20 minutes in the city. This rate of growth is almost unfathomable and is an indicator of how the city's business landscape is transforming. The likes of Zalando, SoundCloud, HelloFresh, N26 and Babbel have blazed a trail, rapidly graduating from startups to national and international heavyweights, and have demonstrated how the city is fit for growing a business. This has led to record levels of investment in German start-ups in 2017, laying the foundation for yet more growth in the start-up scene.
This growth is expected to result in an additional 100,000 start-up jobs by 2020, many of which will be opportunities for non-German speakers as companies look to expand across the European market. When coupled with falling unemployment rates, it is clear that Berlin's job market is currently a ripe hunting ground for international workers looking to work in the German capital.
An Affordable City to Live & Work In – For Both Companies & Employees
Berlin is awesome and has always been renowned for its affordability. While rock-bottom prices are no longer the norm, the city is still cheap when compared to its European peers. While the likes of London, Paris and Amsterdam are frontrunners when it comes to capital investment and technological support for businesses, Berlin offers lower costs and thus lower risks. With cash being the lifeblood of many bootstrapped businesses, Berlin provides entrepreneurs with more leeway to pursue new, exciting ideas.
But the cheaper costs are not only attractive to businesses, but also an international workforce. Tired of living hand to mouth in some of Europe's other metropolises, young workers across Europe are drawn to the prospect of having a little extra in the bank at the end of the month. To put some figures on it, Berlin backs up its job opportunities with €350 rent for a room in a decent part of town or €700 for your own studio, a large beer for €3.30, a delicious meal out for €12 and unlimited monthly transport for €81. These costs, when combined with work opportunities, make moving to Berlin a no-brainer when compared with the exorbitant prices elsewhere.
A city like no other
While growth in the business sector combined with affordable living are definite pull factors for companies and international, multilingual workers relocating to Berlin, the sheer quality of the city must not be overlooked when looking at why Berlin is such a magnet for young expats.
With a staggering 2500 public parks, world-renowned nightlife, countless open-air events and street parties, and fascinating history at almost every turn, Berlin has something for everyone. It's laid-back charm and rich culture makes it an obvious choice for multilingual workers wanting to be based in a vibrant, international milieu.
When you combine strong business growth with affordable living and a second to none lifestyle, it is little surprise that Berlin is set to become Europe's next big multilingual job market! The question is, will you be a part of it?
Nomaden Berlin runs relocation programmes for young professionals, job-seekers, freelancers, working holidaymakers, digital nomads and students looking to set up in the German capital. Having helped a large number of people relocate to Berlin, we have developed the knowledge and know-how to make your move as stress-free and enjoyable as possible. To find out more, check out our different programmes on www.nomadenberlin.com.
Today´s article comes from Simon Klys who works as a Content Manager at Nomaden Berlin. Originally from the UK, Simon has spent many years living abroad, enjoying stints in Scandinavia, the Netherlands & Germany. He is currently enjoying exploring the sites & delights of Berlin!
So now it´s over to you, are you a multilingual speaker able to take advantage of the multilingual job market in Berlin? Has this got you considering a move to Berlin? Find yourself a job with languages by registering with Europe Language Jobs & in the meantime, check out our guide for Relocating to Germany!