Germany is a hugely popular destination for those seeking to live abroad, there are lots of challenges along the way, but don't worry, you're no longer on your own with it! In this guide we will equip you for those challenges so that you'll feel confident dealing with any issues you may face when relocating to Germany, from money, to jobs, accommodation, registering at the town hall, health care, phone SIM cards, setting up a bank account, finding jobs in Germany and learning German.
What more could you need? Let's take a look at potential problems you could face when relocating to Germany and how to make your move abroad as smooth and easy as possible!
Things to consider when relocating to Germany: Costs, Jobs and Accommodation
Cost of Living in Germany
One of the key considerations when planning a move abroad is whether or not it's financially viable. There a few rules of thumb to help you assess the potential cost.
Accommodation in Germany
First, let's look at accommodation. Most people in Germany live in apartments. Demand for housing in the most popular cities is high, and as such, so are the prices.
However, these high costs also often mean that the quality of accommodation is good. Utility costs are relatively high, due partly to Germany's commitment to decommission its nuclear power stations by 2022. Expect to spend about €2.50 per square metre on heating, hot water, municipal charges and management costs if you live in an apartment. Electricity is not included in these payments and is billed separately, as is your phone line and fast Internet connection. Together these will cost around €70 per month on top for a 1-bed apartment.
Transport: Efficient but Expensive
Your next biggest expense is likely to be transportation. The good news is that in German cities you don't really need a car to get around. Public transport is frequent and reliable and includes night services. A monthly ticket covering the city limit will usually cost anything between €60 and €90. Extending out into the suburbs will cost more.
Taxis are relatively expensive and there is no Uber or similar ride-sharing apps in Germany due to successful legal challenges by the taxi lobby.
The Social Aspect is Great, How Much Does it Cost?
Your social life will cost you considerably less than most northern European countries. Eating out and drinking (especially drinking) are extremely good value. It'll only cost you about €60 for a 2-course meal for two including wine in a nice but not fancy restaurant, while a 0.5 litre beer in a bar is around €3.50 to €4.00, in Cologne for example you can get a beer just €1.30! German beer is well-known but locally produced white wine is also wonderful, very underrated and fantastic value.

Groceries: Where To Get Them & How Much Is A Weekly Shop?
Groceries and other sundries tend to be much cheaper in Germany than in other European countries. As for where to shop, obviously you'll have to look around depending on where you live but let's say you've just landed, you're a little lost and you just want something cheap and reliable, budget supermarkets like Aldi and Lidl have set a standard for good value and are found all over Germany. An estimated weekly shopping budget is around €40, including a couple of luxuries like nice cheese & deli and a bottle of wine.
So, Relocating to Germany - Can I afford it?
All things considered, Germany is an affordable place to live with clean, safe cities and a high quality of life, even though rent will be by far your biggest monthly outgoing.
As a single person, if you can earn €2,000 a month, you should be able to maintain a reasonable standard of living. Upwards of €3,000 and you will have a comfortable life. Add on a little bit more for Germany's most expensive cities: Munich, Frankfurt and Hamburg.
Which brings us to the next important consideration when moving to Germany...

Applying for Jobs in Germany: How is it different from the UK?
There are some major differences between applying for jobs in Germany and other countries. Don't get caught out and miss out on your dream job because of a minor error.
For example, in Germany, it's standard practice to include a photograph with your CV and covering letter, often taken at a professional studio in business attire. Though this may seem strange to you, you'll need to do it to maximize your chances of success.
Include a Cover Letter Specific to the Job & Company
Covering letters are also important in Germany. This should be tailored to your specific application and should explain how your CV and skills relate to the position you're applying for and what makes you the stand-out candidate. Don't just rewrite your CV here. Also, be sure to include your expectations regarding salary, and the notice period of your current position in the final paragraph of this letter.
Though they may be keen to see your face, German employers tend to care less about your private life and hobbies. The "About me" section in German job applications tend to extend no further than charitable work or sports club memberships. You won't impress anyone by listing travel and socializing as "hobbies".
Qualifications Are King
Something that can catch people out when relocating to Germany from the UK for example is that Germany places a huge emphasis on academia and formal titles. In Germany the paper qualification is king and it usually trumps experience. Be thorough and be sure to include everything from school qualifications to any minor awards or even that first aid course you got sent on years ago.
Also bear in mind that Germans don't use the same grading system for qualifications. You'll need to explain what a "major", "minor" or "joint honours" degree means, and the same goes for the meaning of 2:1, 2:2, etc for British readers.

References: Get Them Whether You're Relocating To Germany, Greenland or Gibraltar
Unless you have a huge online presence its unlikely you will be well known abroad and so you're references are vital to support your claims that you're a great tenant/employee. References work differently in Germany too, When you leave a position in Germany, you're usually handed a reference from your employer when you process out. Obviously, if you're new to the country then you won't have this critical document. But it's important to take steps to either explain why, or mitigate its absence.
You could contact a previous employer if they wouldn't mind taking the time to write a short summary of your roles and responsibilities, or if you're a recent graduate do what I did when I first moved to Germany and ask your university professor to write an open testimonial. At the very least, include a short paragraph explaining your situation and that it's not commonplace to hand references to the employee in your home country.
English Speaking Jobs In Germany
This is the big-ticket question for a huge number of expats. Relocating to Germany does not mean you have to be fluent in German the second your plane touches down. Sure it will help, but with more than 62% of the population being fluent in English it is possible to find English speaking jobs in Germany. The number one easiest way to find a job abroad is to register with Europe Language Jobs, this job board collates hundreds of vacancies into one place, helpful on two fronts
• Helps you to optimize your time as all the vacancies are in one place
• Great starting point for the first job abroad – aside from a few of the larger companies how are you expected to know about a company when you arrive in a foreign country let alone any vacancies they might have!
It's important to be realistic in your expectations. If you work in a field that's heavy on communication, you're going to need some language skills to perform your job role.
Similarly, if you're aiming for a position in a more traditional, German, medium-sized family-run company, it'll become less and less likely that your workmates can accommodate the language gap. Conversely, start-ups and larger companies and multinationals, in particular, will have more to offer.
That said, it's important not to only pick the low-hanging fruit. Demand for English speaking jobs is high, so it's always good to search off the beaten track. You may need to look further than LinkedIn to find a job that isn't quite so hotly contested (and that's where Europe Language Jobs can help having done most of the work for you).
Use your time effectively, this helpful guide can help you get into a routine while job searching that will help you to optimize your time and ensure your job search doesn't drag into months with endless hours spent wasted on Facebook or YouTube.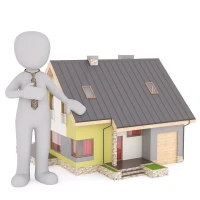 Finding An Apartment in Germany: Things To Be Aware Of
It's important to understand the different types of accommodation available when planning for this all-important aspect of relocating to Germany. Owning a home is less common in Germany than in many English-speaking countries, most of the population rent.
Short term furnished lets are a good option for a couple of months to find your feet and get to know the area better where you want to live. They are more expensive but they take away the hassle factor of trying to convince a landlord to rent to you when you have no bank account, payslip, registration etc.
The most common rental option in Germany is the standard, unfurnished apartment. However, be aware that in Germany unfurnished really means unfurnished. Often these places don't even have a fitted kitchen or light fittings!
The most popular accommodation websites are Immobilien Scout, Wohnungsbörse and ImmoWelt.
Germans love their rules and regulations, so do check for any obscure or unreasonable expectations before you move into your new place. Ask for a copy of the rules governing the block or housing unit, or Hausordnung in German, before you sign anything, just to make sure these rules aren't too draconian.
There's also the option to rent rooms in shared accommodation (Wohngemeinschaft, or WG for short), but this isn't as common in Germany as it is for example in the UK, possibly due to the lower cost of housing in general proportional to income. In Germany young people tend to live at home until they can afford to rent their own place, so sharers are more often students or those living an alternative lifestyle, rather than ambitious, young working professionals. Sharing does, however, represent a great value option.
For sharers, the best places to look are WG Gesucht or Studentenwohnung, as well as the many Facebook Groups in different cities.
A word of warning though – only share with Germans if you're tidy! Standards of housekeeping and cleanliness are fastidiously high, so be sure you can pull your weight before agreeing to this kind of arrangement.
The German housing market is tough; rising rents and supply of accommodation in major cities is a hot political topic at the moment. Competition will be fierce. So when viewing properties, be ready to act decisively, and to bring with you anything that could give you an edge.
Proof of earnings and employment is a must, and references from previous landlords never go amiss. If you don't have a credit history in Germany, you will need to go the extra mile.
German Bureaucracy, choosing healthcare, town hall registration, bank accounts, phones and more: What you need to know
Germany may be considered the most popular country in Europe and famed for efficiency, but this couldn't be further from the truth when it comes to the dreaded bureaucracy. Never fear though, you can get ahead of the game with a little preparation…
A word of warning: German bureaucrats in city hall or government departments don't speak English. If you have complex issues you need to solve, take a German speaker along with you.
Anmeldung (Registration)
Anmeldung should be the very first thing you do. It's a legal requirement to register within 14 days of moving into your new accommodation. This is done at your local Bürgerbüro or Bürgeramt, roughly translated as residents' office. You'll need your registration certificate (Meldebescheinigung) to deal with all other aspects of officialdom, so make this your first task!
Registering is fairly simple if you're an EU citizen, and shouldn't take much more than half an hour. If you're not, you'll have to visit the Ausländerbehörde as well (administrative body for foreigners) in your place of residence. Either way, you'll need to bring along your passport and proof of your new address.
If you're moving to Germany to be with your spouse or child, you'll also need to bring your marriage and/or birth certificates.
Note that you'll still need to register even if you're living with a partner who is already resident, or if you're subletting.
Two helpful tools that can help you during the Anmeldung, the first, AiRelo, it is a multi-language chatbot, which guides the user to complete the form to register in Berlin. In a few minutes, the procedure is completed, and the user receives an email with the documents filled out in German, helping save time and money. The second that could help you in this arduous registration process is myGermanExpert, offering forms translated into English which you can pre-fill and take with you to the Bürgeramt.
How Does Health Insurance Work In Germany?
Germany operates on an insurance-based system, with medical professionals working for private, for-profit companies. There is no German equivalent of the British NHS but there is a universal healthcare provision, with all employed or self-employed residents obliged to take out health insurance.
Your payroll department at work won't be able to pay you without details of your insurance scheme. This is because your employer is obliged to pay a contribution towards your statutory healthcare costs. This one catches expats out all the time because it's one of the most complex topics to tackle but nonetheless, requires action as one of the first things you must accomplish upon securing a job.
If you choose public insurance, the total payment is calculated as 14.6% of your gross monthly salary. Your employer will contribute half of this, and you'll pay the other half directly from your salary into the public insurance company.
If you're self-employed, it's your choice whether you pay into the public health system or opt-out and take a private health insurance policy. This option, however, is only available to those earning a gross salary of over €59,400 per annum.
Public health insurance will cover all your basic healthcare requirements, but not non-essential medical requirements such as dental care, physiotherapy or cosmetic surgery. In general, the quality of healthcare in Germany is extremely high but this also comes at a price.

Opening a Bank Account
In Germany, a regular current account (or checking account in American English) is known as a Girokonto. To open an account, you'll need your passport and proof of address, and some banks will also request proof of regular income.
German bank branch opening hours are inconvenient for people who are at work during the day and in addition to this, many charge you a monthly fee for the privilege of having an account with them. Most branches close for lunch and all banks are closed on Saturdays.
If you're having issues proving your address or employment status, you may want to consider online banking or one of the new wave of app-based banks. There are several options here as the fintech revolution marches on. The most well-known and popular with foreigners is N26, especially because their App interface is also in English.
For a more well-established online bank without minimum monthly salary requirements, try comdirect or ING-DiBa. There really is no advantage of branch-based banking in Germany, especially for the younger generation.
Online and app-based banks will need to verify your identity either via a video call where you scan your passport or ID card, or by verifying your identity at a local post office.
Buying a German SIM card: Network, Contract & Expense
Another frustrating quirk of German bureaucracy is that you need proof of address to buy a SIM card (that Meldebescheinigung really comes in handy...). But you can always ask a friend to buy one on your behalf if that's a big obstacle for you.
There are 3 networks in Germany: T-Mobile, Vodafone and O2 / E-Plus. T-Mobile has the best overall coverage and O2 / E-Plus the worst. All third-party providers rent their airtime from one of these three.
German mobile phone plans are generally more expensive than neighbouring countries, especially when it comes to data bundles. Contracts are usually for a minimum of 24 months with very little flexibility, so prepaid month-to-month plans are highly recommended, even if that means paying a little more.
Learning German: Do I Need To Learn German To Live In Germany?
As stated earlier, the number of people that speak English as a second language in Germany is amongst the highest in Europe but you will struggle to take full advantage of all that Germany has to offer if you don't attain at least an intermediate level of German. It will certainly help your everyday life when shopping, working and making friends. Learning a language is never easy and German is renowned to be one of the most difficult and there are thousands of services out there offering help, at a price. But it is possible to make progress without these expensive tools.
Between Apps, Podcasts, and YouTube creators, there's a wealth of resources out there for absolutely free that will get you speaking German to intermediate standard without having to spend much money.
If you are set on taking classes, then the cheapest option would be to take courses at your local adult education centre (Volkshochschule in German). These typically cost around €100 - €150 per semester. The quality of the courses tend to be more dependent on your fellow attendees and their willingness to learn, rather than the standard of teaching.
Germans tend to be pretty forgiving of people making a hash of their grammar because they know it's tough, especially for native English speakers! However, they are less tolerant of mistakes in pronunciation. Taking time to pronounce German letters like ö, ä, ü and z properly and will vastly increase your chances of being understood and accomplishing simple, everyday tasks.
The other biggie here is that Germans tend to be quite rigid when using Du and Sie, the familiar and polite forms of "you". Figuring this out can take some time. It's easy as a high school student because basically everyone except family and friends are Sie. Less so in a professional environment, depending on the person and the setting.
Work Life in Germany: Culture, Work Hours & Holidays
German work culture tends to be quite formal, although that is highly dependent upon the company and industry, as well as the average age of your colleagues. Tech start-ups can be more akin to their counterparts in Silicon Valley.
The traditional tendency for Germans to rigidly compartmentalize professional and private life is less common among the younger generation, many of whom have lived abroad. This is likely to decline further as older employees retire. That said, Germans jealously guard their free time. The great thing is that emails and conference calls outside of office hours are extremely rare in Germany. The flip side is, don't expect your boss to take you for a beer or arrange team nights out!
Germans also tend to start early and finish early. It's not uncommon for people to be in the office at 7:00, but also for them to leave at 16:00. Punctuality is highly regarded and being late for meetings or appointments is definitely frowned upon. Workplace "banter" is not really a thing in Germany either!
The statutory minimum for annual leave is 22 days, although most companies offer 30. Offices upwards of around 200 employees will usually have an on-site canteen. It's also tradition in Germany for you to bring cakes or something homemade into the office on your birthday.
Thanks to James Meads for making a big contribution to today´s article! Find the link below to connect with James or check out more of his work!
James Meads is a British expat who offers virtual services & consulting to expats and those seeking to move to Germany through Live Work Germany. You can follow him on Twitter @liveworkgermany
Are you still unsure about relocating to Germany? Maybe this article from English expat Dan Needham about the benefits of working in Germany can help you make your decision!
Thinking of learning the German language?
Individualized German language training at the highest level | Sprachinstitut TREFFPUNKT-ONLINE
Personalized language teaching is the key to the fastest learning success. Your focus, your pace, your times - choose between maximum flexibility through online lessons and maximum intensity through learning + living in your language teacher's home. Alexandra von Rohr, head of the language institute TREFFPUNKT-ONLINE offers both. Start your individual language training online today with our starter package. Choose your programme here