Updated: August 2023
How many times did you wish to live in a capital, but without the hustle and bustle of a big, noisy, crowded city? Looking for dream expat destinations, we often tend to direct our gaze to the West, forgetting there are many countries in Europe that have plenty to offer. What do you really know about Slovakia - the charming, beautiful country nestled directly in the heart of Europe? Today, we invite you on a tour of Bratislava - a capital city with the clean energy of a small town.
1. Work in Bratislava, Slovakia
2. Getting around Bratislava, Slovakia
5. Fun things to do around the city
6. Cost of living in Bratislava, Slovakia
1. Work in Bratislava, Slovakia
The job market in Bratislava is dynamic, and finding a job there is relatively easy. It is confirmed by the low unemployment rate (3.89% at the end of March 2022) the city is proud of, and the positive experiences shared by many expats. These factors make it the perfect environment for fresh graduates looking to find their first job and gain some international experience.
The further you stray away from the capital and move into the country, the more challenging you'll find it to look for employment - especially in English. For this reason, Bratislava is a popular destination for both foreigners and Slovaks alike looking for better perspectives.
Useful job boards in Slovakia:
Facebook groups facilitating job search in Slovakia (only in Slovak!):
Sectors and languages in demand
Slovakia has been long-known for its active manufacturing industry. The biggest company names in that industry include Slovnaft (oil refinery), Henkel Slovensko (chemical products), Kraft Foods Slovakia aka Figaro (confectionery), and Volkswagen Bratislava (automotive industry).
Since travel lovers all over the world discovered the hidden gem on the map which is Slovakia, the services industry has been blooming as well. Whereas as little as 15 years ago a tourist would have been a sighting probably as common as a UFO, now many globetrotters visit the country every year to enjoy its natural beauty.
International giants such as IBM, Lenovo or popular telecommunication enterprises like T-Mobile and Orange are also opening their headquarters in Slovakia. This causes an increased demand for language speakers sought for positions in sales and customer service.
While you may not go far looking for a job that wouldn't require knowledge of the Slovak language outside of Bratislava, you don't need to worry about that in the capital. Transferring to a Slovakian branch or starting a new job in an international company based in Bratislava, you can expect English to be the primary language of communication. German is also very common in business, due to Slovakia's geographical proximity to Austria and Germany.
Other languages in demand in Slovakia include French, Italian, Swedish, Spanish, and Polish.

Working culture
Slovaks are not religious about their work - they prefer to tick all their tasks off the to-do list during working hours and dedicate the afternoon to spending some quality time with their friends and family rather than collecting overtime in the office.
Slovakia implements a 40-hour working week, with the possibility of 4 higher-paid hours of overtime a week. The annual leave equals 4 weeks, and can be extended to 5 weeks for employees aged 33 and over. Women can expect 34 weeks of paid maternity leave.
The national minimum wage in 2023 in Slovakia stands at €700/month. It's an increase from the 646€ the year before. However, the average monthly salary in Bratislava actually reaches approximately €2240. Bear in mind that it's quite similar to the average wage in Barcelona, while the living costs in Bratislava are much lower.
The cool thing about working in Bratislava is that the local companies are obliged by law to cover about 50% of their employees' lunches. This usually comes in the form of meal vouchers to be used in restaurants or supermarkets. Talk about attractive work benefits.
Work permit in Bratislava
EU citizens do not need to apply for a work permit to be allowed to legally work in Slovakia. They do need to, however, register with certain authorities within the first week of their employment:
Non-EU citizens can obtain the work permit from the Ministry of Labour, Social Affairs and Family, and the residence permit from the Ministry of Foreign and European Affairs. You must apply for the work permit first, and then for the residence permit (you will need to show proof of employment when applying for the residence permit). The process of obtaining your permit after submitting the application can take up to a month.
Residence permit
EU citizens are also required to apply for the residence permit if they plan to stay in Slovakia for more than 90 days. This can be done at the Foreign Police Department. Once the application is processed, you will receive a permanent residence permit, valid for 5 years.
There is no official list of what documents need to be presented, but expats mostly report bringing the usual package:
ID with a photo

Copy of contract of employment (to state the purpose of your stay, if it's work-related)

Copy of tenancy agreement (as proof of permanent residence in Slovakia)

Application form

Passport photo

*non-EU citizens might also be asked to present proof of visa
There are, however, some additional documents that need to be provided but are easily overlooked by expats unfamiliar with the Slovak bureaucracy:
A Slovak phone number is required to obtain the residence permit (you will be notified by a text message when the document is ready for pick-up)

E-kolok - those are electric revenue stamps that must be submitted with your application. You can obtain them directly at the Foreign Police Department for a total value of around €4.50.
Important: all copies of documents brought to the appointment must be notarised! The police aren't allowed to take the originals, and homemade copies are not accepted.
You can book your appointment directly through the website of Slovakia's Ministry of Interior (available in English). Before doing so, have a look at these helpful insider tips from an expat who's been through the process himself and shares his wisdom with others!
More information about all kinds of migration processes can be found on the website of the IOM Migration Information Centre website.
Other visas
While EU nationals only need a residence permit, but not a work permit or a visa, non-EU citizens must apply for all three. Please bear in mind that a working visa is not a substitute for a work permit - you will still need to obtain one after arriving in Slovakia to be able to find employment.
The visa application process varies depending on where you come from and/or are currently located, so consult the embassy in your home country to find out about what the process looks like and what documents you need to provide.
2. Getting around Bratislava, Slovakia
For a capital, Bratislava is not extremely big. That makes it very walkable, especially when you live close to the centre. And even if not, your destination is never more than a 10-15 minute tram ride away.
The public transport system in Bratislava consists of trams, buses, and trolley buses. There is no underground, but locals never complain about missing it, with all the other options offered. Public transport operates from around 4am in the morning until close to midnight and is the cheapest way to travel around the city.
Tickets
The tickets need to be purchased beforehand; in kiosks, ticket machines available at certain bus stops or in special shops. You can also buy one using the app or by sending a message to number 1100.
Remember that each ticket needs to be stamped using a special machine inside the vehicle - it is not valid until you do so. Riding with a ticket that you had paid for but didn't validate can earn you a fine of €50. Similarly, the text message with your ticket, in case you choose this option, needs to have arrived on your phone before entering the bus or tram.
Consult the websites below for information about:
Other helpful websites concerning public transportation in Bratislava:
Buses and trolleybuses
Bratislava offers a broad range of both local and regional buses. The local ones will get you anywhere you need within the city - the regional ones outside of it. Due to the city's proximity to other European capitals, bus trips to Budapest, Prague, or Vienna are not uncommon.
The main bus terminal (Autobusová stanica at Mlynské Nivy) is located only 2km away from the old town.
Trams
The city's authorities do their best to keep the iconic red trams in a good condition, gradually replacing the vintage ones with brand-new models. They connect all parts of the city, providing a quick and effective means of transport.
Trains
You'd have to live really far from the centre to resort to reaching the city by train, but they are a very popular option for trips outside of Bratislava. Prague is a little under 5 hours away, Brno an hour and a half. Budapest requires a 3-hour trip, and you'll reach Vienna in only 1 hour!
The main train station, Hlavná stanica, is a bit on the old side, but it's close to the city centre, so you won't have to walk far with your luggage.
Bikes
The bike-sharing scheme arrived in Bratislava in 2018. The yellow bikes are easy to spot, and even easier to use. All you need to do is go to the Slovnaft Bajk website (available in English), choose your plan (daily, monthly, annual), and pay online. You will receive a PIN code you can use to unlock the bike.
The great thing is that unlike in some cities, no permanent residence is required to be able to register with the bike scheme. You will find more insider tips about renting bikes in Bratislava on the Welcome to Bratislava blog.
Taxis
The one thing to remember when using a taxi in Bratislava is to never order one that you spot waiting on the side of the road. Taxi services there have a different rate when you stop them than when you order one by phone, so always make sure to call - even if you can see one waiting right in front of you.
Bear in mind that you might have to be forced to speak Slovak, as the driver might either not know any English, or be familiar with just the very basics.
Another aspect to beware of are imposters. In hotspots such as the train or bus station, the airport, or the city centre, you might stumble upon individuals who are not registered with any taxi company and are simply trying their luck in charging their customers horrendous rates. Always be on the lookout for stickers with license numbers and markings of a taxi company.
Still, the safest way is to download an official app such as Uber or FreeNow - that way, you won't only have the guarantee that the driver is legitimate, but you will also be able to verify the route on your screen, and will be guaranteed a fixed rate.
Driving
Traffic in Bratislava is described by many as less stressful than in other European capitals. Still, due to the compact size of the city, many swipe cars for the affordable public transport or bikes.
For those who prefer to remain behind the wheel, everyone with a driver's license issued by their home country that's a member of the EU can continue to use it and doesn't have to exchange it for a Slovakian one. If you have a driving license from a country outside of the EU, you will need to exchange it for a Slovakian one at the Office of Driver Records.
The documents necessary for this are:
Driver's license from your home country

Passport photo

Completed application form

Temporary or permanent residence permit

License exchange fee
In both cases, you can also obtain an International Drivings Permit (IDP). It's a document issued by private organisations that goes in tandem with your local/international driver's license and a valid passport. It is translated into 12 languages, so it is helpful in communicating with the local authorities as it's recognised in many countries.
The topic of obtaining a Slovakian or international driver's license, as well as the IDP, is well-explained on the International Drivers Association website.
Bratislava airport
The Štefánik Airport in Bratislava is a small one. The Vienna International Airport at Schwechat is approximately one hour away, so travellers sometimes compare the frequency and prices of connections between those two airports. You could also consider flying in to Budapest, but that's a bit further, at 3 hours away.
The most common way to get from the airport to the city centre, if you don't have a car, is by bus. It's a 30-minute ride with bus number 61, circulating between the airport and the main train station, Hlavná stanica. It picks you up right in front of the terminal and drops you off in the main communication spot in Bratislava. Tickets for it can be bought at the newsagents or the ticket machines.
Since the bus only runs between 4:40am and 11:45pm, your best shot if your flight arrives at night is the taxi. It shouldn't cost you more than €10 to travel to the city centre by taxi but again, be wary of imposters and ordering cabs on standby!
3. Housing in Bratislava
Flat hunt
As we have already mentioned, Bratislava is not a large city, which means the demand for housing is very high. There are many on the lookout for a new home and the space is limited, so despite the general cost of living in Slovakia being on the lower side, the rent might surprise you, and not in a good way.
The main issue is that the housing costs in Bratislava are disproportionate to the salaries. The solution to this problem is often to move away from the centre and into the outskirts of the city but in the case of Bratislava, this is not necessarily a cheaper solution.
If you are moving to Slovakia to start an entry-level job, you may have to find roommates and share a flat with others until you can set aside some savings or get a raise/better-paid position.
There is one very important thing about the job hunt in Slovakia that you need to be aware of as an expat. The number of rooms in an ad doesn't necessarily equal the number of bedrooms. For example, if you see an ad for a 2-room flat, it means that the flat has one bedroom and one other room (for example an enclosed kitchen, or an office).
When looking for a place all to yourself, you will stumble upon 2 different options:
Garzonka (studio) - an open space holding a kitchenette, living room, and bedroom (usually "bedroom" means a convertible sofa in the living room in this case), plus a separate bathroom with a toilet and a shower.

1-room flat - there are several possible combinations. It can be the more classic option, meaning a living space consisting of a living room and a kitchen, with a bedroom in another room and a separate bathroom.
But it can also mean a living room and a bedroom together (the convertible sofa again), a separate kitchen, and a bathroom. Always make sure to ask if it's not clear from the ad/pictures.
Another pro tip is to always make sure you and the landlord are on the same page when it comes to what "fully furnished" means. You may find that your definitions can sometimes be very different, so it's better to be aware of that beforehand and avoid unpleasant surprises.
Helpful websites to find accommodation in Bratislava:
The first 3 are unfortunately in Slovak, but try the good old trick of pressing the right mouse button and clicking "Translate to English" to have a rough idea of what you're looking at :)
A common way for flat hunting in Bratislava is to join Facebook groups, which is why there are many of them, both in English and Slovak:

Where to live? Districts in Bratislava
Bratislava is divided into 5 districts. Here is a breakdown of what you can expect from each of them:
Bratislava 1 - the most popular among expats. Here, you can find flats situated in renovated historical buildings in Dunajska, Moskowska, and Palisady.
Bratislava 2 - known for its modern residential complexes. It's where the city's business hub is located, along with many hotels and shopping centres. It includes areas such as Travniky, Strkovek, Ruzinov, Mierova, Jegeho, and Trnavka.
Bratislava 3 - the most expensive one. You can expect lush life, complete with private streets and VIP areas. It's a popular destination for weekend trips due to the high-end, luxurious accommodation.
Bratislava 4 - stretches along the bank of the Danube River. It's the most recommended for expats with children, as there are 2 international schools located in this area.
Bratislava 5 - the largest residential area in this district is Patržalka. It's home to one of Europe's oldest municipal parks and one of the favourite hangout spots in Bratislava - the Garden of Janko Kral. Many want to live on the doorstep of the park.
For more details about each area, including approximate rent prices, have a look at this guide about best districts for expats in Bratislava.
4. Living like a local
People
Slovak people are very friendly and outgoing, but it takes them some time to show it. Don't expect them to call everyone they know their friend and to form close friendships after you've just met them. They take a moment to warm up to new acquaintances and show their affectionate side.
However, once you've made friends with a Slovak person, expect them to be kind and helpful. They are welcoming and very hospitable. What's more, once they get to know you better, they will oftentimes become very talkative!
The young generation is very open-minded and curious about what's outside of their homeland's borders. They welcome foreigners and want to learn more about their cultures. Since Slovakia is still developing as an expat hub, and up until recently, stumbling upon a foreigner was unlikely, the people now are happy to make friends with newcomers.
Networking:
Internations - a popular hub among both expats and locals in multiple countries. Especially Internations Bratislava is a community that brings together anyone living or visiting in Bratislava.

Internationals - an expat community created with the aim of bringing people from all around the world closer together in Bratislava. They organise various events worth checking out.

Fryday - a typically professional network. Perfect for networking.
Useful Facebook groups to meet people in Bratislava:
The LGBTQ+ community in Bratislava
While the rest of Slovakia might not be a world leader in the matter of LGBTQ+ pride yet, Bratislava definitely sets an example in that domain. People from all over the country move to the capital, which is known for its open-mindedness and support for the queer community.
There are quite a few gay bars and clubs in the city, but in truth, every venue is LGBTQ+ friendly. You don't have to worry about sneaking in a kiss or holding your partner's hand in public, regardless of where you are. For advice on the best spots to visit, have a look at the Gay Bratislava guide by Travel Gay.
Bratislava even hosts its own Pride Parade! It takes place every July under the name Dúhový Pride (the name means "rainbow" in Slovakian). People from all over the country - and from outside of it! - gather in the streets clad in colourful clothes to celebrate the LGBTQ+ community. For news on more events, make sure to visit Queer Slovakia regularly.
Same-sex marriages aren't legal in Slovakia yet, so there's still space left for improvement. But in terms of freedom of expression, you don't have to worry about discrimination in this European capital.
Language
The younger generation of Slovaks speaks perfect English. However, you may want to avoid approaching their parents and grandparents with the "Do you speak English?" question.
The best approach is to just start speaking straight away to avoid stressing them out. Even if they don't understand or can't answer, you can be sure they will do their best to help you and refer you to someone who can be useful.
Or, of course, you can also learn some Slovak to get by!
Good morning - Dobrý deň
Good afternoon - Dobré popoludnie
Good evening - Dobrý večer
Hello - Ahoj
Goodbye - Dovidenia
Goodnight - Dobrú noc
How are you? - Ako sa máte?
Thank you, I'm okay. What about you? - Ďakujem, dobre. A Vy?
What's your name? - Ako sa voláte?
My name is… - Volám sa…
Nice to meet you - Teší ma
Cheers! - Na zdravie!
Have a nice day! - Pekný deň!
Enjoy your meal! - Dobrú chuť!
Yes - Áno
No - Nie
Maybe - Možno
I don't know - Neviem
I don't understand - Nerozumiem
Please - Prosím
Excuse me - Prepáčte!
Sorry - Pardón!
Thank you - Ďakujem
You're welcome - Niet za čo
Do you speak English? - Hovoríte po anglicky?
How much is it? - Koľko to stojí?
Where is the toilet? - Kde je záchod?
Help! - Pomoc!
Remember that Slovak is a formal language. Unlike in English, you need to address strangers using a different form than you would friends or family. All the phrases mentioned above are in the formal form - you can safely use them in the street without coming off as rude.
If you get the gist and would be interested in learning more Slovak, check out this guide on language schools in Bratislava.
Save the date
National Holidays in Slovakia
Slovaks celebrate all of the common Christian holidays, for which dates are the same as in other Catholic European countries. They do, however, have a few public holidays that are specific to their country:
January 1st - Day of the Establishment of the Slovak Republic (commemorates the split of Czechoslovakia into the Czech Republic and Slovakia)
May 8th - Day of the Victory over Fascism (commemorates the end of World War II in Europe)
July 5th - Day of St Cyril and Methodius (commemorates the day the two Slavic missionaries arrived in Great Moravia)
August 29th - Anniversary of the Slovak National Uprising (commemorates the Slovak rebellion against the Nazis in 1944)
September 1st - Day of the Constitution of the Slovak Republic (commemorates the signing of the new constitution in 1992)
September 15th - Day of Our Lady of Sorrows (celebration of the Blessed Virgin Mary, patron saint of Slovakia)
November 17th - Day of Struggle for Freedom and Democracy (commemorates the student demonstrations that took place in 1939 and 1989)
As you can see, there are quite a few public holidays celebrated in Slovakia. Most of them have to do with important events in the tumultuous history of the country or have a religious background.
Events in Bratislava
Bratislava is home to many events in different areas - both cosy and international ones. Small cinemas in the centre regularly host local film festivals all year long. They focus on different countries, so you can drop in for a Korean, Mexican, or Australian film.
For those who are more into theatre than the movies, don't worry! The special theatre nights will keep you satisfied and deliver your monthly dose of culture.
Similarly, in the autumn season, expect a variety of food & drink festivals. It will be your best shot at trying the regional cuisine, including the famous roasted duck, and wash it down with a glass of burčiak.
Some other annual festivals in Bratislava include (but are not limited to):
Craft Beer Festival (April) - during the event, Bratislava opens the stage to small local breweries. It's your opportunity to talk to the producers, distributors, and other beer enthusiasts in a friendly atmosphere.
Many breweries organise premiers of their new products during the festival, so it's a chance to be one of the first to sample new, exciting flavours!
Coronation Days (June/July) - witness a coronation procession march through the Old Town towards the Bratislava Castle to commemorate the times when the land was still a kingdom. Historical groups will organise special performances, including knights' duels, fencing matches, and more!
World Music Festival (August) - the historic centre of the city becomes a live stage for artists coming from all over the world, representing all kinds of genres. The event aims to deliver favourite sounds to the connoisseurs, as well as allow them to discover something new through a fusion of genres.
Bratislava International Film Festival - established in 1999, the event is an annual celebration of cinema taking place in the capital of Slovakia.
It is when the winners of the Bratislava International Film Awards (BIFA) are announced and the best films made throughout the year are showcased to the public.
Bratislava Cultural Summer (June - September) - spend the warm days attending various cultural events organised during Bratislava's largest festival. In the summer of 2022, more than 330 different events took place - you will definitely find something for yourself!
The programme for the 2023 edition hasn't been confirmed yet, but keep an eye out, as updates might appear closer to the summer.
Bratislava Jazz Days (September/October) - this world-famous modern jazz festival attracts thousands of visitors every year since 1974. It's dedicated to both fans of the genre and those who want to discover new sounds.
Christmas Markets (December) - Bratislava is famous for its exciting Christmas markets. During the festive season, they pop up all over the centre of the city, tempting passersby with shiny trinkets, Christmas decorations, handmade products, mulled wine, and tasty snacks.

5. Fun things to do around the city
Slovak cuisine
How to briefly describe Slovak cuisine? Hearty. Filling. Rich. In counties whose citizens need to get through merciless winters, the food tends to be on the heavy side. The only way to survive the cold - and to lift one's spirits on a freezing, gloomy day - are calories. You will find plenty of them in each Slovakian dish.
Main dishes:
Bryndzové halušky - traditional potato-dough dumplings served with bryndza cheese (salty sheep cheese), sour cream, and fried pieces of bacon.
Soups - a meal without soup is considered lacking in Slovakia. There are usually two dishes - the first one being a soup, and the second the main dish.
Slovaks can make soups from just about anything, but the most popular ones include:
kapustnica (cabbage soup),
demikát (bryndza cheese soup),
cesnaková polievka (garlic soup with croutons),
fazuľová polievka (creamy, sour bean soup).
Prívarok - there is no set recipe for this vegetable stew, but it most commonly consists of peas, lentils, beans, cauliflower, potatoes, spinach and cabbage in a thick, creamy sauce. Usually served with potatoes and fried eggs.
Pagáče - puffy savoury biscuits. To be eaten on their own or stuffed with cabbage, cheese, or potatoes.
Roasted duck - those who are hosting guests in Slovakia and want to deliver the best experience possible, usually serve this traditional dish of a juicy roasted duck with crispy skin and an array of sides.
Hemendex - a simple dish of fried egg and ham. Typically served for breakfast, but it's a life-saver when you're craving something hearty but are not in the mood to cook elaborate meals.
Vyprážaný Sýr - deep-fried cheese in breadcrumbs, served with chips and tartar sauce.
Granadír - a dish consisting of sautéd potatoes mixed with pasta, garnished with onions and paprika. It can be served both as a main dish, or as a side to all kinds of meat.

Bryndzové halušky
Desserts:
Skalický trdelník - soft dough pastry shaped like a tube. It's fried or grilled and then topped with various kinds of nuts, sugar, or cinnamon.
Višňová štrúdľa - strudel pastry filled with sour cherries and poppy seeds. It tastes the best when warm, served with a hearty dollop of whipped cream.
Laskonky - traditional oval-shaped cookies made of buttercream filling in-between two meringues.
Bratislavské rožky - crescent-shaped pastries, typically found at the Christmas market. They usually contain the must-have of the majority of Slovak desserts - poppy seeds, but they also come with an array of different fillings.
Beverages
Burčiak - cloudy grape cider. One simply cannot visit Slovakia - leave alone live there - and not try it.
Hruškovica - pear liquor. Quite strong, very fruity and tasty.
Kofola - socialist Coca-Cola. You either love it or hate it - there is no in-between.
Žinčica - similar to kefir, it's the side effect of the production of cheese. It's very good for your health thanks to its rich micro-bacterial content.
Dublin's best food places
Expats may be pleased to spend less than they're used to on eating out in Slovakia. You can fill your stomach with a nice meal with friends for about €15 per person.
Restaurants:
Brixton House - inspired by London's Brixton Street, this funky place definitely stands out among others. The colourful graffiti on the walls and the innovative menu make it a favourite spot for many locals and expats alike.
Slovak Pub - the restaurant's own motto describes it the best: "It's not a pub, it's an institution". Don't let the name fool you - the place has a lot of hearty, traditional Slovak dishes to offer!
Veža Reštaurácia - this unique place is all about the visuals. Located in the TV Kamzik Tower, it offers wonderful 360 views of Bratislava and a nice meal.
Modra Hviezda - this cute little venue specialises in all kinds of meat - especially the traditional Slovak dinner of roasted duck. Located in a climatic cellar right below the castle, it provides a great experience for those who want to discover Slovakia's traditional side.
Roxor BRGR & BEER - a place praised by many, and not without a reason. As you have probably guessed from the name, its focus are burgers - and beer.
The menu is small, with only a few positions figuring there at the same time, but it's done on purpose: they want to focus on the best quality possible by not overdoing it.
Reservations are necessary as there isn't a day when they don't run out of burgers before closing. Both traditional and veggie options are available.
Balans Bistro - 100% plant-based cuisine for all the vegans and vegetarians out there - but not only! Even the most devoted carnivores will admit the dishes are filling and delicious without a single gram of meat in them!
Cafés
The city's coffee culture has developed significantly over recent years, making space for many great cafés.
Black - a café with its own roastery. They serve the best-quality coffee in more varieties than you can imagine. Visit for a gluten-free cake and a very hype vibe.
Štúr Café - this lovely retro interior is an absolute gem. Named after the guy responsible for the codification of the Slovak language back in the 19th century, it serves amazing desserts, and a heavenly coffee. There's also another branch called Rannô Ptáča (Morning Bird in Slovak).
Fleur Bakery - the array of pastries, cakes, and other kinds of confectionery will make you salivate at the sight alone - not to mention the smell once you enter! A true Mekka for everyone with a sweet tooth.
Art Books Café - this place affectionately called ABC is an art gallery, bookstore, and a café all rolled into one! Enjoy quirky exhibitions, a good book, and excellent coffee - all at the same time!
Dobroduh - travel-themed cafe. Blends from all over the world and authentic souvenirs brought from faraway lands. Sip on a cup of Brazilian coffee while thumbing through a travel guide from Costa Rica.
Foxford - an ideal space for a study session or remote work thanks to the cosy vibe and quick wifi. The coffee will keep your energy levels up, and the yummy desserts will deliver inspiration. The spot also features a bookshop, so you're more than welcome to curl up in one of its many seats with a novel.
Next Apache - what's better than a place stacked with books - most of which are classical novels - where you can enjoy a cup of coffee? Its classy, vintage interior will transport you to the world of the intellectual elite.

Pubs / bars
Klub pod Lampou - this stylish venue, apart from serving tasty drinks, also hosts many events such as concerts and all kinds of happenings. There's a lovely terrace attached to it for those long summer nights. It has a touch of fancy - but it's definitely worth trying out for everyone.
Čierny Pes - the to-go place if you're craving a good, cold pint of drought beer. Located in the Old Town, it fits into the climate with its old-time looks.
KC Dunaj - if you need to rewind at the end of the week and are in the mood for a little boogie with a drink in hand, this is where you'll find yourself. The bar lacks the grandeur of a big nightclub, so it's perfect for a night out with friends. It organises themed nights, when you can expect music of a specific genre or from a specific period.
Mark Twain - a true one-of-a-kind venue. It's not an obvious choice if you're into crowds, loud music, and staying out until late, but it's an experience worth trying. Chill on the deck of a boat, bask in the sunlight, and soak in the nature surrounding you.
Drink in Gallery Andy - the interior is shaped like an old tram - don't go if you're claustrophobic! The walls are lined with works of art, paying tribute to who the place is named after; Andy Warhol. You can find lots of different alcohols on the menu and play the available board games.
Funus - a friendly venue at the edge of a forest, where you can enjoy a pint on the fresh air, in the shade of old chestnut trees. Inside, you can play darts and fussball, and warm up by the fireplace on frosty days.
Places to Go / Things to Do
If you're not familiar with Bratislava, you'll be positively surprised by how much it has to offer. If you visit on a short trip, you will find it challenging to tick off all the spots worth visiting, and if you move here, you will constantly keep finding new gems!
Parks
Sad Janka Krala - spend a lazy afternoon in one of the oldest municipal parks in the whole of Europe. Spread along the bank of Danube, it is the perfect place to organise a picnic, meet up with friends, go jogging, walk your dog, or just chill with or without a good book in hand.
Zelezna Studnicka - part of Bratislava Forest Park. It's where many hiking and biking trails start, so the views and the connection to nature are definitely worth visiting for. There is even a small pond, pleasing the eye as you take a stroll on the tree-lined paths.
Botanic Garden - Bratislava's oldest botanic garden, located close to the Danube River. It's tended to by the students of the Comenius University, who do their best to shape its natural beauty.
You can admire colourful flowers, numerous ponds, manicured landscapes, exotic plants in the greenhouses, and local ones growing freely in fresh air.
The rose garden alone is worth visiting for its variety of rose species you could have never imagined. There is a small entry fee.
Presidential Garden - located just outside of Grassalkovich Palace, it is home to multiple sculptures and statues representing the modern art style. The park is a big, open space with broad gravel alleys and wide stretches of luscious grass. Perfect for lazy strolls with your dog.

Museums
The museums in Bratislava grant free entry to everyone on the first Sunday of each month. Even so, make sure to visit each museum's website before visiting to make sure they are a part of the scheme and confirm whether booking free tickets in advance is necessary due to capacity limits.
Slovak National Museum - the largest cultural institution in all of Slovakia. 18 various institutions work under its name, including the Natural Science Museum, Archeological Museum, History Museum, Music Museum, and much more. Most of them are located outside of Bratislava.
Slovak National Gallery - consisting of a complex of buildings, its mission is to preserve art, as well as showcase it to the public and educate. There are permanent collections available, as well as an array of temporary exhibitions.
Danubiana Meulensteen Art Museum - this modern art museum attracts not only with its collections, but also with its exceptional location. It was built on an artificial peninsula on the Danube River, just outside of Bratislava. After touring the interior, climb up on the terrace on the rooftop and enjoy the breathtaking views.
UMELKA Gallery - its location in the oldest functionalistic building in Slovakia makes it a very special place. It's the centre of the Slovak Union of Visual Arts and organises various inspiring exhibitions.
Gallery Multium - an unconventional approach at museums. Inspired by New York's Infinity Room by the Japanese artist Yayoi Kusama, this place plays with the concept of infinity.
It's a land of mirrors playing tricks with your eyes and mind. It's a highly sophisticated version of the amusement park's fun house. Childhood's favourite game for the grownups.
3D Land - this interactive experience is fun for both kids and adults alike. You can pose with various optical illusions decorating the walls of the museum and take amazing pictures documenting your shenanigans.
This celebration of creativity and uniqueness was created by local graffiti artists wanting to offer something different. Make sure your socks don't have holes in them, as you'll move around the museum without shoes!
The Bratislava CARD
Like most major cities, Bratislava offers a city card that will facilitate visiting the main spots worth visiting, both within the city and the entire region. It grants various benefits such as:
Free entry into 18 museums and galleries

Unlimited access to public transport

Various discounts for the programme's partners (cafés, accommodation, shops, activities)

Free guided tour of the historical city centre organised every day at 2pm
You can choose the version with or without the public transport. The price will depend on the number of days you need the card for: 1, 2, or 3. The prices are attractive, and definitely help you save money if you're planning to embark on a sightseeing spree. The Bratislava CARD can be purchased online, at the BTB Tourist Information Centre, or through the partners.
Important: Even with the card, make sure to always book your visits in advance - this also applies to the free walking tour guaranteed by the card. Certain capacity limits may apply, so it's better to be safe than sorry!
Other spots
Castles - Slovakia has the highest number of castles and ruins per capita in the world. That being said, you won't have to travel far in either direction before you stumble upon a castle. They're strewn all over the country, but the Bratislava Castle is right there on your doorstep, and the Devín Castle sits on the outskirts of the city.
Lakes - there are a couple of lakes within a day trip's distance from Bratislava. If you're tired of the beaches by the Danube, on a hot day, you can jump into a car or on public transport and be in the water in about 20 minutes. Popular choices are Veľký Draždiak and Nove Kosariska.
Old Town - admiring its beautiful architecture is a good way to spend the afternoon. From there, it's not far to Bratislava Castle, or you can climb the City Council or St. Michael's Tower to take in the view of the city from above. We especially recommend doing so at sunset, when everything is bathed in a charming orange light.
Hlavné námestie - what hides under this melodic name is none other than the city's Main Square. It's home to the Old Town Hall, as well as a few of the Bratislavian museums and dozens of cute little cafes.
The Blue Church - its official name is Church of Saint Elisabeth, but it's most commonly known for its beautiful blue colour. It's located close to the historic centre and built in the Art Noveau style. It's also blue on the inside, but entry is not guaranteed, since the opening hours are irregular. Do try your luck, though!
Statues - a popular activity in Bratislava is finding all the statues dotted all around the city. The most popular ones are Man at Work and Schöne Naci, but there is a lot more hiding in the streets!
Zoo - one of the largest zoos in Slovakia. Located in the very heart of the city, it allows you to see animals from all sides of the world… as well as some extinct ones! The zoo is connected to the DinoPark, where you can see all kinds of the reptilians that once used to walk the Earth.
Tailored trip plan
Welcome to Bratislava offers the helpful service of planning out the trip for you. As locals and absolute experts on all things Bratislava, they only need you to tell them a bit about yourself and your interest, and will deliver a tailor-made trip plan straight to your inbox.
Sports
There are several hiking and biking trails around Bratislava, which makes both activities a popular choice among locals. The Kamzík Hill, located a stone's throw from the city centre, is a popular starting point.
However, it's ice hockey that remains the most popular sport in Slovakia - both to watch and play. The country's representation is very successful in the domain, and Bratislava is home to the stadium constituting the training ground for one of Slovakia's best teams - Slovan Bratislava. Due to the harsh winters, Slovaks often practice ice hockey in special centres or on frozen bodies of water.
Due to the proximity to water - both the river and various lakes - water sports are quite popular in Slovakia. There is an entire area dedicated to water activities, Divoká Voda, located just outside of Bratislava. Rafting can also be practised on the Danube, in one of the highest-quality white water rafting centres in Europe located in Čunovo, in the South of the city.
The rolling hills of Slovakia also make for wonderful golfing grounds. The Bratislava Golf & Country Club is located just a 15-minute drive away from the city - practice this relaxing sport while taking in the beautiful countryside views around you. The club is set in the historic park of a baroque chateau, so a truly royal experience is guaranteed!
In winter, skiing and snowboarding are all the rage! Slovakia is a popular skiing hub - also internationally. Many tourists from other European countries come here for the good quality of slopes and relatively low prices compared to more expensive complexes in the Alpes.

Shopping in Bratislava
What many expats find surprising is that the majority of shops in Slovakia are only open half-day on Saturdays, and are closed altogether on Sundays. It's worth remembering, if you don't want to depart on a weekend shopping trip for nothing!
This also concerns chain supermarkets, but usually doesn't apply to big shopping centres and smaller private shops, which remain open.
Miletičova Market - mostly popular among the locals, it's the spot to do your groceries, stock up on locally-made Slovak delicacies, and stuff your face with snacks. You can literally spend the whole day here - strolling from stall to stall, discovering the full range of what the sellers have to offer, grabbing a bite when you get hungry.
Aside from Slovak specials, you will find something from all over the world here. At the end of the tiring day of shopping, grab a beer and relax.
Stara tržnica - this Old Market Hall is a popular meeting spot for young people. They order drinks from the bars scattered around the square and chat for hours. The food tracks, carefree atmosphere, and cosy vibes create a very welcoming climate.
Thematic / flea markets - aside from the permanent markets, there are also some thematic ones that pop up - some more regularly, some more occasionally. Among them, you can find those dedicated to organic, locally-grown food, those where people try to sell all kinds of trinkets, and many more!
Welcome to Bratislava provides more details in their article about markets in Bratislava.
Eurovea - probably the most popular shopping centre in Bratislava - most likely due to its location close to the river, offering beautiful views from the many lounge areas. Not only does it offer a wide variety of shops, but also different recreational centres. Of course, there are more shopping centres in Bratislava, but this one is one of the most commonly visited ones.
6. Cost of Living in Bratislava, Slovakia
Daily costs of living in Bratislava remain low compared to Western European capitals, but especially the prices of groceries are steadily increasing. You can live very comfortably working remotely in Slovakia and earning the salary typical for another country, but you may have to adapt the locals' modest lifestyle with the average Slovak salary.
Food/Grocery shopping
Your monthly costs of grocery shopping will, of course, depend on how indulgent you're planning to be. Local products such as potatoes, other vegetables, bread, cheese, and milk are relatively cheap.
Export delicacies, however, are often out of range for those earning the minimum salary, as their prices tend to be much higher. French cheeses or Mediterranean seafood are more of a treats than everyday guests on the Slovaks' tables.
Below, you can find the approximate costs of a grocery shopping trip in Bratislava: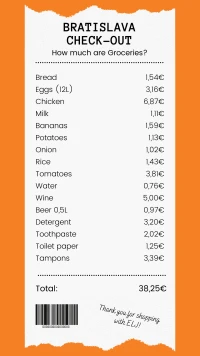 Other expenses
If you plan on staying in Slovakia for longer, you may be interested in switching your phone number to a local one. These are the four main telephone companies in Slovakia:
Before you pick a provider and sign any contracts, we recommend you to use this helpful comparator of phone and internet prices in Slovakia. It will help you establish the estimated costs, depending on your location.
Taxes
The individual income tax rate in Slovakia is fixed at 19% up to the tax base of €35 022.31, and 25% on the excess. The tax base is adjusted every year, so make sure you're constantly informed of the newest rate. You can donate 2% of your yearly tax to a charity of your choice.
Slovak residents need to pay tax from their worldwide income, while non-residents only need to calculate in their Slovak-based income. You are considered a resident if your permanent residence is in Slovakia, or if you spend more than 183 days during the year in the country.

Medical care
All citizens and registered residents can access the public healthcare system in Slovakia. Everyone who earns an income must be enrolled in the state health insurance system. That means that if you are employed in Slovakia, you need to be registered with a Slovak health insurance company.
Your employer can do it for you, and they have exactly 8 days from the start of your contract to do so, and 8 days to unregister you once you stop working. The amount of the financial contribution to an individual's health insurance plan depends on their income - it is deducted directly from the salary.
Expats are also allowed access to the Slovak public healthcare system, as long as they make their own contributions to the system through employment. EU nationals don't need a residence permit to be able to apply for a health insurance card.
It's worth pointing out that the EHIC card does not cover travel and medical insurance - it is not a substitute, so you must be additionally covered by a local insurance company when you decide to stay in the country for longer. Foreigners may incur small payments for treatment.
Doctor's appointments and consultations, as well as emergency care, are free of charge for residents in Slovakia. Most medical treatments are usually also free, but some (usually more complex ones) are only subsidised.
Prescription medication might also be only partially covered by health insurance companies. Without private insurance, you can still receive ambulance services at the price of €120.
Many are not entirely happy with the public health system and decide to invest in private insurance. It is, however, quite expensive compared to the local salaries, so not everyone can afford it.
Some Slovak citizens travel to the neighbouring countries (the Czech Republic, Poland, Austria) to receive more affordable private treatment of higher quality. Private insurance is usually used as a supplement to the public system.
Documents you need to register with a private insurance company:
Passport (an ID is enough if you're an EU citizen)

Employment contract

Filled-in form (only available in Slovak)
As usual, bring originals and copies of everything. The officers should be able to take copies of your documents on their own (as they usually do in Slovakia), but better safe than sorry!
For detailed information about medical care in Slovakia, visit the IOM website.
Films and books set in Bratislava
If we haven't managed to convince you yet why Bratislava is a great relocation spot, books and films set there might do the job. If you're curious about how the city is portrayed by authors and directors, check out our suggestions:
Movies
The film is set in Bratislava, where three friends in their late thirties reflect on the turn their lives have taken by continuing to call themselves by the names of three animals (Hyena, Badger and Pigeon). Three bachelors looking for love, with the Bratislava zoo as a backdrop: little do they know that they are getting into big trouble, and that several stories will intertwine in a hilarious comedy!
Euro Trip is a 2004 comedy starring two boys from Ohio who undertake a trip through Europe, discovering the commonplaces of the countries of the old continent.
Among the destinations of their adventures is Bratislava, whose advantageous currency exchange and low cost of living are emphasized.
An eighty-year-old interpreter, Ali Ungár, finds a book written by a former SS officer recounting his wartime experiences in Slovakia. So, armed with a gun, he sets off for Vienna in search of the Nazi with the intention of taking revenge. But once he arrives at his flat, the only one he finds is his 70-year-old son, Georg, a former teacher who has spent his life avoiding his father and suffering from alcohol addiction.
The interpreter's visit awakens Georg's curiosity and he decides to invite Ali on a trip to Slovakia. But if Georg takes the departure as a holiday, Ali really hopes to find out how his parents died. Gradually, tensions between the two men ease, but Slovakia turns out to be a country that would rather forget its past.
Bratislava 1983. A new teacher, Maria Drazdechová, arrives in a high school class. After introducing herself, she makes a special request to the pupils. Each of them must stand up and say what their parents do.
Months later, a parents' meeting is called because someone has reported a serious incident: the teacher, appealing to her status as a widow, gets parents and students to do her work for free. The headteacher asks the parents to take a clear position on the matter.
A movie that goes beyond comedy anecdotes to a higher level of reading: the stigmatization of real socialism.
Books
In this café in the heart of Bratislava, a meeting of four young artists in search of a future who reject the schemes of career and money takes place. Elza, the heroine of the novel, lives in a suburban apartment building whose walls speak and sound, where time does not exist and everyone the world ignores can be found. A poetic and original book.
A former top-secret-service spy from the time of the Austro-Hungarian monarchy recounts his career to a young would-be attendant, whose true identity will only be discovered at the end. The account, from his experiences as an assistant-lover of the head of the secret service to his extraordinary successes in international espionage, is happily enriched with life wisdom and hilarious anecdotes bordering on the absurd.
An ironic, sarcastic, grotesque novel. A critical review of the precepts of Central European nationalism and the collapsed socialist system.
Giora Amir grew up in Presov, a city in eastern Slovakia. His story begins with the arrival of Jews in Presov, and then that of his own family. Though he lived in the city, his grandparents lived in a village and he remembers the rustic lifestyle there with fondness. His father was able to get status as an "economically viable Jew", a Jew who was needed to teach an "Aryan" how to run his own business that had been taken over.
The book is a report of childhood in Slovakia during the years of World War II, where racism and violence drove a young man to leave his homeland and return years later.
Peter, a Hungarian, Ján, a Czech, and Gabriel, a Jew, are three young friends, each hopelessly in love with the Slovakian Mária. It is 1938 and since Levice, a small Slovakian town on the Hungarian border, is one of the few with a swimming pool, the three friends decide they will compete for the right to woo her with a memorable swimming competition on the 1st of September.
History, however, bursts into their lives, uncalculated, sudden and violent, preventing the competition from taking place year after year, and from then on, it will become the gravitational centre of their lives, even if decentralised, chased, almost unreachable.
Bratislava Playlist
You may not be familiar with Slovakian music just yet, but you don't know what you're missing out on! Listen to our playlist inspired by the city to tune into Bratislava before making the move:
Bonus! Fun facts about Slovakia:
The country code for Slovakia is +421

In Slovakia, you can vote without Slovak citizenship. If you are over 18 years old, have a permanent address somewhere in the country, and are the proud owner of the Foreigner Residence Card, you can take part in the municipal elections that take place every 4 years!

Tap water in Slovakia is drinkable - unless your landlord tells you otherwise

Welcome Bratislava has prepared a great article about tips for pet lovers in Slovakia - take a look if you're planning to move with a pet!
Bratislava is definitely an overlooked gem on the expat map of Europe. The small size of Slovakia makes it an ideal spot for relocation - countless road trip opportunities, closeness to nature, and rich culture are increasingly attracting expats to its capital. Living in Bratislava, you can have the once-in-a-lifetime opportunity to watch a city evolve right in front of your eyes, transforming from a somehow overlooked location to a place where many find their new home.