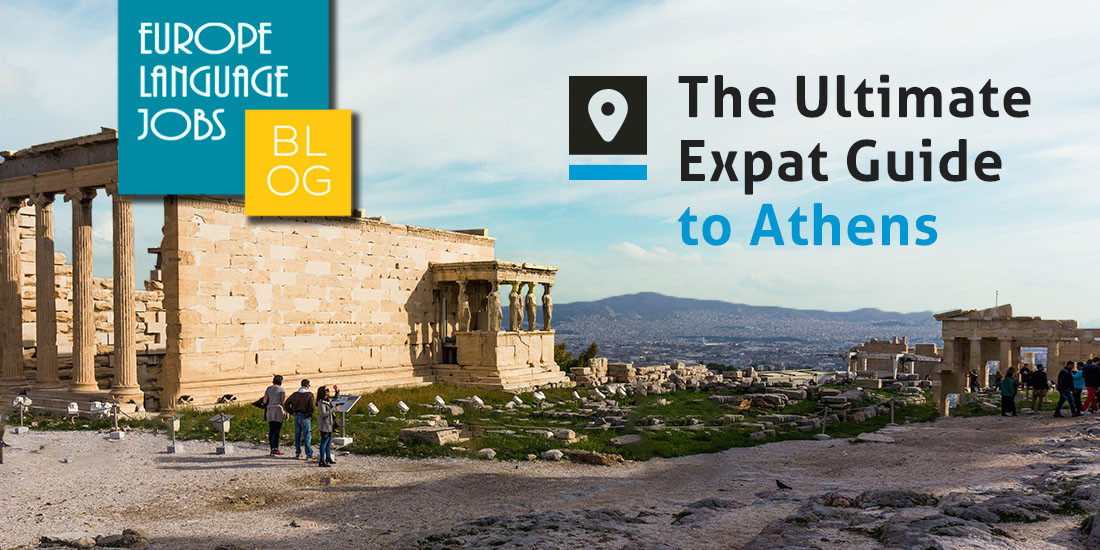 The Ultimate Expat Guide to Athens
A mix between past and present, east and west, ancient history, and contemporary politics, Athens is the definition of a city with a unique character. Slowly but with passion, as greeks like to say, it is transforming into not only an important cultural hub but a developing business and economical centre. Combining the easy-going lifestyle and the passel of professional realization possibilities, Athens is the perfect destination for those who seek a dynamic but extremely groovy work-life balance. To ensure you know what you lead yourself off to, we are here to help you with every step of the way to becoming an expat in Athens.

Finding a job in Athens
If working abroad is one of the main reasons why you are considering moving to a city like Athens, you should know you are thinking in the right direction. Companies are looking high and low for experienced and qualified professionals, and as long as you have the right skills and qualifications, you will have no problem getting employed. To make sure you know where to start, let's take a look at the job market in Athens and its standing for expats in particular:
Paperwork you will need
Working in Athens as an EU-EEA citizen is basically as easy as it can be since all you need is your ID or Passport to take initial action. That said, after three months of residing in Greece you would then get a Certificate of Registration from the Department of Aliens bureau even if nobody requires it from you. It is a free document that you can obtain in your local police station. These are the documents you will need to prepare:
an application phone
copy of your ID
4 passport-sized photos
proof of medical insurance - it can be the EHIC card or private insurance
proof of employment - a letter from your hiring company, or any other document that shows that you have a regular income
proof of residence - a rental contract, or a proof of ownership
If you come from a country outside the EU, you will be required to hold a visa. Apart from your passport, a validated criminal background check from your home country is a document you can't go without when going through the employment process.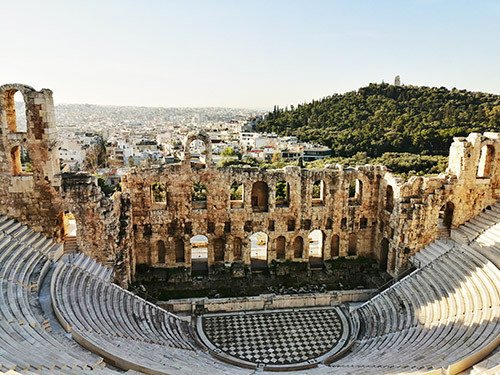 A quick tip: Prepare yourself to be patient and persistent when dealing with the local bureaucracy. Generally speaking, getting documents done is a slow and tedious process, and you might not easily find English speakers in governmental organizations but whoever tried well enough, managed to get it all done eventually. Just keep calm and make use of people who already went through the process like other expats or your future international colleagues that have experience with the administrative process.
Most popular expat jobs and in-demand languages
The demand for English and other language speakers in Athens is growing, making the city a great place for international jobseekers.
Just like in the rest of the European countries, the service sector is flourishing and thus ensuring a wide range of possibilities for career development in different fields of the business world. You are free to choose from opportunities in international companies looking for skilled and qualified team members for their Sales & Account Management departments, as well as Digital and Content Marketing teams or Business Development units. The job market in Athens looks good for specialists in the fields of IT and Finance too.
As we just mentioned, English is widely spoken and demanded which indicates it is something you can't go without but your proficiency in any other language is your true asset. The Customer Service sector with positions for Desk Help advisors, Technical Support Advocates, and Customer Care specialists offers a wide range of options for all language speakers. Dutch, German, Italian, French, Polish, Hungarian, Spanish, Latvian, Lithuanian and Czech language speakers are very much cherished by big companies with an international outlook.
Getting around Athens
Athens has a pretty good and reliable public transport system with three metro lines that keep the entire city and suburbs well connected. Along with that, there are many public busses as well as a tram network covering all of the city areas. No matter where you choose to live, you are bound to have a bus or metro station near your home and nothing will feel too far away. This makes living in Athens convenient and easy, as it helps you cover long distances without having to worry about the route.
Public Transport
Starting from 15€ a month, you can get a monthly pass for all means of public transport. You can easily get yourself the pass at the various kiosks located in the underground metro stations and then hit the road and travel around multiple times. In case you just plan on using the public transport system for a bit, you can also get a single yet rechargeable ticket.
A standard single ticket will cost you 1.40 euros for a ride in between 90 mins. You can buy a daily pass for unlimited travelling with all services for 4.5 euro and the unlimited 5-day one which will cost you 8.20 euros.
For all the information on routes, fares, and schedules of the Athens public transport visit Oasa.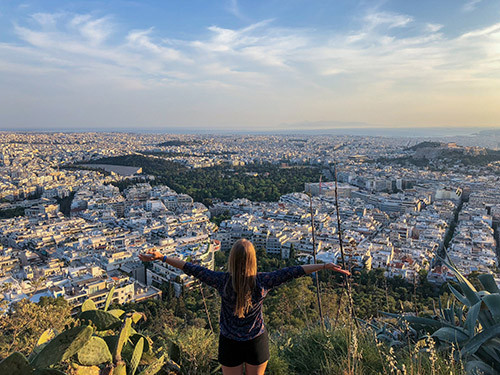 Finding a place to stay
Looking for an apartment is just as important as finding a job online to get your new life abroad started. While getting a new home might be an exciting experience, you need to be careful of who you choose to ask for help for finding accommodation. You need to make sure that the agency you work with is recognized.
The Hellenic Association of Realtors, the Federation of Greek Real Estate Agents, and even the European Association of Estate Agents are the best places to start. Through these, you can find realtors who are legal, and you will not have to worry about getting scammed or losing money.
Of course, Facebook accommodation groups are also a good source for many offers if you would like to find a place independently without the assistance of agencies. Always think twice and double-check the offers when looking for rooms through Facebook groups though!
Also, try browsing websites like The Blueground, Nestpick, and Tospitimou.
As Athens is quite big, living in the right neighbourhood for you may be helpful for settling down in this new city. Most foreigners living in Athens gravitate towards certain areas. Here are some suggestions on where to look for accommodation:
Pagrati is an area close to the centre of Athens with great access to public transport access and cheap housing. If you are looking to live in a place where many foreigners choose to live, this is probably the best option.
Exarcheia is very close to the centre and has many affordable apartments for those on a more tight budget. It is close to the National Archaeological Museum of Athens, but you should know that it is not the safest neighbourhood to live in.
Marousi is one of the livelier neighbourhoods in the northern suburbs. It is full of coffee places, shops and while it isn't near the sea, it can help you stay near the centre. It is a great place for younger people who want to not only work but also experience the Greek lifestyle.
Ilioupolis is one of the cheapest and safest neighbourhoods you can find in the southern suburbs. While it is not close to the sea, you can find great and affordable housing, mainly in the form of apartments.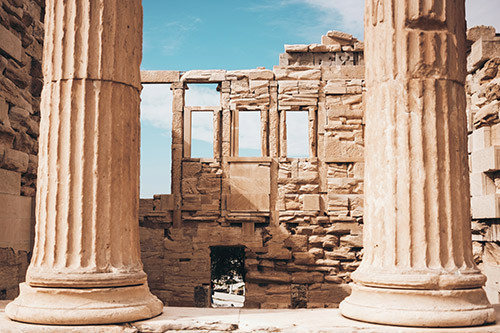 Living like a Greek - Athens Culture
Greece is known for its good food, coffee places, and beautiful nature and ancient vibe. While working in Athens, you will have the chance to explore all of it. The very first thing to usually amaze and draw the attention of foreigners is the rich Greek history and architecture that you absorb with every step, breath, and minute of your time in Athens.
Way of living
There are many cliches and stereotypes about Greeks, but to speak the truth one of these is completely true - Greek people know how to live an "easy-going" life. This happy-go-lucky mentality is in the nature of Greeks including the residents of the capital. Walking through Athens, you will never feel the sense of anyone being in a hurry or anyone being stressed as you would expect from most economic centres in Europe. What Greeks value the most are the things that bring pleasure and enrich your file on a physical and spiritual level - good food, time spent with family, and traditions. No surprise they manage to maintain a very healthy work-life balance!
Speaking of ways of living, social media has become a way to explore cities, lifestyles, and trends through photos and posts from people based in your place of interest. This is why we have selected some local influencers that will definitely give you a taste of Athens.
@gabnikoladis is your number one associate when it comes to food and gastronomy passion. If you would like to know what Greece tastes like and discover some more than delicious recipes, go check out Gabriel Nikolaidis on Instagram. Expect not only cooking delight but also some travel charge too!
We recommend you to also follow the Instagram profile of @nmastoras. Nicholas is a photographer based in Athens who loves to travel and will take you places across Greece that will definitely inspire you to explore and get on an adventure yourself.
Go check out @goatherd_k for some urban shots of both Athens and other European cities through the eye of Panagiotis Koutroumpis.
Another great Athens based photographer, Vasilis Siampalis, is your local swanky source of lifestyle, food, and fashion insights. Make sure to follow his account @billyheis for everyday updates.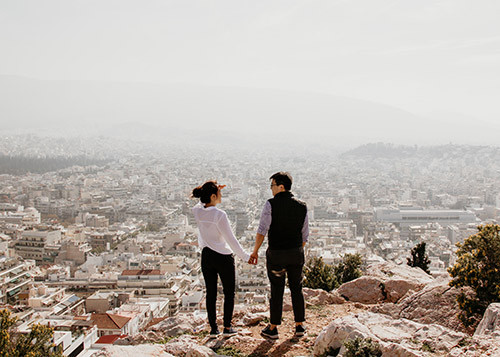 Coffee culture
The love of Greek people for coffee is undeniable. Going back to their attention to "the good things in life", Greek people insist on having their coffee meetup with friends and family at least once a day. Don't be surprised if you see cafes full of people even in working hours. A favourite caffeine beverage is a "frape", which is a cold glass of frothed milk with coffee and ice.
Holidays to Remember
Another thing to keep in mind is that for Greek people traditions are of the highest importance. Religious holidays are always celebrated in a specific manner. Traditions around weddings, name days and event childbirth are always followed and respected. When immersing yourself in this culture you will get to be a part of many rituals that might seem outdated, but don't shy away from joining and don't miss a chance to be part of any celebration.
Here are a few of the holidays you should keep in mind are:
25th of March - on this date the Greek celebrate their Independence Day
17th of November - when the remembrance of the Athens Polytechnic uprising is held
15th of August - nationwide celebration of the Virgin Mary
Learning the Greek language
Greek is indeed one of the hardest languages to learn, and this is due to its complex grammar, very rich vocabulary and unique alphabet. This might sound worrying and scary, but don't forget that in general, young people in Athens are brought up learning languages, as it is crucial for their career development and the tourist sector. That said, you should know that locals are very helpful if you try to speak their native language. They are always happy to hear someone learn their language and will be the first to teach you some local words and phrases. Being in contact with locals will help you tremendously, so make sure to make friends and spend time around Greeks, so you adjust faster.
If you want to learn the language faster, language schools and services are all over the map. In a city as big as Athens, you are bound to find a language school or a private tutor ready to teach you in your native language.
In case you prefer a more self-reliant approach, language apps might be the perfect tool. Download one and gain grounds in your Greek language skills:
Language tools
Useful Phrases in Greek
Greeks are very easy to strike a conversation with, and they will be even friendlier if you know a few basic Greek words. These are probably the top 3 words you will need in order to strike up a conversation and ask them if they speak English:
Kalimera! - "Good Morning!"
Signomi! - "Excuse me!", or "I'm sorry."
Efharisto! - "Thank You!"
Fun Things to Do in Athens
Gastronomy
"Greek food" has become a category on its own everywhere you are in the world. There is a reason for that - it is fantastic! Fresh local vegetables, yoghurt, cheeses, and fish are a staple of Mediterranean cuisine. There are some dishes you should definitely try if you want to experience Athens like the locals. Here are some of the most traditional dishes to try:
Moussaka – a casserole that contains all the typical Greek ingredients in one – layered potatoes with freshly minced meat, aubergine covered in béchamel-like sauce
Spanakopita – a kind of crispy pastry filled in with feta cheese and spinach, perfect for breakfast
Gemista – stuffed peppers, zucchini, tomatoes filled with rice, herbs, ground meat and covered in tomato sauce
Greek salad – We call it Greek salad, yes, but in Athens, you will hear it only referred to as simply Salad. It's made out of tomatoes, cucumbers, onion, olives, and feta cheese, covered in olive oil and seasoned with oregano.
Fish – any kind that you like. It usually comes barbequed.
Baklava – don't forget about dessert! Baklavas may not be originally Greek but are definitely a must-try sweet in Athens. A great place to try is Chatzis.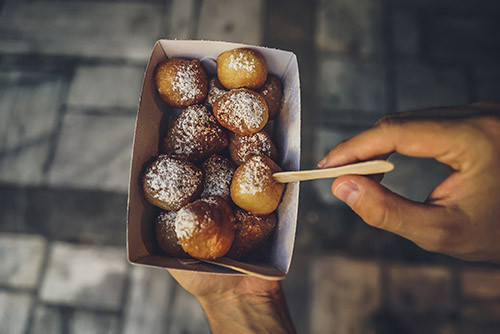 Museums and Theatres
There is an unlimited number of locations to take your breath away, all of them showing you a unique side of Greece and its culture. Make sure you have a plan and visit something new each week, as you will never run out of places to discover. The Acropolis Museum is one of the most beautiful museums in Europe, hosting incredible artifacts from the Acropolis from the Roman and Early Christian eras. Along with that, the National Archaeological Museum is one you have to visit.
During the summer months, Athenians attend many outdoor concerts and theatres organized in many places within Athens. One of the most popular ancient theatres, Herodes or "Herodeon," always hosts events suitable for all audiences. There you can come in contact with local music and experience a different side of the Greek culture. Greeks are also known for their mastery of having a good time and partying like crazy.
Night Life
The one thing you need to know about a night out in Athens is that it always starts with food! Opposite to the "western type" restaurants, most local taverns have music and sometimes even a dance floor. As your dinner finishes around midnight, the next destination will be a club and most probably you will stay there until morning.
Since the city view is one to treasure, rooftop bars are a thing. Definitely grab a drink or two in places like "A for Athens", "360 Cocktail Bar", "Couleur Locale" or "City Zen".
In the city centre options are full-out. A good choice would be to go down the Kolokotroni Street or make your way to the Agias Irinis Square.
Exarchia is a great spot with a more artistic nightlife scene known for its hipster-like vibrant young vibe. The choice of bars is just endless.
Kolonaki is a more expensive and luxurious area where you can enjoy extravagant cocktails in a more lush style.
Gazi and Monastiraki are also not to be underestimated when it comes to nightlife and partying.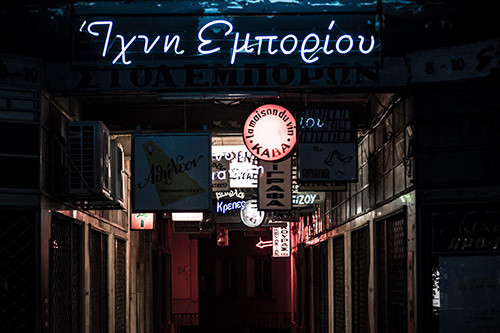 Cost of living in Athens
Compared to other European capitals, Athens is certainly considered one of the more affordable destinations where you can live in comfort with an average budget.
Rent & Utilities
In regards to the accommodation costs, it depends on where you choose to live. Finding a place to rent by the sea is going to be more expensive than a place in a less popular neighbourhood. Rents can start anywhere from 250 euros a month and go way up, depending on the suburb and each individual place. This is great because it allows students and people on a tighter budget to find a great place without breaking the bank.
To cover all your utility bills (electricity, gas, heating, water) you will pay around 150€. On average it will cost you around 25€ to get high-speed internet.
Food and Groceries
Eating take away all the time will certainly be more expensive, but if you choose to cook at home, the supermarket bills are a lot more affordable. Athens has many different options when it comes to international cuisines, and you are bound to find local treats both in restaurants and other stores. The Greek capital is also one of the most vegan-friendly cities in Europe, so it caters to everyone's habits and needs.
Supermarket Brands like ALDI and LIDL are good options for your weekly shopping.
Outdoor food markets with fresh ingredients are probably the best options for fruit and veggies as well as fish and meat products.
Here is our estimation on how much a weekly shopping for 1 would be:

Medical Care
When it comes to healthcare, there is the option to have national health insurance through your place of employment. In most cases, especially in the private sector, companies provide private health insurance, which also gives you access to hospitals. As long as you are employed in a legitimate business, you will not have to worry about healthcare.
Depending on the number of children they have and the income they make, some citizens are eligible for free healthcare. The fee for private doctors usually varies depending on their speciality, but a fee of 50 euros is usually what most will ask for.
Are you tempted to relocate to Athens already? Who wouldn't want to spend some time living in a place with so much history, ancient atmosphere, old traditions and at the same time liveliness, easy-going lifestyle, and last but not least growing possibilities for career development as an expat. Now that you have discovered in detail what it would be to live in Greece's capital, are you excited to take action and make Athens your new home? Share in the comments if you imagine yourself living in this ancient but super vivid city.
---

About the Author:
Kristin Savage is a professional writer and editor for ClassyEssay and GrabMyEssay. She often writes for platforms such as TopEssayWriting and BestEssaysEducation, where she is able to provide her audience with information on finding employment abroad and kick-starting their own careers. In her spare time, Kristin loves to travel and explore new destinations.

Aug 27, 2020 by Guest Blogger

Amazing city with full of adventures. I loved to work there!
---

Very interesting helpful guide for expats
---

I love Athens so much!!! This blog is very helpful
---

Such an accurate and complete development of the possibilities of the city! I have found specially helpful the reminder of the documentation needed for work development.
---

--- Great thank you. ---

Very interesting. Thank you for the insight. ---

Very interesting. Thank you for the insight.
---

This information is very useful for me to find a grat job. Thanks a lot. We are happy to hear that!
---

Very detailed. Nicely written. ---
---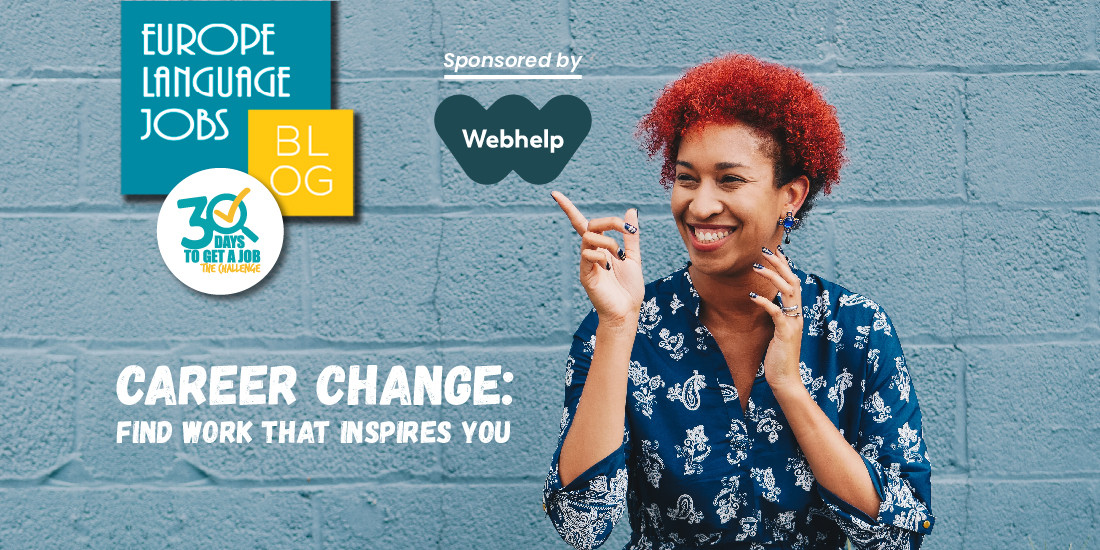 Changing your career out of necessity or because you want to try something new can be a daunting task. Here we discuss some of the options you should consider.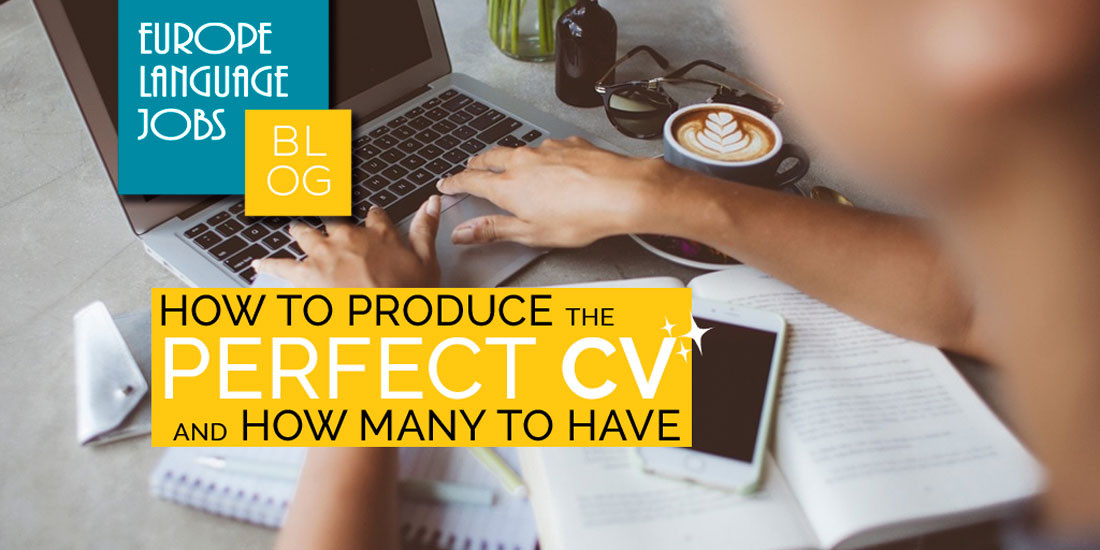 Don't be that person who has a bad CV! Have you created enough different versions of it? Discover the essentials for producing the perfect CV.