The speed the world is turning at right now can easily leave us reeling. But as a company, it is essential to stay afloat and keep up with the constant changes. The biggest players on the market kick their creativity and resourcefulness into the highest gear in order to come up with new solutions that will keep their employees happy.
In this article, we will follow the case study of Teleperformance Greece, a global contact centre outsourcing company that has introduced many innovative projects that help them keep up with the times.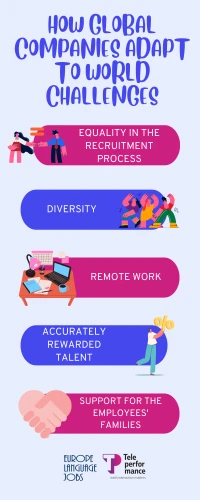 Measures taken by global companies in order to adapt to world challenges:
Ensuring equality in the recruitment process
Have you heard the term "Impact Sourcing" yet? If not, pay attention, because it's going to become crucial in the professional world very soon.
Impact Sourcing is a business practice focused on providing candidates who have limited chances to get formally hired with career development opportunities. In simpler words, it is simply making sure the recruitment process is equally accessible to all, regardless of their background.
The best way is to explain it with an example. The Impact Sourcing programme in Teleperformance Greece works within 6 focus groups:
Additionally, there are 5 main socially disadvantaged groups the Impact Sourcing programme is intended for:
The current world is full of contradictions: on the one hand, the support for inclusivity and equality is very strong, but on the other, discrimination and bias are still running rampant in spite of it. Therefore, it is important to address those issues in all areas of our lives, and ensure that diversity is truly respected in the professional world.
An additional measure ensuring the protection of diversity during the recruitment process in Teleperformance Greece is the Diversified Recruitment programme. It bases on 40 HR professionals interviewing the candidates in their native languages, proving that each nationality is equally welcome.
Embracing diversity in the workplace
Providing equal rights is crucial - but it doesn't end there. Making sure said rights are respected not only throughout the recruitment process but also after is just as essential for a company.
Global companies nowadays aim to create a safe working environment where everyone can feel safe and respected - regardless of their gender, sexual preference, socioeconomic background, nationality, gender identity, religion or disability. More than that, they also want to celebrate the differences, give everyone the opportunity to be heard.
Our case study subject, Teleperformance Greece, has introduced several initiatives in order to meet this goal. They celebrate diversity by organising various events promoting their employees' cultures, origins, and backgrounds.
The TP Radio project is a simple yet brilliant way to give a shoutout to each individual at the company - it is an internally created radio station that plays music from all around the world, encouraging the employees to discover foreign cultures.
Another solution that Teleperformance Greece and other global organisations have introduced within their companies are dedicated prayer rooms in the office. They allow representatives of various religions to practise their beliefs and obtain a moment of solitude they might need during an overwhelming day.
Opening up for remote work
The social changes are not the only ones we are facing right now. The last two years have posed us all with the biggest, most sudden, and most unexpected challenge in a while - the pandemic. Businesses that wanted to survive in these difficult conditions had to adjust accordingly - and they had to act quickly.
International companies were forced to redesign their entire structure, focusing their activity solely on remote work. Now that the world has opened up once again, both employers and employees oftentimes wish to maintain the work-from-home system, or at least transfer into the hybrid work mode.
This is a huge jump, so in order to facilitate a smooth transition from the traditional working model to a digital one, new technologies and tools had to be developed. In the case of Teleperformance, the TP Cloud Campus system has been crafted. This management system erases the difficulties previously posed by geographical barriers and increases the equality of work opportunities, regardless of where the employee is located.
Given how Teleperformance Greece currently employs more than 11 500 people from 109 nationalities and speaking 42 languages, the flexibility that comes with remote or hybrid work is a rather crucial part of their policy.
Rewarding talent accordingly
It is no secret that the competition on the job market is now higher than ever before. Easier access to higher education, a variety of courses and a broad range of job opportunities make candidates increasingly more competent, more prepared for work, and more desirable in the eyes of employers.
Getting a job nowadays is, therefore, both easier and harder. Easier, because new positions are created literally every day and the diverse job market offers a plethora of opportunities. Harder, because given the raised bar, it is very hard to impress an employer these days. Ambitious candidates need to work really hard on their constant development if they want to stay on top.
But it wouldn't be fair if jobseekers were doing all the work. Global companies are also competing in coming up with various bonuses and benefits to attract the most qualified workers. After all, the motivated candidates should be rewarded accordingly for their effort, right?
International businesses make sure their job offer comes with a little extra. A relocation package including legal aid, support with accommodation search, and covering certain costs such as flight tickets is one of the most attractive features that come with a contract at Teleperformance Greece.
Other benefits of working in an international company include multiple growth opportunities through courses and professional training, health insurance, signing bonuses, free language classes, discounts, engagement initiatives, and more!
Keeping in mind the employees' families
Keeping private life separate from the professional life is a popular stigma. Regardless of whether a person prefers to mix business with pleasure or not, we all deserve to know our work positively impacts our loved ones.
The fast pace of a multinational workplace can often lead to working overtime or bringing work home. In trying to provide for our families, it is sadly very easy to end up neglecting them instead. The topic of mental health among generations is a commonly discussed issue nowadays - and rightfully so.
An abundance of work can lead to stress which, in turn, can have a negative impact on our family members who will also be directly or indirectly affected by our own unhappiness. It is, therefore, an obligation of global companies to extend their care to their employees' loved ones.
Following the case study of Teleperformance Greece, the Impact Sourcing programme addresses this issue as well. Its assumptions focused on providing support for employees and their families include:
Socio-economic improvement

40 - 200% increase in individual income

5-6 family members benefit to support numerous families in their increased household spendings
---
Adaptation is key to survival right now. Leading companies wanting to maintain their status continue to come up with new ideas to alter their way of operating, keep their current employees happy, and attract new ones.
Among the innovative solutions, we can note, among others, an increased popularity of remote work, original bonuses attached to job offers, an emphasis on equality, and the strive for a diverse workplace.
Since the world keeps turning and doesn't intend on slowing down, we think it is safe to say that in the foreseeable future, we can expect more and more inspiring initiatives to be introduced into the business world. Is there any measure you would like to see implemented? As a decision-maker in a company, what plans does your business have for the future?