You might think that Covid has put a bit of a damper on networking, but actually, for the more shy of individuals, it might have done you a favour. It is currently rather difficult and unsafe to organise events where people can mingle freely, shake hands, be served drinks… so where does making connections have to take place? You guessed it: online. That's right, no more scary eye contact and live elevator pitches. Although perhaps less intimidating, there is still a knack to online networking that you need to master. It is a key part of your graduate job search so it's important to familiarise yourself with techniques to score your dream job after university.
Quick Recap: What Is Professional Networking and Who Should I Contact?
For those of you who have never engaged in any professional networking before, the main purpose of professional networking is to build long or short term relationships with potential employers and other professionals in your field. This is an extremely effective job searching technique and it also helps you to develop a number of sought-after career skills such as communication, commercial awareness, and teambuilding skills. Networking is not only beneficial for finding out about exclusive job opportunities but for gaining and exchanging key industry knowledge, too. By networking regularly, you can build a strong community of reliable professional contacts who you can reach out to for future opportunities or job advice.

When it comes to networking, there isn't a strict rule about who you should or shouldn't be networking with and honestly, the more people you network with the better - so don't limit yourself! You may choose to network with people you already know: school friends, colleagues, teachers, family etc. Even if you choose to connect with someone outside of your industry, they may know a relevant person that they can connect you with or about an opportunity that will get your foot in the door…
Online Networking Tips during the Pandemic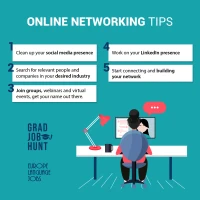 Online networking is your best bet at the moment to make your own luck and find opportunities that suit you. It is also a considerable time saver compared with attending face-to-face events after class and spending a couple of hours making contacts. Luckily, thanks to LinkedIn and other professional networking channels, it's extremely easy to connect and engage with potential employers and other professionals online. In order to ensure that you make a good impression, follow our online networking steps...
Step 1 - Clean Up Your Social Media
Revise all your online profiles, put photos you don't want to lose onto private and delete anything that could put an employer off you. By this, we mean any inappropriate, drunk Facebook statuses or unprofessional tweets. Nowadays, it's extremely common for companies and recruiters to search your Social Media so make sure you come across as presentable, sociable, and mature.
Step 2 - Use LinkedIn to Your Advantage
Work on your LinkedIn presence, this is beneficial for any graduate.
Your Profile
First of all, the obvious: complete your profile! Too many students only bother to upload their most recent position and don't bother even putting a cover photo. Empty profiles are extremely unlikely to be found through the algorithm.
Use the headline to let people know your degree area, desired industry, and location.
Do take the time to fill out the bio and use keywords relevant to the sector you want to work in.
When you add your work history (they can be experiences you had whilst studying - not every learning opportunity has to be paid!), bullet point your daily tasks and the skills developed.
A full profile demonstrates that you are a proactive graduate jobseeker who is building their personal brand.
Reaching Out
Once your profile is of interest to others, you can begin connecting.
First, add as many fellow students and professors as you can to build up your network and potential contacts.
Then you can begin to search specific companies in industries that interest you and click "people" to find the HR manager or ask someone in your desired field a question about their experiences leading up to obtaining the role.
You can also search job titles that you might want to pursue and contact current employees in those positions to find out whether their daily duties would suit you.
Remember that the contacts of the person with whom you connect are visible to you, so scan these "second-degree connections", too.
Always bear in mind that LinkedIn is a professional platform, and so any communications should be suitably formal and polite. LinkedIn "notes" can be considered mini emails, so address future contacts with respect and sign off with your name.
Step 3 - Join Relevant Career Groups
To get your online networking off to a good start, join different groups. You can find a group for almost anything on Linkedin (and Facebook) from Graduate job seekers to English speaking jobs in Prague - just search for what you are looking for and join what's relevant to you. By joining different groups, you can share content, read about industry trends and even hear about exclusive job offers.
Step 4 - Attend Webinars and Virtual Events
Now that you have followed our online networking steps for beginners, it's time to attend some online webinars and virtual events (like the Grad Job Hunt!) The people you meet through these events could help you to find your dream opportunity. As we would recommend for face-to-face networking, do your research beforehand and define your objectives from attending the different events. Before you know it you'll be a superstar networker!

As you can see online networking and face-to-face networking are extremely effective job searching techniques. And to be a proactive graduate job seeker, it's important to get yourself out there and start connecting and engaging with relevant people in your industry! After all, you never know who you may meet and what opportunity you may come across!
---
If you want to practice the blog's advice, check out the task we've prepared for you, and don't forget to mark it as done afterwards!