In the modern world, education and a prestigious profession play an important role in human life. Starting from school, students think about which profession to choose and which university to become a student at. Almost every prospective student wants to study abroad.
In this article, we'll try to help you choose the direction of your future profession and show you which part of the world it is worth going to in order to fulfil your dreams. The reality is that the most prestigious, popular, and important professions suffer from a lack of educated, competent, qualified specialists.
A sufficiently large flow of citizens from all over the world is hosted by Europe. Jobs in demand in Europe require specialists in medicine, engineering, and IT programming.
9 Professions in Europe Where Foreigners are in Demand: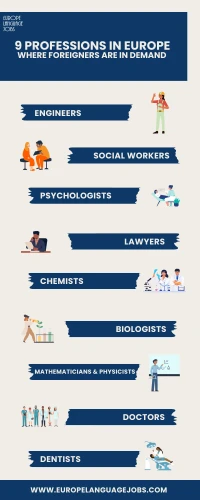 1. Engineers
Graduates of engineering specialities still have bright prospects for employment. Currently, only in Germany 52,000 vacancies are waiting for new specialists. Engineers, economists, mechanical engineers, and electrical engineers have no reason to worry. In the near future, a large number of specialists will retire in these sectors, and new vacancies will be opened.
Since January 2008, the number of unemployed in this European country has increased by 15.4% and reached, according to French trade unions, a "sad record" of 2,298,000. Most of the unemployed in France are young people.
And yet, even foreigners have a chance to get the coveted jobs if they are fluent in French and trained in the corresponding profession. Engineers and natural scientists are especially in demand. Highly qualified specialists are required mainly in Paris.
2. Social workers
One of the most needed jobs in Europe. More and more personnel are needed in this industry. Many people from different countries travel to Europe to work in this area. Thus, you can not only earn but also learn a foreign language.
3. Psychologists
A few years ago, psychologists in a private enterprise were seen as something exotic, but today they have become a part of the state of many non-state structures.
Not least of all, this is due to their role in optimization processes, which are becoming increasingly important in a competitive environment. You have to know how to form the structure of an analysis essay on the topic of psychology, to have a diploma, and to have a good resume to get a job.
Most in demand here are doctors, psychologists, and educators. Moreover, social work in the UK does not contradict a career: both public and private employers are willing to invest in numerous innovative projects in these areas.
In recent years, not only the number of British specialists in the field of social work has been greatly reduced, but there is also an acute shortage of qualified personnel in such fields as social pedagogy, medical pedagogy, and educational work.
4. Lawyers
For graduates of legal specialities, the chances of employment fell sharply. Almost a third of them work as judges, state attorneys, or bailiffs in government positions, where, despite the crisis, staff reductions were not carried out.
At the same time, it is precisely in times of crisis that lawyers are eagerly invited to work by private firms. And this gives a great chance for employees to foreigners who want to find work in Europe.

5. Chemists
Although there have been fewer vacancies for chemists over the past year and a half, the situation in this area is still very good. The fact is that the high unemployment rate among chemists in the mid-90s led to a sharp decrease in the number of students studying this speciality, which relatively equalized supply and demand. Now many foreigners are taking this position.

6. Biologists
The main employer of biologists is the pharmacology industry. Most foreign graduates in this field are engaged in research. Although the pharmaceutical industry has also been affected by the economic crisis, the demand for highly qualified personnel is expected to grow.
Even as a student, you can find work in this area. The main thing is to be able to combine work and studies. To get help with your university assignments, you should contact Edubirdie for students in Australia.
Do not be afraid to buy essays in Australia. Edubirdie professionals will help you with any type of paperwork, so you can be sure to succeed with your studies.

7. Mathematicians and physicists
Their chances of quick employment have worsened a bit: recently, the number of vacancies in this area has been declining. However, in view of the fact that such an education provides a wide range of opportunities, the prospects for finding work with them are very favourable.
Representatives of construction specialties, experts in the fields of industry, computer technology, and computer science, as well as teachers, have good prospects in the labour market.
In rural areas, doctors and medical personnel are required, while the state reimburses the costs of moving specialists, and pays for language courses and advanced training.
8. Doctors
They are rising stars in the German labour market. The problem of medical care in Germany is so acute that it has repeatedly become the topic of heated discussions in the Bundestag. The best option to get a job as a doctor in Europe is to get a diploma in the country you want to work in.
You don't need to know the essay structure to become a doctor. Focus on specific disciplines and leave the paperwork to related services. This is how you can be sure to get high marks in medicine.
Despite the lack of specialists in various fields of the German economy, much-qualified personnel in Germany are becoming unemployed. Over the past 15 years, only 1/3 of them were graduates.
The expert associates the relatively high unemployment rate among specialists with a simultaneous shortage of specialists because profession in German does not always meet the requirements of the labour market, AFP reports.
In Denmark, there is an acute shortage of doctors and other representatives of the medical profession. The situation is so serious that the government is meeting foreign specialists by paying for language courses and organizing legal assistance in the process of recognition of foreign diplomas.
9. Dentists
Representatives of this profession have no problems with employment - 9 out of 10 dentists in Europe have private practices. Every year, about 1800 dentists in each country retire and as many young specialists complete their studies. So those who are not afraid of serious investments in their own practice have every chance of success.
Despite the well-established graduation of highly qualified specialists, the Netherlands also lacks engineers, especially in the field of electrical engineering. In addition, experts in the field of construction and metallurgy, as well as medical personnel, are in great demand.
Conclusion:
Before deciding on a speciality, you need to carefully consider how much the chosen profession is in demand and whether it is sufficiently paid. Buy essays Australia to finish all the paperwork you don't need for your specialization (those related to additional disciplines) and be sure to have time to prepare for your finals in specific disciplines. After analyzing the statistics, you can easily decide on the choice of speciality and achieve heights in the chosen profession in the future.