Walking through the streets of Sofia, Bulgaria, one of the oldest capitals in Europe, you can enjoy buildings and artefacts from the Neolithic times from 6000 to 4000 years BC to the present day. Sofia has a rich historical heritage accumulated over the centuries. The city was ruled by caesars, basil, khans, sultans, and kings. It has more than 7,000 years of history, yet it successfully blends tradition with a modernistic and metropolitan lifestyle. In the following lines, we will get you all set to dive in and explore the secrets of living in Sofia. Here are the topics we will discuss:


Working in Sofia
The job market in Bulgaria is attractive, offering good wage-living costs balance and saturation of demand in the IT and Service sector. It is the right place to start your journey as an expat, landing a job as an IT specialist or leveraging one or many Western European languages (English is a must in addition to either French, German, Spanish or Portuguese), as well as Nordic languages or Chinese, to help clients around the globe, remotely, from the heart of Europe's-fastest-internet capital.

As Sofia is a tech hub, the market consists of a great number of international companies, often moving HQs or critical business units in Bulgaria. The IT ecosystem is welcoming to small and large international companies, as well as local startups that go beyond the borders of the country. Job seekers often go on to ask a friend and share a referral bonus, securing not only an extra incentive, but also a good outlook on the role they take from the horse's mouth. Aside from popular job boards such as LinkedIn or Zaplata.bg, there are also a variety of language-specific job boards that are perfect for expats such as Europe Language Jobs.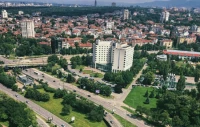 Paperwork you need
While the labour market is blossoming on a rapid scale, the administration still struggles to keep up with it. Nevertheless, once you have the required paperwork sorted and if you plan ahead with the help of a local, you will be all set.

If you are an EU citizen holding a valid ID card or passport, you can reside in Bulgaria for a period of up to three months following your entry into the country. You must then apply for a long-term residence permit. You can find detailed information on this link.

If you are a non-EU citizen holding a valid ID card or passport, you need to apply for a Bulgarian Type D visa. The Bulgarian Type D visa is a long-term visa issued either for 6 or 12 months, and it is mandatory for all non-EU nationals who would like to apply for a Bulgarian residence permit Work permit Type D visa can be granted to foreigners who have a work permit subject to clearance by the Ministry of Labour and Social Policy
The main documents you need are a bank statement, medical certificate, criminal record, diploma and NRA ID. The NRA ID is imperative, which allows you to legally work in Bulgaria and you can obtain it from the NRA with a certified translation of passport. All documents have to be legally certified and translated to Bulgarian.

Most popular jobs
Sofia is a hidden gem and a great place to locate a short and long-term career development opportunity. The service sector is booming and its expansion gravitates around Sales & Account Management, Digital and Content Marketing, Customer Service, Business Development, IT, and Finance.
Internship opportunities are penetrating the market as demand for professionals arise, and the robust presence of international and diverse employers are a driving force behind it. Transitioning from internship to a full-time job with the same employer is getting more and more popular in the country and some programmes can offer cross-country opportunities.

Work culture
Sofia is a place for everyone. From its highly structured corporate world in some of the big names in IT, Manufacturing and Service industries, to paradigm-shifting startup Silicon-valley like environment. The local culture blends well and offers productivity-driven organisational structures with a dash of Southern European vibe across the office spaces. A trending place for small and medium-sized enterprises is the Co-working space, and there are many in Sofia that offer a new and flexible manner of working.
The general office behaviours code applies depending on the company, with usual working hours from 9 - 6 that can vary depending on the market they serve with more evident work-from-home policies. Social benefits are a big part of the game to attract professionals - from public transport cards and gym cards to additional health insurance, again depending on the industry.

Getting Around Sofia
The public transport in Sofia consists of buses and trams (tramways), as well as an underground Metro. A one-way ticket for the public transport in Sofia costs 1.60 BGN (~0.80€), you can also purchase a daily ticket for 4 BGN(~2€), which covers all types of public transport, except for the night lines.
The Metro
There are two (soon-to-be three) metro lines in Sofia – M1 and M2. M1 line runs from Slivnitsa Metro Station to Business Park Metro Station. M2 line runs from Vitosha Metro Station through Obelya Metro Station to Sofia Airport. M1 and M2 intersect at Serdika Metro Station.
Sofia Metro connects Sofia Airport Terminal 2 with the centre of the city – Serdika Metro Station. The trip takes about 20 minutes. Passengers can change metro lines at Serdika Metro Station and travel to Sofia Central Bus Station and Sofia Central Railway Station. Sofia Metro connects Sofia Airport Terminal 2 with Sofia South Bus Station, as well. The metro trains from and to Sofia Airport run from 5:30 to 24:00 on weekdays and holidays.
Buses
Besides the usual daily buses, there are four-night bus lines that run from midnight to 04:00h in the city of Sofia. All the lines intersect in Sofia city centre at Alexander Battenberg Square. The travel card for the all four-night lines costs 2 BGN. It can be purchased only from the driver.

Taxis
On the territory of Sofia Municipality are set the following maximum taxi fares per kilometre: day time tariff - BGN 1.30 (~0.65€); night time tariff - BGN 1.60(~0.80€). The day time tariff applies from 06:00 to 22:00, and the night time one from 22:00 to 06:00. To put that in perspective, if you are in the city centre and want to go to the airport, which in general is one of the furthest points, it should cost you between BGN15 to BGN20 (~7.50€ to ~10€). The tariffs are indicated on a sticker on the windscreen of the vehicle. In addition, in each car, there should be a sign featuring the contact information of the company and the driver's identification card. Unfortunately, in Sofia you can stumble on the so-called "fake" taxies. The easiest way to avoid this is just to use an app or call to order your transport.
Here are some useful taxi apps:
Bulgarian Culture and Way of living
Officially proclaimed capital in 1879, Sofia is an ancient village whose multi-level development can be traced to museums and open spaces. The eclectic look of urban architecture, with an almost paradoxical cohabitation of various styles, is confusing for some and inspiring for others.

The fast expansion of the city over the past 30 years has led to rapid and dramatic changes in the infrastructure. Sofia, although still facing many challenges (unsettling repairs, unsupported old buildings, traffic, and an ever) growing car fleet-has a mysterious charm and opportunities for living and investment that are unparalleled with any other city in Bulgaria.
Networking
There are so many things happening while living in Sofia, you can explore a lot, especially if you are using public transport in the city. One of the many, many places we recommend is to grab a beer in the city centre and enjoy the magical atmosphere.

A great way to spend some quality time with friends is to have a walk in the city garden - "Tsar Boris".
If you are looking to join a local event in the city, do check out Visit Sofia or Go Guide Bulgaria.
If you are an exchange (Erasmus) student, contact ESN Sofia and find out more about the activities they organise for the exchange students.

Social events and holidays
Bulgarians are joyful people and they like to celebrate, so don't be surprised by the many holidays in the calendar, including the numerous name days. Yes, a name day - usually a religious-based holiday that is correlated with a particular saint – Vasilyov day (1st Jan), Bogoyavlenie or Yordanov day (6th Jan). As Bulgarians believe that the name of a person can define their character, they find it important to celebrate them. Think of it as a second birthday minus the gifts. An interesting but somewhat forgotten tradition on your name day is to get uninvited guest.
Other important holidays are:
New Years (31th Dec) – Not surprisingly one of the most important of the year. However, there are some curious pagan traditions that makes the celebration very different from other countries. For example, survakane which consist of decorating a cornel tree branch with popcorns and ribbons, and padding your relatives on the back while reciting a poem. Luckily, the padding is done only by the youngest member of the family. However, if you get the pad on the back, you will have to give the child some money and candy - all in the name of a prosperous new year.
1st March or Baba Marta (Grandma Martha) – The start of spring! Historically, as an agricultural country, that was a very important time of the year as it was closely connected with peoples' economic wellbeing. Nowadays it is celebrated by gifting a martenica (a bracelet of broche made out of red and white tread) to your friends and family, coupled with wishes for good health and love.
24th May, the day of the Cyrillic Alphabet - The Cyrillic alphabet is a source of pride as it was developed for the Bulgarian language. Nowadays it is used in Russia, Ukraine, Belarus and many other counties.
Another celebration is worth mentioning is the Kukeri Festival that is held in the town of Pernik, only 35km away from Sofia. It is somewhat similar to Halloween in concept – people dress up as monsters to chase off evil spirits. However, they also perform dances, play music and of course, serve massive amounts of tasty food.

Useful Phrases
The language will not be a barrier for you in Sofia, as most people tend to speak English. However, make sure to remember some useful phrases in Bulgarian, as they will go a long way with the locals.
Hello! - Добър ден! or Dobar den! (Doh-bur dehn!)
For "Hi!" you can also say Здравей! or Zdravei!
Thank you! - Благодаря! or Blagodarya! (Blah-goh-da-rya!)
Goodbye! - Довиждане! or Dovijdane! (Doh-veezh-dah-nay!)
Cheers/ Bless you - Наздраве! or Nazdrave! (Naz-drah-veh!)
Please/ Excuse me - Моля Molya (Moh-lya)
Cool - Яко Yako (Yah-koh)
Really? It can't be so! - Да бе Da be! (Dah beh!)
How much is it? - Колко струва? Kolko struva? (Kol-koh stroo-vah?)


Fun things to do in Sofia
Food places
In the spirit of every modern multi-cultural capital, themed restaurants from all over the world can be found, as well as modern fusion cuisine. There are also a lot of taverns, as well as a variety of popular pizzerias and fast food places. For fans of thrills and suspense, there are also restaurants "in the dark" in which the dishes or even the people around you are not visible.
Here are some recommendations from locals that are a great choice for eating out:
Sun and Moon - Vegetarian restaurant and bakery; Sun Moon is a project for the sustainability of lifestyle, food, and culture. You can buy delicious bread and pastries to take away or enjoy dishes inspired by the Ayurveda lifestyle. They have a daily lunch menu worth trying!
Happy - Happy are Bulgarian chain restaurants. You can find a Happy restaurant almost everywhere - from central streets to shopping malls and even on the highway. Whatever you feel like eating chances are they have it. Food is served quickly and prices are good!
The Little Things - A cosy restaurant located in the heart of Sofia's city centre. Situated in an old house. The charming atmosphere, delicious food, and the friendly staff will make you feel right at home.
Cur Pur - If you would like to eat with the locals and try real Bulgarian style barbeque food, go to Cur Pur. The name of the restaurant represents the sound meat makes when it touches the barbeque. It is a fast food place with self-service, very cheap and extremely tasty.
Scapto - if you are a burger lover, this place will impress you. Expect high-quality burgers prepared with fresh ingredients. This is a more expensive fast food option but definitely worth the price.
Made in Blue - Maybe not a big surprise but the restaurant is entirely painted in blue so no worries you will immediately spot the old blue house with its sweet yard. Enjoy fresh and beautifully served dishes that might end up on your Instagram story.
Mimas - doner kebab is what Bulgarians crave on a night out. Mimas is a famous spot at night and you should definitely grab a doner kebab when starving after the clubs. There are also falafel options for the vegetarians.
Satsanga - Another vegetarian restaurant with super tasty food. Make sure to check them on Facebook before going. They post their daily menu on their page and it's never the same thing twice.
The Three-Legged Chicken - Modern Bulgarian cuisine and great taste of craft beer in a cosy atmosphere with a bit of rock music right at the heart of Sofia.

Outdoor activities and the Bulgarian seaside
It is no secret that one of the main reasons for choosing Sofia is the outskirts of the city. The unique geographical position of the city since ancient times puts it surrounded by three mountains-Vitosha, Lyulin, and the Balkan mountains. Among them, the undisputed pearl is Vitosha due to its proximity, easy access, interesting natural attractions, and opportunities for sports. Vitosha can be visited by car, public transport, or on foot. It offers a unique opportunity for skiing and snowboarding "at your fingertips", as well as a historical walk to wonderful cultural monuments. Vitosha is rich in natural charms, among which is the longest cave in Bulgaria - Duhlata, Boyanski waterfall and Zvercheto, Morenite, and, of course, the challenging Cherni vrah peak.
One of the advantages of living in a small country is that nothing is really far away. The seaside is only around 3 and a half hours away. During the summer period, weekend trips to the seaside and back are really common for the people living in Sofia.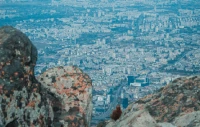 Nightlife
From the calm views and clear mountain air, we enter right into the swirl of the bustling nightlife. Sofia is famous for its frenetic party rhythm, which, unlike other European capitals, turns every day of the week. Despite the musical preferences, the city always has something to offer its residents and visitors. Piano bars, English pubs, discos, discotheques and all sorts of themed establishments can be found in Sofia, making it one of the most diverse places for nightlife in Europe. The convenience is that most of the nightlife clubs are crowded in the city centre and can be easily reached on foot.
Here are some recomмended places:
Club Terminal 1 - right at the city centre of Sofia and with a unique interior inspired by the pop and alternative music that is mostly played in it.
Bar Petuk - a.k.a. everyone's favourite "bar of the week' is situated in a hidden place in the heart of the city. An outside area, large party-hard ground floor, and a smaller chill zone on the second floor – this is where you could meet the coolest people in town from Monday till Sunday.
Tell Me Bar - a club for audio-visual arts. There is a dance magnet installed under the floor. Expect alternative techno sound.
Keva - another alternative music bar with a big garden with ivy walls where everyone goes to.
Carrusel - a place that always seeks and finds the beauty of the eclectic. Eclectic, with a unique blend of conceptual parties like Shame, Social time, All Eyez On You Hip-hop parties, Soul train, weekends with electronic sound - disco, house, funk, and groove patterns, Fashion parties, and comedy shows.
Beach Bar Sofia - if you need a summer vibe place to enjoy with friends, go drink some summer cocktails at the Beach Bar
Memento - day and night this is a good spot with a bit louder music during the late hours. It is a good choice for a bar to get a drink before going to a club.
Museums, theatres, galleries
If you are an art lover, Sofia is definitely your dream city. Museums, theatres, and galleries can be found on almost every corner in the city. To learn more about Sofia's art and where to find it, visit the Sofia Municipality website.

Sports
If you are a sports person, then you will feel at home in Sofia. There are a lot of gyms, football playgrounds, dancing and yoga studios, etc. all around the city. If you want to sweat the stress away, you can do it at Next Level Club and if you want a healthy homemade protein bar you can get one at the Protein Bar Shop.
Another popular fitness centre is Pulse with locations everywhere around the city and an affordable monthly subscription for the price of 50 leva (~25€).
Rakovski stadium in the Ivan Vazov neighbourhood is a spot where locals go to practice any kind of sport. The access to the running area and the green space around the pitch itself are free and always open for visitors.
Spartak is an Olympic sized swimming pool and it's probably the best option for a swimming workout.
The South Park and Borisova Gradina are also central places with a lot of green space perfect for jogging and outdoor activities.

Shopping
There are over 10 malls and department stores in Sofia, where you can find popular chains, but if you are not a fan of the big brands and want something unique, you just have to go downtown in the city centre and you will definitely find the thing you're looking for. Apart from the big shopping malls, Sofia Outlet Center is a hidden gem for shopping lovers. It is located a bit far from the city centre but it has a selection of premium brand outlet stores so take a cab and check it out.
Some online shopping recommendations from locals are Grabo where you will find countless special offers from many restaurants, sports clubs, cultural events, beauty and spa studios, and more. And Fashion Days is the website with a lot of brands and great discounts all year long.
Cost of living
Rent
The average prices for rents in Sofia range from 350 to 1000 BGN (175 to 500€), with the most desirable quarters, traditionally, remaining in the south. The rent for the one-room apartments in the capital reaches 400-500 BGN (200-250€), the two-room apartments - about 700 BGN (350€), the three-room apartments - 900 BGN (450€), and the multi-room apartments are around 1500 BGN (750€).
It is strongly advised when relocating to Sofia to spend enough time looking around different districts of Sofia and to take an informed decision. Some of the factors that might have an impact on the decision when choosing the right place are: if the apartment is close to stations of public transport, If the apartment is close to work, etc.

Utilities
The average price for the basic utilities (Electricity, Heating, Water, Garbage) for 85m2 apartment is 170.00 BGN (85€), Internet (50 Mbps, Unlimited Data, Cable/ADSL) is around 15.00 BGN (7.50€).

Food and groceries
There are many foods and grocery chains in Sofia both local (Fantastiko) and international (Kaufland, LIDL, BILLA, etc.). However, if you want to help out the locals, there are m We advise you on buying from them - you will help them out and the taste is incredible.
Almost every neighbourhood has an outdoor food market with mainly fresh fruit and veggies. Ask your neighbours for the nearest one and enjoy seasonal ingredients from local producers.
Here is our estimation of how much would a weekly shopping for one cost you:

Medical care
Health services are provided by both public and private clinics and hospitals. In the event of an emergency, you can go to any public hospital and receive free medical care.
Living in Bulgaria, you will have the option to sign up for a Bulgarian VAT number and be part of the Bulgarian Health Insurance Fund.

Are you tempted to start organising your relocation to Bulgaria's capital already? Who wouldn't want to spend some time living in a place with so much culture, liveliness, nature, taste, and last but not least growing possibilities for career development as an expat. Bulgaria is just the right place for someone looking for a more inexpensive but worth a lot in terms of bliss lifestyle. Sofia is where for less you get more and life is simply good!
Now that you have discovered from A to Z what it would be to live in Sofia, are you excited to make this move? Tell us in the comments if you see yourself living in this inviting and vivid city.

---
About the authors:
ESN Bulgaria is part of the Erasmus Student Network in Europe, a non-profit international student organisation. Their main focus is on assisting international students and supporting them on their journey of self-development, cultural understanding and awareness. They are committed to the idea of Students Helping Students and work towards the creation of a more mobile and flexible education environment through student exchange and "internationalisation at home".