Are you considering Poland as your next career move? We agree that this is an amazing idea and we will tell you why you should move to this beautiful country.
Poland joined the club of 25 the most developed economies in the world according to FTSE Russell and ranks 8th as the best country for female workers. The country has one of the highest rates of English as a second language in the world and there are a lot of job opportunities for multilinguals. That sounds quite impressive, isn´t it? Let´s discover more.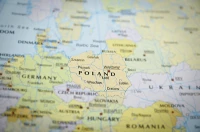 These are just some questions to ask before thinking of moving to the country who saw the birth of Chopin, Pope John Paul II, Marie Curie and Robert Lewandowski. Packing, relocating, thinking about how to bring your family and fit your previous life in a couple of suitcases is a big challenge and indeed a difficult task. You want to make sure that all of this effort pays off. Poland is an attractive destination and here are the 5 reasons to make it your next career destinations.
Located in the Heart of Europe
Poland is in a great central location in Europe. From here you can easily go visit your friends and relatives abroad or go on a weekend away in many nearby destinations without spending too much money and time travelling.
If you instead decide to explore its interior, you will find a large and increasingly modern network of transportations, composed of express roads, motorways and high-speed trains which connect all of the major cities.
Great International Community
Poland has a developed market and one of the most dynamic economies in the world. It has the sixth largest economy by GDP (PPP) in the European Union. Many big global companies choose Poland for investments and opening their international hubs, welcoming candidates from all over the world. The IT industry has grown a lot in recent years with the increasing interest of top international companies.
The most popular cities where you will have a chance to work for a global company are Warsaw, Krakow, Wroclaw, Katowice, Lodz and Poznan.
Are you a professional or just starting your career? Poland offers young people more than you think. For your first experience, the companies tend to provide training, guide you through the difficulties and help you choose your future career path. If you want to align your education with the current job, employers are flexible enough to help you with that and if you are recognized as an expert you will be able to easily relocate to another country as part of the organizational structures of global institutions.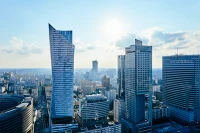 No Language Barrier
You might be worried about the language barrier. It is something that each of us expats experiences moving abroad. Worry less and explore more! The job market in Poland is very attractive for multilinguals. Nonetheless, many Polish people speak English at a very high level as their second language.
There are many international companies looking for English, French and German speakers. We understand that even though you won´t need the Polish language at work, you don´t want to feel excluded from social life. There are many schools and Universities which offer Polish classes for foreigners for free!
Low Cost of Living
In comparison to other European countries, Poland is a relatively cheap place to live, but of course, the prices depend greatly on the city. The cost of living in Poland is 40% lower than it is in the UK, so even if the salary may not look as high as in other Northern European countries, you are still getting a great deal! Warsaw is the most expensive city to live in Poland, you can still get around with about 700€ a month including everything (rent, food, transportation…) letting you save the rest of your salary for your upcoming travels around Poland or neighbouring countries.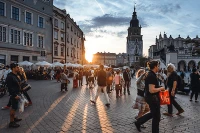 Great Health Care
Poland's healthcare system is based on an all-inclusive insurance system.
Health care is delivered through a publicly funded health care system called the Narodowy Fundusz Zdrowia, which is free for all the working residents and their families.
However, private healthcare use is very extensive in Poland and most employers, together with relocation packages, offer private insurance for expat workers and their families.
Activities for every taste
Poland has a rich cultural and entertainment life with a variety of different types of music, movies, visual arts and theatre. If you like live music, for example in Warszawa, there are a lot of events and performances happening all over the year. There are around 280 arts festivals taking places in different cities across the country. As well as this, there are 30 jazz festivals all around Poland, as Poles have a real passion for jazz music.
Are you a nature lover too? You will not be disappointed! There are so many nice green parks where you can relax during the summer time or you can go for a real adventure in Karkonosze National Park with a lot of hiking trails. Do you like skiing and snowboarding? Visit the winter capital of Poland, Zakopane. It has been known as the ski Mecca for local skiers all over Europe and don´t forget to try a famous hot beer with cloves and honey to feel relaxed and cosy.

As you can see there are many benefits of moving to Poland. If you're still thinking about it, we recommend you to check out the job opportunities in Poland has to offer and start to apply!
At Europe Language Jobs, we have made it easy for you to find your dream job, so you can challenge yourself, explore a new culture, build up a highly valuable network and enjoy a new adventure!