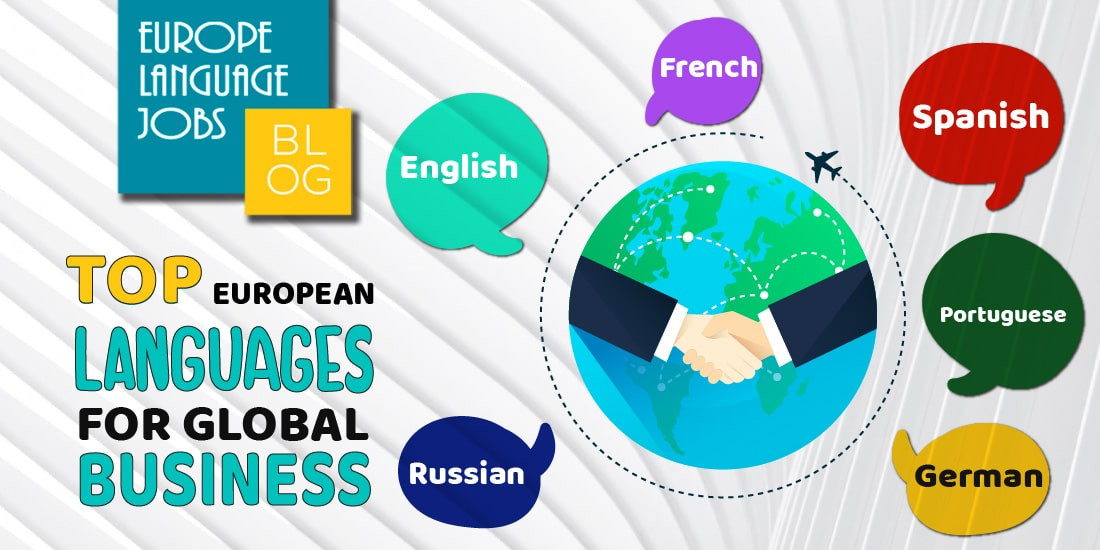 Top European Languages for Global Business
It's important to be constantly striving to improve your CV, learning the right language can increase your standing against other candidates.
Learning a language has lots of advantages, particularly in the business world. It helps enhance your CV and broaden your employment prospects. Knowing multiple languages is really useful for global business. Knowing another language can even increase your salary by up to 10-15% as nowadays most major corporations span several continents thanks to globalisation. Have a look below to see the top European Languages for global business.



Take care choosing the most useful language as it could affect how much your salary increases!

English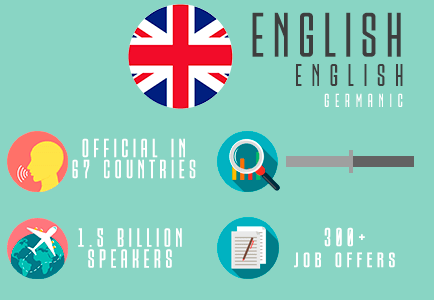 Where is it spoken?
English is the a noteworthy european language in global business as it is the official language in 67 countries that span all continents, including the UK, Australia, USA, South Africa, and Singapore.
How many people speak it?
English is the mother tongue of 360 million people, that's over 5 times the population of the UK! Worldwide, the figure is even more impressive at 1.5 billion - meaning 20% of the world's population speaks it!
Why is it important in global business?
Our website alone has over 1800 job offers for English speakers, need I say more? Aside from the fact it is so widely spoken, the majority of the world's leading businesses are based in English speaking countries, including Apple, Unilever plc and HSBC. Check out our website for jobs with Apple and Unilever!
Make sure to check out our post on English business idioms if you decide to learn English!

Spanish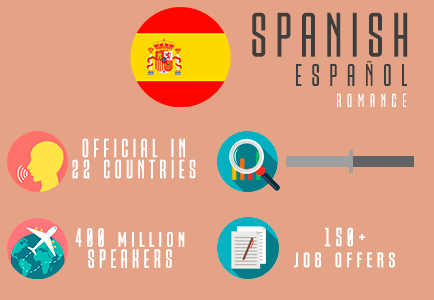 Where is it spoken?
Spanish is the official language of 22 countries, including Spain and 9/12 of the South American countries. It is even an official language of the state of New Mexico in the USA joint with English.
How many people speak it?
400 million people speak Spanish as their native language. Including these people, 460 million speak it worldwide.
Why is it important in global business?
Some of the most famous Spanish companies include the banks Banco Santander and BBVA as well as the telecommunications company Telefónica. Have a look at our website for jobs in Spanish.
Have we convinced you? Maybe you should read our Guide to Relocating to Spain!

German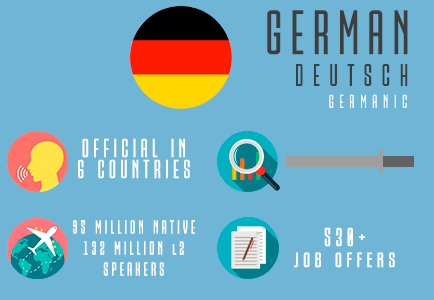 Where is it spoken?
It's the official language in 6 countries including Germany, Austria and Switzerland
How many people speak it?
There are 95 million native speakers of German and 132 million speakers worldwide. 16% of the EU population speaks it!
Why is it important in global business?
Among the most famous German companies are European household names, including Aldi, Adidas and BMW. Want some more ideas of where you could go with your German? Have a look at our website for jobs for German speakers.
Fancy seeing how good your German is? Click here to find out!
Portuguese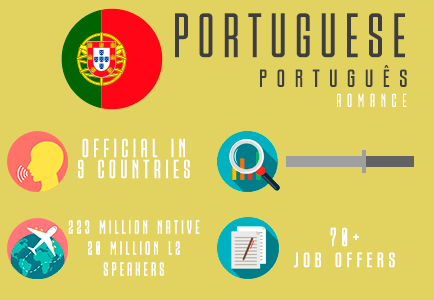 Where is it spoken?
It's the official language in 10 sovereign states and territories including Portugal and Brazil
How many people speak it?
There are 223 million native speakers - 205 million of which live in Brazil. Worldwide there are 260 million speakers.
Why is it important in global business?
If you've done Erasmus or have been looking for a home whilst studying abroad you might be familiar with the Portugues company Uniplaces. As for Brazil, as you may expect, some of their biggest companies including Vale and Petrobras, are in the oil and mining sectors. See what positions we have for Portuguese speakers on our website.
Think you know much about Portugal? You'll probably be surprised by these fun facts!

French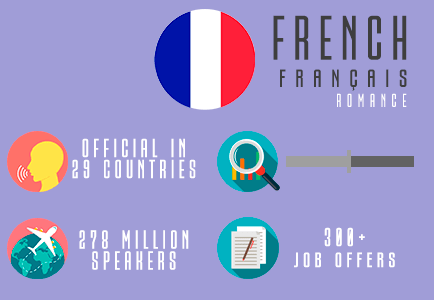 Where is it spoken?
French is the official language of 29 countries, including France, Belgium, Luxembourg and Canada.
How many people speak it?
278 million people speak French as their mother tongue, worldwide this number increases to 300 million speakers.
Why is it important in global business?
If you're from Europe you may be familiar with some of the most famous French companies whether it be from doing their shopping or their electricity bills - Électricité de France (EDF), Carrefour and AXA. Take a look at our website for over 400 job opportunities for French speakers!
Do you have the right impression of French people? Take this quiz to find out!
Russian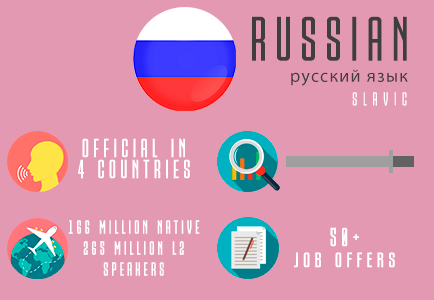 Where is it spoken?
It's an official language in 4 countries - Russia, Belarus, Kyrgyzstan and Kazakhstan.
How many people speak it?
It is the largest native language within Europe, with 166 million speakers. Worldwide, this extends to 265 million people.
Why is it important in global business?
Unsurprisingly, some of the biggest companies in Russia are oil companies such as Gazprom, Lukoil and Novatek. Our website has some amazing job opportunities for Russian speakers if you need any more evidence!

Aside from business reasons, make sure you pick a language that you feel passionate about, and that you are excited to learn! Being interested in the culture and willing to visit the country is very important when learning a language, especially if you will be travelling there on business! We hope you've enjoyed reading about the top european languages for global business, we think you might want to use some of these tips once you start learning!


Thanks ! I want work in europe and these articles very helpful for learn new things about work and langauges. I also want learn or work.
---

---

It's great to know what to aim for next. Good article!
---

German is a very important language, if you have the opportunity to study it, do it. there is a lot of positions for german speakers.
---

A great showcase of Spanish language
---
Excellent article, very helpful!
---
Excellent article, very helpful!
---

Excellent article! I want to be a polyglot that's why I am doing a Spanish course. I already speak English and Portuguese. After Spanish, I'll start my German Course. That's my personal goal :)
---

Learning Mandarin Chinese is also very important nowadays. That's why I spent a few years in Taiwan. Chinese business men are usually pretty happy to hear foreigners speaking their language.
---

Articles like this help us all.
Thank you.
---
---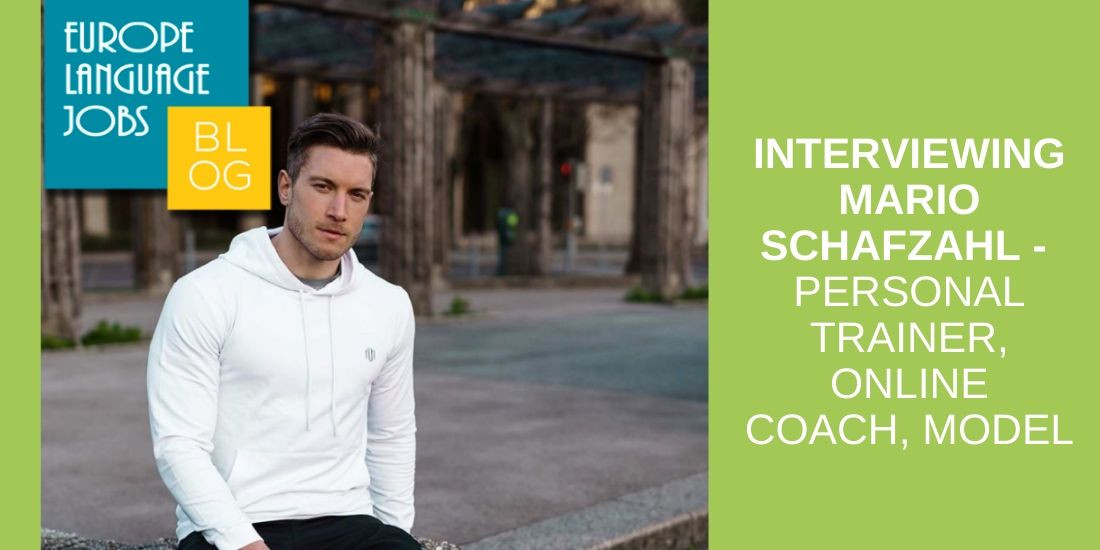 To give you an insight into how some businesses have had to adapt to COVID-19, we interviewed Mario Schafzahl, a personal trainer and online coach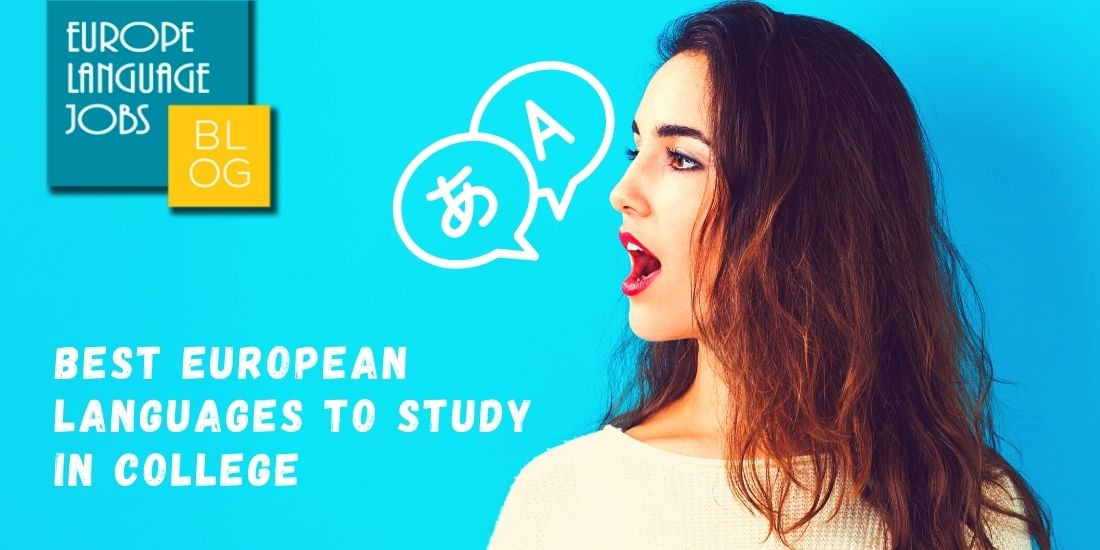 While you're in college is the best time to learn a foreign language. Check out this list of five European languages that could help you in your future career.